For Chinni Shankar Rao and his wife, Lakshmikantamma, it was an intolerable day, with the sun beating down mercilessly on their little kirana shop. The elderly couple from Addanki, a small town in Prakasam district of Andhra Pradesh, worked through the day despite feeling tired. In the evening, they returned to their small house, where they lived alone after the marriage of their two sons.
Inside the house, the asbestos roof made things even worse. Sometime late in the evening, Lakshmikantamma died from possible complications of sunstroke and a few hours later, Shankar Rao also breathed his last, not realising that his wife was dead.
Many more such cases are being reported from Prakasam district where 202 people died. Andhra Pradesh and Telangana account for a majority of the 1,400 deaths reported so far from across India in the intense heat wave that has been sweeping the country for the past couple of weeks. In Guntur district of Andhra Pradesh, 130 have died. Visakhapatnam reported 112 deaths, Vizianagaram 78 and Nellore 74. Other affected districts include East Godavari, West Godavari, Krishna, Chittoor, Kadapa, Kurnool, Anantapur and Srikakulam. Andhra Pradesh Deputy Chief Minister N. Chinarajappa, who handles the portfolios of home affairs and disaster management, says the government will pay an ex gratia amount of Rs1 lakh to the families of the victims.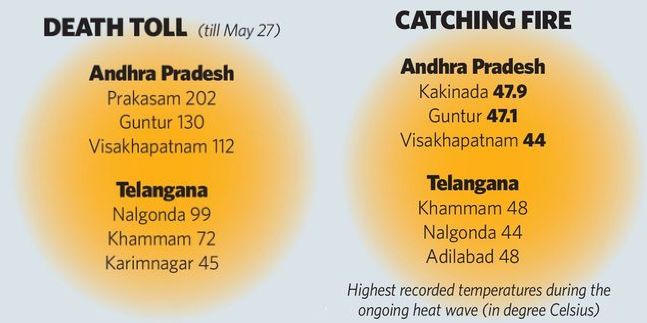 The situation is equally bad in neighbouring Telangana with Nalgonda being the worst hit district. With his three sons and adopted daughter well settled, Karingula Anjaiah was a happy man, who spent his days working his five acres in Vegeta village. When he did not return from the farm for lunch one day, no one was bothered as it was not uncommon. But when he failed to return even by 4pm, people went looking for him. They found him lying in the field. He was taken to hospital, but was declared dead on arrival.
Unlike Anjaiah, Addanki Buchaiah of Parvatagiri village lived a lonely life after the death of his wife a few years ago. He survived by farming in his two-acre plot. On the day of his death, Buchaiah, 71, left for his farm as usual. After working for some time, he felt uncomfortable and returned home. Soon, he started vomiting. Although his neighbours took him to hospital, Buchaiah did not make it.
The situation is not different in the neighbouring Khammam district, where 260 deaths have been reported. Arjun Rao, 45, was on his way to Pinapakka village for a job he got under the Mahatma Gandhi National Rural Employment Guarantee scheme. Because of the excessive heat, he told his wife to stay at home with their young child. On his way back, he collapsed and died.
With the death toll rising rapidly, people are worried about the lack of official support in tiding over the crisis. "There have been so many deaths in Nalgonda district," says Madhu, Buchaiah's relative. "But cabinet minister Jagadishwar Reddy [who hails from the district] has not even bothered to make any inquiries."