In 2008, Rajiv's daughter Priyanka Vadra (below) visited Nalini at Vellore. Said Nalini: "The tone and tenor of Priyanka was a little harsh. It wasn't a cordial meeting."
On February 24, the Ellaiamman Koil Street at Kotturpuram in Chennai was swarming with the police. Dotted with houses and apartments on either side, the otherwise nondescript street was unusually crowded. Policemen, on high alert and wielding lathis, stood waiting for a convoy to arrive.
Soon it did. In the middle of the convoy was a police van, its windows secured with grilles. A few men and women in khaki got out of the vehicle and whisked a middle-aged woman into a three-storey building. Clad in a turquoise nylon sari, she walked into a small, two-bedroom apartment on the third floor and quietly sat down in one corner of the hall, next to her father's lifeless body.
Tears rolled down her pale face. But her eyes dried up quickly, unlike the others in the room. She held the hands of her 76-year-old mother, Padma, and hugged her sister Kalyani. And then she sat, aloof, amid the rose petals strewn on the floor.
If Nalini Sriharan, 48, was fighting anything, it was her emotions. Arrested in June 1991 for her involvement in the Rajiv Gandhi assassination, Nalini was meeting her family after 12 long years. She was granted a 12-hour parole to visit her brother S. Ravi's residence at Kotturpuram and to attend the last rites of her father, P. Sankara Narayanan, who had died at the age of 92.
Nalini's impassive eyes and the wrinkles on her face spoke volumes about the misery of her life in jail. For many people, she is a "killer woman", someone who is fit to be hanged; for others, she is "a victim of circumstance".
Nalini is the lone surviving conspirator who was present at the site of the blast that killed Rajiv Gandhi on the campaign trail. She has had quite a dramatic life: before turning 25, she had played her part in the assassination of a former prime minister, survived the explosion that killed him and 21 others, received the death sentence, loved and married a fellow convict and gave birth to a child in prison—only to be forced to live alone and finally escape the noose.
She now wants to lead a normal life. "We want freedom," Nalini told THE WEEK. "We have been knocking the doors of the High Court and the Supreme Court. We cannot be called the accused or Rajiv killers. Everyone knows that we haven't done any crime."
Born as the fifth child to her father's second wife, Padma, Nalini was the most educated member of her family. Hers was not a happy childhood, though. Her father, a retired sub-inspector, lived with his first wife and six children in Tirunelveli.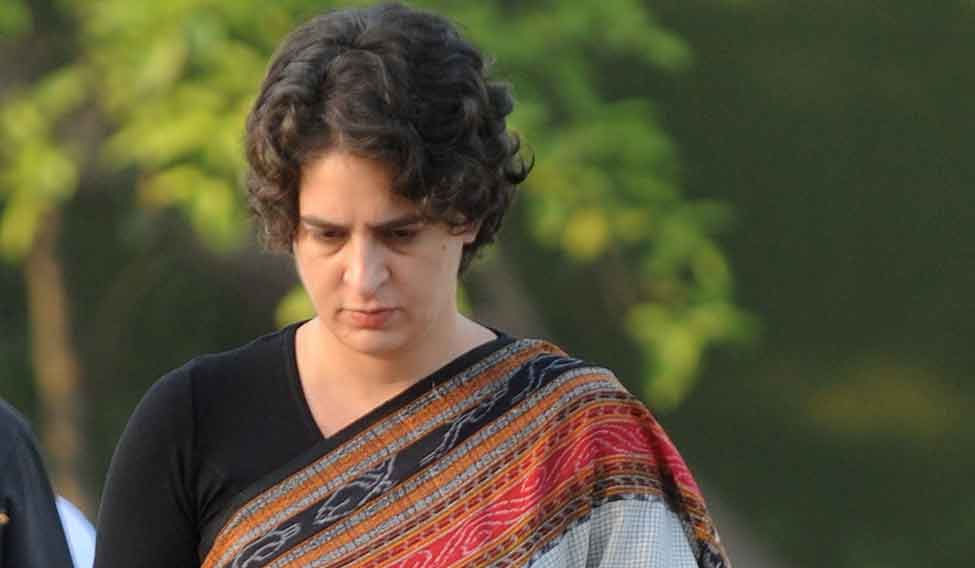 After completing a master's in English literature, Nalini worked at a private company in Chennai in 1990. According to K. Ragothaman, the CBI's chief investigating officer in the assassination case, Nalini had always wanted to live away from her father and family. So she rented a place at Virugambakkam in Chennai, where she eventually met her future husband, Murugan alias Sriharan, through her younger brother P.S. Bhagyanathan. Murugan was a member of the terror group Liberation Tigers of Tamil Eelam (LTTE).
Nalini's 140km journey from Vellore Central Jail to Chennai started at 6am. It was for the first time in years that she was seeing the outside world. "The roads have expanded," she told her lawyer Pugazhenthi. "The city has changed and there is much traffic on roads."
At Kotturpuram, she was greeted by a crowd of relatives, journalists and politicians. Nalini greeted them with folded hands, spoke to some in a soft voice, and broke into tears several times. Hours later, when her father's body was taken away, policewomen escorted her down the building. Seeing the crowd of journalists waiting outside, they took her back into the apartment.
Her mother, Padma, appeared to be the happiest to see Nalini. Padma has made it a point to visit Nalini in jail at least once a month. "She is frustrated and her stress levels are very high," said Bhagyanathan, who was arrested in 1991 and released, along with Padma, in 1999. "This has led to hearing and eyesight problems for her. She is also anaemic. She is upset with us, as we haven't taken strong initiatives to secure freedom for her. She spends each day inside the prison without knowing if she would be alive the next day, and if she would get reprieve."
What keeps Nalini going is studies. She completed MCA from Indira Gandhi National Open University with 87 per cent marks. She now helps fellow inmates in their studies. According to Bhagyanathan, her stress levels and frustration have turned her into a spiritual person. Murugan, says Bhagyanathan, has also turned spiritual, performing daily pujas inside his cell. He used to edit the jail magazine, Prison Birds, and completed BCA recently.
Bhagyanathan does not visit Nalini in jail, as he has his own family to take care of. In fact, he and his mother, who live in the Royapettah area in Chennai, keep a very low profile. To avoid the media glare at Kotturpuram, Bhagyanathan wore a cap and dark sunglasses and declined to perform the last rites of his father. And Padma stayed indoors, as the children of her husband's first wife performed the rites.
Ravi's place was chosen for the funeral ceremony to help Nalini get parole. In 2010, Nalini's plea for an early release was denied, as the police had misgivings about the possibility of her moving in with Padma at Royapettah, which is home to many VIPs and the US consulate.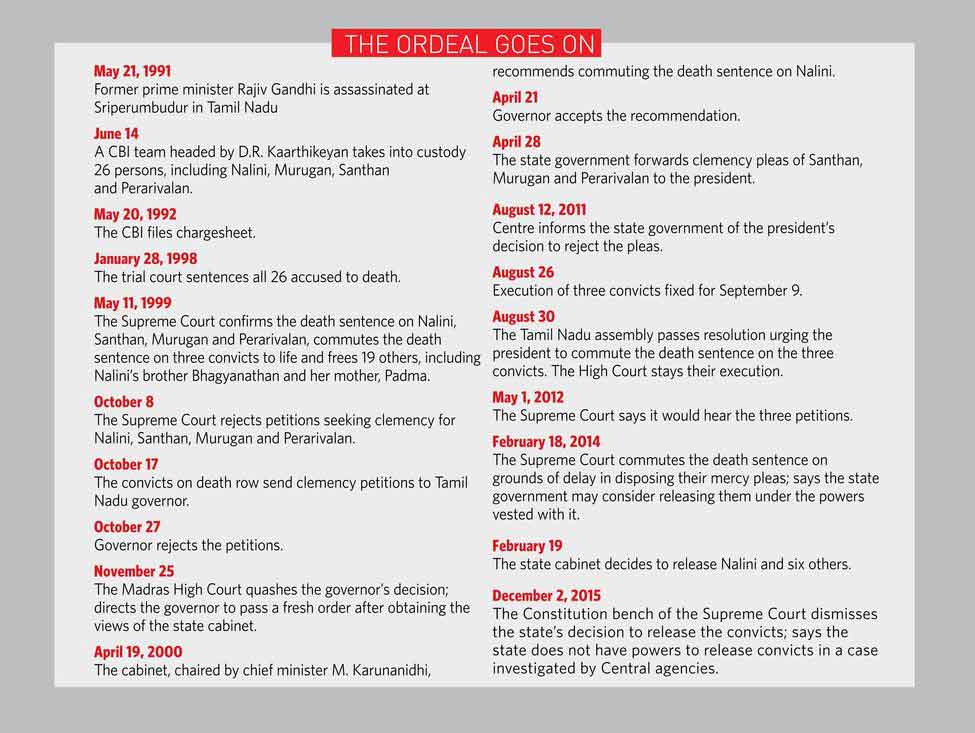 The prison advisory board had also rejected her request for early release. The board said that the "gravity of her crime was heinous. [The fact that] she has acquired degrees and a diploma does not mean that she has changed her attitude. Even now, she does not admit her guilt and has no regrets for her act. Considering the social history of circumstances of criminal behaviour and the degree of her criminality, her case is not fit for recommendation of premature release."
Nalini has been granted parole only twice in 24 years. The first time was in 2004, when Bhagyanathan got married. She sought parole on February 23 this year to visit her ailing father, but was denied.
In 2008, when Rajiv's daughter Priyanka Vadra visited her at Vellore, Nalini thought her plea for early release would be heard. But, said Nalini, "the tone and tenor of Priyanka was a little harsh. It wasn't a cordial meeting."
But, despite that, Nalini has time and again expressed her gratitude to Sonia Gandhi, Rajiv's wife and Congress president, who requested president K.R. Narayanan to commute the death sentences on Murugan and two others convicted in the case, Santhan and Perarivalan.
What gives Nalini hope is her fortnightly meetings with Murugan and her correspondences with her 24-year-old daughter, Harithra, who lives in London. "I want to meet my daughter and live a normal life," she says.
But the rule is such that, of four interviews or visitors Nalini is allowed in a month, she has to forgo one if she writes a letter and gets a reply from her daughter. Said Pugazhenthi: "She hasn't met her daughter after Murugan's mother took her to Sri Lanka. In 2015, she petitioned the prison authorities [to allow her to see her daughter], but hasn't got any reply yet."
Harithra has been trying to get a visa to meet Nalini. In 2006, Nalini went on a hunger strike for 24 days demanding that she be allowed to meet her daughter. But it did not help. When THE WEEK contacted Harithra, she said she was still trying to meet Nalini. She refused to talk further, saying, "This is not the right time."
On February 9, 2014, when Tamil Nadu Chief Minister J. Jayalalithaa decided to release her and six others convicted in the case, Nalini's happiness knew no bounds. "She was very confident about her release," said Bhagyanathan. But last December, the Supreme Court dealt a blow to her hopes, saying the state government had no suo motu power to remit sentences on persons who were convicted in cases investigated by Central agencies such as the CBI.
Nalini, however, has not stopped trying. Soon after the Supreme Court verdict, she moved the Madras High Court, seeking a reprieve under humanitarian grounds and Article 161 of the Constitution. "Her writ petition demanding premature release as per recommendations of the All India Prison Reforms committee and under Article 161 of the Constitution is pending in the Madras High Court. Legally, the state is empowered to invoke the article to grant pardon," says her lawyer Radhakrishnan.
In a country where even dissenting slogans can get students termed anti-nationals, the release of Nalini and others convicted in the assassination case has become a rallying point for fringe groups in Tamil Nadu politics. And politicians in the mainstream pander to the rhetoric of such groups, believing that it would win them votes. "Although we cannot say it in black and white, Nalini's appearance on a public platform can be converted into support for and justification of Rajiv Gandhi's assassination, which is not acceptable to any state government," said a senior police officer.
Over the years, the two major Dravidian parties—the ruling AIADMK and the opposition DMK—have tried to capitalise on the issue. The DMK, especially, so. Its leader M. Karunanidhi once said, "Had that noble man [Rajiv] been alive, he would have listened to the true voice of Tamils and gone along with the golden saying of Anna [former chief minister C.N. Annadurai]: forget and forgive."
In the past few years, Jayalalithaa and her AIADMK have been trying hard to upstage the DMK. In the run-up to the 2009 Lok Sabha elections, when Karunanidhi went on hunger strike over the strife in Sri Lanka, Jayalalithaa pointed out that, as chief minister in 2000, he had recommended to the governor to reject three mercy petitions in the assassination case.
In fact, one of the main political issues in the 2009 elections was the plight of Tamil people in Sri Lanka. Jayalalithaa even went to the extent of promising a separate Tamil Eelam in Sri Lanka. Even before the decimation of the LTTE in 2009, all political parties in the state, barring the two Left parties and the Congress, supported the Tamil cause in Sri Lanka.
Soon after she won the 2011 assembly elections, Jayalalithaa passed a series of resolutions in the assembly supporting Tamils in Sri Lanka. In 2014, she went a step ahead and announced the government's decision to free seven convicts in the assassination case.
But, with the Supreme Court setting aside the state government's decision, there is a lull in such political rhetoric. Groups like Thirumavalavan's Viduthalai Chiruthaigal Katchi, Seeman's Naam Thamilar and Vaiko's Marugmalarchi David Munnetra Kazhagam are still vocal in their support for Nalini and other convicts in the case, but there is little hope that they will bring about any change.
At 4pm on February 25, after her father's body was taken away for cremation, Nalini uttered just one word for the cameras. "Freedom," she said, as Bhagyanathan hugged her and cried. Wiping her tears with her sari pallu, she once again got into the police van. She had mourned her father and spent six hours with her loved ones. It was time to go back to jail.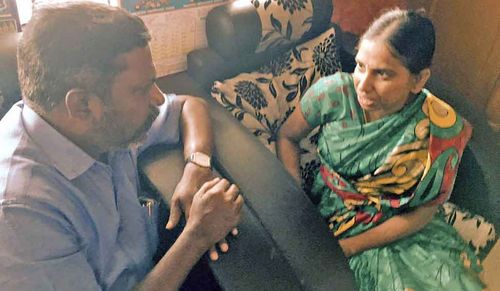 Interview/ Nalini Sriharan
I believe the state government will let us out of the prison
By Lakshmi Subramanian
Did you have hopes of getting parole?
I did not believe I would get parole till the last minute. I have been seeking parole for the past one month, after my father's health started deteriorating. I got parole only after he died.
What is your demand now?
Freedom is my only demand. What else, other than freedom, can I demand? It has been 25 years since I was jailed. I want all seven of us to be released from prison. My only humble demand to Amma, our honourable chief minister, is freedom. I believe we will be released from prison.
The Supreme Court recently said the state has no power to release the convicts in cases investigated by Central agencies. Do you see light at the end of the tunnel?
We can only knock the doors of the High Court and the Supreme Court again and again. As I said, we haven't done any crime. We are innocent; that is the truth… Everyone calls us Rajiv killers. The truth is that we haven't done any crime. I, my husband and the five others convicted in the case should be released. We want freedom and I believe the state government will let us out of the prison.
How is your life inside prison? How is your health?
I don't have any problem inside the prison. Health-wise, there are a few problems. But then, it is prison and I am still a prisoner.