"I am here to cooperate as I strongly believe that paying tax is our duty." - Vivek Jayaraman, CEO of Jaya TV and V.K. Sasikala's nephew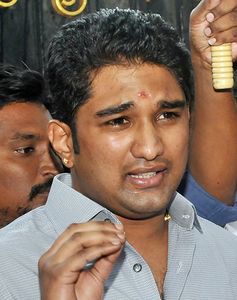 One hundred and eighty-seven simultaneous raids by 1,800 officials! In perhaps the biggest operation in its history, officers of the income tax department in the second week of November swooped down and shook the foundations of what was till recently the most powerful clan in Tamil Nadu, the family of former chief minister J. Jayalalithaa's friend V.K. Sasikala, a family that is known as Mannargudi Mafia.
At 6am on November 9, a car bearing the words "Srini weds Mahi" reached the office of Jaya TV at Ekkattuthangal, Chennai. The members of the 'wedding party' were actually IT officers who had come to search the premises. At the same time, similar teams, all in "Srini weds Mahi" vehicles, were raiding properties of people and entities related to Sasikala—properties of her brother V. Dhivakaran, Midas Distilleries, office and theatres of Jazz Cinemas, Kodanad and Curzon estates, and various locations in Tiruchirappalli, Mannargudi, Coimbatore, Puducherry, Hyderabad and Bengaluru. The IT department hired more than 1,500 cars for the operation and roped in bank officers to overcome manpower shortage.
While the raids in other locations concluded in five days, at Kodanad and Curzon estates they went on to the sixth day. IT officers said the raids yielded 06 crore, 8.5kg gold and documents relating to investments of Rs 1,200 crore in a hundred shell companies. They said many valuables were seized from unused rooms of a college hostel in Mannargudi, Thanjavur. The college is run by Dhivakaran.
Around 100 bank accounts of more than 20 shell companies have been frozen. Tax evasion to the tune of Rs 1,430 crore has apparently been unearthed, and 355 people were questioned. Among them were Sasikala's family and extended family, auditors, astrologers, priests—including Mannargudi Devarajan, who had performed Jayalalithaa's last rites—and employees of the firms and shell companies. Jayalalithaa's aide Poongundran, too, was questioned.
AIADMK insiders said the raids were intended to weaken Sasikala's political clan and were triggered by some information that had leaked out after her four-day parole in October. They said Sasikala had summoned Poongundran and transferred shares in his name to members of the Mannargudi family. It is also said that hawala transactions worth several crore were made.
But Thanga Tamilselvan, who was expelled from the assembly and is in the camp of Sasikala's nephew T.T.V. Dhinakaran, said it was an attempt to demean the family. "Our country has several agencies including DRI [Directorate of Revenue Intelligence] to track these transactions," he said. "If any hawala transaction had happened, her parole would have been cancelled." He said people visiting Sasikala were being monitored by police and intelligence officers.
Dhinakaran called it a political vendetta. "The raids were as per a plan by the Central government," he said. Senior journalist R. Ramasubramanian said, "It might be true that the IT department and other Central agencies browbeat some people. But the Mannargudi clan are no saints."
As reported by THE WEEK in a cover story—'The hunt for Amma's assets', dated June 4—the empire left behind by Jayalalithaa is mostly ill-gotten wealth and benami properties spread across media, cinema, education, aviation and liquor. But the IT department can only look into tax violations and does not have the powers to take any action regarding disproportionate assets.
That authority lies with the vigilance department and, if the state government gives its consent, the CBI. The vigilance department has not stepped in even a year after Jayalalithaa's death. It is anybody's guess whether Chief Minister E.K. Palaniswami would allow his department to register a case against the Sasikala clan.
According to A. Shankar, a blogger who has written extensively on Jayalalithaa's assets, fissures developed within the clan after her death when Sasikala's husband M. Natarajan's proposal that a trust be formed to manage the assets was turned down by some members in the family.
Though Dhinakaran called the raids political vendetta, his cousin Vivek Jayaraman, who is the CEO of Jaya TV, looked terrified when he met the media on November 14. He reportedly controls more than 350 cinema screens across India. "They asked me several questions regarding Jaya TV, Jazz Cinemas and my wife's jewellery," he said. "I have answered many of them. With regard to the jewellery, I will give details to the IT department in a day or two. I am here to cooperate as I strongly believe that paying tax is our duty." But the empire is trembling.