"If the case is proved to be false, there should be some punishment for such misuse of law" - Mahesh Shinde, Men's Rights Association

"I was arrested and spent 18 days in jail. The court finally acquitted me, but my life will never be normal again" - D.S. Rao, 48, volunteers with Save Indian Family
Not many venture out on a hot Saturday afternoon in Delhi, especially if the Indian meteorological department has sounded a heat alert. Braving the blistering weather, however, a motley crew of men and women has gathered outside the Patiala
House Court complex to attend a weekly meeting of NGO Save Indian Family. Comprising businessmen, government employees, IT professionals and housewives, among others, they take turns to narrate the 'ordeals' they, or close family members, are facing after being 'falsely implicated' in cases of crimes against women. Some have been charged under the Dowry Prohibition Act; others under the Domestic Violence Act; a few are in the midst of difficult divorce proceedings.
Niladri Shekhar Das, founder member of Save Indian Family, says these weekly meetings are held to counsel 'victims' of laws meant for protection of women, but which are biased against men and being misused to harass them. The organisation, he says, is part of what has come to be known as the 'meninist movement' or male rights activism. This may sound ironical in a country where women are a suppressed lot, but male rights activists claim that this is a real cry of anguish from men suffering due to laws meant to curb crimes against women.
Save Indian Family, which began ten years ago as an online Yahoo group, is one of many similar organisations that have sprung up over the past decade. Most issues concern cases of cruelty or dowry harassment. The group operates a national helpline manned by 80 volunteers. Das, who is fighting a dowry harassment case himself, says all the volunteers have themselves faced false cases. He says the organisation's helpline receives more calls than some government helplines.
Supreme Court advocate Ram Prakash Chugh is credited with starting the movement in 1988, when he formed the Society for Prevention of Cruelty to Husbands, after being charged with dowry harassment. Chugh says he was the butt of jokes. "When I started the organisation, people did not take me seriously," he says. "It was not acceptable that men could be victims." Today, 70 years old and ailing, he handles one case at a time.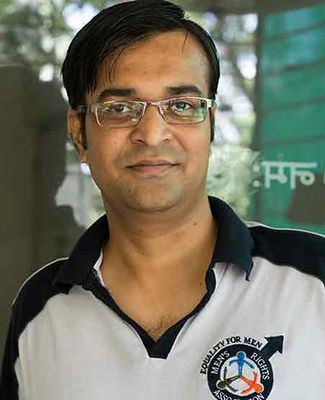 The founders of such groups tend to be men who have been at the receiving end. Forty-one-year-old Santosh Patil, a design engineer in Bengaluru, founded Purush Adhikar Kendra after alleged threats from his estranged wife that she would put him behind bars if he tried to meet their daughter. "There are many NGOs that work for women," says Patil. "But there is no structure to support men." The organisation has three helplines offering counselling in different languages. "Each helpline receives a minimum of five calls a day," he says. "The cases range from dowry harassment to sexual harassment and domestic violence." He claims that at least 70 per cent of cases are false. The organisation has an active online presence, too, under the title Men's Rights India. Patil says the number of people connecting to the group through Facebook and WhatsApp is increasing. Every month, a new WhatsApp group is added and more than a hundred people join.
A commonly cited statistic by these organisations is the suicide rate of men. "Sixty thousand married men commit suicide every year," says Das. Women's rights activists, however, say that the suicide figures are wrongly projected as those of harassed husbands.
Men's rights activists frequently cite the 2003 case of Nisha of Noida, who turned away her groom and his baraat over an alleged dowry demand. The groom, Munish Dalal, and his mother and aunt were arrested. Nisha's story even found mention in school textbooks. In 2012, however, Munish and his relatives were acquitted. Nisha had falsely implicated them and called off the wedding as she wanted to marry someone else.
Howrah-based businessman D.S. Rao was acquitted of charges of harassment for dowry in 2010. "My wife filed a case against me under Section 498A in 2005," says Rao, 48. "I was arrested and spent 18 days in jail. The court finally acquitted me. However, my life will never be normal again." Rao says his father died of a cerebral attack soon after the case was filed, his business suffered, and he changed houses as it became impossible for him to stay in the locality because of the stigma that came with the case. Rao now volunteers for Save Indian Family.
Conviction rate in these cases is low, say 'meninists', who back their contentions with statistics. According to National Crime Records Bureau (NCRB) data of 2014, the conviction rate in cases registered under the Dowry Prohibition Act was 10.2 per cent. Of 4,617 cases in which trial was completed, conviction took place only in 472. Of 17,649 cases of rape in which trial was completed, conviction took place only in 4,944 (28 per cent). The scenario is similar in cases relating to cruelty by husband or relatives where the conviction rate was 13.7 per cent. In cases registered under the Protection of Women from Domestic Violence Act, the conviction rate was 19.1 per cent.
"The conviction rate is very low," says Das. "However, a case goes on for five to ten years in a lower court, and the damage to the person's reputation, career and family life is irreparable." Male rights groups say that lawyers who prod their clients to file charges are to blame in many false cases.
A government proposal for amendments is in the pipeline. In 2003, the Malimath Committee report recommended that Section 498A be made bailable, non-cognisable and compoundable. The ministry of home affairs sought state governments' views, but the ministry of women and child development is opposed to the proposed changes to dowry laws.
The Supreme Court, too, has taken cognisance of misuse of dowry laws. In its judgment in the Sushil Kumar vs Union of India case (2005), the court said: "If misuse of laws like 498A does not stop, then it can possibly unleash a new kind of legal terrorism." It ruled against automatic arrests and said that police must first issue summons and decide on arrest only after recording reasons.
'Meninists' also protest amendments to the sexual harassment law, saying that while it has been made more stringent, it continues to be for women rather than being gender neutral. They feel the law is being misused to settle scores, and say the acquittal rate is quite high. In March 2013, a Delhi court, while acquitting four persons charged with rape, said it was becoming very difficult for courts to differentiate between genuine and false rape cases.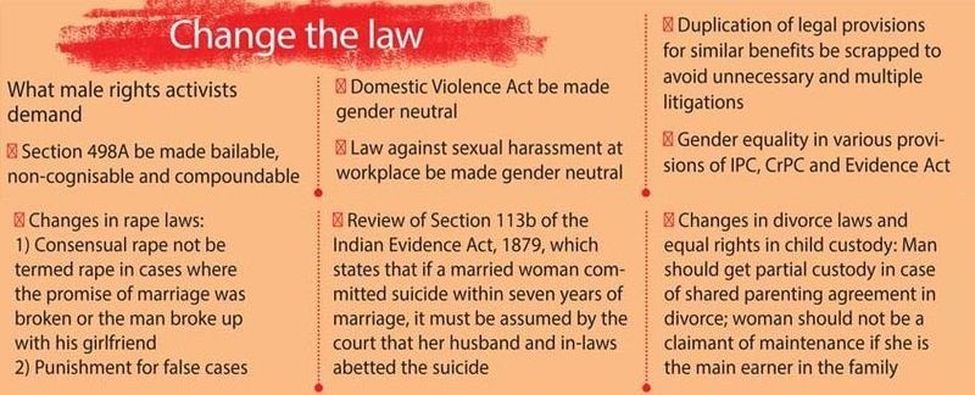 In August 2014, a Delhi court stated that a man acquitted of rape charges be termed a 'rape case survivor' as it was difficult for a man accused of such a heinous crime to regain his honour and dignity, even when the court finds him not guilty. Additional Sessions Judge Nivedita Anil Sharma also said that persons getting acquitted in such cases could sue the complainant for damages.
In December 2015, in a first, a Delhi court directed that perjury proceedings be initiated against a woman who allegedly filed a false rape case against two men to extract money from them. While acquitting the accused, the judge noted that such false rape cases had become a menace and needed to be curbed.
Male rights activists say 49 laws are biased against men and can be easily misused to harass them. Their demands include: Consensual sex not be considered rape under any circumstance, impose a time limit within which a case can be filed, make the laws gender neutral. They are campaigning for equality in the provisions of the Indian Penal Code, Code of Criminal Procedure and Evidence Act and are demanding the words husband and wife be replaced with spouse, and man and woman with person. They also demand that the Domestic Violence Act and the law against sexual harassment at the workplace be made gender neutral.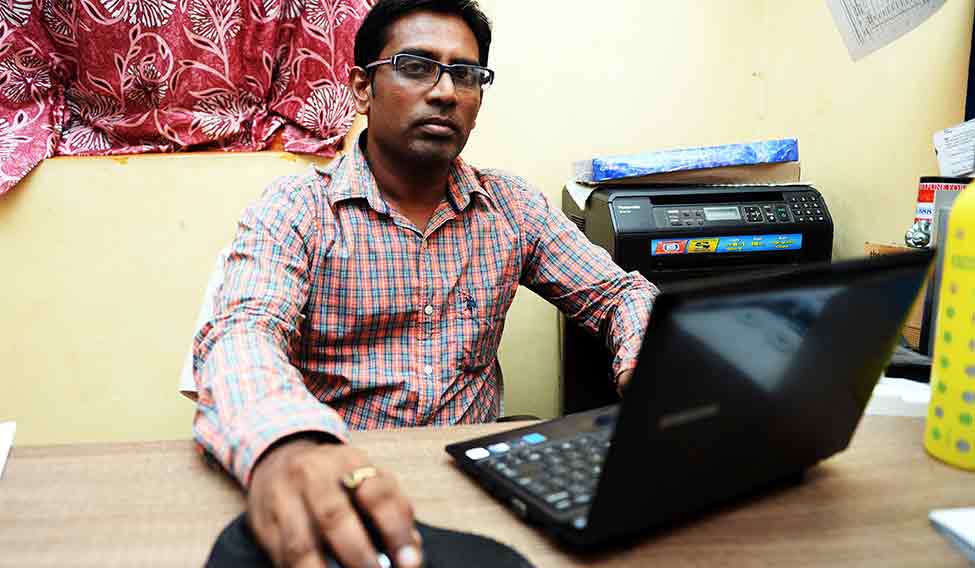 Men's Rights Association wants a misuse clause to be incorporated into the Dowry Prevention Act. Says Mahesh Shinde of the organisation: "If the woman is not able to prove that she really suffered at the hands of her husband or in laws, and the case is proved to be false, there should be some punishment for such misuse of law." Says Das: "The organisation [Save Indian Family] is not anti-women and not even anti-wives, but is striving for a fair deal to all under law and want the laws to be evenly poised without any gender bias."
Women's rights activists and lawyers handling such cases advise against dilution saying that stringent laws are needed to curb crimes against women. Supreme Court advocate Shilpi Jain said the Prevention of Dowry Act in its present form is needed now more than ever. "It was enacted in 1983, but more than 30 years later, things are getting worse," says Jain. "Last year, in Delhi, the number of dowry deaths was the highest ever." As per NCRB data, the number of dowry deaths has almost doubled in the last two decades from 4,648 in 1995 to 8,455 in 2014. The move to make the offence bailable, say women's rights activists, will render the law toothless. "It is the only law protecting women from dowry deaths," says women's rights activist Ranjana Kumari.
The 'meninist movement' is trashed by women's rights activists. "This is a phenomenon driven by people who are wrongdoers and want an escape route," says Jain.
Kumari rubbished that there was rampant misuse of laws meant to protect women. "When Kiran Bedi was in charge of the Crime Against Women Cell of Delhi Police, she had undertaken a review and found that only two per cent of cases were false; many of them due to misrepresentation by lawyers," she says. "I know there are groups who feel that they are victimised, and say that women are booty hunters who work in an organised manner. I am trolled and abused online by them."