Some said it's impossible, some said it would take decades, some said it's a waste of time, some even made fun [of it]—but we had never given up."
These words summed up Nagender Chindam's sense of achievement. On January 12, the Supreme Court allowed non-resident Indians to vote through a postal e-ballot system. Chindam, 33, an IT professional from Secunderabad who now lives in London, was at the forefront of a campaign to demand e-ballot rights for NRIs and was, along with another NRI, Shamsher V.P., a petitioner in the apex court in this regard.
The exultation is warranted. After all, the electorate involved is the size of Greece—one crore NRIs would now be able to vote in Indian elections. The e-postal ballot could set in motion a process that may finally provide the rest of us the option of using our computers and phones to vote.
To use the e-postal ballot, NRIs would need their passport number and, once registered, they would get the downloadable ballot paper on their computer. They can then mark their choice and post it to the returning officer. And, if it is extended to sections such as service personnel or officials on election duty, their registration, login and verification will be linked to their Aadhaar number.
The pace at which things moved was commendable. Even Chindam was surprised. When the Supreme Court, hearing the petition of the NRIs, asked the Election Commission if it was possible to give them an internet-based solution, the commission said "Yes, we can!"
About two years ago, long before it was asked to do so, the commission had begun exploring the option. And, as luck would have it, the commission got on board the Centre for Development of Advanced Computing (C-DAC), which, at the time, was also working on such a project.
"Ten million NRIs demand this. Therefore, we have to design various ways to bring them into our fold," said Chief Election Commissioner Nasim Zaidi. Currently, NRIs have voting rights, but they are required to travel to their constituencies and vote. Not surprisingly, very few exercise their franchise.
"That we will be able to vote in the elections from wherever we are means a lot to people like me. We may be living abroad, but what happens back home still matters a lot to us and we want to have a say in it," said Chindam. A few years ago, he began researching absentee ballot policies of other countries and discussed it with other NRIs. He had to start from scratch by gathering data, spreading information, creating a website and writing online petitions. Eventually, like-minded people joined him, and they petitioned the Supreme Court. Interestingly, Chindam's was the first case on NRI voting that the Supreme Court accepted. The ball was set rolling.
Meanwhile, C-DAC has already prepared a prototype for the e-postal ballot. Another prototype, which will allow NRIs to vote online, is in the advanced stages of development. C-DAC director general Rajat Moona said it took just three months for the organisation to develop the prototype. "We are going to test the prototype using our normal testing mechanisms, which will involve a lot of people… It is not going to be five, ten or a hundred votes," he said.
The commission says it needs only two months to establish the e-postal ballot system once the necessary amendments are made in the Representation of the People Act, 1951 and the Information Technology Act, 2000. It has contacted the law ministry and has proposed some legal amendments. According to government sources, an amendment bill is being readied and it will soon be presented before the Union cabinet. "Legal issues are important. Amendments have to be made. Offenders will have to be booked under the IT Act," said Election Commissioner Achal Kumar Jyoti. He said the government seemed quite keen on rolling out the e-postal ballot system. "Prime Minister Narendra Modi has launched the Digital India programme. He was chief minister of Gujarat when the state first experimented with internet voting in municipal elections. He can be expected to be keen on e-postal ballot becoming a reality."
But, could this ultimately lead to complete online voting for everyone? Election Commission officials said it was in the realm of possibility. "The proposed e-postal ballot has to be foolproof. If this technology fails, then I can assure you that remote voting would be the remotest possibility in our country," said Zaidi.
In the course of their study, commission officials visited countries such as Estonia and Georgia which have been using internet-based voting systems. And, if everything goes to plan, complete internet voting will be an option for as many as one crore voters in Gujarat, who will cast their ballot in the municipal elections in October.
"The will of the government was there in 2010, which helped in providing in our Act and rules the provision for online voting," said Gujarat State Election Commissioner Varesh Sinha. "Now, we shall be conducting internet voting in October in all the municipal elections," Sinha said.
The Gujarat model allows people to use their own computers to vote. Once he has registered as an internet voter, the person will not be allowed to vote at the polling booth. The commission then conducts a physical verification of the voter and registers his computer ID. He then gets a password to log into the voting system on the state Election Commission website. Once a voter has made a choice, he can either click on 'submit' or 'review'. When the vote has been cast, the voter will get a receipt.
"The future roadmap is to set up e-polling booths for those voters who cannot afford to have their own computer or laptop," said Sinha. The state Election Commission is also launching a mobile app for registration of online voters.
Delhi, too, is looking to launch an online voting system in the 2017 municipal elections. The pilot project will include around 12,000 voters spread over the three municipal corporations. The registration of online voters will be linked to their Aadhaar ID. A one-time password will be sent to the voter, which will allow him or her to log into the system as well as vote. The system has been developed by the Delhi State Industrial and Infrastructure Development Corporation. The commission has sent the proposal for the online voting system to the state's finance department for clearance.
The Gujarat model, however, has had its share of controversy. Experts have criticised the huge cost incurred in setting up a separate database for online voting in municipal elections. According to estimates, the cost of setting up the database was about Rs25 lakh per voter. Sinha, however, said the database had to be set up because a petition was filed against online voting in the Gujarat High Court and concerns were issued about security and integrity. "It is a project for the future. It is incorrect to divide the cost of setting up the database by the number of voters [124] who participated in the pilot project," he said.
According to Poorvi Vora, professor, department of computer science, The George Washington University, there are many problems in internet voting, and it is not clear if they can be solved. She said many countries have shown problems. "In Australia, thousands of votes were already cast when problems were discovered," she said. Experts say several countries have toyed with the idea, but not many have implemented it. Ireland spent 60 million euros on the technology, but finally could not roll out the system.
The threat of cyber attacks and hacking also has to be looked into, say experts. In the 2010 Gujarat municipal elections, within the first 15 minutes, there were cyber attacks from sources in Pakistan, China and Taiwan. The Gujarat election commission, however, claims they were thwarted.
IT law expert Pavan Duggal said that, besides ensuring that the system was secure, a legal machinery would have to be developed to protect the system.
The e-postal ballot system, too, carries the risk of hackers intervening in the system to either change the ballot paper or make multiple copies of it, admitted an Election Commission official. However, C-DAC has been entrusted with the responsibility of ensuring that the system is secure.
Meanwhile, the political class also has its share of concerns and the Election Commission held a meeting with them to discuss the issue. While the BJP was in favour of the e-postal ballot, the Congress said the commission had to ensure that the system was safe. The Left parties also opposed it.
Congress leader Jaiveer Shergill said that while the physical location of a voter should not come in the way of voting, the system being developed should be foolproof and should come about in an atmosphere of stringent cyber laws.
CPI leader D. Raja said the e-postal ballot was a risky proposition. "The embassies should make necessary arrangements for NRIs to cast their votes," he said.
V.N. Shukla, the Election Commission's director in charge of IT, said the commission was of the view that it should go for the e-postal ballot, to begin with, see how people react, deal with any problems that might come up and then go for complete internet voting for NRIs and some other select groups. "If all goes well, the commission will move to the third option, that is internet voting for all. By then, the technology would have gained the required maturity. The fourth stage is mobile voting," he said.
As an Election Commission official put it, the present situation is akin to the time when electronic voting machines were first talked about. The first EVMs were introduced in 1989, and the first Lok Sabha election to be held completely through EVMs happened 15 years later.
Vote from afar
* NRI registers for e-postal ballot.
* Election Commission sends the voter a mail containing a blank postal ballot paper.
* Voter can download ballot paper, which will be a PDF file with four components (ballot paper, envelope A, envelope B and a certificate).
* Once filled, the ballot paper has to be put inside envelope B, which will carry a QR code linked to constituency details and poll date.
* This is then put into envelope A, which will have voter details such as EPIC number as well as a security code.
* Returning officer will verify details on outer envelope and put the ballot paper enclosed in the inner envelope into a box and mix it with other votes.
Online poll
* Estonia—Began internet voting in 2005. In the 2015 parliamentary elections, 30 per cent of all participants voted online.
* France—On June 7, 2009, the French foreign ministry provided internet voting facility to 3.1 lakh French voters residing in Africa and America.
* Switzerland—In 2009 and 2011, over a lakh Swiss voters living abroad could vote online under a pilot programme. Now, all Swiss expatriates can do so.
* The US—Arizona has used internet voting, in which a PIN number is delivered through mail. Two personal questions have to answered to verify ID and the voter can then cast the vote.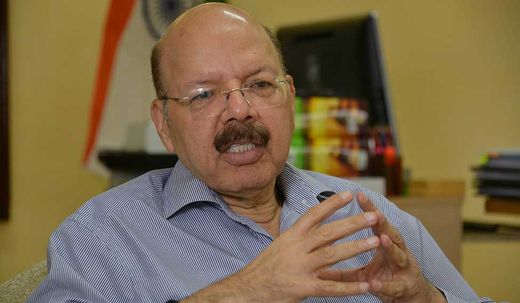 Interview/ Nasim Zaidi, chief election commissioner
We have to presume that our voter is sensible
How does the Election Commission view the idea of online voting for NRIs?
The number of NRIs is about ten million. In 2010, an amendment was carried out to allow them to register themselves at the place of residence as shown in their passport. Another condition was added that they can cast their vote by visiting that polling station. Unfortunately, only around 12,000 NRIs registered. And, of the 12,000, majority are concentrated in Kerala. Bihar, for example, has only six registered NRIs.
The NRIs want to know why India, being an IT power, cannot provide electronic voting facilities, since it was not practical for them to visit their original place of residence to cast their vote.
Some of the NRIs approached the Supreme Court. The court asked us to give our views. The commission, in any case, was considering online voting. So, we appointed a committee, and it went into the entire gamut of the issue. We recommended that electronic postal ballot can cut the time taken in transmission from the returning officer to the voter and back in case of postal ballot.
Once the court accepted the report, we made recommendations about what legal changes are required, which will entitle them to send their postal ballot one way electronically and return by mail. That matter is being considered by the law ministry and as per their latest submission to the Supreme Court, a cabinet note is being prepared.
As a commission, our response is that we are happy that this important and significant step is being proposed through legal changes and that a large section of our people who are otherwise unable to cast their vote will be brought within the fold of electoral process.
How do you look at remote voting through online means as an option for the general voter?
The commission has always been concerned about the integrity of the electoral process. But we have to keep pace with time. This is, in general, a global trend, too. Many countries are moving towards electronic voting.
The committee (multi-disciplinary committee headed by deputy election commissioner Vinod Zutshi) recommended to us that it will not be wise to go in for full fledged online voting system right now. But we are not closed to the idea.
There is already a demand and there is already a study going on as to why only one way; why can't it be made both ways. Of course, reaching that level will require political consensus. Also, all stakeholders have to be on board without an iota of compromise in our basic concern. We are open to the idea and we are working towards that.
Will online voting make our democracy more vibrant?
It will surely contribute. It will also depend on IT penetration. We have, as far as electoral participation is concerned, touched 66 per cent. But still, there are a large number of people [30 crore] who are not voting. We are more concerned about them. Given a chance, they might like to cast their vote within their homes.
How soon can we see online voting happening in India?
It is difficult to give a time frame. It can be around three to four years. But it is subject to many factors, like the need for a political consensus, development of appropriate technology, validation, testing and then, its gradual introduction on a pilot basis and then escalate it to the assembly and Parliament.
How have political parties responded to the idea of online voting for NRIs?
The committee had a detailed interaction with the political parties during the consultation process. A few were not in favour while the others were supportive, but with certain safeguards. In Parliament, the issue got linked with the domestic migrant voters and they demanded an all-party consultation.
Can we have this facility operational for NRIs in the Bihar elections?
The passing of the law is in the hands of lawmakers. I can only say that we should be able to operationalise this within two months after the law has been passed.
Who is developing the technology?
C-DAC has already developed the prototype. And software testing is going on. First, the NRI has to express the desire that he wants e-postal ballot. The second step is transmission from the returning officer to that person, and then he sends it by post.
Are there any apprehensions of this system being manipulated?
Many people say that we are only talking about IT-enabled NRIs. There could be many NRIs who could be labourers, working class, who do not have IT facilities. What about them? So, the only argument is that we are providing all facilities—you can come here personally, you can give proxy vote, you can send ordinary postal ballot or opt for e-postal ballot. This will not replace the other systems. It will be an additional option.
Fears of the system getting hacked have been expressed.
This is what C-DAC will guarantee us, that there would not be any breach. Some political parties say that people could be made to vote en bloc. We have to presume that our voter is sensible. When the husband cannot influence his wife's vote, I can presume that it will not happen. We are relying upon the maturity and sagaciousness of the voter.
Will this facility be extended to migrant voters?
This issue was raised in the Supreme Court and by political parties, too. The Supreme Court asked us about it. We told them that the legal provision is: the person wherever he is an ordinary resident has to be registered there as a voter.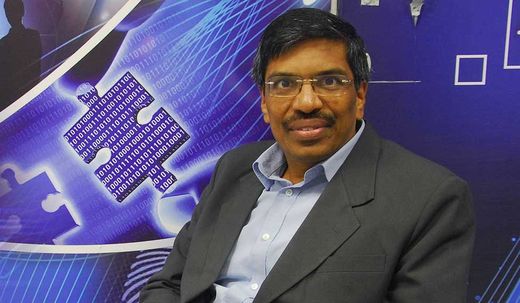 Interview/ Rajat Moona, director general, C-DAC
We can defend against known attacks
Do you feel the time for online voting has arrived?
There could not have been a better time than this, when we are talking of Digital India, of bringing our Panchayats online and when we are talking of a major e-governance initiative. It is also about including those who, for logistical reasons, cannot be part of the voting.
C-DAC is said to be ready with a prototype for online voting for NRIs.
We have a prototype ready. There are two steps to it. One is e-postal ballot, where the ballot is given to the voter through electronic media. After he marks his choice, the vote is sent back to the returning officer through postal mail. That is the prototype, which we are implementing immediately.
The other prototype, where both sides are going to be electronically dealt with, is under development.
How will this system work?
Registered voters, meaning voters who have registered their choice for e-balloting, can log on to a website and then download their ballot. The ballot will be as per their constituency. Once the ballot is downloaded, they can mark their choice, put it in an envelope, seal that envelope and on that envelope, put their credentials and then put this envelope into an outer envelope. This would be deposited with a returning officer.
How much time did you take to develop this system?
We are still in the process of developing it. We have only developed the first prototype.
And when did the process begin?
The process started about three months ago.
Please tell us about the team that worked on the project.
We have a very dedicated team in C-DAC. And the team that is working on this actually came up with the idea of remote voting somewhere around March. It was a team of ten people and in about three months, we had a prototype ready.
So, this was an idea that originated internally in C-DAC?
Yes, it originated in C-DAC. Simultaneously, the Election Commission was also looking for a similar kind of technology. They were concerned about service voters and NRI voters. And when we talked about this to the Election Commission, everything fell into place. Somewhere around March, we started working on this.
How will you be testing the prototype?
We are going to test the prototype using our normal testing mechanisms, where we involve a lot of people. We will give a demonstration to the Election Commission. And we will do an end-to-end verification of the complete process right from registration to counting and see if everything works fine. A sizeable number of people will be involved in it. It is not going to be five or ten or 100 votes. We will be looking at a large number of votes from all across the constituency. A load test will be done.
Would the NRIs be using their own devices in the e-postal ballot?
Right now, it is assumed that it is going to be e-postal ballot, in which case, they will get the ballot paper, which they can print, stamp and then send it. When we actually go on to the regular two-way communication electronically, in that case, we will have to devise a mechanism and our understanding right now is that we will have to actually have an e-booth kind of technology, which means that there will be a defined electronic booth, and even NRIs will go and vote there.
How do you look at the internet voting experience of Gujarat?
I think that is a wonderful experience, primarily because there is always a first mover. I think they were bold enough to make that move. And in the process, they actually got a lot of feedback. And we are actually learning from their experience.
How soon can we see this scaling up to include the rest of us?
I think it is a question of demand. Initially, we go for service voters and NRIs. I am sure people will demand more, especially as our population is so internet savvy. Sooner or later, it will come. Definitely, we are not going back. It is only going to go forward.
Can C-DAC guarantee that the system is immune to attacks and cannot be manipulated?
Technically, or mathematically speaking, nobody can give a guarantee that a system is foolproof because we don't even know what kind of attacks or threats can come up in the future. We can safeguard ourselves against known attacks. But the point is, security in IT space is always a game of one-upmanship. So, you always have a threat, you find a solution to it. It is an ongoing process.