"There are certain things in Muslim law that are more women-friendly than other laws. Will these be incorporated in the uniform civil code?" - Nausheen, lawyer with the women's organisation Majlis
The lawful thing which Allah hates most is divorce. – Prophet Mohammad
The small office of the Bharatiya Muslim Mahila Andolan in suburban Mumbai is a busy place. Tucked inside a nondescript building in the congested suburb of Kherwadi, it serves as a refuge for women who have been handed triple talaq, or instant unilateral divorce by their husbands.
Zareena (NAME CHANGED) is still in a state of shock after she was informed that her husband had pronounced triple talaq on her. She is being counselled by a BMMA volunteer. Her husband sent her triple talaq in writing and said he had given her oral talaq over the phone, too. He also procured a fatwa from the chief imam of Mumbai stating that the divorce was valid.
Zareena, 27, who had quit her job as a lecturer in a college under pressure from her in-laws, is clueless about the validity of the divorce and about her future course of action. She has been advised that the divorce is not legally valid. "But I have seen women being divorced this way. I am educated, but I am not sure what the rules are. Nobody seems to know what is right and what is wrong," said Zareena.
The BMMA has been working to protect the legal rights of women, and is mainly dealing with the problems of women who are at the receiving end of triple talaq. Noorjehan Safia Niaz, who co-founded the organisation, said it was only after she began working with women who are victims of triple talaq that she realised how common it was. "We get three or four cases a day. We had no idea that it was so rampant."
Niaz recalled an instance when a woman and her husband had come to the BMMA to discuss a family issue, and the man suddenly got up, pronounced triple talaq on his wife and left. Once, a man scribbled talaq three times on the nikahnama [marriage contract] itself and handed it to his wife.
More recently, the BMMA came across a woman who was divorced using WhatsApp. The woman, Farah Vora, approached the organisation on November 17 after she was thrown out of her in-laws' house. A similar incident was reported from Kerala recently: ten days after the wedding, Jarisha's husband left for Dubai, and four weeks later, he sent her a WhatsApp message, pronouncing triple talaq. Another woman, who was pregnant, was divorced through email within a year of marriage. The woman, Zareena, did not get any maintenance allowance or mehr [dower] from her husband, who was working in Dubai.
Cases of talaq being pronounced using other electronic means, such as SMS, email, Skype and Facebook, have also been reported.
"A woman colleague of mine was divorced like that. She had two college-going girls. Her husband, who was working in Dubai, called her up and uttered talaq thrice. She did not know what to do or where to take her daughters," said Niaz.
Safia Akhtar, who works for the BMMA in Bhopal, said more often than not, the divorced women had nowhere to go. In a majority of the cases, they do not get any maintenance, and going back to their parents is not always an option. "For example, this girl Shahista came to me. She belongs to a poor family. Her father died of heart attack when he heard about her divorce. She is not very well educated. She is now hoping that the court will help her get a lump sum amount so that she can start some work of her own," said Safia.
In India, the word talaq uttered thrice or given in writing, referred to as triple talaq, is enough for a Muslim man to divorce his wife. It is recognised as valid by religious leaders as well as the All India Muslim Personal Law Board. Fatwas issued by Deoband, India's largest Islamic seminary, clearly state that triple talaq is valid.
As an activist pointed out, getting married may not be easy, but it is extremely easy for a Muslim man in India to divorce his wife. All he needs to do is pronounce the word talaq thrice.
Recently, a survey by the BMMA showed that 92 per cent of Muslim women it spoke to wanted the practice to be banned. However, the AIMPLB made it clear that although triple talaq was a sin as per the Quran, once uttered, it was valid. At the most, the board said it could impose a fine on men who practised it.
A committee set up by the Manmohan Singh government in 2013 to study the status of women recommended that "oral, unilateral and triple talaq" that allowed men to divorce their wives either in person or simply over the phone, the internet or through text messages, should be banned. Triple talaq at one go is banned in many nations, including Pakistan, Saudi Arabia, Turkey, Tunisia, Algeria, Iraq, Iran, Indonesia and Bangladesh. However, in India, it persists as a practice.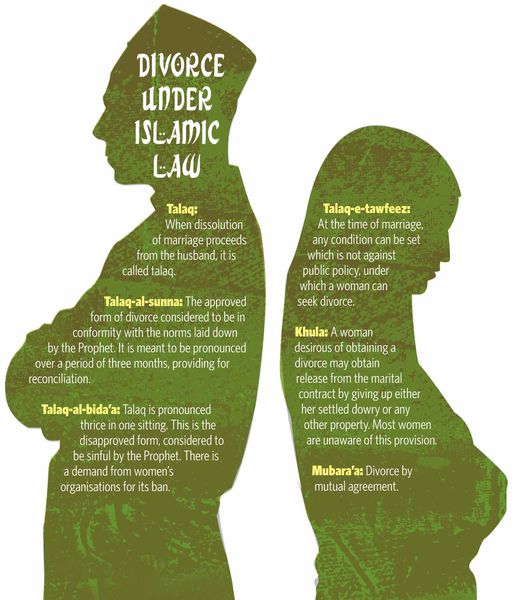 Community representatives, however, said triple talaq should not be banned. "It is not permissible in Islam," said S.Q.R. Ilyas, AIMPLB member. He said the practice persisted because of ignorance about the shariah. "The issue is not to have a law to ban triple talaq. We need to make people aware of the law," he said.
Shia cleric Maulana Kalbe Jawad said banning triple talaq was not the solution. "It will be problematic. There will be a huge controversy," he said. While there is no law banning the practice, the courts have made it clear that triple talaq does not enjoy legal sanctity. The Supreme Court, in the Shamim Ara case (2002), ruled that a divorce would be considered valid only if proper procedure was followed as laid down in the Quranic principles. "The courts have made it clear that triple talaq is not valid. However, no one bothers about these judgments. There is very little awareness about the law with regard to Muslim women," said women's rights activist and lawyer Flavia Agnes.
Experts in Islamic law said triple talaq at one go became valid during the British period, as the British authorities felt that Muslim marriages, on account of being contracts, could easily be dissolved by the mere pronouncement of the word talaq. Muslim law, however, calls for arbitration or mediation, and if it fails to resolve issues between a husband and a wife, the man can pronounce talaq over a period of three months. This is the thinking period and during this time, cohabitation can be resumed. There is also a provision for post-divorce arrangement, which includes payment of a lump sum amount to the woman as maintenance and returning the woman's assets.
"The Quran is seen only as a religious book. It is rather a philosophy of life and strongly espouses the cause of human rights and social justice and welfare of humanity. As per the Quran, divorce can be given only over a period of three months," said Shaista Amber, chairperson of the All India Muslim Women's Personal Law Board.
Nausheen, a young lawyer working with Majlis, a women's organisation, said it was a triple talaq she saw at her home which inspired her to study and specialise in law with regard to Muslim women. "I was 13 when I saw my uncle pronounce triple talaq on my aunt. And everybody said they were divorced. So I grew up with the idea that under Muslim law, women had no rights."
She said Muslim law, if applied in its true sense, is pretty much in favour of women. "Although it is not codified, it gives ample rights to women," said Nausheen. She said there was, however, very little awareness about Muslim law. "In college, I heard my professor say that every law is good, but for Muslim law. When I began practising law, I discovered that even lawyers were not aware of Muslim law."
Nausheen said the idea of having a uniform civil code might not be the answer. "There are certain things in Muslim law that are more women-friendly than other laws. Will these be incorporated in the uniform civil code?" she asked. The Supreme Court, too, has refused to be drawn into the debate on the uniform civil code, saying it is the prerogative of Parliament. It, however, said it would definitely come to the aid of Muslim women who found themselves on the wrong end of triple talaq. "If a victim of triple talaq comes to the court and questions the validity of the divorce procedure, we can surely examine the legality of triple talaq and find out whether it violated her fundamental rights," the court said.
Clearly, there are no easy solutions when it comes to triple talaq.
Fighting spirit
AFTER 14 YEARS of marriage, Shah Jehan's husband left her for another woman and claimed before the community that he had divorced her. "We had been having problems in our marriage, and we went to the qazi, who made papers for two talaqs, leaving the door open for reconciliation. We patched up within 20 days, and the qazi got us remarried. So there really was no divorce," said Shah Jehan.
"Moreover, he said he had divorced me in 2003. However, our youngest child was born in 2005. I exposed his lie and fought a legal battle to ensure that he did not escape the responsibility of providing for us," she said.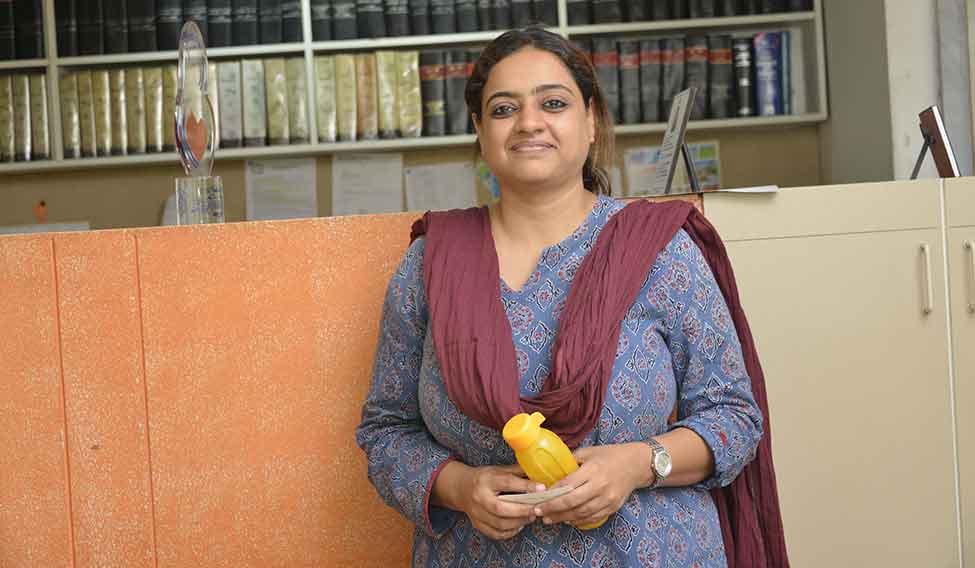 A resident of Kurla in Mumbai, Shah Jehan, 42, went through a harrowing time when her husband left her and secretly married his uncle's ex-wife. "I kept on hoping that he would correct his ways and come back," she said. But in 2010, when her husband married a third time, she decided that she had to fight a legal battle for her rights.
In 2011, the court ordered her husband to pay her maintenance every month. She also got the right of residence in her in-laws' house. Around that time, she started a tiffin service, which is doing well.
Shah Jehan said she could have done without the maintenance. "But I did not want him to escape the responsibility of looking after his children. I did it despite people advising me that I should just let it be, that there was no point in dragging him to court," she said.
She said there were several women like her who suffered silently because they were afraid of approaching the law-enforcement agencies. "What I wanted to prove was that women cannot be taken for granted."
Dividing lines
IN 2013, MARIAM, who is from Trichy, had a heart surgery. Her husband, who was working as a driver in Saudi Arabia, did not return to be with her. Six months later, he did come back, but instead of giving her any kind of support, he told his family that Mariam did not want to live with him. In early 2014, he sent her an SMS from Saudi Arabia, pronouncing triple talaq.
"For the last three years of my marriage, my mother-in-law and my husband used to beat me up and treat me like their maid," said Mariam. She was only 15 at the time of her marriage in 2001, and it was after 15 years of marriage that her husband pronounced talaq on her.
Mariam said before the divorce, her husband had approached the local Jamaat, which told her that there was nothing unusual in how she was being treated. After her husband returned to Saudi Arabia, she was thrown out of the house, while her two children were allowed to stay.
"After she approached us, we sent a notice to her parents-in-law and husband. But they did not come. We tried arbitration and spoke to them, but to no avail," said Zehrunissa of the Bharatiya Muslim Mahila Andolan. That is when the organisation approached the social welfare department and filed a case under the Prevention of Domestic Violence Act.
Mariam said most Muslim men believed they had a right to divorce their wives at any time, and the Jamaats favoured them. After she hired an advocate to fight her case, her husband came back and asked her to withdraw the case, which is currently in progress.
Parting shot
TEN DAYS AFTER their wedding, Jarisha's husband left for Dubai, where he was working. Jarisha stayed back with her in-laws at Kottayam, Kerala. The 21-year-old BDS student from Alappuzha would call her husband and send him messages in an effort to stay connected.
The new bride was worried as her husband would never call her or respond to her calls or messages. And then, one day, around four weeks after their wedding, she got a message from him on WhatsApp. It read: "Why are you calling me? I do not like you. Do not wait for me. If we like apple, will we keep eating it every day? We like to eat other fruits also. Talaq, talaq, talaq."
Jarisha approached the Kerala State Women's Commission, which asked her husband and in-laws to appear before it. After they failed to do so, commission member Prameela Devi consulted Islamic scholars on the WhatsApp talaq, and was told that it was not valid.
Jarisha was advised by the commission to approach the family court. The focus of the case is to ensure that the gold ornaments and the money given by the girl's parents at the time of the marriage are returned. "The girl's parents had given 70 sovereigns of jewellery and Rs10 lakh as dowry. She should get all that back," said Prameela Devi.
Breaking point
ZUBEIDA (NAME CHANGED) had picked up her infant son and left for her parents' home in Chandigarh as she was fed up with the daily tiffs that she was having with her in-laws. Her relationship with her husband, a pilot in the Army, was also not smooth. Married in November 2006, Zubeida, 32, left her husband's home in Lucknow in September 2007 after her son was born.
Worried about not hearing from her husband for a long time, she tried calling him up. But his phone number had changed. His parents were not being helpful. Finally, she wrote to the Army for his whereabouts. The response from the Army left her shocked. It said her husband had divorced her and provided documents in support of his changed status.
Her husband had claimed that he had divorced her over the phone and got a fatwa to that effect. He also got a divorce certificate on the basis of the fatwa. Zubeida said she had no idea about the divorce or the phone call by which the talaq was pronounced.
What followed was a bitter legal battle, which ended with the Allahabad High Court declaring the divorce invalid. The husband was even sent to jail on dowry charges. Finally, the couple opted for a settlement in a Lok Adalat in November 2013. "The divorce was declared illegal, so I am still his legally wedded wife. But we are not in touch with each other and I have moved on," said Zubeida.
She said she became aware of Muslim divorce laws only after she sought legal advice for her case. "I am educated and my family is educated, too. But we were also not aware about the law with regard to triple talaq," she said. Zubeida is now pursuing her PhD.
Unceremonious dump
ZAREENA, FROM MUMBAI, had a love marriage. Her husband, Ajaz, had wooed her, pursuing her till she said yes. Everything was fine for one and a half years. However, her husband's laziness began affecting their relationship. When Zareena complained that she was the only one bringing home money, she was made to quit her job as lecturer.
Not having a child made things worse. Zareena said there was pressure on her to bear a child and even after medical tests proved that the problem was with her husband, her mother-in-law would threaten that she would get her son remarried.
Her husband would not come home for several days at a stretch and this emboldened the rest of the family to torture her. "My mother-in-law would beat me up. They would not give me money even for medicines," she said.
It was then that she decided to move to her parents' house. "There was so much tension. I was afraid that my husband would pronounce talaq on me," said Zareena. She waited for six months to hear from Ajaz. And then she received documents stating that he had divorced her.
"He told the qazi that he had written talaq thrice on paper, with two friends as witnesses. The qazi, who is the chief qazi of Mumbai, issued a fatwa, saying the divorce was granted," she said. Zareena has initiated legal proceedings against Ajaz "I have been told that he wants to move to Bengaluru and remarry. Through the legal proceedings I only want to ensure that divorce should not be done so easily. He has to give me a reason why he did it," said Zareena. "I want my future to be secured. It is a question of my life."