Long before the suicide of dalit scholar Rohith Vemula, Rahul had worked out his plan of visiting colleges across the country and interacting with the youth.

The JNU episode brought to the fore the key arsenal in Rahul's line of attack against the Modi government—a direct attack on the RSS ideology.
Last month, when Congress vice president Rahul Gandhi went to Jawaharlal Nehru University, he was taking a big risk. In 2009, when he had visited the university, he was jeered and shown black flags. The audience, mostly Left-leaning, asked him uncomfortable questions about the policies of the United Progressive Alliance. And, Rahul beat a hasty retreat.
But he was greeted with cheers on his recent visit to the campus, as it erupted in protest over the action taken by the government against students who had allegedly raised anti-national slogans. Yet again, he was shown black flags, albeit by students whose political affiliation was of a different hue. But Rahul did not have to fend off uncomfortable questions. And his message resonated with the students as he thundered on the mic: "The Modi government is bullying institutions like JNU. Do not let them bully you!"
Rahul was prompt in reacting to the developments in JNU. Nonetheless, it was a political risk, and that was clear when the BJP lost no time in saying that Rahul was taking the side of the 'anti-nationals'. According to sources, at the meeting of the Congress Working Committee prior to the Budget session of Parliament, senior leaders had warned him that the JNU issue could backfire. But Rahul spoke strongly in favour of taking up the issue, arguing that the nationalism claims of the government had limited resonance. He felt the perceived crackdown on campuses as well as scenes of violence in a Delhi court where JNU student leader Kanhaiya Kumar, accused of sedition, was produced did not go down well with the vast majority, especially the youth.
The JNU episode brought to the fore the key arsenal in Rahul's line of attack against the Modi government—a direct attack on the RSS ideology. And, he is convinced that this fight is best launched through the campus route.
A senior Congress leader said Rahul had a visceral hatred for the RSS. Long before the suicide of dalit scholar Rohith Vemula in Hyderabad University, Rahul had worked out his plan of visiting colleges across the country and interacting with the youth. He discussed with his party colleagues RSS plans to influence educational institutions, especially institutes of higher learning. "I want to use this irritation of the youth against the RSS," he is learnt to have told his aides.
IN MUMBAI, he told students: "Why must I be singled out because I wear this or that, eat this or that, pray to this god or that god. This is India, it cannot survive if these questions are going to define and divide us." In all his talks with students in the past several months, Rahul has spoken about the Modi government's alleged plans to hit at plurality and inclusion. His argument is that the RSS is trying to impose a flawed ideology on the students. He has spoken frequently about the "anti-dalit, anti-progress and anti-youth" mindset of the RSS, referring to issues such as Love Jihad and demand for review of reservation.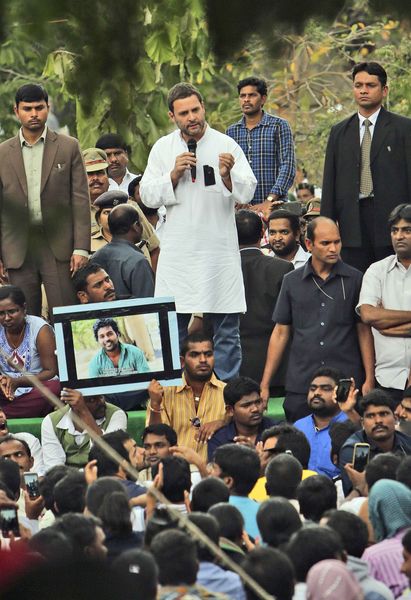 In his interactions with party colleagues, Rahul has been talking about how to project the Congress as the main force against the RSS ideology. A few months ago, at a function held to mark the 125th birth anniversary of former prime minister Jawaharlal Nehru, he said a fascist organisation had achieved decisive power for the first time and his party was the "biggest force" fighting it.
Reacting to Rahul's tirade, RSS spokesperson Manmohan Vaidya said: "No matter what he said, the people of Bharat know the hollowness of his allegations. As a result, public support for the Congress is fast depleting. On the contrary, the welcome, acceptance, support and trust of people for the RSS is consistently growing."
It is from this line of attack against the RSS that Rahul gets his main ammunition against Modi, that he is so well formed in the RSS mould that he feels his opinion is right and he does not care for the opinion of others. In Parliament, Rahul said the prime minister had been taught by his teachers in the RSS that there was only one truth, which was theirs.
There is a conscious effort to draw a contrast between Rahul and Modi, with Rahul's aides saying he holds exhaustive consultations and takes the opinion of everyone before taking a final decision. Rahul has himself spoken about the Bengaluru incident and how that sets him apart from Modi. Students in Bengaluru had differed with him on the efficacy of the Swachh Bharat campaign, and he is learnt to have told party colleagues later that he was OK with it as he did not impose his decisions on anyone.
Also, part of the plan is to tap the "restlessness" with Modi's style of working— that all decision-making is centralised in the Prime Minister's Office. An anecdote that Rahul loves to tell is that of Modi calling up Congress president Sonia Gandhi to inform her about the Naga accord and telling her: "We have achieved a historic feat which your party could not do in 40 years." He narrated the episode in Parliament also, claiming that none of the chief ministers in the northeast and not even Home Minister Rajnath Singh had been aware of the accord.
Rahul has also spoken of how Modi 'paradropped' on Lahore on his way back to Delhi from Moscow to have a 'Chai Pe Charcha' with Pakistan Prime Minister Nawaz Sharif, claiming that Minister of External Affairs Sushma Swaraj was not consulted on it and that the impromptu visit ended up undoing all the effort made by the UPA government in cornering Pakistan on the issue of cross-border terrorism.
Rahul's efforts have been to corner the government, with issues ranging from land acquisition, agrarian distress, problems of the salaried class, lack of employment opportunities for the youth and tribal rights. "When you are in power, you cannot proactively take up issues as your own party is in power and you will end up being seen as fighting your own government. That is what happened in the case of the ordinance row, in which he was badly misunderstood," said a leader close to Rahul. Also, Rahul believes in politics that is issue-based and not personality-driven.
IN HIS SPEECH in the Lok Sabha, Rahul made a detailed critique of the ruling dispensation. If it was the 'suit boot ki sarkar' remark that he came up with earlier, painting the Modi government as pro-rich and anti-poor, this time, he mocked the government for launching an amnesty scheme for black money, saying it was a 'fair and lovely scheme'. He said that in the name of 'Make in India', people only got to see the mechanical 'Babbar Sher' (Asiatic lion), the icon of the scheme, everywhere, and no one knew if it had created any jobs. The speech also showed that the plan is to now portray the Modi dispensation as not just anti-poor but also anti-dalit, anti-minority, anti-adivasi, anti-youth and anti-earning class.
The counterattack has been fierce, with Modi going the extra mile in his speech in Parliament to counter Rahul. He recounted the speeches made by Nehru, Indira Gandhi and Rajiv Gandhi to attack Rahul over disruption of Parliament and government business getting stuck. Top guns of the party were unleashed to take on Rahul.
It is learnt that Rahul's speech was discussed by ministers after a cabinet meeting which took place that day. And shortly afterwards, Finance Minister Arun Jaitley wrote on Facebook: "As one evolves from a young to a middle-aged one, we certainly expect a certain level of maturity. The more I hear Shri Rahul Gandhi, the more I start wondering, how much does he know, when will he know." Union ministers Rajnath Singh and Sushma Swaraj also strongly rebutted Rahul's claims that Modi had kept them out of the loop on Naga accord and his decision to drop in on Nawaz Sharif in Lahore.
"Just for genuine public concerns that the Congress vice president raised in Parliament, three most senior ministers jumped in to deflect questions asked to Shri Modi, and all that the PM himself did was pointless by attacking Shri Rahul Gandhi and the Congress rather than answering the tough questions posed to him," said Congress spokesperson Abhishek Singhvi.
A leader close to Rahul said he was vulnerable to attacks, what with the 'Pappu' barb among others, because he was sincere to the extent of being completely transparent. "Nothing is hidden. And we tell him that it is not such a good thing for a politician to be so transparent," said a leader close to him.
Rahul has the resilience of not getting provoked, said a close aide. "Very demeaning, dirty and obscene remarks were made by the RSS as also by BJP leaders about his sabbatical. We said to him that the Congress should react strongly, but he chose to act like a statesman and ignore it. He said we should join issues of people's concern and not of personal mudslinging," he said.
Rahul intends to focus on taking up issues of the poor, dalits, adivasis, farmers, the youth as well as the earning class. There is also a close monitoring of the election promises of Modi. In the coming months, he is set to launch a campaign against the government on the rural employment scheme, food security and forest rights act.
Modi has to watch out for this challenger.