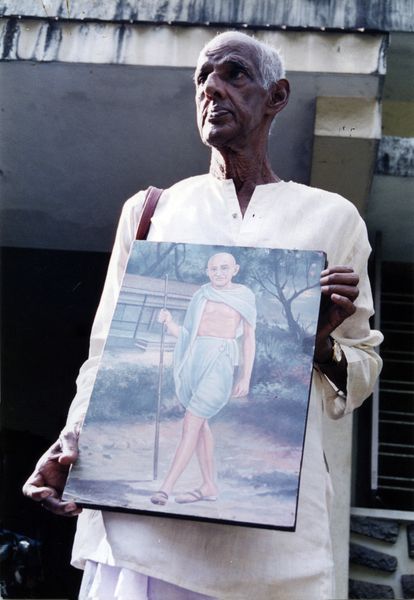 During one of his visits to Kerala, Mahatma Gandhi shook hands with a young man in a milling crowd. The Mahatma exerted a firm grip on K.E. Mammen, until his death on July 26 in Thiruvananthapuram. "Kerala lost its last Gandhian," proclaimed a condolence banner.
Mammen was born in Thiruvananthapuram on July 31, 1921, to Kunjandamma and K.C. Eapen, manager of the Travancore National & Quilon Bank. The family home was across the road from the Travancore royal durbar hall, now the secretariat. Political and protest speeches were a regular affair outside the hall, and Mammen was all ears.
In 1938, while doing his intermediate course at Arts College, Thiruvananthapuram, he became acting president of the Travancore Students Federation. His protests against Diwan Sir C.P. Ramaswami Aiyar got him arrested. The diwan ensured that no institution in Travancore admitted him. Mammen tried Kochi, but was turned down by the Maharaja's College there. Eventually, St Thomas College, Thrissur, admitted him. In 1940, he joined the Madras Christian College for undergraduate studies, but was dismissed two years later for his participation in the Quit India movement. In the same year, the diwan took his ire out on the bank and the Malayala Manorama daily, a family concern. Both companies were shut and the promoters jailed. The daily's editor K.C. Mammen Mappillai and Eapen were siblings and were housed in neighbouring cells. Eapen died in jail on Good Friday 1940.
Mammen left Madras and returned to Tiruvalla in Kerala's Pathanamthitta district to continue the freedom struggle. On July 26, 1947, activist K.C.S. Mani attempted to assassinate the diwan Aiyar. But, he escaped with injuries and cracked down on freedom fighters. Mammen was released from jail just before midnight on August 14. When Jawaharlal Nehru delivered his famous speech in Delhi, the 26-year-old stood in the rain outside Tiruvalla police station and thundered: "Long live free India."
Post-Independence, Mammen practised uncompromising dissent against injustice. He said politicians supported his protests when they were in the opposition, but viewed him as the enemy when they reached the treasury benches. He quit the Congress saying the party had "expelled Gandhiji". He wanted all Congress factions to merge and form the Congress (Gandhian) party.
In 2008, he relinquished his membership in his church, saying churches were far from Christ. He wanted to be cremated and the ashes scattered near Gandhi Mandapam, Kanyakumari. "He was a true Christian. He openly criticised the money-making mentality within the church," said the Rev. T.J. Alexander, a close friend.
In his death, Mammen united politicians in their admiration for him. "He was a lone fighter. He never deviated from Gandhian principles and always fought for the helpless," said former chief minister V.S. Achuthanandan. Shashi Tharoor, MP, tweeted: "He was the 1st leader to publicly urge me to contest in Thiruvananthapuram." Former chief minister Oommen Chandy used to be a regular visitor at Mammen's bedside. Thiruvananthapuram Mayor V.K. Prashanth said that when he visited him last month the freedom fighter's only request was to find a solution to the stray dog menace in the city.
Mammen never married. He thought no girl would ever agree to his demands: no jewellery; only khadi.
Poet Dylan Thomas sang that "old age should burn and rave at close of day". Mammen practised it all day, all his life.
He died four days short of his 96th birthday.