"The young MLAs bring with them a whole lot of fresh ideas and new perspectives, and they are taking the law-making process to new terrains"- P. Sreeramakrishnan, speaker, Kerala assembly
They are young and vibrant. They come in all colours, which is a departure from the all-white dress code of Kerala politics. And, political affiliations do not stop them from making a point or two. Meet the youth of the Kerala assembly. These 18 legislators in their thirties are busy making their mark in the house—both with their insights and outfits.
All of them are well-educated; two are still students at Jawaharlal Nehru University, Delhi. "Our assembly has a very good proportion of young MLAs and they are really changing its face," said P. Sreeramakrishnan, speaker of the assembly. "They bring with them a whole lot of fresh ideas and new perspectives, and they are taking the law-making process to new terrains."
Sreeramakrishnan, 48, is the second youngest speaker ever in Kerala. "I was a bit nervous to become the speaker as there were very senior members in the assembly. But someone reminded me that Barack Obama was younger than me when he became American president," he said.
An aspect that distinguishes the young lot in Kerala from those in other states is that most of them do not have any political lineage. In fact, only three of them are from political families. Others fought their way up from student and youth wings. The Democratic Youth Federation of India, the CPI(M)'s youth wing, had fielded five of its members in the last assembly election. All of them won. Similarly, the student wings of the Congress and the CPI have strong representation in the assembly.
Sreeramakrishnan attributes this to the "long-term vision of the political parties" in the state. "The political parties in the state are to be thanked for giving a chance to these youngsters. They have made it mandatory that those who hold posts in the youth organisations are below 35," he said.
A.N. Shamseer, the legislator from Thalassery in north Kerala, had been with the Students Federation of India, the CPI(M)'s student wing, and the DYFI. "The senior members are very considerate to the newcomers. Even in the assembly, we are given time to raise matters that are mostly unconventional by the assembly standards," said Shamseer.
Congress legislator Hibi Eden recently presented the Good Samaritan Bill, urging the government to encourage those who help victims of road accidents. He wanted the government to spare Good Samaritans of legal tangles that stopped people from lending a helping hand. A former president of the National Students Union of India, Eden is representing Ernakulam for the second time.
These young legislators have enhanced the quality of debate in the assembly. "With their exposure and education, they make lawmaking more meaningful. They are more focused and to the point. They prefer to discuss specific issues and they are result-oriented," said T. Manoharan Nair, special private secretary to speaker, who has seen many assemblies in his 30-year-long service. He said the young MLAs were more concerned about solving local problems than discussing international issues.
This generation shift is more visible in the Congress than any other party, as many of its senior leaders lost in the last assembly election. Young MLAs like V.T. Balram, Shafi Parambil and Anil Akkara have become the face of the Congress in the assembly.
It is not just for their substance these young legislators are leaving an impression, but for their style, too. "When I wore a pair of jeans to the assembly for the first time, many were shocked and I got to hear many horrible comments. While some senior MLAs took it lightly, some reminded me that the assembly was not a college," said Eden. "There are a few other MLAs who come wearing jeans to the assembly. We want to break the conventional dress code of politicians."
And they are just doing that. P. Muhammed Muhassin of the CPI, who is still pursuing his PhD at JNU, is an avid biker. "There is a socially constructed image about an MLA. I am yet to fit into that and I have no intention, either. I believe that one can be a truthful politician only if one is truthful to oneself," he said. Roji M. John, another MLA with JNU background, said he was most comfortable in white kurta and jeans. "That's the real me," he said. "Why should I pretend to be someone else just because I am an MLA now."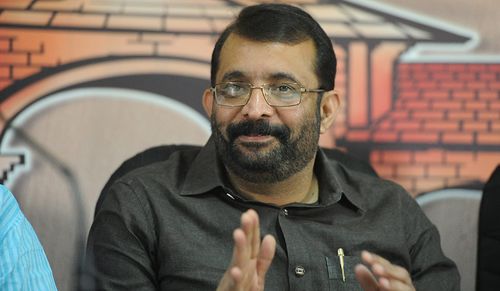 Former SFI state secretary M. Swaraj, who represents Thrippunithura in the assembly, however, is of the opinion that attire does not matter much for a public servant. "Some prefer to go the conventional way, some may dress up colourfully. But what really matters is how they perform and how they connect with the people's issues," he said.
Some of these youngsters strongly advocate a change in the way legislators interact with people. K.S. Sabarinadhan of the Congress, who quit his corporate job to enter politics after the death of his father, G. Karthikeyan, even wants to redefine the "body language" of social workers. "One doesn't necessarily have to appear to be grim and tightlipped or extra serious to the extent of being boring to be counted as a serious politician," he said.
The speaker himself is a bit unconventional when it comes to dressing. "There is no written rule that an MLA always has to wear the traditional attire of white and white. They bring colour and life to the assembly. Let them wear whatever they want," he said. Sreeramakrishnan, who believes the "new generation has taken over'', is busy making the assembly fully automated and paperless.
Not all seniors, however, seem to share the same enthusiasm about the youth and their methods. "They may raise newer issues, but ultimately it is an MLA's ability to connect with the issues on the ground that makes him a good one," said K. Kunhiraman, one of the senior legislators.
That the nature of political discourse is changing in Kerala is there for everyone to see. The thick lines of political differences are getting blurred and hard-line ideological politics is slowly giving way to a pragmatic one. The young legislators are more than aware of this. They speak in one voice when they talk about the camaraderie. "There is a strong bonding between the young MLAs beyond political lines. We are not purely political; we are more practical," said Eden.
The focus on development and the thrust on performance are a common thread among them. They all want to deliver. And they believe that being truthful to oneself is the basic premise of good politics. When these young MLAs assert that politicians need not worry too much about image and what is more important is one's ability to deliver, it is clear that politics is set for a change. It is indeed a fresh order for a state where everyone and everything is political.