"I married many years after nationalisation. Even today I fail to convince my wife how rich we were" - Praveen Chauhan, whose family once owned five collieries

"Respectable families were humiliated in such a way that many could not bear it and ended their lives" - Harish Joshi, activist
When Harish Joshi joined Jayaprakash Narayan's total revolution movement in the 1970s, he had only one motive—he wanted to bring down the Indira Gandhi government. The young Gujarati, who lived in Jharia in Dhanbad (now in Jharkhand), was angered by the nationalisation of coal mines in Dhanbad. Some 270 families lost their mines; 200 of them were from Dhanbad's Gujarati community. Many of them lost everything, as even their houses were in the name of the companies.
Joshi's family did not own a coal mine, but he could not digest the injustice. "Respectable families were humiliated in such a way that many could not bear it and ended their lives. Some of them died of cardiac arrest; many others became mentally disturbed," he said. Joshi wrote a series of articles in a local newspaper against coal mine nationalisation. Many of them were written during the Emergency and he was arrested under the Maintenance of Internal Security Act in 1975.
Prime Minister Narendra Modi recently felicitated Joshi, 63, for battling the Emergency. A member of the Rashtriya Swayamsevak Sangh, Joshi has a word of advice to the fellow Gujarati, whose government plans to mop up billions of rupees auctioning coal mines: "Don't think that Gujaratis everywhere are happy. In this part of the world they are an unhappy lot; distressed and tortured and have not got any justice yet. If you really have guts, Mr Prime Minister, you need to pay them back for what they had gone through in their lives."
Joshi says the nationalisation of coal mines in 1971 was an act of revenge by the Indira Gandhi government. "The Congress wanted Rs10 crore from the coal mine owners in Jharia. They refused to give it," he said. "The irony was that, on the day of Dhanteras, when they prayed for wealth, the government snatched their property. It made them beggars forever."
Pankaj Dave's family owned a coal mine in Dhanbad and lived in a palatial bungalow till 1971. Now they live in a dilapidated rented house. Ask Dave about their loss, and he would point at an ailing man sitting at the corner of a long corridor. Lalit, his 70-year-old elder brother, was the pride of the family when they owned a big colliery near Jharia. He looked after the company after their father's early death. "The sudden nationalisation shocked my brother," said Dave. Lalit does not recognise anyone now.
Dropping out of school, Dave took a small job in a tailor's shop in Jharia. His brothers became labourers in the colliery they once owned. Dave's struggle continues; his son, a graduate, has not found a job, and his daughter is still in school. Dave is not impressed with the Modi government's decision to give coal auction money to states. "Do you feel the state government would give us money? We request the prime minister to give jobs to one member in our families. We have not received a single paisa as compensation," he said.
A few kilometres from Dave's house lives Chandu Verma, 73, who once controlled 14 collieries. The Verma Bungalow is on a few acres and is imposing despite the age. But the dozen luxury cars that once adorned the courtyard are no longer there. These days he rides around on an old scooter. A few movies were shot on his mines and actors Dharmendra, Shatrughan Sinha and Raj Babbar were his guests. "He used to have an army of private security guards," said Joshi.
Now Verma does the domestic chores himself, and looks like someone who has resigned to his fate. He did not lose the bungalow because it was not in the name of the company. Following a family tradition, his grandfather had given its ownership to the women in the family. "Cars, furniture, utensils and whatever was there in the company's name were taken away," he said. "We used to buy everything in the company's name to show it in the expense category in the balance sheet." When reminded about his favourite Rolls-Royce, Verma retorted: "Forget the Rolls-Royce, I lost even my teacup. I had twelve cars; all foreign. But what I still remember is, the next morning after nationalisation, we had to go out to have our first cup of tea in a local stall."
Jharia is the only place in India where coking coal, which is essential for steel manufacturing, is available. With the increasing demand for steel, the government wants to increase the production by introducing modern technology, a reason it wants private companies to be involved. Verma cited it to refute Indira Gandhi's nationalisation policy. In fact, he said, many private companies used advanced techniques even in the 1950s and 60s.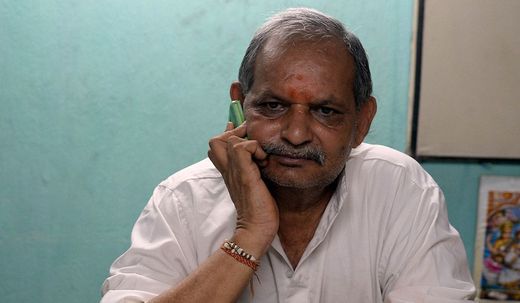 Jharia is a mess now. Lakhs of people are suffering from the burning mines. Experts attribute the fire to the open cast mining practised by Bharat Coking Coal Limited, a subsidiary of Coal India, which owned all mines in Jharia after nationalisation. "What did you get out of nationalisation then? The entire belt is filled with coal mafia. Poor people are suffering from coal fire and a raw deal from the policy of displacement. The people from whom mines were snatched turned poor overnight. This is the story of resurgent India. The current prime minister is no exception to his predecessors. His policy of giving back money from coal auction will not help the people here anyway," said Ashok Agarwal, president of Jharia Coal Bachao Samity, which fights for alternative employment for the displaced people.
Verma said nationalisation failed to do any good to the coal mines and the economy. "It did not increase the coal production or reduce the price of coal," he said. "When we ran it, we were not allowed to increase the price set by the government. But, when the government took over, coal prices shot up 250 times," he said. And, he, too, does not expect much from the Modi government. "Modi might want to do something. But, there are corrupt people who would not let him work," he said.
People of Jharia still have not forgotten Verma's good old days. "Whenever he rides around on a scooter, we all look at him," said local trader Darshan Singh. "What a fall." The family could never stand on its feet after the nationalisation. Verma's father soon turned blind because of acute diabetes. "He did not remain with us for long," said Verma. "I got a call from a Bollywood friend to join him. But, I could not go as I had to look after my mother. My brother went back to Calcutta and became a trader. Our bank accounts were frozen. The only story from our lives is we are surviving."
For many of these families, the humiliation was unbearable. Praveen Chauhan's family, which owned five collieries, had to live in a house meant for their labourers. The house escaped acquisition because it was in the name of the family, not their company. They lost many buildings they had owned in Jharia and Dhanbad, and even a temple on the company premises. "We were not given the right of the temple," said Chauhan. "We took the idols and erected a temple near our house later."
The family, however, proved resilient. Chauhan's brother was a mining engineer and they put together every paisa they earned. Now they live a decent life. The past, however, has not been forgotten. "I married many years after nationalisation," he said. "Even today I fail to convince my wife how rich we were," he said. Many of his cousins, who were joint owners of the mines, had become labourers in the same mines. "Even today there are whispers on every lane. People look at us and say we are the fallen kings. So humiliating it sounds," he said.
Many families that lost everything to nationalisation say there should be provision for compensation. "The government can nationalise mines but how could they snatch all the properties without giving any compensation?" asked Chandrakanta Chawra, a former mine owner. "Our stocks were looted and bank accounts were frozen. Such was the tragic situation that coal owners started working under the manager of the company they once owned. I had to do the same." But, his elder brother refused to do that and opened an audio cassettes shop in Dhanbad.
For the Chawras, moving from a bungalow to the thatched room was the most humiliating thing. "We lived like bastiwala," said Chawra. He dropped out of school, and after many years of struggle, he now owns a motor machinery shop in Dhanbad. He is not pinning hopes on the Modi government's promise of building a smart city in Dhanbad. "Can he undo the damage done to the Gujaratis several decades back?" he asked.
None of these Gujaratis went back to their home state, which is now a thriving industrial hub. Had not they heard how Modi changed Gujarat? Chawra's answer came quickly: "Gujaratis in Jharia don't believe what politicians say."