Abdur Rahaman, a class six student, daily walks to his school in Gede in West Bengal's Nadia district. Classes here begin at 11am and end at 5.30pm. But Rahaman leaves school at least an hour earlier so that he could reach his village, Kulupara, by 5.30pm. Kulupara lies in no-man's land, located 150 yards beyond the zero line along the Indo-Bangladesh border. To reach his village, Rahaman has to cross the border fencing. A minute late, and the gate on the fenced border is closed.
Kulupara is one of about 340 villages in West Bengal that lie beyond the India-Bangladesh border fencing. These villages, with around 70,000 people, are in the districts of North 24 Parganas, Nadia, Murshidabad, Malda and South Dinajpur districts. The barbed wire fencing came up as per an international border agreement, according to which a free zone—with no inhabitants—would be created around 150 yards from the zero line on both sides. While India accepted the agreement, Bangladesh did not. Neither has it erected any fencing on its side. Many villages along the India-Bangladesh border fell in the 'forbidden territory'. But most residents of these villages refused to leave their fertile land and relocate.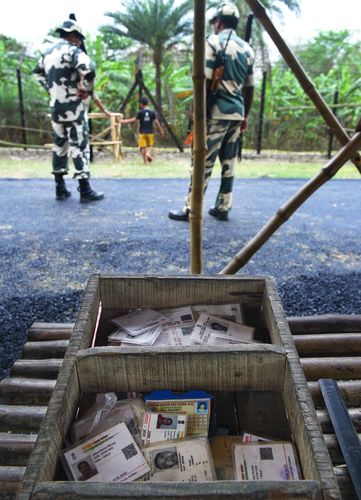 Travelling in Kulupara village, with 500 residents, seems like solving a jigsaw puzzle. As the officer in-charge of the BSF team warns us, "Just walk along the left side of the numerous pillars planted on the road. If left side of the pillar is India, the right side of it is Bangladesh." Entry into these villages comes with prior permission, for goods as well as for people. Though the villagers have an identity card, without which they cannot enter or leave the village, they have no identity. The forbidden territory also seems forgotten, neglected rather, as development hasn't reached its doorsteps yet. Though West Bengal is going through an assembly election, there is little evidence of it here except the writing on the wall. There was no campaigning—door-to-door, on loudspeakers or otherwise.
"We want to be Indians. But what have we received from Indians? No candidate from any party comes to us. Only a few partymen sometimes come to write on the walls. They desecrate the walls that we built with our hard-earned money," says Sudo Mandol, 50.
The village was part of East Pakistan till 1971. But after Bangladesh was created and the border demarcated, it became part of India. Sudo says they were given a chance to go to Bangladesh, but they refused as they would have had to leave their land. "We cannot leave our land come what may. Let us be people of no identity and remain in isolation," he says.
Sudo's children—Susmita, 14, and Rahul, 13—studied in a primary school in Bangladesh but shifted to a school in West Bengal as there was no high school in nearby Bangladesh villages. They walk for almost 8km to attend school every day. "Yes, they study in Indian schools but they consider themselves foreigners because they see the border fence as the boundary. However, people of Bangladesh are more accessible to us than the Indians," says Sudo.
This is a sentiment echoed by most villagers, who consider themselves Bangladeshis, as they went to school in Bangladesh, had Bangladeshi friends, exchanged gifts during Eid and danced to the tune of Bangladesh's national anthem—Amar Sonar Bangla, Ami tomay Bhalobashi (Oh my golden Bangla, I love you)—whenever Bangladesh won cricket matches. The Border Security Force, therefore, has now started drives to bring more children to Indian schools. "We could not let our boys and girls study in schools in Bangladesh. So we made a special drive to bring them back to schools in Bengal," says a BSF officer.
Sudo's neighbour Mohammed Bojlu Mondal, however, says that Chief Minister Mamata Banerjee saw to it that some of the schemes were implemented in these villages. The electrification in Kulupara began during the last year of the Left Front government; it was completed by the present regime. Mondal, 45, managed to construct a one-storey house under the Indira Awas Yojana, but was denied the liberty to have a concrete roof. A BSF official says, "We could not allow a permanent construction beyond the fences as during wartime we may have to vacate the village."
Mondal, a carpenter with a two kottahs of farmland, had a tough time finding a wife some 20 years ago. Owing to a low sex ratio in Kulupara, men here had to go bride-hunting in Bengal. But not many parents were willing to send their daughters to no man's land. At last, a poor villager, with too many daughters, in Nadia came to Mondal's rescue. A few years after their marriage, Sokhina fell ill. As there was no hospital in the village, Mondal had to take her to "mainland Bengal". He had four daughters with Sokhina. With Sokhina ill and bedridden, he now has a second wife, from whom he has another daughter. His biggest worry, he says, is to get his daughters married grooms, too, are hard to come by from Bengal.
Women who married Kulupara men say their fathers had given them the death sentence by sending them to this village. Suffocating is the word Rehna Mondol, 55, uses to describe her 25 years here. A resident of Chapra village in Nadia, she says her father was too poor to find a groom for her in Bengal. "In our village, the dowry demanded is at least Rs 2 lakh. So when my husband did not ask for any dowry, my father happily handed me to him," she says. No government projects have been implemented here, she says, be it providing rice for Rs 2 per kg or giving girls a monthly stipend of Rs 750 under the Kanyashree project. "No one looked at us. The government itself considers us foreign nationals," she says.
Five kilometres away from Kulupara, there are no pillars marking borders in Hudodigambarpur village, just a narrow river, the Saraswati, dividing India and Bangladesh. The resentment against India is no less here, but villagers look to Bangladesh for solutions. For instance, brides come from Bangladesh instead of Bengal here.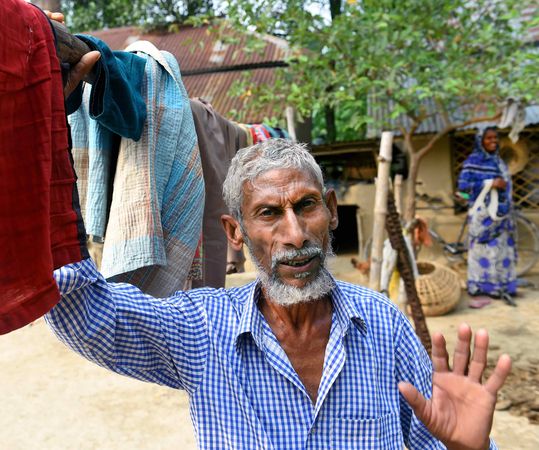 Thirty years ago, Mohammed Sirajul Mullick, 66, found his wife in Bangladesh. Today, he has found a bride for his eldest son, Rahim, who works as a mason in Odisha, from Bangladesh. His younger son, Ripon, is in class nine. He, too, shifted from a school in Bangladesh to one in India. He used to cross the Saraswati on a small boat to reach his school in Bangladesh. "I had many friends there," Ripon says. "I invite them to our house during special occasions. I also go to their homes during Eid. In fact, apart from school, we do not need to go to India."
And, he seems to be right. While villagers use Bangladeshi products, they sell or barter rice and vegetables grown in their farms. "How can we go to India for shopping? Those shops are at faraway places," says Mullick. "It would be better to cross the river and go to Bangladesh for shopping." But the easy exchange of goods across the border has also facilitated smuggling. Therefore, the BSF has been carrying out additional checks and has prohibited the supply of certain goods and materials. The inspector-general of BSF in south Bengal, Sandeep Salunke, says, "BSF cannot let goods and materials crossing the fences beyond the specified limit. If villagers feel they need more goods and materials, then they would have to move the state government."
But unlike Kulupara, Hudodigambarpur has a political activist—Jotirbox Mondol of the Trinamool Congress. He says the situation has changed recently with the government setting up a tubewell in the village and with partial electrification. Some roads, too, have been constructed recently. But he admits that politicians are yet to win the trust of the villagers.
Jotirbox's elder daughter committed suicide last year as she had to travel 10km daily to study in a government-run school in Bengal. "I had got her enrolled in primary school in Bangladesh, which was nearby. But then I realised that being an Indian political activist, I could not do that," he says. "So, I got her enrolled in an Indian school, which was faraway. That created problem. I forced her and she committed suicide." His younger daughter, however, goes to a school in Bengal after Jotirbox got her a bicycle—though not through the West Bengal government's Rs 250-crore cycle project.
The proximity with Bangladesh, however, has created a communal division. Both Kulupara and Hudodigambarpur had several Hindu families residing earlier. But many of their houses were looted by Bangladeshi goons.
Sukumar Biswas, who used to live in Hudodigambarpur village, says he and other Hindus lived in peace with the Muslims in the village. But "I along with many Hindus saw our houses being looted by Bangaldeshi goons. We faced torture from the Border Guards Bangladesh.... Muslims got different treatment though. At last we decided to sell our farm land and went back to a village ahead of the zero line fencing."
But all these resentments and restrictions haven't made villagers like Mullick indifferent to the Indian political system. Asked about whether he would cast his vote and that, too, for Mamata, he says: "Yes I would vote. But why should I tell you in whom I will vote for?"