On September 15, 1945, G. M. Das was captured by the British. However, they did not detain him as a POW. Upon capturing Das, the British army said: "We have recovered him." Was Das's life that precious to the British?
In April 1946, Samar Sarbadhikari landed at the Calcutta airport along with some of his Indian National Army comrades. Most of them had been recruited from Singapore, Malaya and Burma to fight for a free India under the leadership of Netaji Subhas Chandra Bose. The British army had categorised these men as blacks, which meant they were the most committed to Bose's cause and had to be dealt with severely. And, though they had surrendered a year before, these men were taken to several detention camps throughout undivided Bengal before they reached Kolkata.
After their capture, Sarbadhikari and his comrades told the British military that they were desperate and committed to the INA ideology. "And, for that, we were harassed no end and tortured in prisoner camps. We were not like the others who lied when they were asked how much they loved the INA. Many of them told the British forces that they were forced to join the nationalist force. So, they were branded as less harmful [whites] by the British army," Sarbadhikari wrote in a letter to his INA comrade Debnath Das. The letter had been sent to 1 Woodburn Park, Kolkata, which was the house of Bose's elder brother and nationalist Sarat Chandra Bose. Those days, many revolutionaries had their letters sent to his home.
"We fought for our independence, so we gave the right statement. Others gave wrong statements, perhaps because they needed to," wrote Sarbadhikari.
The special branch of the Calcutta police got hold of the letter, and it was stowed away in the intelligence branch's Kolkata office. That is, until a few days ago. This letter was part of the 64 files that the West Bengal government declassified on September 11.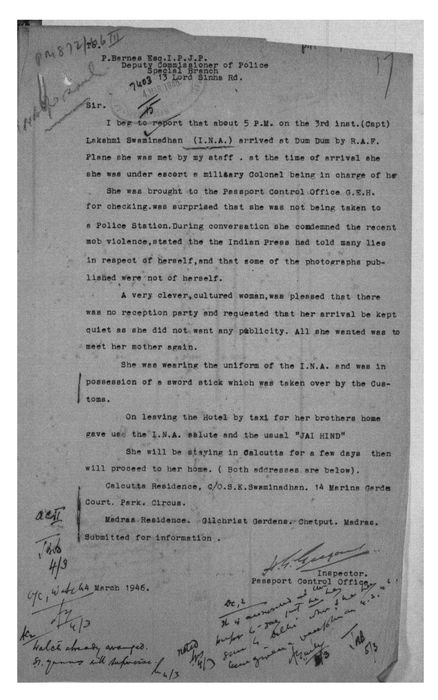 The Netaji files reveal many other untold stories of the INA, the Congress and other parties involved in India's freedom movement. But, contrary to expectations, the files have little to say on Bose's mysterious death and its circumstances. However, the files did puncture a notion that many Indians, and Bengalis in particular, had held for long. It was the idea that Bose was able to string together a huge army, but succumbed only because of the lack of modern techniques of warfare. On the contrary, the files seem to suggest that a large number of INA soldiers were disgruntled, disillusioned and disheartened, and they did not want to fight a losing battle. The British had taken note of this discontent and had intervened to bring the INA to its knees.
The INA had a huge number of Indian soldiers who had been part of the British army, but had surrendered to the Japanese forces after the fall of Singapore in 1942. Several other volunteers of Indian-origin had been recruited from various parts of Southeast Asia, including Burma, Singapore and Malaya. The British military forces, the files seem to suggest, were able to create division between the two groups—the former British soldiers and the unskilled volunteers, most of whom had answered Bose's clarion call: "Give me blood, and I will give you freedom." Some reports say that, of 60,000 INA soldiers, 26,000 died in World War II. The exact strength of the INA, however, is still not known.
The British were keen on taking advantage of the huge resentment among soldiers, most of whom felt "they had given too much, but got little in return".
One of the interesting tales in the Netaji files is about Gour Mohan Das, who was enlisted in the British Indian army in 1940. He went to Malaya and, after the fall of Singapore, was captured by the Japanese and became a prisoner of war on February 15, 1942. Later, he joined the INA. On September 15, 1945, Das was captured by the British troops after Japanese forces surrendered. The British army, however, did not take him into custody. Nor was he detained as a prisoner of war. The files say that, upon capturing Das, the British army said: "We have recovered him." Was Das's life that precious to the British?
Ever since he was captured in 1945, the intelligence branch of the Bengal Police kept an eye on Das and the files seem to suggest that his residence at 23 Bipin Mitra Lane, Calcutta, was snooped on. His home at Jangipara in Hooghly district was also kept under surveillance. On February 28, 1945, the intelligence branch office in Calcutta, in a letter to the superintendent of police, Hooghly, wrote: "Forwarding herewith a note on the under-mentioned individual. I would request you to keep an eye on him should he return to your district. Inform this office if any untoward conduct comes to light."
Perhaps the British army wanted to know whether Das had gathered information on the INA or if he had, possibly, developed sympathy for its cause. The British army saying that it had "recovered" Das could perhaps explain his special treatment. When THE WEEK asked a few current IB officials, they said it could have been the planting of a "mole" within the opposition force.
On February 15, 1942, Sarju Prashad, a British army jawan, surrendered to the Japanese force. He wanted to join the INA but, as he was not considered fit to be a fighter, he was kept on as a sweeper. On September 15, 1945, Sarju surrendered to the British army, which made him a prisoner of war with "special status". He was not questioned at all but, like Das, he was kept under surveillance.
"It was their style of functioning during the British rule," said A.K. Biswas, a retired Intelligence Bureau officer from Kolkata. "During those days, the British army planted their men in the opposition force and in Indian political parties."
The declassified files mention a few hundred cases of such captured INA soldiers who had been treated kindly by the British army.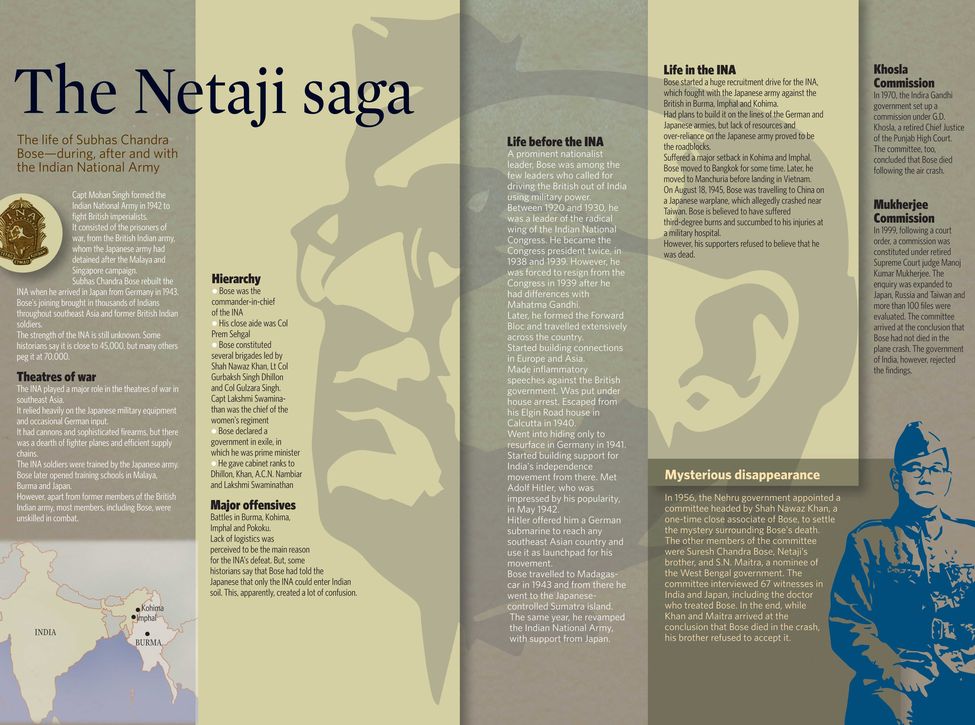 Also read: Making of the 'netaji'
Historian Rajat Kanta Ray, an expert in Southeast Asian history, said the INA soldiers were among the bravest in the world and dismissed claims that there were moles among them. However, he admitted that Bose's charm was fading. "After the war, soldiers lost their loyalty to Subhas Chandra Bose as the leader himself left his soldiers and was planning to fly to Manchuria to try to build another army," he said.
The files, however, mention another case which Ray, perhaps, would find hard to believe. Ramesh, an INA cadet, wrote in a letter to fellow cadet C.P. Narayana that, while in detention in Mumbai, the captive INA members went holidaying in Pune for a few days. "We were in camp in Mumbai and all of us went for a holiday to Pune. However, all of us were curious about what happened to you," Ramesh wrote. A. Ganguly, assistant sub-inspector of the state's intelligence branch, intercepted the letter, which then became part of the declassified files.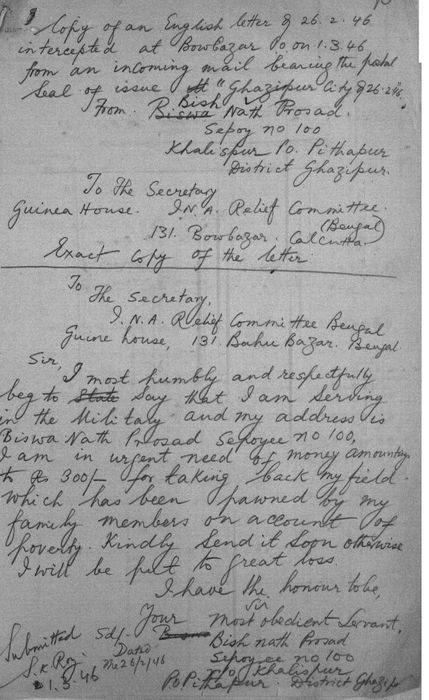 Meanwhile, fearing a resurgence by Bose, Jawaharlal Nehru seemed to be trying to lure away men from the INA. Says Netaji's grandnephew Chandra Bose: "My father, Amiya Nath Bose, and grandfather Sarat Bose, had the opportunity of understanding the politics behind the INA. My father, who was the secretary of the INA Defence and Relief committee, told me that the former British troops in the INA were treated differently compared with the original rebels. Though Jawaharlal Nehru came to an agreement with Lord Mountbatten that no INA soldier would be part of the Indian armed forces in free India, many former British army jawans, who were later part of the INA, got jobs in the Indian armed forces. It was unimaginable."
The INA relief committee was set up by the Congress to protect captured INA members from trials. The freedom of some high-level INA leaders had become a major political issue at the time. Nehru apparently wanted to erode Bose's support base and he thought, perhaps correctly, that the former British soldiers in the INA would assimilate into the system more easily.
And, it seemed to work. Hundreds of INA soldiers, from cadets to senior officers, started writing letters to Congress leaders for jobs, special assignments and money to start businesses. Meanwhile, their dream of a free India was still a dream. Some of Bose's disciplined fighters, the files suggest, were desperate to start over. The files suggested that Nehru had planned to allocate Rs50 as pension for each captured INA soldier. The money would come from the Congress fund. Apparently, Congress workers throughout the country had put pressure on Nehru to create this fund for the families of INA soldiers who had been killed on the battlefield. The files also suggested that Nehru backed out after the British government objected.
W. Mck Wright, then assistant director of the Intelligence Bureau, sent a report to the British government that read: "We have secret information suggesting that the Congress proposes paying family allowances at the rate of perhaps Rs.50 to the dependent of INA sepoys. The payment will be widespread and impossible to conceal. Even the Congress could hide this fact. Report sought urgently."
Chandra Bose said Nehru had always acted under British pressure.
"Forget giving monthly emolument before independence, Nehru made sure that INA soldiers could never get freedom fighter allowance," he said. "His decision of making India a part of the Commonwealth snatched away all such plans India could have had for INA soldiers," Bose told THE WEEK.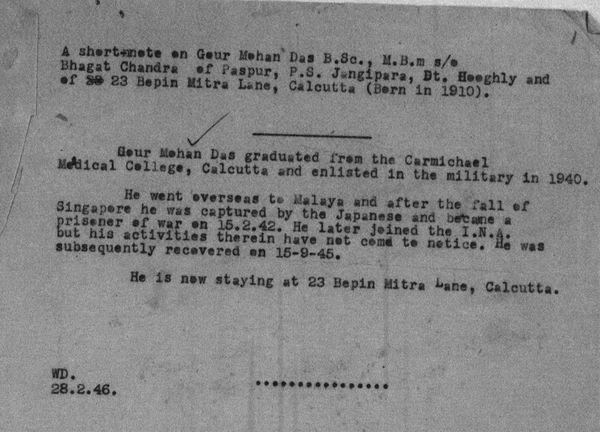 The files also said that two captains, J.N. Dasgupta and Ram Prashad, wanted to go to the Congress medical mission in the Far East against their release from detention. "Our names may please be intimated to president of the mission," their letter read. Cadet Bibhuti Bhushan Goon Mallick, meanwhile, wanted a job in the Calcutta municipal corporation. Mallick's letter to the relief committee, now part of the files, read: "It would be much appreciated if you employ me in the Calcutta corporation. Your office has the record of my academic qualifications."
Having toed the British line so far, Nehru, after becoming prime minister, allowed senior INA leaders to be part of his government. The low-ranking soldiers, however, were deprived of any such acceptance.
One of these leaders who found rapid success in the Indian political system was Lakshmi Sehgal. She was known as Lakshmi Swaminathan during her INA days and her dramatic return from Singapore found mention in the files. The report of P. Barnes, an intelligence branch officer, said: "On March 4, 1946, Lakshmi Swaminathan landed in a Royal Air Force plane. She was met by my staff upon arrival and was escorted by a military colonel in charge. She was brought to the passport office and I was surprised that she was not being taken to a police station (as mandatory). During conversation, she said that the Indian press had told a lot of lies about her. Some of the photographs published [which claimed to show Sehgal] were not hers. A very clever, cultured woman, she was pleased that there was no reception party and she had requested that her arrival be kept quiet as she did not want any publicity. She was wearing the INA uniform and had a swordstick, which was taken away by customs. She, however, gave us a salute and a Jai Hind."
The files do not go deeper into Sehgal's role, nor do they have many details on Bose. Perhaps there is more truth in the files the Union government possesses.