When Burma became a republic, Tamils there were given the option to become citizens. When the army captured power in 1962, it asked Indians who were not willing to get citizenship to get out.

Haji Abdullah, (in pic, wearing cap), who was born and brought up in Burma, said the fear for his life stopped him from going back to Myanmar.
Irudaya Mani's vigour belies his years. Tall and well-built, the nonagenarian goes for a walk every morning, and without exception greets everyone on the way. However, the gesture is rarely reciprocated.
Mani lives in BB Colony, also known as Burma Colony, in Chennai. Most residents of the colony are people of Tamil-origin who came from Burma (Myanmar) half a century ago. They all have Indian citizenship, but the city has not accepted them even after all these years. "There is hardly any respect I get in Tamil Nadu," said Mani. "Initially we were oppressed socially and financially. The oppression is no longer there, but the cultural isolation is," said Mani.
Tamils migrated to Burma during the colonial era to work in rice fields and rubber plantations. In early 20th century, there were more than two lakh of them in Burma. Most people Mani's age in the Burma Colony were born in Myanmar. And many of them were members of the Indian National Army led by Subhas Chandra Bose. Mani was a propaganda secretary of the INA at Mandalay. "Bose visited us and asked to sacrifice our lives for the nation. He visited us a few more times later," he said.
A photograph of him with Netaji's daughter, Anita Bose Pfaff, whom he met a few years ago, adorns Mani's room in his son's house. Another picture is with former president Pranab Mukherjee, who felicitated him on Independence Day a few years ago.
As propaganda secretary, Mani recruited boys and girls for the INA. "I quit my education just to do that. I was more interested in freeing India than anything else. We believed Rangoon [Yangon] would stay with India after independence," he said. But Burma became an independent republic.
Most of these war heroes now think their sacrifice was in vain. "The nation does not know that the soldiers of the INA in Burma are still alive and living in one corner in south India. No one takes care of us," said P. Chandra, 92, who was also an INA propaganda secretary.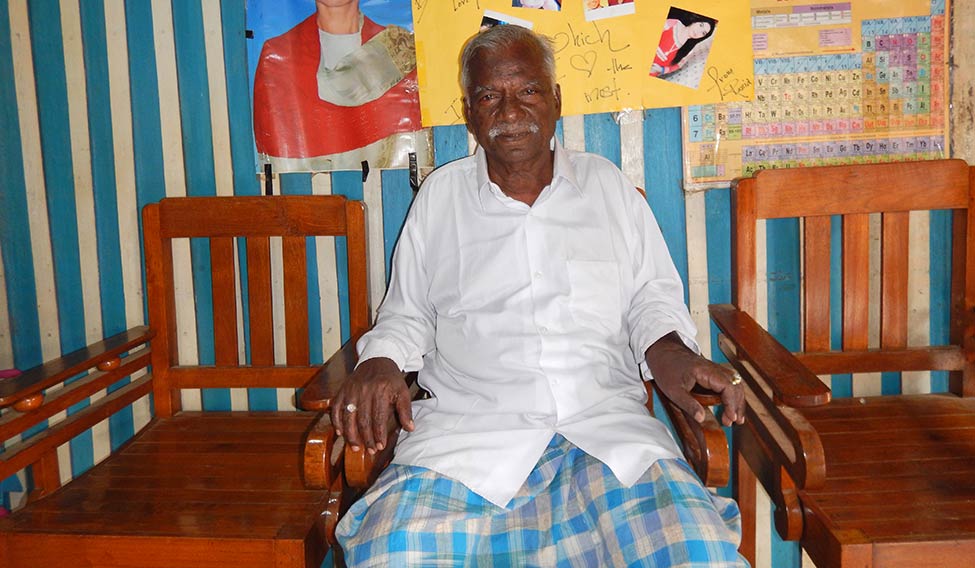 But their memories of their great leader are still vivid. V.K. Challam, 88, was just a boy when he met Bose. "I used to deliver letters to men and women, secretly asking them to join the INA. Many of us were hiding in a forest when Bose visited our camp. He was accompanied by a Japanese colonel. Our superior, Captain Yadav, stopped me when I tried to shake hands with Bose. But Bose told him to let me do it. He told us to bring more and more people to the struggle to free India," he said.
Challam's eight children grew up in BB Colony. Five of them were born in Burma, and three after he came to Chennai. All his children and their families live in two houses side by side in the colony. "Two of my sons are in the railways, two in the Reserve Bank, one in the electricity board and one in the corporation. Of my 18 grandchildren, three are doctors," said a proud Challam.
Things, however, had not been as smooth in the beginning. "I brought them here with great difficulty. I worked as a day labourer to support my family. No one here respected my links to the freedom movement and the INA. I was denied jobs and worked as a porter in the railway station," he said.
When Burma became a republic, Tamils there were given the option to become citizens. "Most of us refused to," said Mani. However, when the army captured power in 1962, it asked Indians who were not willing to get citizenship to get out. The military junta nationalised the businesses owned by Tamils. "We contacted the Indian embassy in Rangoon and made our journey back to Tamil Nadu via Calcutta with the very little money they gave."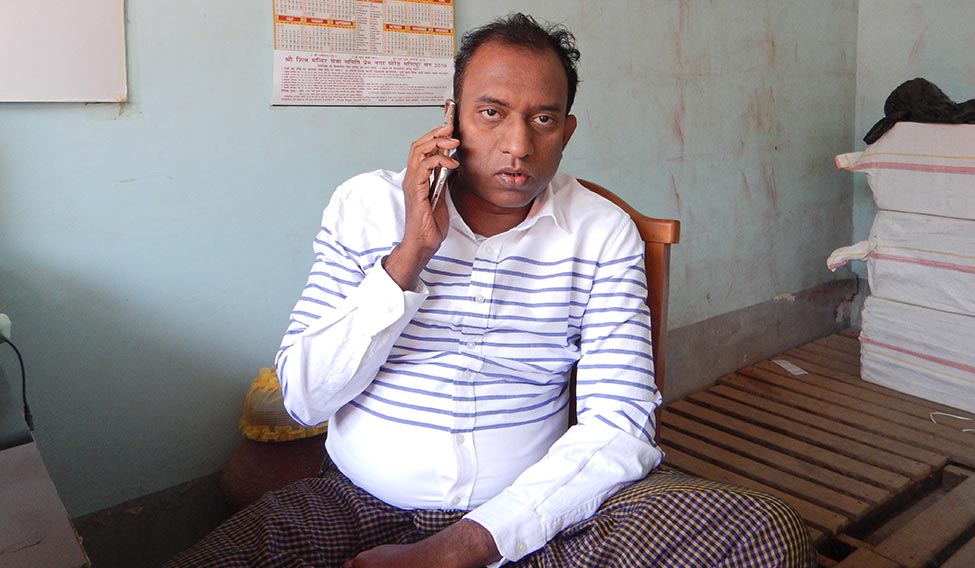 Some 3,000 Burmese Tamil families settled in Chennai, and several thousands more in the rural belt. It was not any easier in Tamil Nadu. The government offered little help. When M.G. Ramachandran became chief minister in 1977, he set up the BB Colony. "Still we were called encroachers as the government refused to give us patta (title deed) for the land. In 2006, M. Karunanidhi gave us the patta. It took 26 years for the government to recognise us," said Mani.
But Mani and hundreds of others did not get any land because they could not furnish all the details on time. "I have not received any land because I left my documents in Burma. In the initial years I used to beg on the street to run my family. I continued to live on encroached land, and later my sons bought a small piece of land," he said.
Three of Mani's seven children were born in Myanmar. His three sons work as drivers and another son is a porter at the railway station. "I got nothing from India. Look how my sons were brought up. And I do not have a house in my name even today," he said.
The freedom fighter pension he used get was suspended in 2000. "The home ministry, when L.K. Advani was the minister, stopped my pension. The ministry officials told me that I was not eligible," said Mani. The Manmohan Singh government restored his pension in 2006. "The home ministry wrote to me saying they were sorry about what I had gone through," he said. On the recommendation of the government, the president of India honoured Mani at an event. "I cried when I received accolades from President Mukherjee," he said.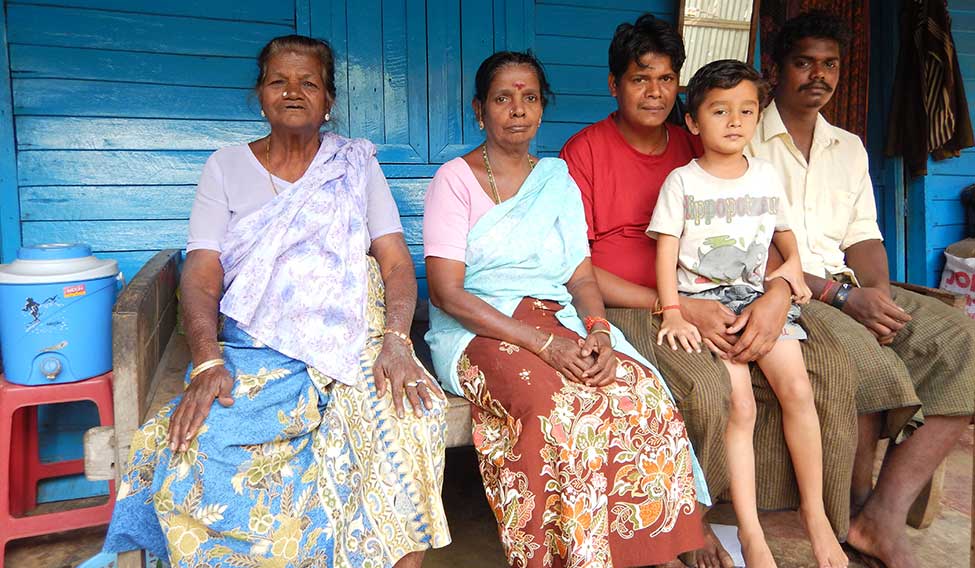 Things were good in Burma until the army took over the country. "We were treated as heroes by the Burmese people," said Chandra. "But in India we were treated as animals. They took us as Burmese though Tamil is our mother tongue." He said he had difficulty schooling his eight children in Tamil Nadu. "Schools were reluctant to give admission," he said.
N. Vinayangam, 81, who used to live in the BB Colony, said it was akin to ostracism. "Tamils used to treat us as violent and antisocial elements," he said. "They were scared of us; in fact, they still are. Yes, out of poverty some of us might have done something bad. But should that be a reason to isolate the entire community?"
Burmese Tamils are proud of their past, and they are not willing to give it up. "We prefer lungi to the Tamil dhoti. We speak Burmese; that is the reason our children faced discrimination. It is going on even now. Irrespective of our education, we won't be taken into the cultural mainstream of Chennai or Tamil Nadu," said S. Muthaia, 62, who came to Chennai with his father at the age of ten.
When he left Burma in the 1960s, V. Shanmugam did not get on a ship to Madras. He went to Calcutta, where people ate and slept the beautiful game. He played for Mohun Bagan with the likes of P.K. Banerjee and Sayed Nayeemuddin, and was the top scorer for the club in one season. "I was rejected for the Olympics qualifier because I was not an Indian then," he said in fluent Bengali. "I had to come back to Chennai to look after my family, and could never go back to Calcutta to play football again." Shanmugam coached the Tamil Nadu team later, and got a clerical job in the Food Corporation of India. "Today no one recognises me," he said.
Three thousand kilometres away from Chennai, in Moreh in Manipur, finding a Dravidian face is almost as easy as finding one in Tamil Nadu. Some 3,000 Burmese Tamils live in this border town, which is about 200km from Imphal. The first generation of these people had gone from Burma to Tamil Nadu in the 1960s, but could not adapt to the Tamil culture. Though they tried to return to Burma, the Myanmarese army stopped them on the border. In the past five decades, they have been living with Manipuris and Nagas.
But why did they leave Burma in the first place? "They wanted us to commit that we would have no link with India. We refused," said K. Guruswamy, 76, the first settler in Moreh. "My father was an INA solider. He fought for the independence of India. How could we forget that? So we said no."
But Chennai turned out to be worse. Guruswamy said he could not tolerate the humiliation. "We have nothing in common with the Tamils in Tamil Nadu. Also, there was complete isolation. Neither the government nor the common people accepted us. So, many of us made a journey back to Myanmar. I was the first," he said.
He reached the Myanmar border in Manipur in 1970. "I crossed the border and sneaked into Myanmar territory. But at Tamu check post I was caught along with my wife and child. We were in jail for one and a half years," he said. They were released after the Indian government intervened. But after the deportation to India, they were arrested again. Guruswamy, his wife, Manorama, and their child were in jail in Manipur for six years. Then they were moved to an Assam jail, and later released.
"After release, we were asked to go back to Tamil Nadu. But we refused and we crossed three hills in Manipur to reach the Myanmar border again. Like me, many others also got arrested in a bid to cross over to Myanmar. As they were released one by one, we created our community in Moreh," he said.
The 500 families settled in Moreh have one ambition—go back to Myanmar. "Yes. We have their culture, ethos and values. We would like to go back to our old land," said Guruswamy.
Ten of Guruswamy's 11 children were born in Moreh. Only two of them are alive. "The others died of unknown diseases, without being treated. Where could we find doctors those days? I could not look after them and my wife," he said. His son Manimaran, a carpenter, cannot read or write Tamil. He married a Burmese woman, and their son knows nothing about Tamil language or culture. "In fact, there is hardly anything Tamil in us except our names," said Manimaran.
Moreh's only South Indian restaurant is just opposite Guruswamy's house. It serves idlis and dosas. "We can forget everything about Tamil Nadu, but not food," said Guruswamy.
Most of the second and third generation Tamils in Moreh do not speak Tamil. "Why should we teach them Tamil?" asked S. Bakiam, a Tamil woman in her sixties. "We were sent to Chennai, but we left Tamil Nadu because we were not accepted there. They did not even want to give us land to live on. It is because of them that we spent time in jail for trying to sneak into Burma."
Bakiam, her husband and toddler daughter spent five years in jail in Myanmar, and then a few years in jail in India. She started a shoe shop in her house after the death of her husband. Shoes come from Myanmar, and she distributes them to various parts of Manipur. "I send Indian footwear to Burma as well," she said. One of her daughters, Pumudi, stays with her. Another one is married to a man in Tamil Nadu.
Pumudi went to Tamil Nadu a year ago, after the death of J. Jayalalithaa, whom she admired. "Had she been the chief minister in the 1960s and 70s, Tamil migrants from Burma would not have faced these problems," she said.
Interestingly, the Muslims in Moreh do not fancy going back to Myanmar. Mohammad Tila Khan, a businessman and the general secretary of the Tamil Sangam, said Myanmar had become a dangerous place for them. "About 20 lakh Muslims were displaced from that country. You want me to go back? Never, despite the fact that I was born there," he said, referring to the plight of the Rohingya Muslims in Myanmar. His six daughters have all been married, and live in different parts of Karnataka. "I am happy being here because I love the place. In fact, Moreh was created by us, the Burmese Tamil," he said.
Haji Abdullah, 65, who was also born and brought up in Burma, said the fear for his life stopped him from going back to Myanmar. His family ran a big hotel in Rangoon. They were shipped to Tamil Nadu in the 1960s, but they came back soon, and were caught while trying to sneak into Myanmar. Abdullah lost ten of his 12 siblings in the past 40 years. "The three children of my parents who are alive live on the border. If we are honest, we will call ourselves Burmese. We are a northeast style rice eating community. We like fish from freshwater, not the sea," he said.
There are a few thousand Tamils still living in Myanmar, mostly in and around Yangon. They have taken Myanmarese citizenship. I met Raju Pillai at a market in Tamu, about 10km inside Myanmar territory. His grandfather was a trader who went to Rangoon from Tamil Nadu during the British Raj. Raju said the Tamils in Myanmar had lost their Tamil identity. "But no one is complaining. We did not have an option," he said. Raju and his four brothers have married Burmese women. Their children speak only Burmese. "There are a few old Tamil schools in Yangon, but they teach only English," he said.
Raju has been to Tamil Nadu a few times to meet his relatives. "I don't like the place. The people are rude. We are not like that. We are warm and open, and we treat guests with a good heart," he said. He runs a fertiliser shop in Tamu and lives in Mone, some 30km from Yangon. Mone has a sizeable Tamil population and many Hindu temples.
The government does not interfere with religion. "But it is mandatory to keep a Buddha statue in every temple," said Raju. "In fact we have started liking the Buddha these days, like Burmese people. What can we do? We cannot leave the country because we will not be accepted in India."
Just about 10 per cent of the Tamils in Myanmar can speak Tamil. "Mark my words, with this old generation, the Tamil language will die in Myanmar," said Mohan, Raju's brother. "My wife is Burmese. I have to speak to the family in Burmese and I have to eat what they cook. At times, I would say I prefer vegetables when they eat red meat." It seems tastebuds are the only thing Burmese Tamils in Myanmar have been able to preserve.