Tamim Chowdhury, the Canadian mastermind of the July 1 attack on a cafe in Dhaka, in which more than 20 people were killed, was in Bangladesh for the past three years. Before being shot down by the Dhaka Metropolitan Police on August 27, a heavily armed Tamim was planning to slip into India. But, he could not succeed because of the intense vigil on the border and intelligence cooperation between India and Bangladesh.
Tamim was the leader of the Jamaat-ul-Mujahideen Bangladesh and a recruiter for Islamic State. He had reached Canada when he was three, and came back to Bangladesh only in 2013. Tamim used to live in Windsor, in Ontario, Canada, and had a degree in chemical engineering. He was married to a Canadian woman and had three children. He was passionate about American and British literature, loved rock music and regarded Martin Luther King Jr as his idol. Before being picked up by Islamic State to promote its campaign in the Indian subcontinent, Tamim, 40, had been groomed by Al Qaeda leaders Osama bin Laden and Mullah Omar in Afghanistan.
Days before Tamim's killing, Al Qaeda's South Asia branch had warned Bangladeshis against accepting IS ideals. However, nobody knew where Tamim's loyalty lay. The Bangladesh Police said Tamim groomed thousands of Bangladeshis in the IS ideology, some of whom killed at least 53 bloggers, secular Muslims, Christians, Buddhist priests and Hindus. In the past three years, at his instance, several young men left Bangladesh to join the mujahideen in Syria.
But, did Tamim come to India? Indian authorities haven't accepted or denied the possibility. After his death, the Bangladesh government told THE WEEK that Tamim could have visited India before the cafe attack. Also, when his name cropped up as the mastermind of the attack, Tamim was apparently desperate to move out of Bangladesh and was trying to cross over to India, from where he could flee to the Middle East.
"But, he could not. We had a four-tier coordination system with India," Bangladesh information minister Hasanul Haq Inu told THE WEEK. "The exchange of information took place at high speed and we used to get all the information regarding Tamim and his plans. We knew that he was either in India or Bangladesh. Just a week ago, we came to know that he was in Bangladesh and wanted to cross over to India. We alerted the Indian government and the border was tightened."
A day before Tamim's death, Prime Minister Narendra Modi and his Bangladeshi counterpart Sheikh Hasina had spoken on the phone about the investigation. "The Indian prime minister assured our prime minister of full support and help," said Inu. "In Delhi, we discussed the whereabouts of Tamim and other prominent terrorists from Bangladesh. We also gave them information that Tamim and others might have visited India, including West Bengal, many times. The Indian government gave us full cooperation."
The Indian police, however, did not know whether Tamim had ever come to India. "His name came to the forefront recently. So it was very difficult to know whether he was here or not," said an inspector general of the West Bengal Police.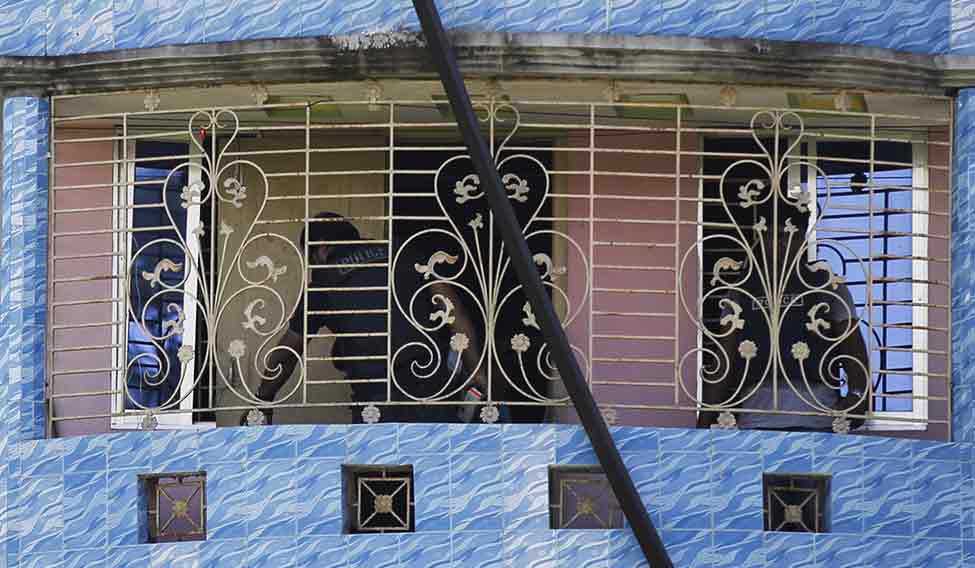 According to the Dhaka Metropolitan Police, since 2013, Tamim had been staying in and around Dhaka and other big towns, but kept moving around. Sources said that, if he had been in India, he would have stayed in Kolkata.
On August 27, the special weapons and tactics team killed two others along with Tamim. In fact, one of those men, Iqbal Islam, had led the police to Tamim. "After arresting Ashadul Huq in Mymensingh district [close to the Indian border], we came to know that Iqbal Islam, another suspect in the cafe attack, was hiding in Narayanganj," Dhaka police commissioner Assaduzzaman Mia told THE WEEK. "We had no idea that Tamim was there. But we knew Iqbal was a close confidant of Tamim and he was hiding there. So, the SWAT team surrounded the house at midnight. It had information that the house might have huge explosives."
When it was confirmed that others were hiding in the three-storey building, reinforcement was called from Dhaka, said Mia. "The SWAT forces asked the terrorists to surrender," he said. "Instead, they started hurling grenades at our forces. We then saw Tamim inside and told him to surrender. When he refused, the forces opened fire."
The arms and explosives seized from the house perhaps pointed to a plot to carry out another attack in Bangladesh. Apparently, there was talk that there could be an attack on US state secretary John Kerry, who visited Bangladesh on August 29.
"Tamim's job was to link homegrown terrorist groups in Bangladesh with Islamic State," said Mia. "We have estimated that millions of dollars have been received by these organisations from various countries in the Middle East."
Inu said Tamim united many groups which had been earlier opposed to the Jamaat-ul-Mujahideen Bangladesh. "We all knew that Ansar ul-Islam and JMB were not united in the past. But, for the past couple of years, they were coordinating with each other," said Inu.
Apparently, Islamic State wanted to target India, too. In a dossier Bangladesh gave India, it has talked about how the JMB established sleeper cells in West Bengal and tried to radicalise madrassas in West Bengal and Assam. The dossier said everything was part of a "foreign terror game plan" to destabilise India and Bangladesh.
Though the Bangladesh Police have called Tamim's killing the most successful episode in its fight against terror, they do not believe the country has eradicated terror. "Yes, we are relieved, but we are not complacent," said Inu. "We would have to eradicate all the forces."
Al Qaeda, meanwhile, has been trying to position itself as an alternative to Islamic State in Bangladesh. A week before Tamim's death, it released documents asking Bangladeshis to repose faith in it.
An Al Qaeda document written by its chief Ayman al-Zawahiri, a copy of which THE WEEK has, said Islamic State was killing "Muslim brothers" in Bangladesh. "Unnecessary demand for a caliphate is leading to war between Muslim brothers," it said. "IS is killing Muslims to force the caliphate on the Muslim countries. Al Qaeda never did that. So, we are asking you not to fall into the trap of IS and allow Al Qaeda [to be] the driving force to establish shariah in the subcontinent."
In the document, Al Qaeda admitted for the first time that it had set up Islamic State in Syria and Lebanon.
"Whether it is IS or Al Qaeda, they are not attacking from outside," said Mia. "They are using our homegrown outfits."