It's a sweltering May afternoon. Under a whirring fan, Harmeet Singh is figuring how to make the arms on his sculpture look as real as possible. "The arms on the previous one were long and disproportionate," he says, pointing to a reference photograph of a larger-than-life sculpture. The young artist from Chandigarh is making a prototype for a sculpture of the ancient yoga guru Patanjali on commission from Baba Ramdev's organisation. "I do this kind of commercial work to pay bills so I can afford to make my own art," says Singh, who recently moved to Kaladham in Greater Noida, renting a studio. The studio's owner, Siddharth, a senior sketch artist, is also busy at work in another place close by.
Kaladham is situated a few kilometres off the Greater Noida Expressway—a 25km highway connecting Noida in Uttar Pradesh to its new suburb, Greater Noida. Though part of the Greater Noida master plan, Kaladham is situated on a flat green landscape dotted by a few buildings, and could easily be a mythical place. This upcoming colony with finished, semi-finished structures in between open fields, stray cattle calmly chewing on blades of wild grass, offers an air of quietude, a space for reflection and contemplation—imperative for any artist looking to make art, away from the hustle and bustle of a metro.
Actor Meghna Kothari—who acts in Hindi serials and was seen in Gurinder Chadha's Bride and Prejudice—moved in to her Kaladham home less than two months ago with her son and husband, who teaches at Pune's Film and Television Institute of India. The house is done up in soothing earthy tones, and the couple plans to hold film appreciation classes in the basement. "The most contemporary expression of the human race is film, and that's why we want to initiate those interested into the form," says Kothari's mother, Rita Ganguly, a veteran singer. Secretary of the association, artist Ravindra Verma, who worked with the Greater Noida Industrial Development Authority to get the scheme for his fellow artists, has already held art workshops in the parks here.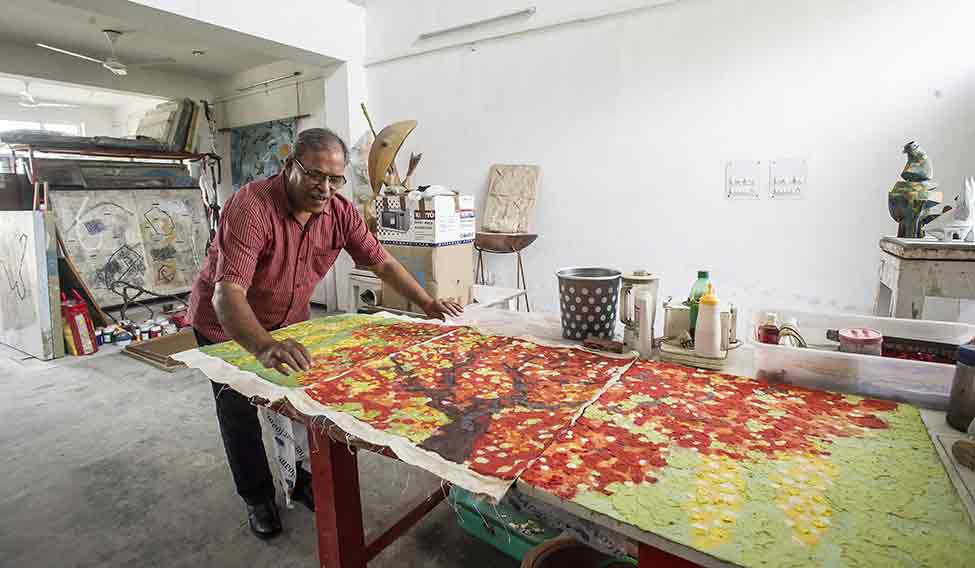 Kaladham means abode of art. It has been 15 years since the state government allotted this land to 92 Indian artists—mostly national awardees—to build their community and eventually turn it into an art village. But it's only in the last year or so that about a dozen artists, including painters, vocalists and actors, have started building and moving into these home-style studios, each being either 200 or 300 square feet.
There is also a synergy of the old and new coming together. Classical musicians Rajan and Sajan Mishra have, for instance, rented out a place opposite to theirs to a young artist, Satyakam Saha, who held his first open studio event between January and March. "Where in Delhi could I have dreamt of renting a space like this for less than 015,000 a month?" asks Saha, looking up at the textured high ceiling in the 200sq ft studio-residence. A graduate of School of Planning and Architecture Delhi, he moved to India from the US in 2013. The ground floor houses his finished and unfinished large canvases, and has an informal dining area with an open kitchen. On the top floor, Saha pores over his sculptures, with colours and brushes for company, or takes a power nap in the adjoining room.
Diagonally across the road from Saha, contemporary artist Anita Dube has also found refuge in Kaladham. The 58-year-old artist, known for her ties to the influential Indian Radical Painters and Sculptors Association, has an edgy touch to her 300-sq ft structure. She has done it up in such a way that she can later display art, which will be accessible to outsiders, in art village style. It plans to house a wall panel that can be flipped from inside and twisted to display large-size paintings to the public and a garden overlooking the front wall with a drop-down screen and a stage space where film screenings and theatre performances, followed by discussions, will be held. These plans, the artists say, will take about a year to bear fruit, especially when the Metro becomes functional in 2017, leading to greater inflow of students and young people.
As her new neighbour, Mumbai-based artist Tushar Joag, drops in for a cup of tea, they talk about their hopes of Kaladham becoming India's SoHo—the popular art colony of New York. "Cholamandal in Tamil Nadu was an organic artists' initiative. There was talk of Vasai or Vashi in Mumbai getting a space like this but it seems Kaladham could be the first government-led art village in the country," says Joag. He is in the process of buying his place from award-winning artist Dharmendra Rathore, who will continue to work out of Gurgaon after giving up his place in Kaladham. Incidentally, an artist can only sell to an artist in Kaladham.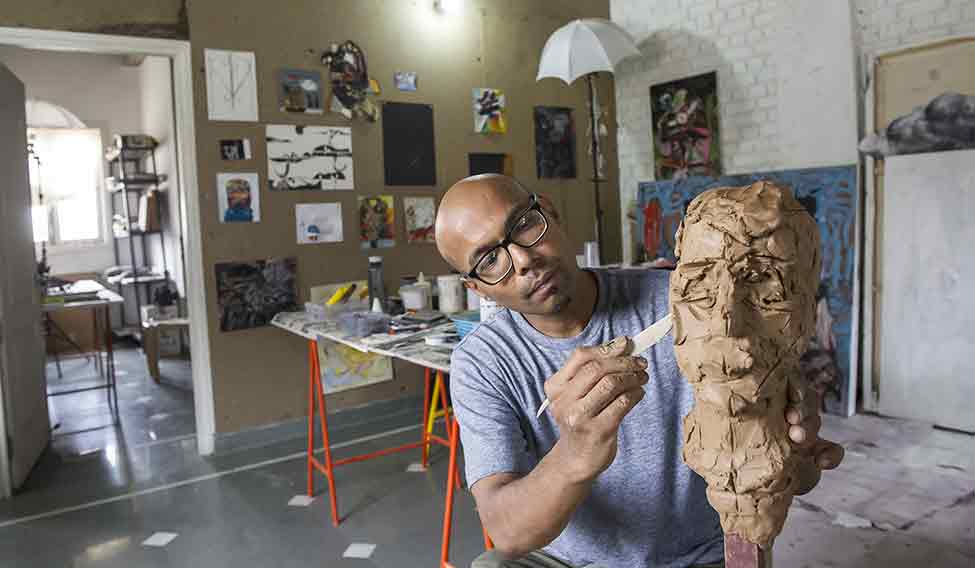 One of the ironic obstacles that the residents are facing, besides acquiring red-tape ridden completion certificates, is the fixed plan for their structures. "A singer does not need a high ceiling the way a sculptor does. In fact, for a vocalist to perform in a space like that is a major hindrance. The street width isn't big enough for a large vehicle to come in. How will someone transport a gigantic sculpture if they want to? This fixed design given by the authorities is quite stupid," says Dube, who in true-blue artist form has worked her way around it. "They should just give us the place, water, sewage facilities and leave us alone. Why make bad buildings, that too in an artists' society?" asks Joag, on a lighter note.
Internal hurdles aside, Kaladham offers these artists the solitude and serenity that they require to practise their music, hold film workshops, make their art, or simply drop in for tea into each other's homes, or for the younger ones to pick up a tip or two from their seniors, or for contemporaries to exchange notes, and in the future for the public to partake of art on a larger scale. "There is no pollution. No neighbours from the other apartment telling me to pipe down. I can work as long as I want to, in peace. For the time being, that's enough," says Harmeet Singh, adding finishing touches to a pair of fluffy clouds.