In a 2012 report titled Cyber Security: The Vexed Question of Global Rules, India ranked fifth in the list of countries affected by cyber crime.

The Information Technology Act was passed in 2000 and amended in 2008. It dealt with cyber stalking indirectly, under 'intrusion into the privacy of an individual'.

In 2013, amendments were made to the Indian Penal Code to include cyber stalking as a criminal offence.

Cyber stalking is dealt with under sections 66A, 72 and 72A of the IT Act, which can be read with section 441 of the IPC.

It is a bailable offence unless it results in serious offences such as severe defamation, sexual crime and terrorism.

In the US, stalking awareness campaigns inform people of cyber crimes and most states have laws that deal with cyber stalking. In the UK, cyber stalking is a criminal offence under the Malicious Communications Act (1988).
In May, Prerna Pratham Singh, a Delhi University student, received offensive messages on Facebook from a stranger. Instead of ignoring them, she took a screenshot of the messages and posted it online, along with her response. The post went viral, and was shared more than 3,000 times within 24 hours. People, including a senior police officer, offered to help her register a police complaint. They praised her for being brave but, in all probability, that was the end of it.
In October, in Hyderabad, a college student posing as a girl befriended more than 200 girls across campuses on the pretext of exchanging information about sexual encounters. When the girls confided in their new 'online friend', he blackmailed them into sending nude pictures or money in exchange for his silence about their secrets. His arrest highlighted the increasing need for young people to be taught about online safety. As art imitates life, in the recent critically acclaimed film, Masaan, a police officer extorts money from an old man by threatening to upload a lewd video of his daughter.
With the rapid spread of mobile phones, and the growing reach of the internet, social media in particular, cyber violence has become a global problem. Today, 40 per cent of the global citizenry is connected to the internet. According to Intel's 2013 report titled Women and the Web, nearly 45 crore new female users could come online in the next three years.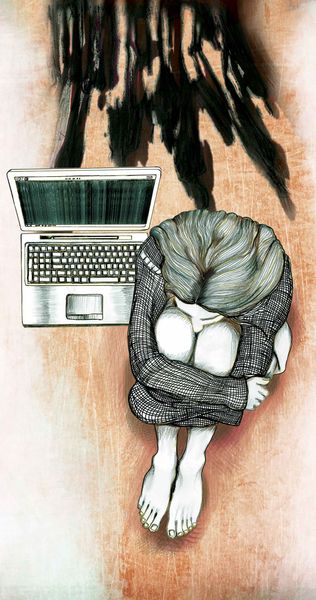 The statistics point to a cause for concern—globally, more than 70 per cent of women who are online have been exposed to some form of cyber violence. "With just a press of a button, you can depress a person," says Phumzile Mlambo-Ngcuka, executive director, UN Women. And, according to a new UN report on cyber violence against women and girls released in September, women in the age group of 18 to 24 are at a heightened risk of being stalked and sexually harassed. In India, nearly 50 per cent of the women did not report the offence and almost 20 per cent were not even aware that they were victimised.
A recent Microsoft study under the UN Women Safe Cities programme, which mapped disadvantaged areas in Delhi, Marrakesh and Rio, highlights several factors about women safety, online and offline. One, many women in low-income groups have basic mobiles without internet connection, which renders net-based safety apps useless. Two, the users don't necessarily own or control the handsets. And three, they are not fully aware of their rights and they don't trust the authorities.
"Stalking and online harassment are on the rise, particularly in India. And, if not addressed, it can lead to serious consequences like suicide, kidnapping and extortion," says Rakshit Tandon, a cyber security expert. Online attackers, emboldened by the anonymity, don't even spare celebrities. Last year, a website threatened to release nude pictures of Hollywood actor Emma Watson. In India, actor Shruti Seth was bullied on social media for her critical open letter to Prime Minister Narendra Modi. "The mindset of such criminals is that they are anonymous, with no one watching them," says Tandon. "This gives them the freedom to bring out their darker side online. Add to that the lack of awareness, weak cyber laws and action in terms of investigation and arrests."
Says cyber law expert Pavan Duggal: "Ignoring is a default mode of our social behaviour which then makes online stalking a menace that keeps increasing in frequency and intensity. For instance, cyber bullying as an avatar of cyber stalking is emerging in schools and colleges, and parents are clueless."
One of the recent UN Sustainable Development Goals refers to violence against women. "Online violence against women and girls is as serious as physical abuse. Stronger law enforcement and judicial action will go a long way in transforming social attitudes," says Rebecca Tavares, representative for UN Women in India, Bhutan, the Maldives and Sri Lanka.
In India, despite more pro-women laws after the Nirbhaya rape case, there aren't enough convictions in cases of cyber stalking, says Duggal. "Proof of cyber stalking depends on incriminating electronic evidence which, many people, under social pressures, destroy or delete," he says. "Last year, a new clause in the law said every computer printout, CD or pen drive has to be accompanied by certification that it hasn't been tampered with. This leads to a bigger challenge. Our law isn't adequately framed to deal with cyber stalking, neither is it a big enough priority for the police to register complaints. For the Digital India programme to be successful, women's participation and their empowerment is key. Time has come to relook at this law."