Unlike regional languages that get support from their states, Sanskrit doesn't get anything, says filmmaker Gopala Pillai Prabha.
At a time when food habits, exercise routines, romantic relationships and differing ideologies are in the news for one reason or another, could language be left behind? A row broke out recently in the Uttar Pradesh assembly, where 13 MLAs took their oath in Sanskrit. Two others who took their oath in Urdu were, however, asked to retake it in Hindi. According to the 2001 census, more than 14,000 Indians had Sanskrit as their mother tongue. While it is one of the 22 Indian languages listed in the Eighth Schedule of the Constitution, it is viewed as a language of religious rituals and discourse, and is barely spoken today.
But that is likely to change now. After Narendra Modi came to power three years ago, the government declared a National Sanskrit Week to promote the language in schools. In March, the BJP government in Assam decided to make Sanskrit compulsory in all state board schools up to class 8. Those keen to promote the language as a gateway to India's ancient culture welcomed the move. Others were perplexed: was it part of a saffronisation agenda?
In 2015, the human resource development ministry set up a fresh committee (after the previous one, formed in 2014, failed to submit its report in time) to recommend a ten-year roadmap for the promotion of Sanskrit. The 12-member committee was led by former chief election commissioner N. Gopalaswami. The committee submitted a 32-page report in early 2016 in which it defines Sanskrit as the "voice of India's soul and wisdom". The committee has suggested that Sanskrit be promoted by making qualitative changes in the education, by integrating the language in other disciplines like maths, chemistry and physics, and by finding tools to modernise its dissemination.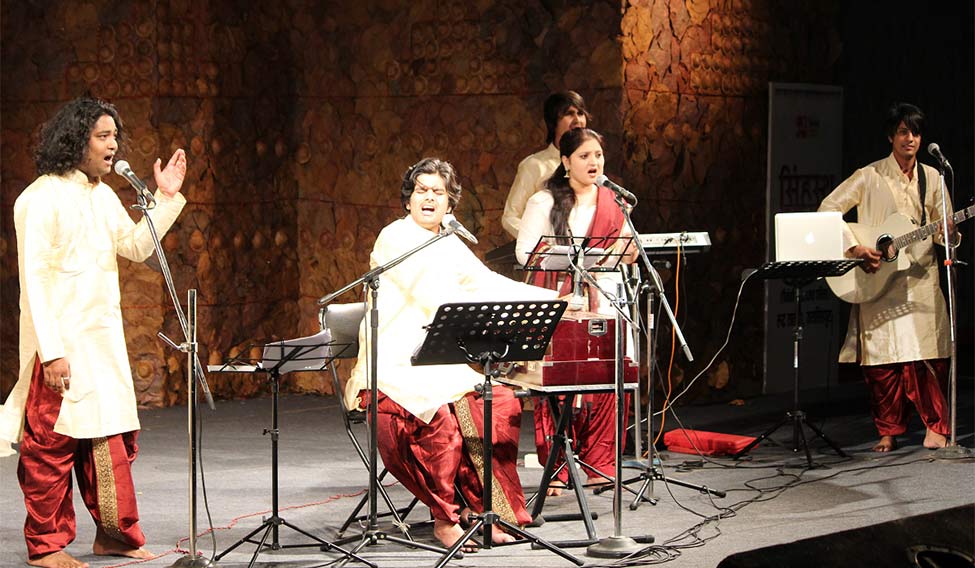 The HRD ministry claims that the number of students learning Sanskrit has been going up steadily and there has been no reduction in the posts of Sanskrit teachers. But, the report notes otherwise. Student numbers are decreasing and Sanskrit departments are closing down. One of the three HRD-funded deemed universities, Rashtriya Sanskrit Sansthan in Delhi, is implementing schemes for propagation of Sanskrit language and literature and providing financial assistance for publication, re-print of rare books and bulk purchase. It is also supporting Sanskrit teachers and scholars by giving cash rewards for exemplary work. Besides, it offers help to Adarsh Sanskrit Mahavidyalayas/Shodh Sansthans and scholarships to Sanskrit students.
A former HRD ministry official finds nothing wrong in introducing Sanskrit in schools as a third language, after Hindi and English. "Sanskrit is not being forced upon the students," says the official. "Instead of a foreign language like German or French, someone studying, in say, Maharashtra would learn Hindi, English and Marathi. The Left wing is trying to turn it into a controversy. It is the [Congress] government's own education policy under Rajiv Gandhi which is being implemented now."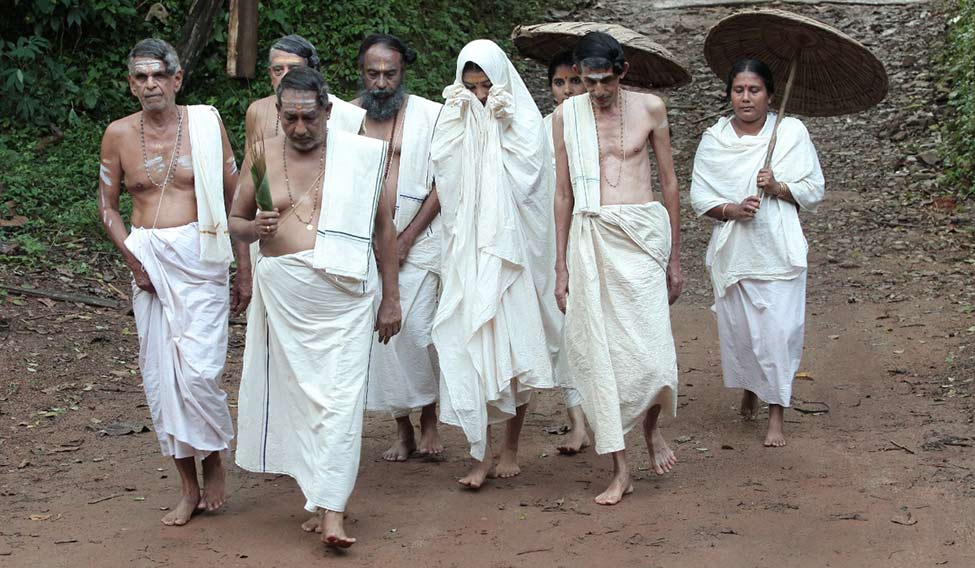 Writer and human rights activist Ram Puniyani says the promotion of Sanskrit runs parallel to the rise and dominance of the Hindu nationalist politics. "Many claims are constructed around the greatness of the language. It was primarily a language of the upper caste and Brahmins, and others were prohibited to use it," he says. "Gautam Buddha and most of the saints used popular languages. These were languages of the masses." It is also about the glorification of the Brahmanical texts, says Puniyani.
Another suggestion of the committee is to take the language to the masses through entertainment. L.V. Revanth, 26, of Andhra Pradesh recently won a singing reality show though he doesn't speak Hindi that well. But he has a good command of Sanskrit, which helped him while rendering Hindi songs.
Bhopal-based Sanjay Dwivedi, 32, who is the lead singer of Dhruva, "the world's first Sanskrit band that does fusion with classical and western music", says the band plays Sanskrit and classical music so that today's generation that cannot connect with the language enjoys it. "Sanskrit is a tough language. If people can listen to French or German music and enjoy it, why not Sanskrit?" asks Dwivedi, who formed the band in 2015.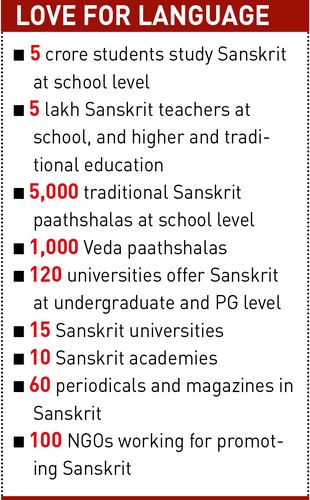 But what is so special about Sanskrit? "About 50 to 70 per cent of Hindi words come from Sanskrit," says Dwivedi. "It is in our DNA, our virasat [inheritance] and moral values which we have forgotten. Sanskrit is India's soul language. We don't study it hence we don't understand it and call it 'dead'. How can the root of all languages be dead?" Dwivedi strongly feels that introducing the younger generation to the cultural aspects of the language would prevent them from slipping into follies. "A child will never commit suicide if he reads the Gita. Indians today are adopting European culture without a thought to their own," he says.
Ideology aside, the language push could create viable career options. Professor Ramesh Bhardwaj, who teaches Sanskrit at the Delhi University, says the numbers have gone up in his department. "We were eight people in 2010, we are 28 in 2017. The faculty positions have gone up and more students want to study Sanskrit at MPhil and PhD levels," he says.
Neha Tiwari, 31, has been running a private institute, along with her husband, in south Delhi since 2009. They teach Hindi, Urdu and Sanskrit, mostly to foreign students. Tiwari feels that Sanskrit hasn't found many takers because it is not a spoken language. "People learn it when they want to read old texts," she says. "Sanskrit with its precise grammatical structure can help people imbibe more languages."
Delhi-based Neena Rai, 37, enrolled for a course in Sanskrit at Bharatiya Vidya Bhavan because she wanted to read the original scriptures and verses. "Unless we understand and interpret these texts for ourselves, we imbibe other people's perceptions of them," says Rai, who is well-versed in English, Hindi, Arabic and Spanish. "If you tell the young people that today the largest repository of erotica is in Sanskrit, they will flock to it," she adds on a lighter note.
However, there is a feeling that the government is not doing enough. A member of the committee says Sanskrit is "not in a good position" since the "BJP is not doing much beyond lip service." "Not even 1 per cent of the committee's recommendations have been implemented," says the member. "The government wants to do more but doesn't know how to, given that it is afraid of the opposition. The so-called secular intellectuals can't imagine Modi as the prime minister, so they want to give him a bad name in the form of sectarianism."
Chennai-based filmmaker Gopala Pillai Prabha, who in 2015 made a Sanskrit film, Ishti, says unlike regional languages that get support and subsidies from their states, Sanskrit doesn't get anything because no state lists it as its mother tongue. "Sanskrit's scope then becomes national and international," he says. "But to make it compulsory in any way would be fanaticism."