"When women were faced with trouble, they had to go to different places like the hospital or police station or a lawyer's office. Now it is all under one roof" - Ramshila Sahu, women and child development minister, Chhattisgarh
It has just rained, and a group of workers is feverishly putting last-minute touches to a newly constructed white building on the district hospital premises in the Police Line area of Raipur, the capital of Chhattisgarh. Decorated with flowers, the two-storey building has a five-bed hall on the ground floor along with a kitchen and a first-aid room, and another room and a terrace on the second floor. A board announcing the opening date stands on one side; 'one-stop centre', reads another board on top of the building, which reportedly runs on solar power.
This is India's first Nirbhaya help centre, built at a cost of Rs37.69 lakh by the Central government and positioned as a space where women from all walks of life can turn to in times of distress. Medical aid, counselling, legal and police assistance would be provided free to the woman in need. In case she cannot return home, she can stay here for a few days.
With a total staff of 12 in each centre, it will have an appointed lawyer and woman sub-inspector. "When women were faced with trouble, they had to go to different places like the hospital or police station or a lawyer's office. Now it is all under one roof," says Ramshila Sahu, women and child development minister of Chhattisgarh. "She can call on the 24-hour helpline number and come to the centre or a rescue vehicle will fetch her." Once the centres are functional, video conferencing facilities may be added.
The Narendra Modi government, on coming to power last year, had claimed women's safety as a priority. The Union ministry of women and child development, therefore, proposed 660 one-stop crisis centres across the country, at least one in each district. But later, the government slashed the budget and allowed only 36 such centres to be built on a pilot basis, with Raipur hosting the first official one in the country.
Why Raipur? "When the government asked the states to send their proposals, we were the first to offer land in all 27 districts," says Sahu. As per government figures, the phone helpline, which started prior to the centre, received more than 2,000 calls last year from Raipur and Durg districts, with less than 300 complaints seeing active intervention. "Our women are not safe anywhere. We are taking this issue seriously. The setting up of the centre is an important step. It is a welfare scheme and the government has more than enough funds," says Dinesh Srivastav, secretary, state WCD.
While addressing a gathering of 50,000 women on the inauguration day in Raipur on July 16, Union Minister for WCD Maneka Gandhi said the Raipur centre would be under close scrutiny and if it worked well, the Centre would build such centres in other districts as well. "Whether [it is] domestic violence or harassment on public transport, women in India are fearful about where to go, who to turn to.... Police blame women, or the judge in the court asks intrusive questions. We thought the one-stop centre would be a solution to that," she said. Gandhi told THE WEEK that the idea for a one-stop centre was not borrowed from the west. "Simply because the police forces in other countries are far more sensitised than ours. These centres are unique to our experiences on the ground," she said.
But some women are a tad sceptical. Premlata Sahu, 16, from Mahasamund district, which is 65km from Raipur, says, "The intention seems fine but whether this centre will be effective or not will have to be seen—how many women reach out to it and how they respond." On the other hand, Lata Baghera, 40, from Khamaria in Durg says the centre could provide temporary shelter to women in the village who face abuse from their husbands.

Social activist V. Rukmini Rao, who started shelters for homeless women in Delhi back in the 1980s, says there are quite a few issues with an idea like this. "First, having one centre in every district doesn't solve the problem," she says. "Will a woman be able to travel 70-80km to get to the centre on her own? And how many women can their limited capacity—both in terms of vehicles and accommodation—provide for? Then, getting several women into one centre which has just five beds won't be easy." Coordination between different departments might be an issue, she adds. "Also, the police would just shrug off women seeking help by simply saying, 'go to the one-stop centre'," she says. "The issue of training and sensitising the staff to handle different crises women face is key."
Shelter hope
* The one-stop crisis centre is an initiative of the women and child development ministry under the Nirbhaya Fund.
* The first Nirbhaya centre, built at Rs37.69 lakh, has come up in Raipur, Chhattisgarh. This centre also has a 24-hour helpline service for distress and rescue calls.
* The Modi government plans to have such centres in all 640 districts in the country and at additional 20 locations in six metros.
* The Nirbhaya centres will provide free aid and assistance—medical, police and legal—and temporary accommodation to women affected by violence.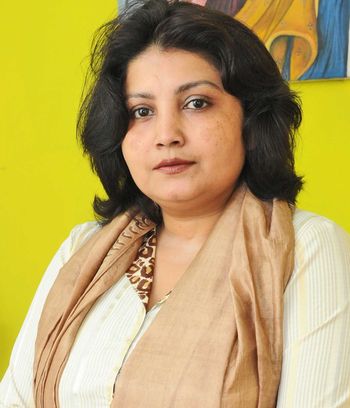 Empower, not just protect
By Sheeba Aslam Fehmi
I have been doing teachers' training as well as workshops with groups such as the Central Reserve Police Force, the Border Security Force, the Central Industrial Security Force, the Haryana Institute of Public Administration and the IPS Academy in Hyderabad for nearly a decade now to create awareness about gender issues. The armed forces have a patriarchal understanding of helping, protecting and dealing with women. They do not see it as dealing with an equal, which you can do only if you remove patriarchal protocols such as a woman needs to be accompanied by a male. The problem is that the government sees gender issues as 'protection of women' as opposed to empowering them.
There are two aspects when dealing with government organisations like the CRPF or the BSF. One, while they seem to welcome women cadre into their fold, they say it is unsafe for women to be on the front line. Even basic facilities such as toilets aren't provided. Two, frisking at borders poses problems in terms of facing cases of sexual harassment because you don't have women professionals posted there. Also, in the past two years after new laws came into force post the Nirbhaya case, people openly say, "We are scared to have women colleagues around and are better off without them."
If we are unable to stop rapes, then obviously we need more of such measures like the one-stop centres. The main problem is all such courses come into action after the crime has been committed. For example, centres dealing with such trauma cases in Pakistan have rape-kits containing swabs for taking semen samples and forensic tools to preserve the evidence including clothes. We don't have such basic tools in place yet. As a society, we are ill-equipped with the post-crime paraphernalia as well as unable to contain the crime from happening in the first place. That is why we need 'empowerment' more than trauma handling centres. Society needs to learn to admire strong women instead of creating vulnerable notions of womanhood. Such centres are a welcome initiative, but the problem needs to be dealt with at deeper levels.
When it comes to feminism, we are in a transitory phase. From the mainstream of urban, educated, upper caste Hindu elite women leading the feminist agenda, we are now heading towards different identity groups asserting their agendas—dalits, tribals, women of northeast, women of Kashmir and Muslim women. An aberration is the 'cultural nationalists' trying to enter as 'feminists' into the mainstream, supported by fringe organisations. They don't question their subordination in the organisation or family, they don't question the anti-women cultural practices either; they just prepare themselves to 'combat' the 'other' identified by the paternal organisations. Funnily, they are being trained for armed combats with they don't know whom as they are never going to the border areas or other flashpoints within the country.
For the feminist movement to move forward, it needs to develop an internal critique in India. We need to question the jingoistic expression of the nation that is punya bhoomi and dev bhoomi, and not an enabling entity for the citizenry.
Fehmi is a gender trainer and feminist writer.