The pillars at Shadipur metro station in West Delhi look as if they are marked with roll numbers. A shop selling different kinds of spy cams and secret gadgets is located opposite one of them. A few pillars ahead stands another one. Both bear the same name, and the shop owners accuse each other of copying. A quick online search throws up their websites which outline—with colourful infographics—the steps to pass exams using a spy earpiece.
These shops have been in the news after a cheating scam in Rohtak, Haryana. The All India Pre-Medical Test answer keys were leaked using vests fitted with SIM card units and Bluetooth earpieces allegedly bought from here.
As THE WEEK visits these shops, we are shown a simple contraption with an earpiece smaller than a rice grain. Cost? Just over 08,000. Tilt your head to one side, and this tiny device rolls all the way to the eardrum. This comes with a thick cloth necklace that has a stitched-in SIM circuitry as its pendant. Calls made to this SIM can be heard only by the user. Bravo!
Enter new copying methods in the age-old practice of cheating. Yes, students now copy in 007-style.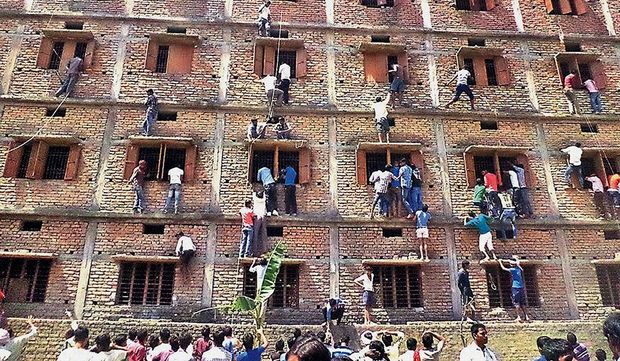 So, what's trending? It could be a customised shirt with lapel mikes and a collar circuit through which answers can be transmitted even from another city, or a wristwatch camera that can send images of question papers, or a digital pen that can hold data or a skin-coloured Bluetooth device with an antenna as thick as a human hair... the list is fascinatingly long.
Go to any of the shady gadget websites—which brazenly advertise the "latest exam cheating technology"—and you can take a look at the hot-sellers such as jammer-free mobiles, earpiece GSM card, jammer-free wireless baniyan (vest), and Bluetooth-enabled spy underwear, necktie, ladies' suit and keychain.
Not that the old-school modes of copying are obsolete. Bihar, known for rampant cheating in public exams, was in the news recently. Images of parents and friends of candidates scaling the walls of board exam centres in Vaishali district to pass on answer chits to the candidates went viral. Even the international media was stunned by the flagrancy.
Some supervisors and policemen turned a blind eye towards the tamasha. Those who tried to intervene were chased away by family members and stone-pelting mobs.
The state education minister derided the parents, who, in turn, slammed the government over the poor quality of teaching and lack of infrastructure in schools.
Delhi-based Manikuntala Banerjee, 66, who earlier taught at a government girls' school in Gaya, says instances of cheating and intimidation forced her to quit her job some years ago. "I would catch girls hiding slips of paper in their sarees and, when caught, they would tell me I would not walk out alive," she says. "Groups came to my house and threatened that I should allow cheating. Passing chits and scaling walls have been common since the 1990s. Now, however, things are becoming more high-tech."
The scene is quite similar in Uttar Pradesh, too. The principal of an intermediate college in Jalaun district, A.K. Gupta, once told then principal secretary (education) Surya Pratap Singh that the routine warning he used to get from the 'cheating mafia' was: "If you do not let us cheat, you will be dead."

Innovative cheating ways and impersonations a la Sanjay Dutt in Munnabhai MBBS, too, are common in the state, especially in medical and engineering exams. In 2012, an impersonating candidate in Aligarh Muslim University was caught scanning the question paper using a micro-camera fixed to his wristwatch. He was sending the images through his mobile phone to a man who ran a coaching centre. Two years ago, four people were arrested in Kanpur for impersonating during an engineering examination.
"With lakhs of rupees being pumped into this game, besides hi-tech methods and impersonations, coaching centres manage to leak question papers," says A.B. Singh, principal of a government college in Lucknow. "A comprehensive check system with strict penal action is needed to prevent cheating in such exams."
A political science professor in Pune, who requests anonymity, concurs. She says, besides a few top colleges, cheating is rampant at most centres.
And, not all smart alecks need high-tech stuff for cheating. "I write important pointers on the blackboard before the exam begins and then rub a part of it so that it appears like a teacher's notes," says a software engineering student. "The supervisor never wipes off the text on the board since it has information such as roll numbers. I have never got caught."
In a school in Balurghat, West Bengal, students were caught throwing out question chits to "paid local boys", who threw back answer chits. "We interrogated some and concluded that it was a racket," says a police officer.
A teacher at a prominent school in north Kolkata deplores the fact many children are using their creativity for the wrong endeavour. "Once I found two students using pens wrapped with paper that had maths solutions scribbled on them. They just had to 'read' the pen like a thermometer to solve problems."
There is more to deplore about. A week ago, an inspector-general of police in Kerala, T.J. Jose, was caught cheating during an LLM exam. A few months ago, junior judges in Andhra Pradesh were caught cheating during a qualification test for becoming sessions judges.
In 2008, IPS officer Rajnish Rai was caught copying in an LLB exam in Ahmedabad. Incidentally, it was Rai who arrested fellow IPS officer D.G. Vanzara, an accused in the Sohrabuddin Sheikh encounter case. What more, in 2013, a sant of the Bochasanwasi Akshar Purshottam Sanasthan in Gujarat was caught copying during a postgraduation exam!
Now, how can one blame young students?
"There is a general deterioration of values in society, which is becoming more aspiration- and achievement-oriented," says Ameeta Wattal, chairperson, National Progressive Schools' Conference, Delhi. "People feel they have to pass or get marks by hook or crook. When children see successful people getting away with corruption and malpractices, there is a decreasing fear of law."
With cheating going hi-tech, as in the 2013 case of an MBBS student at Rajiv Gandhi University of Health Sciences in Bengaluru who used a lapel mike and collar circuit to receive answers from Hyderabad, the authorities are trying to fix higher penalties and technically outsmart the students.
Cheating appears to have reduced in Karnataka, thanks to crackdowns. In 2013, the medical education department debarred 5,001 students as their signatures and handwriting on the answer-sheets of a nursing diploma exam did not match.
In another case, an organised mass copying in an MBA exam was busted by a team led by Higher Education Minister C.T. Ravi, who was shocked to see students copying from textbooks and smartphones. The exam was declared null and void.
This year, mass copying in board exams at a school in Muddebihal in Vijayapura district made headlines as parents, officials and policemen were party to it. Even the supervisory staff had smuggled answer chits inside their ID card tags. The busted teachers and principals complained that they were under pressure to show high pass percentages.
Janmejoy Khuntia, professor at School of Open Learning, Delhi University, says there are times when the system or the boards "unofficially allows malpractices". "Like in the case of the CBSE allowing a 15-30 minute grace time to read board exam question paper before the official writing time begins. This can lead to people leaking the paper," he says.
Khuntia also raises the security concerns of invigilators, "the most important person between students and their exams". There have been instances of them being shot in the college premises, he says.
The professor signs off offering some food for thought: "We should question why exams are considered so sacrosanct and the be-all and end-all of everything. And, if a judge or police officer is caught cheating, debate the system, why blame the individual alone?"
WITH PRATIMA NANDAKUMAR, M.S. ANOOP, RABI BANERJEE, SWAGATA YADAVAR, AJAY UPRETY AND NANDINI OZA.