"It is a new fad. People want to publish their stories, their passions. They want to share the story of their struggles and successes" - Saanjay Sethi, publisher

Publishing 300 copies of a 150-page book with international-quality design can set a person back by more than Rs 4 lakh.
I would look forward every night to the fleeting moment when she would descend for a moment from the family kitchen to hug and say goodnight to the children, after they had been patted to sleep by Sharadadi, our ayah. Yet, miraculously, Dipti prepared us every morning for school, and in the evening, her scholarliness would appear unfailing as she found time to meticulously supervise our learning of numbers, tables, improving our handwriting, learning the script and rhymes from Rabindranath Tagore…," he writes about his mother.
He is neither a novelist nor a character in a novel, not even the typical politician or businessman whose autobiography could read thus. Given the positions he has held—adviser to the minister of finance in 2013-14 and chairman of the Tax Administration Reform Commission in 2014-15, among others—Parthasarathi Shome could well write a book about the people he has met and the events he has witnessed. But, when write he did, it was Naive Art: Ode to the Unknown Artist, a book about his mother, Dipti Shome.
A visual delight of a coffee-table book, Naive Art was love's labour for Partho, as he is known among those close to him. He wrote about Dipti and his father, Parimal, his grandparents and his siblings, Babli and Mumu. But what looms large page after page are works of 'naive art' by Dipti. Through Dipti and her works, Partho tells his family story.
Partho describes his book as "perhaps the most personal and revered project of my life". He says it was on his mother's 90th birthday on May 18 last year that he decided to take naive art, the genre in which adults think and paint like a child, to the people in India. Naive art's home is Latin America, but the genre is popular in parts of Europe, too. It is also called splash art or magic art.
Partho asked his mother to do naive art long ago. A lot of her works and the sculptures that inspired her, along with his own collection of naive art, have gone into the book, which is a tribute to his mother and the hidden artist in her.
"She was distanced from formal painting for 45 years," writes Partho. "To appreciate Dipti's work, it is contextual to place her in the upper class and the landed urban society of Calcutta [where] she came from, and the abrupt change in roles when she was married… into an East Bengali joint family settled on the outskirts of Calcutta."
Partho says Dipti was more amused than surprised at his request. "While we all love our parents, we don't have the habit of bringing out their contribution to society. Only Partho could do it," one of his cousins told others at a birthday event. Friends and family received a copy each of the book. The rest of the copies, Partho says, are with the Dipti Trust, which provides uniforms and midday meals to children at a school in rural Bihar. Dipti died in November.
"IT IS A new fad in India. People want to publish their stories, their passions. People want to share the story of their struggles and successes," says Saanjay Sethi, a Delhi-based old hand in the publishing industry. "Publishers sit in judgement on all content. They have not allowed active and innovative ways of people writing their books."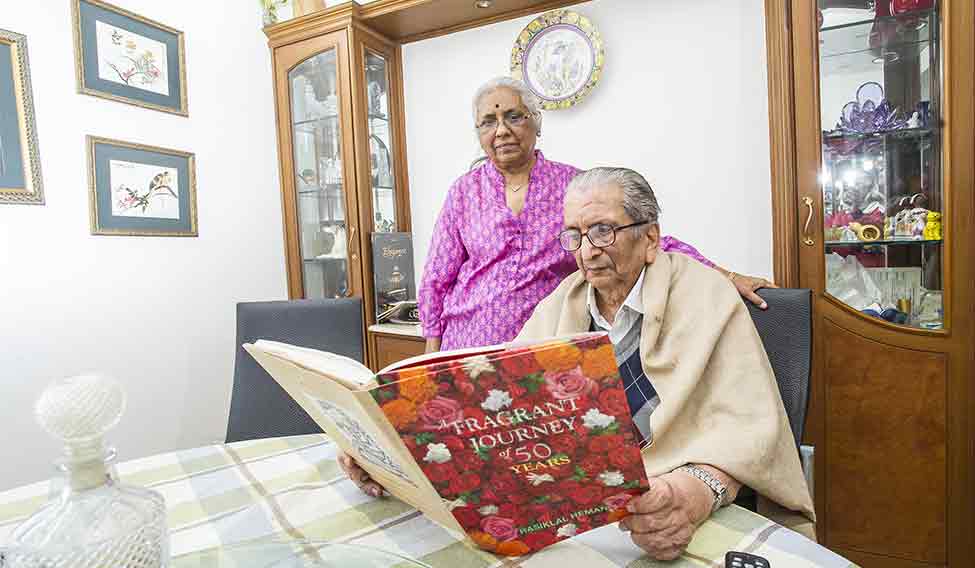 This thought first came to Sethi about three years ago. He stepped into the world of custom publishing—halfway between self-publishing and commercial publishing—with his venture called Roots and Shoots.
Genealogy books, says Sethi, are in demand. Writers do not have to be old to write their family stories. A fashion designer, Palak Jain, skimmed through what her mother and grandmother wore at their weddings, turning to sepia-toned photographs of her grandparents' marriage and the muted Eastman versions of her parents' wedding. The idea: to seek inspiration for what she would wear for her wedding. An hour later, she found herself wanting to leave a sartorial legacy for the generations that will follow her. She titled her book Four Weddings. The strapline: 'Great-Grandma, Grandma, Ma & Me!' "I decided to use my own wedding photographs, too," says Palak, who now lives abroad. "It became a history of bridal wear over four generations."
There is the scent of a man in the book by perfume maker Rasiklal Hemani. Veteran journalist Usha Rai, who had known Rasiklal for many years and had written several stories about his business success, asked him once, "Why don't you write a book on this [his perfume business]?" Rasiklal, known as Bapu among those who know him well, replied, "Why don't you write it for me?"
A Fragrant Journey of 50 Years: Rasiklal Hemani was born thus. It is not just a rags-to-riches story, but also "a story of fighting the odds [and] the various vicissitudes of life to come up from scratch through sheer determination and hard work". The book is set in the "enchanting old world of fragrances and flavours, attars and exotic perfumes", with the journey beginning in the back alleys of Chandni Chowk.
"When I completed 50 years with my principal company, a Maharashtra firm, I wanted to retire," says Rasiklal. "But I thought I must do something by way of documentation before I did that. Usha and I had a discussion and we zeroed in on the history of Indian fragrance and flavours."
But that is not the only reason he shares his story. "We are the oldest country as far as fragrance is concerned," says Rasiklal, who relied on his razor-sharp memory for bringing out the book. "Now I have two students from Delhi University doing research on Indian fragrances. If it takes proper shape, that will be another book."
The perfume industry in India employs 600 people, and there is a Fragrance and Flavours Association of India in Mumbai, but hardly a book on the industry itself. The knowledge itself is passed on from one generation to the next by word of mouth and, nowadays, through seminars and workshops. So it was hardly surprising that A Fragrant Journey of 50 Years had a big launch at Shah Auditorium at Gujarat Niwas in Delhi. The auditorium was packed with Rasiklal's business associates and people from the perfume industry all over India. They went back with copies of the book, which had old black-and-white photographs from Rasiklal's collection and contemporary visuals and design by Amit Chauhan and Nitin Rai. Printed at Thomson Press, each copy was packed in a Kutch embroidered bag.
WHEN PRAKASH SHARMA turned 65 in February last year, his sambandi (Bobby and Bina Ramani, parents of Tanya, the wife of Prakash's son Ashwin) announced at the celebrations in Bhadohi village near Banaras that they would gift him a genealogy book by his next birthday. It is almost ready. "Nobody even understood the impact of that gift," says Charmaine Sharma, the main author. "Some said, 'oh, genealogy, very nice.' But I saw it as a super-extraordinary, enduring gift."
Prakash has four brothers and a sister. As a nine-year-old, his grandfather, who hailed from a family of farmers, went to a school in Aligarh on a bullock-cart all by himself. He told the British headmaster that he had come to study and that he had no money. And so he studied, without being charged tuition and hostel fees.
When he graduated, the headmaster even offered to put up the money for him to complete a teacher's training course. "That, I see, as the turning point in our family story—education. As he participated in the freedom struggle, he lost his job as a teacher. He then went to law school, when his beard had begun greying. His determination could not be missed. Now Prakash's brothers are in the IAS, the IPS, Army and music, etc, and Prakash is in business," says Charmaine.
The fact that Prakash's is a very large, close-knit family made the project all the more exciting. It took the family almost a year to locate and collect old pictures and a lot of time and effort to find the grandmother's name—she died very young!
Thanks to its sensitive nature, says Saanjay Sethi, genealogy is a low-key genre in custom publishing. "When you enter a family and they pay you to do their story, the first thing is that we have to earn their trust and retain it forever," he says. A family from a royal background, whose seven generations served in the military, wanted its stories of valour and sacrifice published for descendants. But the family has kept it exclusive, with contracts binding the publisher to not release any part of the book, including pictures and the book cover.
MOST FAMILIES IN and around Delhi came as refugees in 1947. The third generation is reaping the benefits of their predecessors' hard work. A lot of them have corporatised their business, and they feel they have stories to tell. In a sense, such family histories are almost like a document or a will, which lawyers may refer to for settling disputes between relatives. "Our book is not for sale," says Charmaine. "We are sharing our stories mainly with people we know."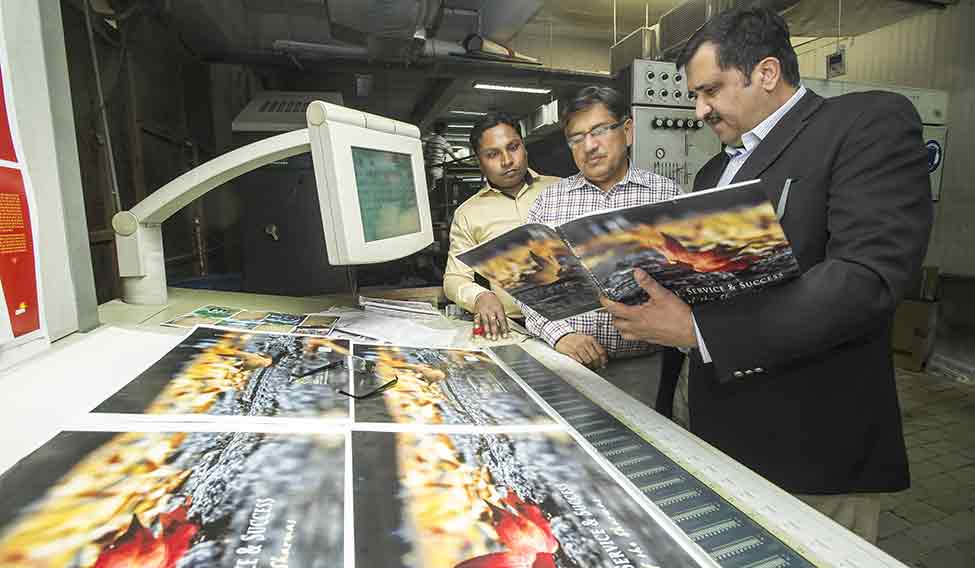 For years, Aneesh Bhanot had worked to keep alive the memory of his sister Neerja Bhanot, the flight purser who was killed while saving passengers from terrorists on board a hijacked Pan Am flight in September 1986. In February, he came out with The Neerja I Knew, a coffee-table book that pays tribute to her courage.
Thanks to the positive response he received for the book, Aneesh has decided to do follow-up books on "people with truly inspiring stories". Each volume will feature 25 remarkable people. The second volume is already in the works, and it includes stories of people like Gian Chand Arora, who boarded a bus from Chandigarh to Shimla carrying sacks of spinach and coriander and built IG International, India's largest supplier of fresh produce. "I have to be satisfied that they deserve to be in 'Inspiring Stories of Successful Personalities of India'," says Aneesh.
Sethi says the advent of social media has inspired everyone to write. "When I was in the publishing industry, two out of 50 people I met would aspire to write. Now, everyone wants to. People have become writers…. They not only write, but also generate their readers," he says. Every week Sethi gets at least a couple of phone calls from people who want to write their stories.
Self-published books can also be part of image-building exercises. A young member of a builder family broke away from the business to become a professional photographer. He has published a book of breathtaking photographs, which serves as his gilt-edged visiting card and portfolio. A wealthy NRI did a book about himself and showed off his properties all over the world , just to tell his relatives and friends in India that he had arrived.
For now, custom publishing is popular only among the rich and the famous. Publishing 300 copies of a 150-page book with international-quality design can set a person back by more than 04 lakh. But, for affluent people who have stories to tell, it is well worth it.