On a sultry morning, I enter a wide-open wooden gate. Inside, a long pathway leads to a serene compound flanked by tall, lush green trees. Peace and tranquillity fill the air. The sound of artists at work and their vibrant brushstrokes fill my senses. 
I see art props hanging down an old banyan tree. Sitting in its shade and talking animatedly are three men and a young woman, all clad in simple kurtas. Their conversation makes it clear that they are discussing an artistic endeavour that involves all of them. Their eyes and faces, impassioned and emotive, are a work of art in themselves. 
I am in Cholamandal Artists' Village, the largest and most well-known art commune in India. Located nine kilometres south of Chennai along the scenic East Coast Road, the village is spread across ten acres on the shores of the Bay of Bengal. It was set up by renowned artist K.C.S. Paniker in 1966. 
The idea of starting the art commune was born in 1963, when Paniker and 40 young artists who had just graduated from the Government College of Arts and Crafts in Chennai came together to build their vision. Paniker was then principal of the college. They organised a batik fabric exhibition, the proceeds of which went to buying land for setting up the village.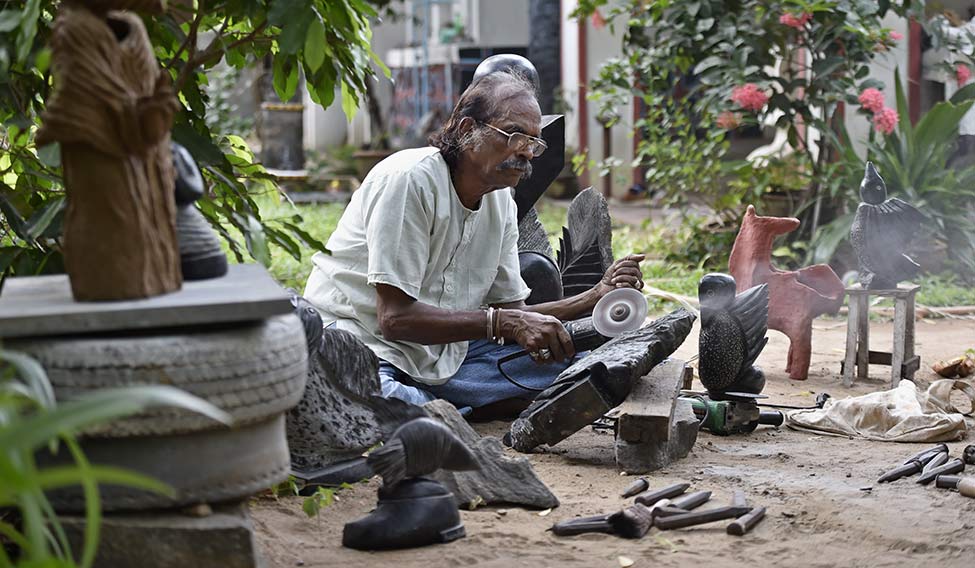 "When my father started the village with his students by pooling funds, this was just an open space," says S. Nandagopal, son of Paniker and the current head of Cholamandal. "There was no road. The ECR is part of the city now. Back then, not even a government bus would pass through this road. The artists here, along with my father, lived for their passion. Because we are near the coast, I have seen cyclones blowing off their works and shattering our houses."
Fifty years on, however, Cholamandal occupies pride of place in the Indian art scene. The commune has developed into a picturesque spread of beautiful cottages, art studios and an open air-theatre and gallery. Paniker, who died in 1977, would have been proud: Cholamandal has overcome its initial struggles to become India's largest self-supporting, economically viable art commune. 
Today, more than 21 artists live, study and work here. Apart from Nandagopal himself, some of the big names in the commune are P.S. Nandan, Gopinath, Senathipathi, A. Selvaraj and G. Latha. Their works are exhibited in the Cholamandal Centre for Contemporary Art, the village's swanky new project opened in 2009. An open-air sculpture park surrounding the centre is a testimony to the creative brilliance of the artists.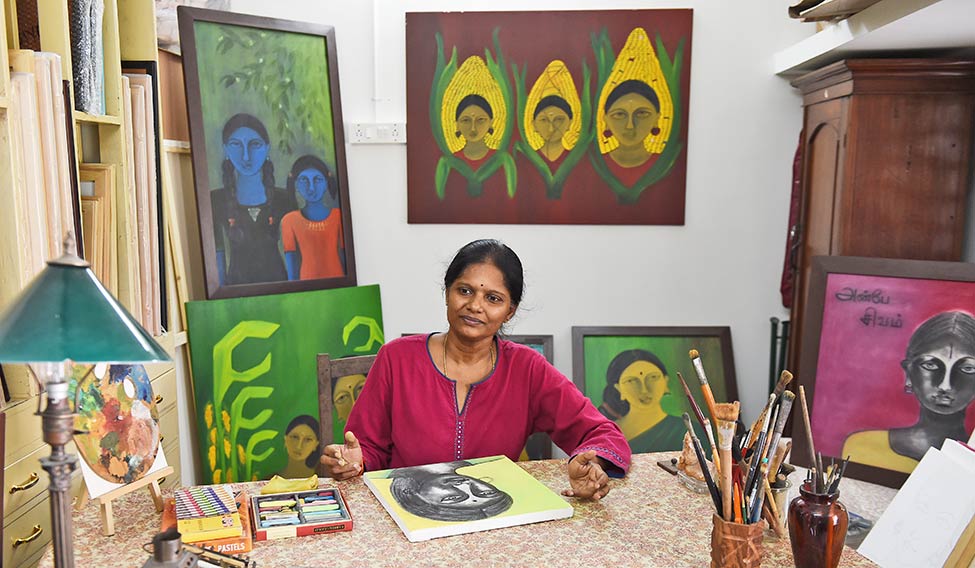 Inside the centre is an array of dazzling artworks—Nandagopal's bronze sculptures made in sheet metal, Gopinath's vibrant brushstrokes on canvas, Nandan's faceless Buddha with innumerable expressions, Senathipathi's works that combine human behaviour and mythology, and Latha's depiction of traditional women with varied expressions. The centre consists of the K.C.S. Paniker museum of the Madras Movement (an art movement that flourished between the fifties and the eighties), the Labernum and Indigo galleries, and the open-air sculpture park. 
Nandagopal's sculptures, Gopinath's paintings and Senathipathi's mythological representations have found space across the globe—in airports, star hotels and offices of leading corporate houses. "We confine ourselves to the successful running of the village," says Gopinath. "We contribute a part of our earnings to run the gallery and support every artist here."
Gopinath's house at the tail end of the village is surrounded by lush green trees and has an open space a la Kerala style. Near the entrance is an unfinished painting in vibrant red and yellow, the brushstrokes revealing his fascination for the colours that dominate most of his paintings. Perhaps, that fascination has its roots in his childhood days in Kerala and his memories of rituals like theyyam. 
A few metres away from Gopinath's house is Senathipathi's art studio, with its big, blown-up paintings that give viewers a sense of being in the world of dreams and illusions. Senathipathi recalls the days when they used to work under thatched roofs with just a loan of Rs 1,500 from the government. His paintings have an eclectic mix of emotions and mythology.  
Take a few steps from his house, and you are in the realm of Nandan's terracotta and granite sculptures. At the entrance is a faceless stone statue of the Buddha. "I am now working on a Buddha series," says Nandan, a frail man in his sixties. The smell of wet clay rules the air. All around are muddy sculptures, half-finished terracotta images and granite stones coaxed to life. The Buddha series has found a lot of admirers.
I leave Nandan to enter Nandagopal's aesthetically designed studio, which is filled with menacing, copper-plated sculptures. Nandagopal's huge works defamiliarise the established myths and legends. His sculpture depicting Krishna killing a demon by opening its jaw takes the centre-stage at the centre for contemporary art.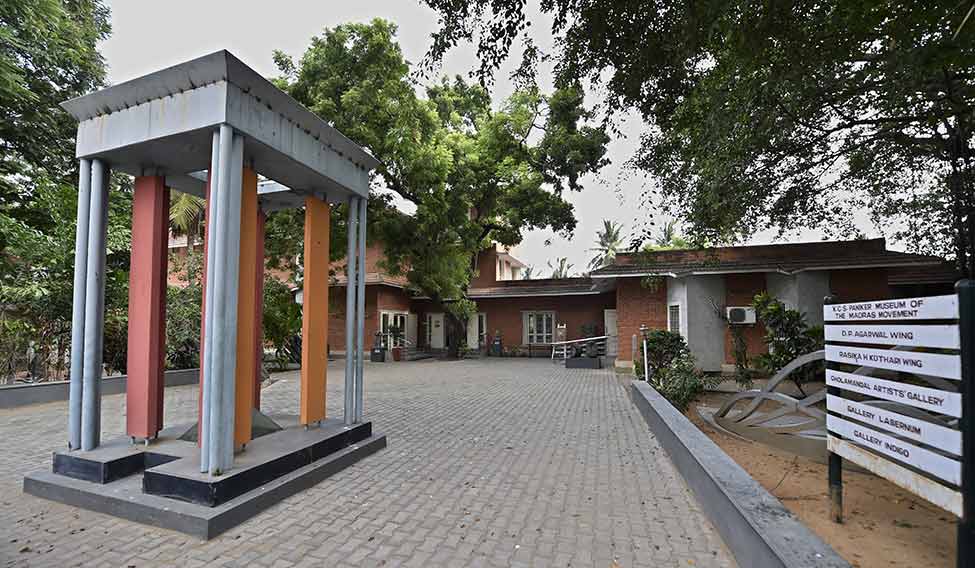 Nandagopal's sculptures are guided by drawings. "I always look for precision and clarity in my work. So I go for drawings first and then bring out the sculptures," says Nandagopal, who started as a painter, then turned ceramist, before becoming a metal sculptor. 
A few metres away from his studio is the home of artist Selvaraj. The imagery of his paintings reflects the training he received in dancing years before. No less figurative is the work of his colleague Latha, daughter of popular artist K.S. Gopal. Latha's rendering of south Indian women in acrylic is something that dominates the Cholamandal gallery. 
As I get back after meeting the artists, I pause at a portrait of Paniker. Below it, a small, golden sheet-metal plaque lists the names of donors who supported Cholamandal and describes how funds were pooled to sustain the commune. On December 10, the commune will kick off its golden jubilee celebrations, with an art show that will go on for two months. Cholamandal, it seems, will continue to inspire generations of artists.