"I have nothing to gain from the judgment. Even if the triple talaq is struck down, I will not go back to Rizwan. He has got another wife, anyway." - Shayara Bano, one of the petitioners against triple talaq
On Mother's Day, Shayara Bano, 35, was excited, counting days to meet her two children whom she hadn't seen since being thrown out of her home in April 2015. Shayara, after a long struggle, had got the family court in Kashipur, Uttarakhand, to issue a notice to her former husband, Rizwan Ahmed, to come to court with the children, now 13 and 11. But on May 16, the scheduled date, they didn't turn up. A part of her knew they wouldn't, yet the disappointment was crushing.
A few hundred kilometres away in Delhi, a Supreme Court bench was hearing a bunch of petitions against the practice of triple talaq, a unilateral and instant way of divorcing wives employed by some Muslim men in India. Shayara's petition was the one that snowballed the issue from a personal hurt to a raging national debate, and now has some of the best legal minds in the country deliberating over it. "I had never expected my petition to become the focus of such a big debate," she said.
Shayara had been married for 14 years to a property dealer in Allahabad, when she fell very ill. The six forced abortions had taken a toll. "My husband was abusive. He didn't allow me to leave home. I had no access to contraception. Whenever I conceived, he would force me to have abortion pills," said Shayara, a postgraduate in sociology from Kumaon University. "One day, he dumped me at the Moradabad railway station, and called my parents to collect me. Six months later, the talaqnama came through speed post." Having lost her prestige, her children, indeed everything, Shayara realised how vulnerable Muslim women were in a society where uttering a word thrice can bring their life to a standstill. She decided to petition the Supreme Court against the practice.
"I have nothing to gain from the judgment," she said. "Even if the triple talaq is struck down, I will not go back to Rizwan. He has got another wife, anyway." When asked how an educated woman like her found herself in such a spot, she smiled and said, "There are compulsions. I have sisters at home who need to get married. I had children." Rizwan would have divorced her much earlier had she acted independently. "Now that I have nothing left to lose, I can dare to fight," she said.
The constitution bench of the Supreme Court comprises men of five faiths: Chief Justice J.S. Khehar (Sikh), judges U.U. Lalit (Hindu), Kurian Joseph (Christian), R.F. Nariman (Zoroastrian) and S. Abdul Nazeer (Muslim). The bench will examine whether triple talaq is fundamental to Islam; if it is fundamental, whether the court can interfere. It will also decide whether the practice is sacramental and whether there is an enforceable fundamental right that it violates.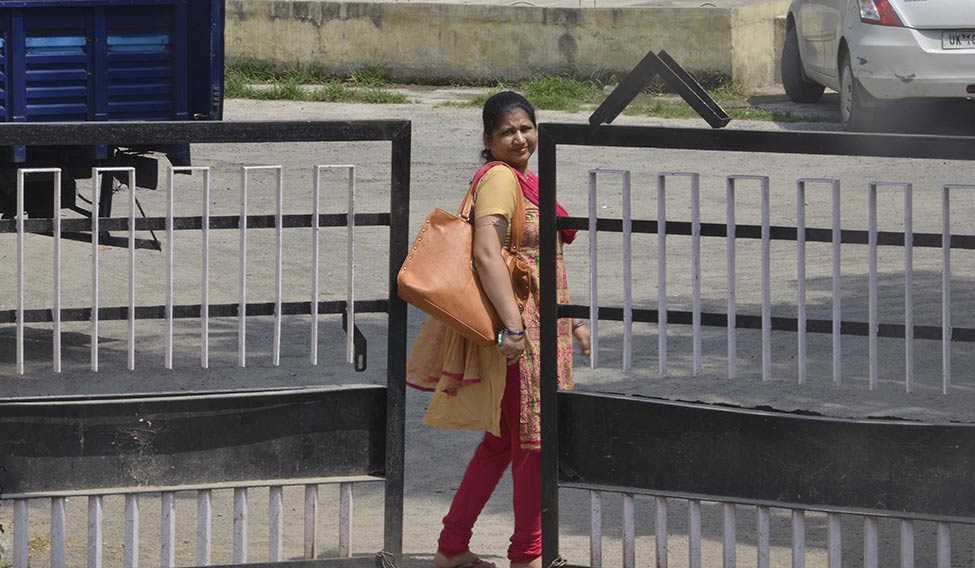 Apart from victims of triple talaq, the court is hearing petitions of organisations like Bharatiya Muslim Mahila Andolan. While the plea was also to abolish nikah halala (a practice by which a man who wishes to reunite with his divorced wife has to first ensure she marries another man and gets the union consummated before being divorced by him) and polygamy, the bench has restricted the scope of this case to just the triple talaq. The court says it might look into nikah halala at a later date.
There is a precedence, says former Supreme Court judge K.T. Thomas. He headed a bench of the Kerala High Court that had ruled that while the church had authority to solemnise marriage, once the couple was married, the two were in a legal bond with legal rights, which the church could not dissolve. The judgment was upheld by the Supreme Court. "Prima facie, the same should apply for Muslims, too," he said.
The Allahabad high court, this April, ruled that personal law operated within the authority of legislation and was subject to constitutional limitation. It ruled triple talaq as an infringement of an individual's fundamental rights. Some Muslim clerics have criticised the judgment.
The present developments are reminiscent of the struggles of another Muslim woman—Shah Bano. In 1985, she had petitioned the Supreme Court seeking alimony post divorce from her affluent husband. The court ruled in her favour, stating that while marriage may be under personal laws, maintenance was not. But community leaders were enraged, and the Rajiv Gandhi government, fearing losing out on the Muslim vote in the next hustings, passed a law that negated the ruling.
If the court today rules against triple talaq, would the ruling percolate down into Muslim society? "This is 2017, not 1980s. Shah Bano's fight was a lonely one. This time, Muslim women are organised," said Noorjehan Safia Niaz, cofounder, Bharatiya Muslim Mahila Andolan, Mumbai. "We are educated, and well versed with the Quran. Women are now countering clerics, asking them to quote verses to substantiate their arguments, and the clerics are left speechless." The petitioners said this case is but a milestone in the larger struggle for a codification of Muslim Family Law under the Constitution. "There are other issues like inheritance; mehr amount, custody, too," said Niaz, 47.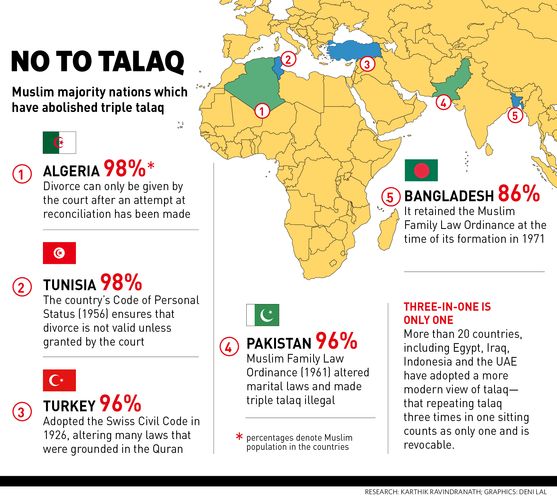 Lucknow-based petitioner Shaista Ambar, 55, started the All India Muslim Women Personal Law Board when her appeal to have a female representation in the All India Muslim Personal Law Board (AIMPLB) went unheard. "The matter is being given unnecessary political and religious hues, when it is a social issue. The Quran doesn't suggest triple talaq, it is the interpretation of the clerics. Unfortunately, we are being ruled by the rules of the maulanas and not the rules of Allah," she said, recalling the case of Imrana, who was raped by her father-in-law. The clerics ruled that since she had been raped, her husband was technically her son. The court finally ruled in Imrana's favour. "We need to codify our personal laws to prevent such fatwas in future," said Ambar.
Muslim women organisations said this has nothing to do with moving closer to the Uniform Civil Code. "For 70 years we have been hearing about this. Where is that code? I want to first see it before I decide which is better. But, in the meanwhile, why cannot the Muslim personal laws get codified?" asked Niaz.
Also, they aren't buying the allegations that the ruling BJP is trying to cash in on the triple talaq issue. "What stopped other parties from siding with our cause and 'cashing in' all these years?" asked Ambar.
Maulana Syed Jalaluddin Umari, vice president, AIMPLB, and head of the Jamaat e Islami Hind, said banning triple talaq might not benefit women, as "those who trouble their wives will continue to do so, and stop giving conjugal rights to their wives. This will lead to many complications and jeopardise the woman's stature and dignity."
Atiya Siddiqua, national secretary of the women's wing of the Jamaat, added that while issuing triple talaq in one utterance was not a good practice, it was unfortunately valid. "The solution is in educating the community, making them aware of the Sharia laws. We have stepped up this effort, but please, we would rather clean up from within; we do not want outside interference." She pointed out that divorce in Islam was not as unilateral as it was being made out to be. A woman, too, could seek dissolution of marriage under khula. But it is not unilateral; it needs the mediation of a cleric.
  Shayara, meanwhile, is waiting for July 4, the next date set by the court for meeting her children. She wants their custody eventually, but first she wants to become independent. "I am thinking of a career in social work," she said. "I plan to study law, too."