"If anybody comes in my way, I would definitely fight legally to save my interests. A.C. Muthiah is trying to take away the property my father owned" - M.A.M.R. Muthiah

"I have been appointed as a trustee by my cousin MAM to take care of the trusts he had formed... as a trustee, I am bound to keep up the promise" - A.C. Muthiah
The managing director of the Chennai-based Chettinad group of companies, M.A.M.R. Muthiah, would never have thought that the request for a condolence message for his father, M.A.M. Ramaswamy, made to one of his close friends, would end up as a major embarrassment for him. The request made to Cyrus S. Poonawalla, known as India's vaccine king, elicited a scathing response in the form of a letter. "I regret to do so because the request comes from you, whom he hated," wrote Poonawalla. According to the letter, Ramaswamy had told Poonawalla that allowing Muthiah to inherit his assets despite him not being his legal or biological son was the biggest mistake of his life. "I am very sorry to have written this offending letter to you, but this is the factual position with all those millions of people who knew Ramu."
The condolence meeting for Ramaswamy, who died on December 2, at the age of 84, was held on December 11 at the Rani Seethai hall in Chennai, the headquarters of the Chettinad group. Most of his close friends and relatives stayed away from the meeting. The big names of the family, including industrialist A.C. Muthiah, former Union minister P. Chidambaram and educationist Meena Muthiah were missing from the list of invitees.
The battle for assets worth around Rs15,000 crore, which was once owned by Ramaswamy, is still not over. On December 7, A.C. Muthiah, who is also a trustee of the two trusts formed by Ramaswamy before his death, had lodged a police complaint against M.A.M.R. Muthiah, who is also known as Ayyappan. The complaint, a copy of which is available with THE WEEK, said Ayyappan had locked down the Chettinad palace in Chennai and three luxury flats owned by Ramaswamy. Ayyappan, however, said A.C. Muthiah was trying to usurp the properties.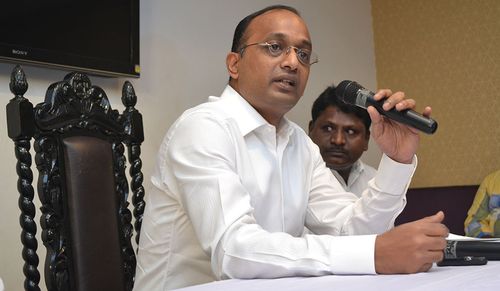 "My fight has not actually started. All this while, my fight with my father was to save the organisation from mismanagement. Now that I have saved the organisation at a cost, my fight is not for his legacy, but to save the property that I am entitled to," Ayyappan told THE WEEK. "If anybody comes in my way, I would definitely fight legally to save my interests. A.C. Muthiah is trying to take away the property my father owned, in the name of a trust."
A.C. Muthiah, who is willing to fight Ayyappan legally, said his allegation was false and that the details of the property owned by Ramaswamy at the time of his death, and was earmarked for the two trusts formed by him, were listed in the last will executed by him. "I have been appointed as a trustee by my cousin MAM to take care of the trusts he had formed a few months before his demise. It is purely for charity and, as a trustee, I am bound to keep up the promise," said A.C. Muthiah.
Ramaswamy's final will, a copy of which THE WEEK had access to, lists the properties owned by him at the time of his death and how he inherited them from his ancestors. "I am not here to take back what Ayyappan has already taken away from my cousin, but to save whatever he cannot inherit," said A.C. Muthiah. Ayyappan said he would fight for properties he was entitled to. He owns a large chunk of the Rs15,000-crore Chettinad empire. The fight now is for the property allocated to the two trusts, Dr M.A.M. Ramaswamy Chettiar Trust, a public trust, and Dr M.A.M. Ramaswamy Chettiar of Chettinad Charitable Trust, a private trust, named in Ramaswamy's final will registered on February 12, 2015 (see graphics).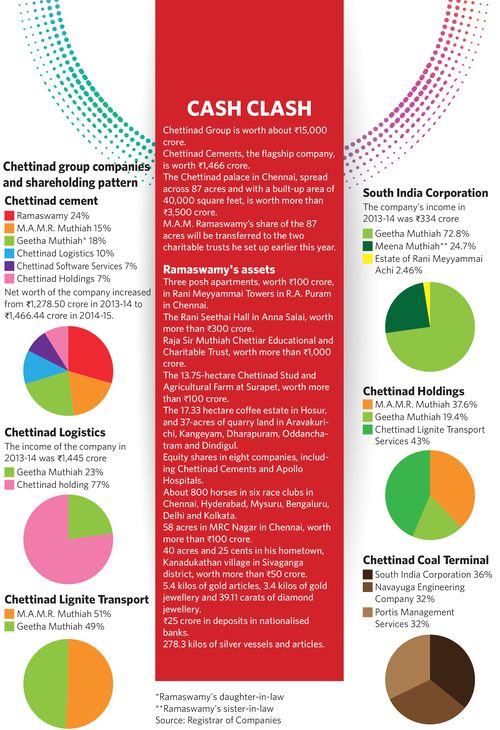 Employees of the Chettinad palace, the house in Chennai where Ramaswamy lived, said the jewels and the documents mentioned in the will were in his room inside the palace. "The palace was locked down by Ayyappan on December 6, a day after the funeral. We don't have access to the office of the trust which was formed by ayya," said an employee. The staff now operate from a nearby Ayyappa temple, which was constructed by Ramaswamy for his wife, Sigappi, who was a devotee of Lord Ayyappa.
The mood is sombre at the sprawling Chettinad agriculture and stud farm at Soorapet on the outskirts of Chennai. Nearly 200 racehorses owned by Ramaswamy continue to wait for their master. "It is three years since he came here. He did not turn up after he fell ill. But he would ask for updates every day. Now we do not know what will happen to these horses," said a worker. Ayyappan has not visited the farm more than twice in two decades, according to the workers. "Unlike my father, I am not interested in racing. For business development, I will not invest in any other sport. But if my company's net worth improves and if it is affordable, I might think of investing in cricket," said Ayyappan.
Recently, the Chettinad group lost a bid to buy one of the two teams in the Indian Premier League, the Chennai Super Kings and the Rajasthan Royals. "We did participate in the bid. But am not very sure whether it will help in brand promotion," said Ayyappan.
Unlike Ramaswamy, Ayyappan does not seem to believe in philanthropy. Although Ramaswamy belonged to the Nattukottai Nagarathar community, the most famous mercantile and business community in Tamil Nadu, which is known for its thrifty ways, he was a benevolent philanthropist. At a news conference held a few months before his death, Ramaswamy had ridiculed Ayyappan for being a miser. "He doesn't even offer a cup of coffee for his visitors. He will calculate what he will get in return for the coffee," Ramaswamy had said.
Though Ayyappan claims to be Ramaswamy's legal heir, he was not allowed to perform his last rites. It was performed by M.A.M.M. Annamalai, the adopted son of Ramaswamy's late brother M.A.M. Muthiah and Meena Muthiah. On the day of the funeral, heavy police force was deployed at the Chettinad palace to avoid any untoward incidents. According to sources, A.C. Muthiah and Meena Muthiah insisted on Ayyappan not performing the last rites as it was against Ramaswamy's wishes. "M.A.M.R. Muthiah, his wife and children shall not perform any of the obsequies or ceremonies relating to my death," was what Ramaswamy wrote in his will.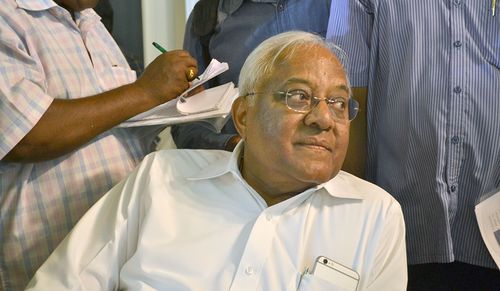 The feud between Ramaswamy and Ayyappan dates back to 2006, the time of Sigappi's death. Ramaswamy was forced to transfer the shares owned by Sigappi to his daughter-in-law Geetha. The rift widened after the government took control of Annamalai University in Chidambaram, the first private university in the country. The university over which Ramaswamy enjoyed complete control showed a deficit of Rs272 crore and had liabilities worth Rs238 crore. Sources said the problems started when Ayyappan objected to Ramaswamy's way of running the university. After a prolonged battle, Ramaswamy was removed from the chairmanship of the Chettinad group in 2014. "A.C. Muthiah was behind my father and I happened to hear their recorded conversation in this regard. They wanted to take the company away from me, which I did not allow. I always wanted the company to grow," said Ayyappan, who oversaw the steady growth of the Chettinad group over the years. Today, the group has diversified into solar and thermal power, construction, education, logistics and health care.
Ayyappan has, however, failed to win the support of his community. The Chettiar community, which regarded Ramswamy as its "rajah", is not willing to pass on the title to Ayyappan. "It is not hereditary. It was only a title given to my grandfather by the British," said A.C. Muthiah. But both Muthiah and Ayyappan are not interested in taking over as the rajah of the community.
Ayyappan, however, is determined to take forward his fight against A.C. Muthiah. "The fight was between me and my father. As a third person, he should have tried to bring us together. But he is trying to take away our property," he said. Ayyappan said he was unaware of Ramaswamy's new will, which was a registered public document. "I don't know what is mentioned in the will. But A.C. Muthiah was fraudulently inducted into the Chettinad Charitable Trust. I will contest the will and Muthiah's induction into the trust," said Ayyappan.
For Muthiah, the only way out now is to approach the court and fulfil Ramaswamy's wishes. "He requested me to safeguard the properties solely owned by him," said Muthiah. "I am here to liquidate the shares and other properties owned by him at the time of his death and use it for charitable purposes."