Caste clashes and alcoholism were rife among villagers. And, the people running the hooch dens looked at Elango as a meddler who was out to ruin their business.

Elango brought in experts to suggest the best paving solution for a road that now runs through a marsh to the highway. In the panchayat academy, Elango trains women from self-help groups, panchayat leaders and youth.

"There have been days when I would not know where he is. I used to struggle with my two daughters," Sumathi, Elango's wife
It is 2:15 P.M., and the motel on the Chennai-Bangalore highway is crowded. Clad in a sari, an overcoat and a paper cap, Mallika Rajendran, 48, is wiping down the tables. That is her job. A job that gives her ₹6,000 a month. It is nothing out of the ordinary. But, Mallika affirms that she attained financial independence solely because of the influence of a frail man in her village, a living Gandhi. But, ask Rangasamy Elango, and he will tell you that he is no Gandhi. "He taught me the way to succeed," Mallika said. "I have not reached heights, but I have learnt to live."
A paved road off the Chennai-Bangalore highway leads to Kuthambakkam, a village unlike another. Smooth roads, clean drains and row houses welcome us. At the entrance to the village a few well-dressed men chat at a tea shop. Somewhere close by, children recite multiplication tables in unison.
Even as a child, Elango had dreamt of transforming Kuthambakkam into a model village. Today, at 53, he is reaping the fruits of his dreams.
Hailing from a Dalit farming family, Elango saw his friends at school drinking water during lunch break; they would then pretend to have had lunch. "I always shared my lunch with them," he said. "But that was never enough, and it did not seem to be a solution."
Walking back from school on summer days, he realised that upper caste homes would never give water to Dalit children. He realised, "There can be no individual happiness, if there is misery all around."
Elango graduated in chemical engineering and was immediately employed by Oil India in Orissa. But it took him away from his dream, and so he accepted an invitation from the Council of Scientific and Industrial Research (CSIR) to work in Tamil Nadu. He worked there for eight years.
But every time Elango visited his village, he saw poverty, natural resource degradation, caste riots, illicit breweries and associated evils. The village streets were dark and unsafe after dusk, and pigs wallowed in the mucky streets by day. Then, in CSIR, Elango met Ponnambala Adigalar, the chief seer of the Kundrakudi mutt. The Adigalar was then working to make villages around Karaikudi self-sustainable. "When I said I wanted to do something for village development, Adigalar asked me to go to my village and work," Elango said. So, in 1994, he quit CSIR and settled in Kuthambakkam.
His initial efforts to transform the village ran into roadblocks. Caste clashes and alcoholism were rife among villagers. And, the people running the hooch dens looked at Elango as a meddler who was out to ruin their business. Balu, Elango's aide, used to be a goon of the hooch bosses. Elango said Balu used to beat him up and would come at him brandishing sickles, threatening to kill him. "Illicit liquor was freely available and the local businessmen fl ourished because of it," Elango said. "I was working against them day and night to ensure a healthy life for my villagers."
Clad in a checked shirt, a blue dhoti and with a blue shawl draped around his neck, Balu recounted the old days: "We were for alcohol and he was against it. But, seeing his effort to uplift the village, I quit drinking and joined him." When THE WEEK met him, he was observing the rituals for his annual pilgrimage to Sabarimala.
After the violent days came the panchayat elections of 1996. Elango contested as an independent and won hands down. In his first term as sarpanch, he travelled countrywide and studied several experiments in rural development. Slowly, alcoholism was reined in, and he ensured employment for all families that stopped distilling hooch. Low-cost, eco-friendly houses and health centres were made, roads and drains laid, street lights installed and rainwater harvesting structures commissioned.
READ:Interview with Rangasamy Elango
Most importantly, he brought together the traditionally antagonistic Dalit and non-Dalit communities. Twin houses were built within a compound, and the houses were shared by a Dalit and non-Dalit family. Long before the Tamil Nadu government launched its Samathuvapuram (Equality village) programme, the concept was in existence here. Sources said that the government was inspired by the Kuthambakkam model. But, technically, Kuthambakkam is only the 77th Samathuvapuram in Tamil Nadu.
"I am a Brahmin. But we live here peacefully with the Dalits and caste Hindus. We live like a family," said Geetha Viswanathan. Reportedly, there have been more than 10 inter-caste marriages in the last few years in the village.
Geetha was allotted a house in Samathuvapuram in the late 1990s, when she and husband Viswanathan moved here. Said Geetha: "My husband is a caterer for wedding parties. He used to get small orders, which helped run our family." But after Elango became panchayat president Viswanathan started getting food orders of panchayat events. "He is our godfather, our inspiration," said Viswanathan. "He actually taught me how to take my catering business forward."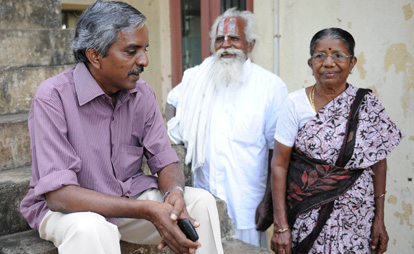 Murthy, 45, said, "My three sons and my wife go for housekeeping work in a dental college on the outskirts of our village. I get to do the daily labour work available in our village. We together earn ₹35,000 a month." Long before Elango came, Murthy was an alcoholic who neglected his family. Now, Murthy is thinking about tomorrow. Top on his list is expanding his one-bedroom house.
Health has been another area of focus for Elango. "My son is now alive only because of him," said Pushpa. "He lost vision immediately after he was born. But Elango helped my son get back his vision by spending lakhs for his treatment for over 12 years."
And, Elango has been able to inspire many others like Balu to take up community service. Rajendran, a painter, works on village projects when he is not otherwise occupied. "I take up jobs on contract," he said. "When Elango was the panchayat president he used to offer jobs here. Now, I have learnt the nuances and I do jobs outside the village. At times, when I am in the village, I do social work here."
Elango ensured the village's connectivity to the highway by bringing in experts to suggest the best paving solution for a road that now runs through the marsh that cuts off the village from the highway. He studied the various government schemes that could be adopted for the village and implemented apt ones. By 1998, Kuthambakkam had got a new lease of life.
By then the village also had two schools, a primary school and a high school, with efficient teachers and infrastructure. When THE WEEK visited the high school with Elango, students came running to wish him good health. "We have not seen him for the past few months, after he fell sick," said Shanthi, a Class 8 student. "We want him to be healthy and alive to support and lead us forever."
Clad in school uniform—dark brown churidar and a beige dupatta—Shanthi said, "He is my inspiration. If not for him, my parents would not have sent me to school. Now I want to work like him for our people."
The sprawling school playground is also Elango's contribution towards promoting sport in the village. Opposite the playground is the panchayat academy, where he trains women from self-help groups, panchayat leaders and youth.
After being elected to the panchayat for a second term, in October 2001, Elango pushed forward the challenging task of establishing a land- and agriculture-based village economy. Out of the drive was born units that manufacture or process pulses, dairy, groundnut, coconut, jute, leather, handloom textiles, bakery goods, low-cost building materials, kerosene burners and a variety of soaps. A low-cost solar energy project for village homes is under way.
During his 10-year term as sarpanch, Elango made panchayat administration trans-parent. He put up the panchayat's financial statements for public scrutiny at his office. The practice continues even today, seven years after his exit. Today, Kuthambakkam has achieved almost all developmental parameters, Elango said. He says it is the only panchayat in the state which has a deposit of around ₹60 lakh.
Interestingly, once the district administration had him removed from the post of sarpanch for flouting rules. Rules stipulated that he use quarried stones procured from the open market to build drains. Elango used locally available granite slabs. He saved money, but the officials were not impressed. Even in suspension he stood his ground and the people backed him. Before long, he was reinstated.
Elango's home in Kuthambakkam is an old, one bedroom, tile-roofed place. All windows in the house have grills, a throwback from the days when the hooch mafia targeted him. "Those were the days when my wife used to struggle with me. The entire village was against me," he said. His wife, Sumathi, is with Oil and Natural Gas Corporation in Chennai.
A small concrete-floored hall, a makeshift kitchen and a small bedroom complete the house. Books, notebooks, papers and soldering equipment lie scattered on the bed. The soldering equipment is from his experiments for the low-cost solar project.
The makeshift kitchen is suffi cient to rustle up Elango's meagre menu. Breakfast is mostly cut fruits. Lunch is a cup of wheat upma; he avoids tea and coffee. "This is because I fell sick and I had to undergo three surgeries, because of a weak heart, in the past six months," said Elango.
His parents, Kanagammal and Rangasamy, stay close by. "He prefers a simple lifestyle," said Rangasamy, a staunch Vaishnavite who sports sacred ash on his forehead. "For him duty is divine. He dreams for the people of this village. We do not disturb him." Unlike his father, Elango is an atheist; Sumathi believes in Ramakrishna Paramahamsa and Swami Vivekananda.
While Elango stays alone in Kuthambakkam, Sumathi stays in an apartment on one of Chennai's busiest streets. While Elango shuns the Gandhian tag, he says that it was Sumathi who introduced him to Gandhism. "When I was dismissed from the post of panchayat president in 1999 and when I fell sick she made me read Gandhi," he said. "That is how I got the courage to fight all odds."
Humility personified, Sumathi, too, has paid the price of Elango's activism. She had to stay alone in Chennai, raising two daughters, while Elango transformed Kuthambakkam. "There have been days when I would not know where he is," she said. "I used to struggle with my two daughters." Their eldest, Saranya, 25, is an assistant professor at SRM Easwari Engineering College, Chennai. The second, Divya, 22, is an engineer, currently staying in Seychelles with her businessman husband.
While Elango is out of the panchayat administration, his days are no less busier. He runs a trust, which works in tandem with the panchayat. Then there is his focus on the economic model for the villages. Most of the manufacturing units in the village use local raw materials, and the end product is again sent to the village to ensure self-sustainability. "These units function as a bridge. They are actually a small modifi cation agency. These units can be translated to meet the village needs in full," said Elango.
He was awarded the Ashoka Fellowship in 2002, and was invited by the UK government to study and share his experiences on local self-governance.
Elango's dream is: today Kuthambakkam, tomorrow India. "My aim is to transform all the panchayats as outstanding villages," he said. "In a span of 10-15 years I feel we can transform the entire village economy in the country."
FACT FILE
Kuthambakkam panchayat
Where: In Tiruvallur district; 40km from Chennai, off the Chennai-Bangalore highway. Turn right after Queens Land Amusement Park.
Size: 36 sq.km.
Population: 5,000 people. 1,040 households spread over 70 hamlets. 55 per cent Dalits and 4 per cent Christians. Other major communities are Mudaliars, Naidus, Vanniars and Yadavas. One Muslim family.
Income pattern: Mostly from agriculture and cottage industries. A lake irrigates 1,400 acres; another 700 acres are rain-fed. Every family earns around 040,000 a month.
Education: Reportedly, every family has at least one college graduate.
The Kumarappa model
Elango's economic model for villages draws heavily from Dr J.C. Kumarappa's work. A Columbia University graduate, Joseph Chelladurai Cornelius (1892-1960) was transformed by Gandhi and became a close follower. During the freedom struggle, he gave up his English surname and embraced his traditional family name, thus becoming J.C. Kumarappa. He is regarded as the father of Gandhian economics.
"I got the idea of village clusters and village economy from him. More than Gandhi, his ideas made me go ahead with my dream for my village. He theorised that in an economy of permanence, there was planned co-operation; in an economy of transience, it is mindless competition," said Elango, referring to Kumarappa's classic work, The Economy of Permanence. "Our rulers plan development from top to bottom. But it has to be vice versa, in the way Kumarappa and Gandhi dreamt about. Kumarappa worked closely with Gandhi throughout his life. But, independent India did not take up his socialistic vision."
The Kumarappa model The panchayat academy in Kuthambakkam is Elango's tribute to Kumarappa.
When Elango first became sarpanch, the biggest challenge was to mobilise funds for development. He commissioned a door-to-door survey, which found that Kuthambakkam consumed ₹60 lakh worth of goods and services every month. To his astonishment, it also said that the village had the potential to produce goods worth ₹50 lakh every month. Elango was convinced that clusters of villages could become economic powerhouses.
Six or seven villages can form a cluster and become a free trade zone, he said. Today his Trust for Village Self-Governance works towards networking the member villages of his panchayat academy. Koduveli, Adigathur and Kondancheri are some of the panchayats in the network. As per the cluster culture, these villages identify and produce goods and services without overlap. They consume each other's produce. The money rotates within the villages and gets invested within the cluster.
Sowing gram swaraj
For this 33-year-old from Tiruchirapalli, empowering villages is more important than cashing in on his MCA degree. Nandakumar Shiva dropped all lucrative job offers to join Rangasamy Elango in finding solutions for village empowerment. After working under Elango, Nandakumar has now started an organic vegetable farm at Gandhi Niketan Ashram in T. Kallupatti near Madurai. He is in the fields every day, meeting villagers and teaching them the importance of local markets and village economy.
"Elango is my inspiration. When one man without the support of anyone can work for the people relinquishing his job, why not me?" asks Nandakumar, who was also influenced by writer M.S. Udayamurthy and his movement, Makkal Sakthi Iyakkam. "When I saw his (Elango's) work yield good results for the welfare of the people, I decided to work for a social cause."
Nandakumar says he did not have clarity of thought on issues involving village economy and village-based development until he worked with Elango for two years.
Nandakumar said, "He is the man whom I admire the most. He is a man who never loses his cool. He is a person who knows the tactics of handling every person, right from a politician who was against him to a labourer who was working for him."
Elango maintains a record of every person in the village, said Nandakumar, with different codes marked across the name of each person: "The codes indicate the economic condition of the person, the qualities of the person, if he had quit drinking or if he is a drunkard who would beat his wife and children." Elango handled people according to their behaviour and never mishandled anyone, said Nandakumar.
Ask him what he actually learnt from his mentor in two years, and he has a long list. Building confidence, courage and perseverance tops the list. "I got empowered on seeing his hard work. I have just stepped out to empower the villagers," he said.