GRASS has provided a roof to many families, who have handkerchief-sized holdings, enough to grow their own food, but no income for anything else.

Kandwal helps the people avail themselves of schemes, subsidies, loans and opportunities offered by the government.
The Bhagirathi swirls down the Himalayas, in Raghuveer Kandwal's karmabhoomi in Rudraprayag district of Uttarakhand. Clean air, in which wafts the scent of the mountains, is only the first sign of nature's bounties in the region. The slopes that were almost naked about four years ago are densely forested in parts and show signs of green shoots elsewhere. In early November, the maltas—a tangy variety of oranges—are tiny. Long stretches are dotted by bananas and there are trees full of blossoms—like the Japanese sakura—that will turn into plums in due course. Clusters of trees sport tiny gooseberries.
The main road leads millions of tourists to the breathtaking Valley of Flowers, a UNESCO world heritage site. It takes even more pilgrims to the holy shrines of Badrinath and Kedarnath. But there is something frightening about the beautiful mountainscape. It is earthquake-prone. Landslides are common. And life is hard, made worse by almost non-existent employment oppor-tunities. Anyone who can leave for better education or jobs in the cities down in the plains does so.
Kandwal, 44, could have done the same. But he chose to stick around and do something to change the situation. He knew he lived in the lap of nature's fruit basket. He had seen NGOs using the state's natural resources—processing fruits and vegetables and marketing them—to take the people out of the morass of poverty and unemployment. Inspired by that, Kandwal processed the maltas on his small farm, made small pouches and distributed the juice for free, to begin with.
Today, lives have been transformed in Rudraprayag and parts of Tehri, as Kandwal keeps adding a new link to his chain of co-workers attempting to be the agent of change. Facilitating them in tapping every available resource, from natural to government schemes to other agencies involved in outreach and social work is Gramin Sudhar Evam Shramik Seva Sansthan (GRASS), a society Kandwal formed and registered in 1993. The fruits of the efforts of GRASS are now visible from Rishikesh to Kedarnath, and Tehri to Ghansali and Budna. The sheer variety of simple, working solutions, addressing people's needs, impresses.
The centre-piece of Medanpur, a village in Jakholi tehsil of Rudraprayag, is a terrace farm, neatly laid out with a huge white polyhouse on one of the levels. The owner, Lakshman Singh Sajwan, has been a farmer for the past 15 years, and has 20 nalis—half a hectare—spread over 20 levels.
Dairy is the mainstay of the farm. The pride of place, however, is the huge polyhouse. It was designed by Kandwal, and Sarveshar Prasad Chamoli, a welder, worked on it to make it practical. "I knew it was good for us to grow seeds and vegetables. GRASS got it going in seven days," says Sajwan, as he goes around showing the solar drier, biogas unit, manual power tiller and drip irrigation that make his farm a model worth emulating. GRASS helped him set up the polyhouse by providing the units and arranging subsidies through other NGOs.
"A polyhouse is good for a place with little water," says Sajwan. "For the hills, seed generation is very difficult. If you grow seeds in a polyhouse, you can plant in February and March and get excellent vegetables in April, May and June." The team has fine-tuned its designs for domestic biogas plants, too.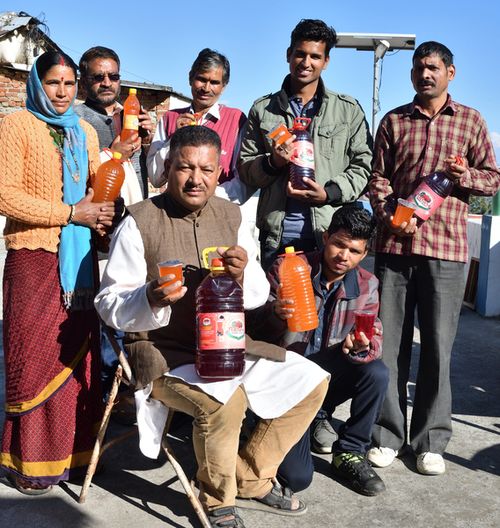 "We had started the swachchata abhiyaan [cleanliness drive] long before Prime Minister Narendra Modi did," claims Sajwan. "GRASS distributed dustbins made of 16-litre canisters to inculcate in children the habit of disposing plastic waste."
GRASS does not have a health clinic with a doctor. But when a person needs medical help, the organisation goes all out to help him. Vijaypal Singh Rawat, a lawyer who lives in Nagpur Patti of Banswara village in Augustmuni block, says, "I've lived in this area all my life, and know the people who are in need and what they need. So, I help in identifying the beneficiaries for GRASS." Kandwal and his teammates double-check the facts to ensure the genuineness of a case.
One such case that Rawat brought to Kandwal was that of Virender Bisht, 40, who developed a gangrene on his foot while visiting his village, Jalai. "My foot had begun to rot, I was sure I would die. I was smelling and had to drag myself," says Bisht, who worked in a hotel in Mumbai.
Rawat was so disturbed by his condition that he could not sleep for three days. "Even his family [wife and three children] did not want to go near him," says Rawat. "He could not go to a government hospital for free treatment, he had no BPL [Below Poverty Line] card. Even if we gave him the money, he could not go to Dehradun in a bus because of the smell. So I discussed his case with Raghuveer."
Once they decided to help him, a fresh problem cropped up. There was a road in Bisht's village, but it got washed away in the rains. So, arrangement was made for him to be carried 3km from his village to the nearest road by hired Nepali workers on a make-shift stretcher. From there, he was sent to the hospital in a cab. Similarly, a visually impaired woman with three children was sent for treatment and her eyesight was restored. A four-year-old was sent to All India Institute of Medical Sciences in New Delhi for a heart surgery. "The people we helped are fine now. That is the biggest reward," says Kandwal.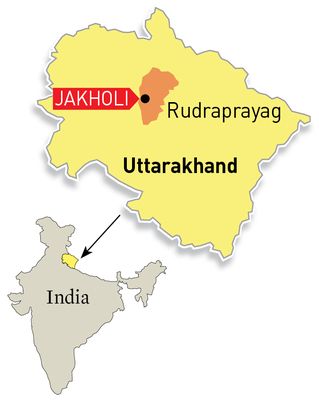 GRASS has provided a roof to many families, who have handkerchief-sized holdings, enough to grow their own food, but no income for anything else. Satyanand owns a small patch of land and has to support his mother, wife, Rukmini Devi, and three adult children. An occasional daily labourer, he nevertheless put his daughter, Indu, 24, through graduation. Alok, 22, is in inter-college. The older sibling, Ashish, 26, is a daily labourer like his father. The fact that none of them has a job has resulted in Satyanand losing faith in education. "Education is of no use. What has it got us?" he asks.
Rawat was aware of their plight. When Child Line, under the Ministry of Women and Child Development, sought his help in recording the health parameters of the children there, he roped in Indu. The government has promised Rs 6,000 a month as remuneration, which is yet to come. GRASS paid her the arrears "so that she does not get demoralised, and has money", says Rawat.
When the Reliance Foundation sought Kandwal to help it with a list of beneficiaries, skilled people and contacts, he saw a big opportunity in it. He got the villagers a "mid-term shelter" built.With standard designs across Uttarakhand, these shelters, costing the agency about a lakh of rupees each, could be built in a week. Compared with Satyanand's hut, the shelters with tin roof were palatial. Toilets were part of the package.
"Zindagi ka shree ganesh ho gaya [Life has finally begun]," Satyanand told Raghuveer one morning, when he went to thank him. Following the relentless effort of GRASS, the local administration finally built a solid home for them under the Indira Awaas Yojana.
During winters, when the maltas are juicy and ready to be plucked, the villagers pluck them and sell them to processing centres. The juice is processed, bottled, sealed and labelled. The fruit juices and squashes from this region are sold under the label NATURE, which stands for Natural Assets Technology Use for Rural Employment.
When GRASS decided to enrol—Kandwal prefers to use the word link—ex-servicemen in their livelihood effort, it picked Rajinder Singh Bisht who retired from the Army 24 years ago. He, like countless others in the district, took the fruit processing training offered by GRASS.
The very first season, Bisht processed about 15 jerry cans—each 40 litres—of juice into ready-to-drink bottles. About 20 ex-servicemen in the neighbourhood have followed in his footsteps. Earlier, they invested in cars that ran as cabs, and SUVs that took passengers on pilgrimage. Those needed maintenance and depreciated. This livelihood, says Bisht, is a lot better. GRASS has so far directly trained at least 1,500 people in fruit processing.
To the left of the road to Jakholi, one of the highest points in the district, the slopes of the Kandali village have huts with unusually long facades, and the depth seems disproportionately small. That is because more than half the length goes to house goats—kids, young ones, and older goats. With her head covered in the trademark pahari style, Sondeh shows the space given to her flock of 20 goats. She received five goats from GRASS five years ago. Goats litter very fast. Her five littered twice a year. In the first two years, she sold ten, earning Rs 60,000 for them. "Goats are very useful, very beneficial. They take care of all our expenses," says Sondeh, mother of three daughters and a son.
With the first earnings from goats, Sondeh built a toilet and a bath. So did 19 other families that got goats from GRASS, which did not recover money from them. "Our condition was that they have to give us five goats each when we ask for them, so that we can give them to 20 other families. The programme of livelihood through goats becomes sustainable this way," says Kandwal.
Mayali village is one of the bigger ones in Rudraprayag. It has substantial stretches on the main road, so there is a bustling market with all kinds of shops. Among them are a few beauty parlours. Monica Beauty Parlour is owned by Lakshmi Devi who attended a three-month training programme conducted by GRASS for 30 women five years ago. Today, she earns Rs 12,000 a month, and more during the wedding season. She also conducts training for people interested in joining the business.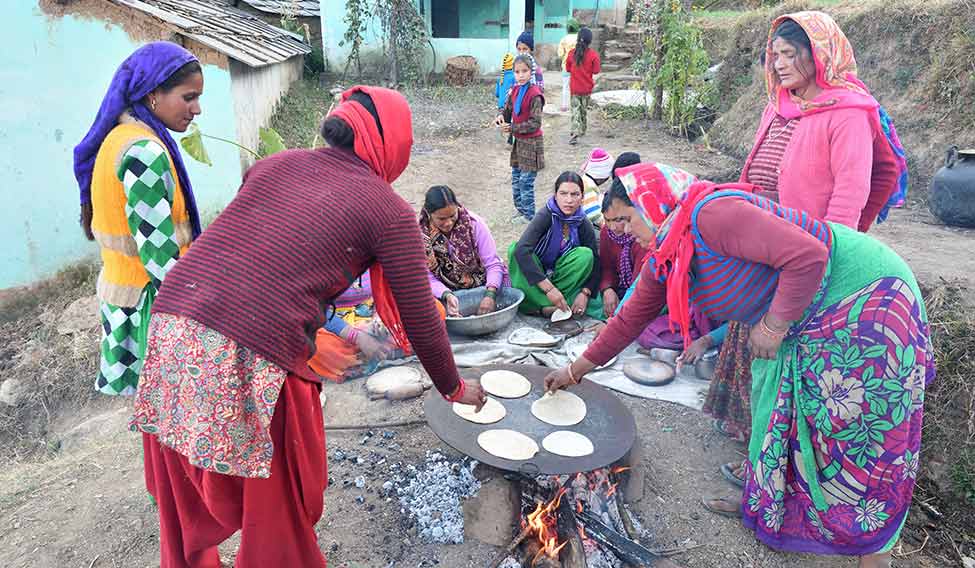 About an hour's drive through the curving mountain roads, a steep kuchcha tract leads to a much forested village called Tyonkher, where dalits live. There are creepers with hundreds of chayotes hanging on them and pumpkins of varying shades and sizes scattered out in the yard. The front room of the two-room house that belongs to Pari Lal and Maya Devi has a foot-operated sewing machine, and a stack of what looks like uniform—blue—fabric.
It is Maya Devi's tailoring shop, and it helps her earn about Rs 6,000 a month. She did a six-month tailoring course conducted by GRASS. Similarly, 300 women in batches of ten have been trained. Many have opened shops at home, a few in the bazaar.
Apart from teaching the people to eke out a living from the resources available around them, Kandwal also helps them avail themselves of schemes, subsidies, loans and opportunities offered by the government. In fact, Sajwan got the power tiller under one such scheme. Next on the agenda is the installation of rooftop solar plants.
Kandwal employs a simple, but smart strategy. He carefully picks people who would be able to make the project work and showcase it to others. "If we do it in a random way, and a project fails because of the person, the loss will be that of the community," he says. "Others will shy away from it. On the contrary, if they see success, they would want to be part of that success story, do it for themselves."
Six years ago, Kandwal went to Ayarchuri village, not far from Budna, to facilitate the formation of the Mayali Ghati Mahila Sangh. Every month, the women deposit Rs 100, and only those who need funds to celebrate a wedding or deal with an illness generally seek a loan. The self help group lends at 1 per cent interest. GRASS has helped in the formation of 40 such groups in Rudraprayag.
On the trek back from Ayarchuri, Kanshi Ram, 27, insists Kandwal stop by at his place, where a drum, a brass band and a keyboard are on display. Kanshi Ram says he is beholden to GRASS. He played with a band on a daily basis, to support himself and his family, as he attended MA and BEd classes. But he had to quit because of family circumstances. As he was wallowing in self-pity without a job, Kandwal gave him the money to buy equipment and start his own band. Now, he earns around Rs 1 lakh every wedding season.
Shaheed Rai Singh Bangari High School in Tuneta Bhardar village of Rudraprayag is named after the man who was martyred while the people of the region were agitating for the creation of Uttarakhand in 1994-95. Gobind Singh Negi joined the school in 1996 as headmaster of the junior wing. Negi often met Kandwal, and they discussed everything from natural resources to economic development of people.
Two years later, when a huge earthquake rocked the place, Kandwal came to meet Negi. They came up with the idea of building a hall to shelter people whenever there is a disaster, and be part of the school at other times. The very same year, a 55ft x 20ft earthquake-resistant hall that could accommodate 250 to 300 people, with four baths and as many toilets, complete with rainwater harvesting provisions and a 5,000-litre water tank was built. It cost GRASS Rs 2.16 lakh then.
School assembly is held in the hall, which is given for public events as well.
One such event is the monthly Parvati Bal Panchayat (Mountain Children's Panchayat) which focuses on awareness-building among children through games, programmes and workshops. Similar halls have been built at Jakholi, Chirwatia, Bhatuwada and Kandara.
"Everyone helps the bright. So the real challenge is to help the dropouts with all the possible skills," says Kandwal. GRASS is now in the process of identifying skills that need to be preserved.