"The value of the properties was so huge that the [Mannargudi] family members themselves could not ascertain it." - A. Shankar, RTI activist

Though it is famous as Jayalalithaa's abode, she holds shares worth only Rs 3.13 crore in the Kodanad estate.
On the night of April 23, as the Nilgiris slept peacefully, Om Bahadur stood awake, guarding gate 10 of Kodanad estate. Little did he know that soon, he, too, would go to sleep. Permanently. A little past 1am, two SUVs pulled up outside gate 10, and out jumped 10 masked men. They stormed the gate and assaulted Bahadur, 51, stuffing his mouth with cloth and taping it shut. They then slit his throat and hung him upside down from a tree. A little while ago, at gate 8, the men had tied up, sedated and assaulted Krishna Bahadur, another guard. They had even chopped off his fingers. Reportedly, the men had come to loot Jayalalithaa's riches, said to be hidden in the estate. After picking up four watches, a crystal rhinoceros and documents of properties worth thousands of crores, the gang escaped in the waiting SUVs. Though the accused were arrested in the following days, the mystery behind the murder got deeper by the day (see box).
It all began on December 5, when Jayalalithaa died of cardiac arrest, giving birth to not only a fight for her political legacy, but also for the assets she left behind. This includes properties worth Rs 113.73 crore, which Jayalalithaa mentioned in an affidavit in 2016, and properties worth thousands of crores, which she and her associates acquired over three decades. Though Jayalalithaa did not directly buy many of the properties, it is believed that she used her confidante Sasikala and her influential Mannargudi family to do so.
The claimants to her legacy include former chief minister O. Panneerselvam, V.K. Sasikala, and two blood relatives—Deepa and Deepak Jayakumar (children of Jayalalithaa's brother, Jayakumar). Panneerselvam wants her Poes Garden residence to be converted into a memorial, while Sasikala and her family want the properties to stay under their control. Then, there are a few NGOs and activists, who say the properties should go to the government.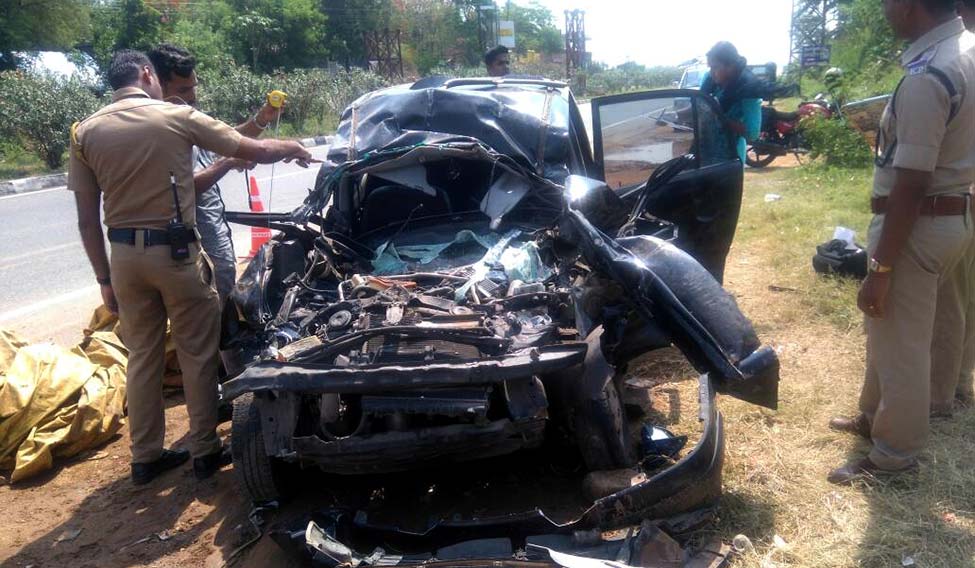 Apparently, most of the properties were bought between 1991 and 1996, during Jayalalithaa's first term as chief minister. In 2014, judge John Michael D'Cunha's ruling, in a disproportionate assets case, listed 173 properties that had been bought by Jayalalithaa, her disowned foster son Sudhakaran, Sasikala and her sister-in-law J. Elavarasi, from 1991 to 1996. As many as 156 of these were attached by the court. "They have been attached based on my statement and the chargesheet by the [Tamil Nadu] Directorate of Vigilance and Anti-Corruption," N. Nallamma Naidu, the investigating officer in the disproportionate assets case, told THE WEEK. "The properties run to more than 3,000 acres, worth several thousand crores." D'Cunha also ordered confiscation of properties belonging to six companies named in the case. The Supreme Court, in its final verdict in the case on February 14 this year, upheld the judgment. "As far as the properties in the name of the six companies named in the judgment [are concerned], the Supreme Court has specifically confirmed the order of confiscation," B.V. Acharya, special public prosecutor in the case, told THE WEEK. "Therefore, further steps will have to be taken to obtain possession of the properties in accordance with the 1944 [Criminal Law (Amendment)] ordinance." It is said that the other properties mentioned in the judgment, including the sprawling Kodanad estate, might also be attached.
Before that happens, THE WEEK visited some of the high-profile properties mentioned in the judgment to learn more about their history, how they were acquired and what the people there now have to say.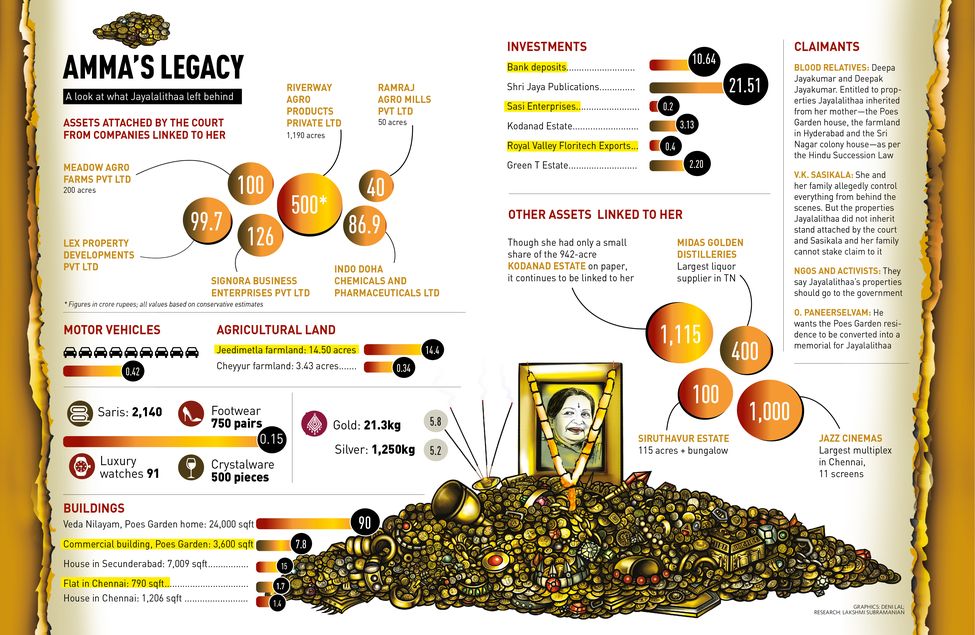 Kodanad estate
The 20km drive from Kotagiri to Kodanad is picturesque. The roads snake through lush tea gardens. The Kodanad tea estate, now a popular tourist destination, was one of Jayalalithaa's favourite retreats. In fact, for decades, this was an unofficial seat of power in Tamil Nadu politics. The estate—spread over 942 acres—is filled with tea shrubs, silver oak trees, a 10-acre private lake with a luxury boat, a 10-acre floriculture farm, a plush white mansion, a servants' quarters, a tea factory and an under-construction conference hall.
However, though it is famous as Jayalalithaa's abode, she holds shares worth only Rs 3.13 crore in the estate. Sasikala, Elavarasi and others in the family own the rest. Reportedly, the estate, including the buildings, is today worth about Rs 1,115 crore.
"She was at peace and was always smiling whenever she came here," said Lakia (name changed), a worker at the estate. "She used to go walking and boating. Once, on our request, she even did a photo-shoot with us. We never found her arrogant or authoritative as everyone says." Jayalalithaa last came here in 2014, staying for 10 days and inaugurating an ATM at Gandhi Nagar, near Kodanad.
The estate first came to Jayalalithaa's notice in the early 1990s, when she came to Ooty for a meeting with tea manufacturers. Apparently, the altitude, the pleasant weather, and the tea planted here—a hybrid and highly profitable variety—made Jayalalithaa want to buy the estate. A plan was then set in motion to buy the land, which belonged to Peter Karl Edward Craig Jones, a British national. Allegedly, Jones was arm-twisted into selling the estate in 1995. "More than just a property, it was very close to my heart. I spent every minute those days thinking about the best quality tea. I got it from Assam and China, and planted it. But, when it was fully developed and we felt satisfied, we were forced to sell it," Jones, 60, told THE WEEK.
He said he was paid Rs 7.6 crore by demand draft. "They had agreed to pay Rs 4 crore more in cash," he said. "We never got that. What we got were income tax raids and 150 goondas at our doorstep."
Over the next two decades, the estate expanded. "Some of us from the Toda community sold them at least one acre, in the past few years, when they wanted to expand the boundary," K.M. Alwas, coordinator of the National Tribal Forum and a native of Kodanad, told THE WEEK. He was the manager of the estate for about 15 years and resigned when the administration changed.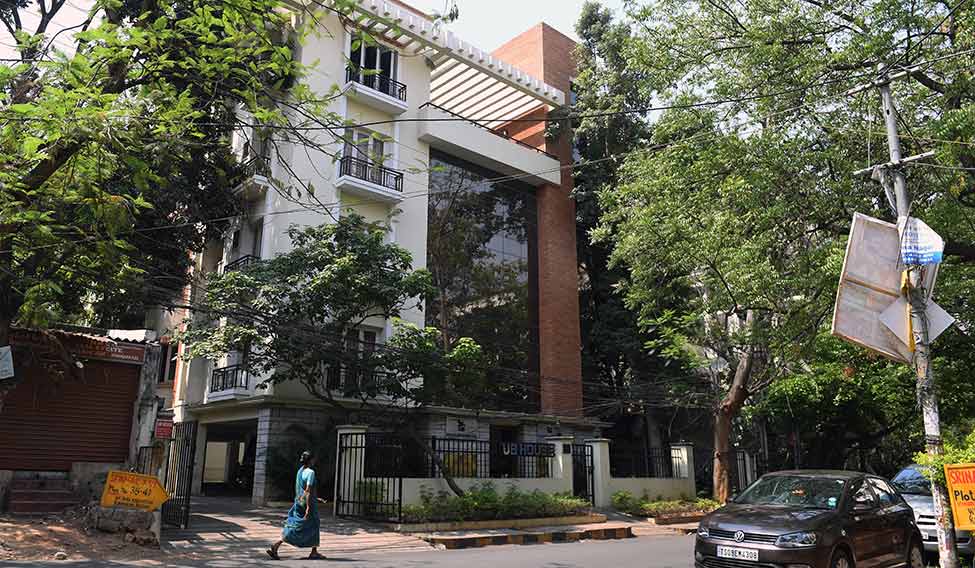 The Mannargudi family kept expanding and buying new estates till a few months before Jayalalithaa's death, said C. Divakar, who used to work at the estate. "These included the Curzon estate, spread over 200 acres, the Thai Cholai estate, spread over 1,100 acres, and a 750-acre estate near Edakkad," he told THE WEEK. "We saw many cars coming in and going out when Amma was hospitalised. But now, after her death, everything has stopped."
The land was bought and registered in the name of a firm called Kodanad Tea Estates, in which Jayalalithaa, Sasikala and Elavarasi were partners. And, every year, according to estate sources, the partnership equations changed on a rotation basis.
Apparently, the bid to buy Curzon estate had started the tiff that led to Sasikala's ouster from Poes Garden in 2011, said sources.
Veda Nilayam, 81, Poes Garden
Jayalalithaa's Poes Garden residence in Chennai became as much of an enigma as its occupant. This was where she would unwind, right from her days as an actor. She would discuss films and location spots with her mother, Sandhya, who bought the house with her own earnings as an actor, in 1967. It cost Rs 1.32 lakh then. Now, the 24,000 square feet the house is worth Rs 90 crore.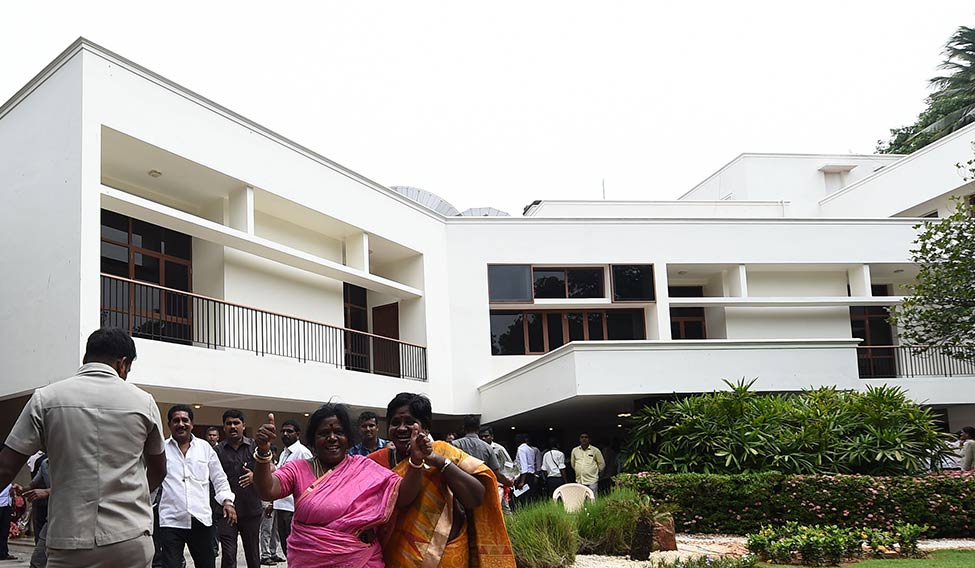 Jayalalithaa once wrote in a Tamil magazine that the house was her mother. Perhaps that is why she named it Veda Nilayam—her mother's real name was Vedavalli—instead of 'Jaya Vilas', which Sandhya had suggested.
Jayalalithaa loved cars and dogs. Apparently, when the city was asleep, she would drive around in her cars and, once, she rushed back from Hyderabad to bury one of her pet dogs in the lawn. The portico was her favourite spot. From there, sitting on a wooden chair, she would watch the people in the house burst crackers every Diwali. Nowadays, about 40 policemen guard the house in three shifts, and a few maids come in every day. The rooms used by Jayalalithaa and Sasikala are permanently locked. Rajam Ammal, the cook, was recently asked to go. None of Jayalalithaa's men, except her personal assistant Poongundran, visits the bungalow these days. The bronze Vinayaka idol, which was wrapped in a white cloth after Jayalalithaa's death, has also been taken away.
In its heyday, this was the seat of power. It was from here that Jayalalithaa's empire expanded. In 1997, Jayalalithaa bought the building next door—79, Poes Garden—for Rs 10.2 lakh. It had a large swimming pool on the terrace and a mini theatre on the fourth floor. But, in 1999, when she wanted a television channel, the building was turned into Jaya TV's news division office.
Opposite Veda Nilayam is a large open ground, which is used as a parking space for her vehicles. It was bought in 2000, in the name of Harichandana Estates, a company in which K.S. Shivakumar and Karthikeyan Kaliaperumal, Sasikala's relatives, are directors.
Siruthavur bungalow
When she needed a break from Chennai, Jayalalithaa would drive 50km south, on the Old Mahabalipuram Road, to reach this palatial house in Siruthavur. She last went there in 2016, three months before she was hospitalised. The bungalow, surrounded by 115 acres of casuarina plantation, and guarded by 32 policemen, was recently in the news when a bushfire broke out. There were rumours that the fire was started as there were incriminating documents inside. Apparently, the fire blazed for four hours and created huge clouds of smoke. None of the locals were allowed into the premises. Later, Elavarasi's son Vivek Jayaraman reached the bungalow and the matter was hushed up.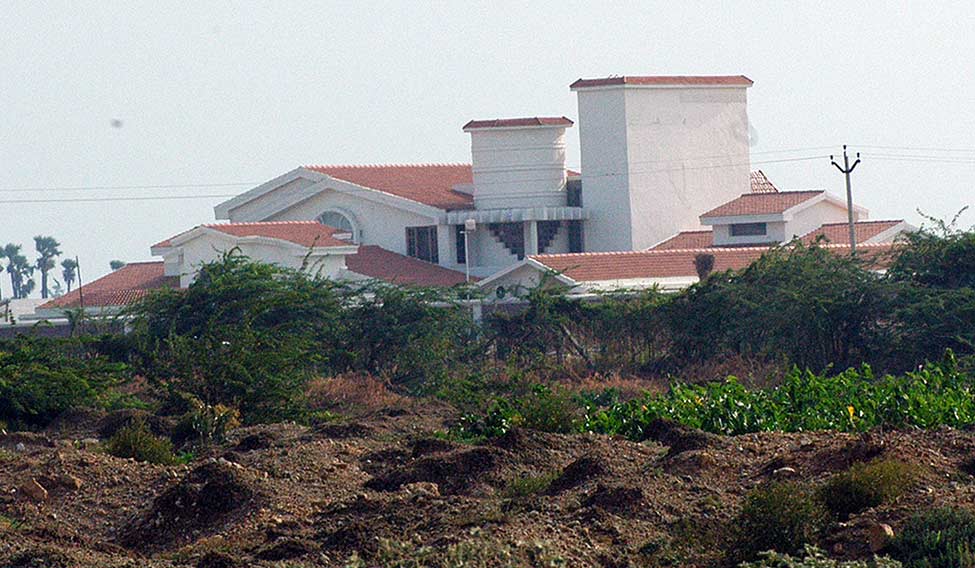 The bungalow was bought in 1991 in the name of Bharani Beach Resorts Private Ltd, a company owned by Sasikala and her relatives.
It is a magnificent structure, with 45 rooms, four kitchens and six fish ponds. Siva Shanmugam (name changed), who stays in a makeshift house near the rear entrance, told THE WEEK, "There are guava plantations, paddy fields and a variety of export orchids. Some time ago, we saw several baskets of guavas being taken out." Did he ever see Jayalalithaa on her visits? "She used to go on a drive or go out walking," he said. "We had seen her then. But, after she started going to Kodanad, she did not come here much."
Though she spent time there, Jayalalithaa did not own the bungalow.
However, there were allegations that she, along with Sasikala and Elavarasi, had forcefully taken the land—115 acres—from local dalits. "The people say they [the dalits] were taken to a nearby marriage hall in 1992; they were told that there was a new welfare scheme for them, and were made to sign the stamp paper for selling the land," P. Shanmugam, CPI(M) leader and general secretary of Tamil Nadu Vivasayigal Sangam (Tamil Nadu Farmers Association), told THE WEEK. The Justice Sivasubramanian Commission, which was set up in 2009 to investigate the allegations, said there was no evidence to suggest that Jayalalithaa was involved in land grabbing. It did, however, indict Sasikala and Elavarasi, who were partners in Bharani Beach Resorts. Elavarasi then filed a petition against the commission, which is currently pending in the Supreme Court.
Paiyanur retreat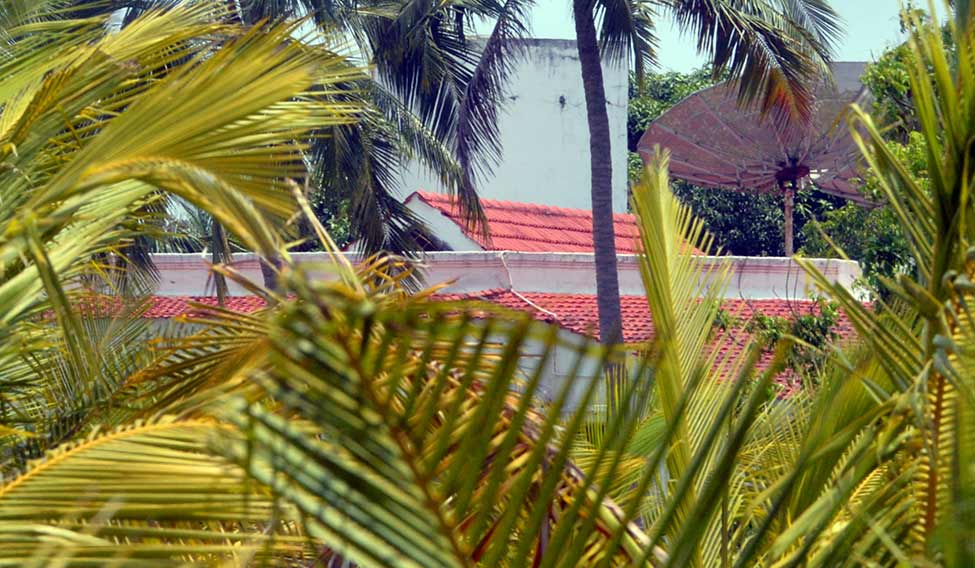 Not too far from Siruthavur bungalow lies another controversial property, full of music and drama. In 1992-93, Sasikala and her family bought a 22-acre plot that had a bungalow, from music director Gangai Amaran, brother of music maestro Illayaraja. The value of the property—Rs 1.5 crore then—has increased to about Rs 75 crore now. There are allegations that it was bought forcibly for Rs 13 lakh. "I had built it to hold film discussions and to compose music. I wanted a calm place away from the city. Now [after Jayalalithaa's death] I feel I can get back my property legally," Gangai Amaran told THE WEEK. Apparently, Amaran was so attached to the property that he got jasmine plants from Dindigul and a few others plants from Rajapalayam to create a garden there. "I come from a farming community. I had bought this land in bits and pieces only to have a farm and a peaceful place to work," said Amaran. He was the first among a group of people on the East Coast Road in Tamil Nadu, who allegedly lost their property to Sasikala and others, to come out and talk about redemption. "I will go by the legal options available to get back my property. I feel the court and the agencies concerned will forfeit the properties and then announce
an auction."
Hyderabad properties
During her acting days, Jayalalithaa frequented Hyderabad. As the highest paid female actor in south India, Jayalalithaa used to shuttle between Hyderabad and Chennai. In fact, she had booked a permanent room in a star hotel in Banjara Hills.
In December 1967, along with her mother, Jayalalithaa acquired a 651 square metre plot in Sri Nagar Colony, Secunderabad, for Rs 50,000. Soon, they built a house with a big parking lot. The property is actually worth Rs 15 crore, but Jayalalithaa said it was worth only Rs 5.03 crore in her affidavit. Till a few weeks ago, the three-storey building housed the office of United Spirits Limited. "Yes, this is Jayalalithaa Amma's house," said Bixshipathi Kondaiah, a security personnel in a nearby building. "But, I haven't seen her here at all. As far as I know, the property was taken on rent by USL."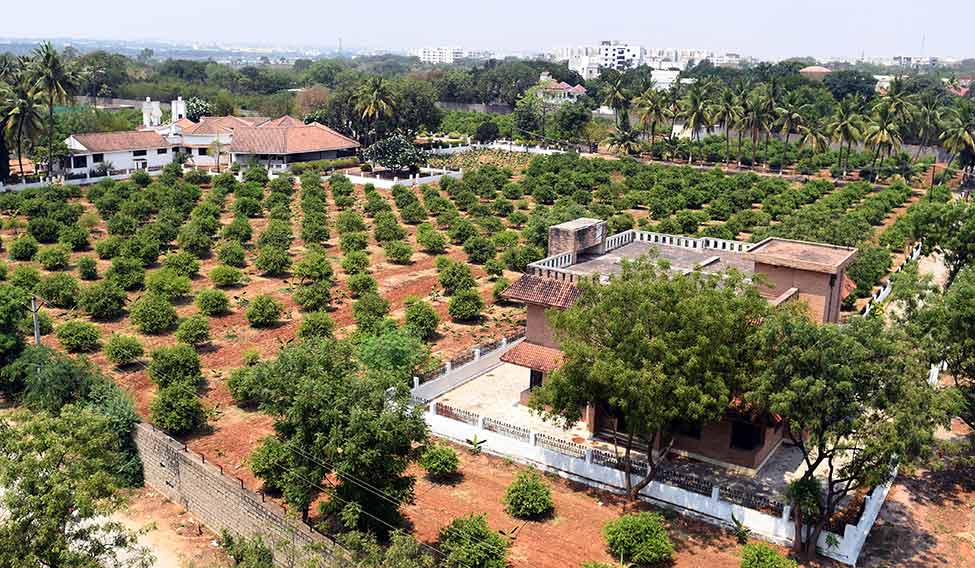 Jayalalithaa also bought 14.5 acres of farmland at Jeedimetla village in Ranga Reddy district, Telangana. It was called JJ Gardens, and was once a vineyard. Now, it has a few rows of bushy lemon trees, surrounded by high-yielding coconut trees. A long pathway from the huge gate leads to two farmhouses, one ornate bungalow and a servants' quarters. Until 2007, Jayalalithaa frequented the vineyard, which yielded an income of Rs 5 lakh a year. She bought the land in 1968 for Rs 1.78 lakh and developed it at a cost of Rs 1.5 crore. In 2007, the Andhra Pradesh government issued her notices saying that she was in possession of land—about 8 acres—that had been given to the poor. Jayalalithaa rebutted the charges, saying it was political vendetta by the Congress, which was then an ally of the DMK, her arch rival.
Then there is a house in Radhika Colony in Secunderabad, owned by Sasikala, for which property tax of Rs 35,424 is due. Said Lakshmana Reddy (name changed), who lives there: "I haven't seen Sasikala or Jayalalithaa here. The board says it's her house, but we all know it as Jayalalithaa's house only."
Recently, a voluntary organisation called Gareeb Guide filed a public interest litigation in the Hyderabad High Court seeking the takeover of the assets by the Telangana government.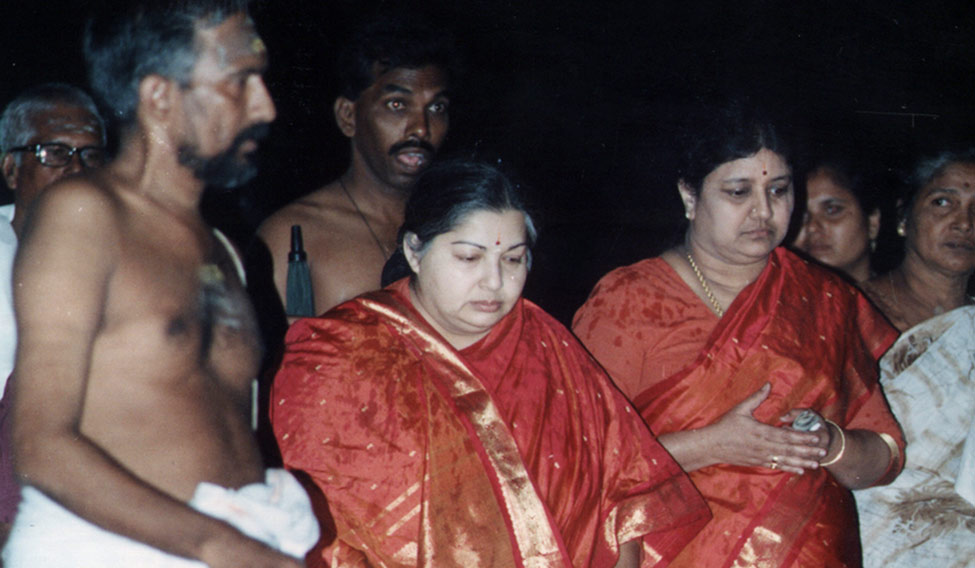 Shares and bonds
Jayalalithaa's woes began in 1996, when it was found that Sri Jaya Publications, which owns the AIADMK mouthpiece Namadhu MGR, and Sasi Enterprises, which prints Namadhu MGR, were used to acquire properties between 1991 and 1996. As per her affidavit, Jayalalithaa's share in Sri Jaya Publications and Sasi Enterprises was Rs 21.50 crore and Rs 20.12 lakh, respectively. But, as per D'Cunha's judgment, Jayalalithaa held 50 per cent shares in both the firms.
Sources said the share pattern did not change over the years. Also, the two firms hold shares in more than ten of 32 companies named in the disproportionate assets case. Of these 32, Sasikala and Elavarasi, at Jayalalithaa's behest, held important positions in six companies—Riverway Agro Products, Meadow Agro Farms, Lex Property Developments, Indo Doha Chemicals and Pharmaceuticals, Signora Business Enterprises and Ramaraj Agro Mills.
Jayalalithaa's investments in five firms—Sri Jaya Publications, Sasi Enterprises, Kodanad Estate, Royal Valley Floritech Exports and Green T Estate—amounted to Rs 27.4 crore. Also, as per her affidavit, she had Rs 10.64 crore in cash in various banks in Chennai.
Then there are several companies, like Midas Golden Distilleries, Jazz Cinemas and Mavis Satcom, which owns Jaya TV. Jayalalithaa was not directly involved, but allegedly controlled them through Sasikala and Elavarasi. The sales figure of Midas Golden Distilleries, for the year ending March 31, 2015, was Rs 673 crore and its net profit was Rs 27 crore.
Jazz Cinemas, reportedly owned by Elavarasi's son Vivek Jayaraman, had a turnover of Rs 148 crore in 2014. The company was previously known as Hot Wheels Engineering Limited and was named in the disproportionate assets case. Sasikala and Elavarasi are now directors of Jazz Cinemas.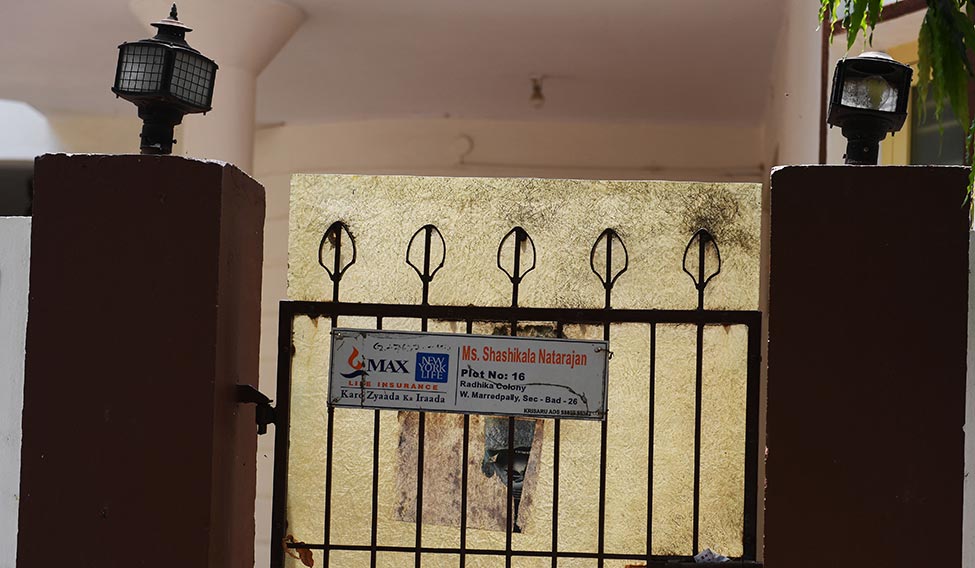 Jewellery and other valuables
In her 2016 affidavit, Jayalalithaa said she had 21,280.3 grams of gold, but its value could not be known as it was lying with the Karnataka treasury. She also had 1,250kg of silver articles, worth Rs 3.12 crore. Apparently, in 2000, when the jewellery was brought for valuation to a Chennai court, everyone present in the courtroom, including lawyers, journalists and policemen, was stunned. "One of our male typists was so awed by the kaasumalai (a long chain with small coins), which weighed 487.4 grams, that he even put it around his neck," said a court staff. "He was served a memo after a week for doing it." It apparently took three days to assess the worth of all the jewellery. Apart from this, Jayalalithaa also owned 2,140 saris, 750 pairs of footwear, 91 wristwatches and 500 crystal glasses, worth over Rs 15 lakh, which are also with the Karnataka treasury.
Claimants and their interests
It is said that the Mannargudi family controls most of Jayalalithaa's properties. With Sasikala in jail, the properties are managed and maintained by her relatives, especially K.S. Shivakumar, Vivek Jayaraman, V. Dhivakaran and M.R.P. Ravanan.
But, apparently, the wealth has led to infighting within the Mannargudi family. "Sasikala's husband M. Natarajan wanted a trust to be formed, but the family members did not agree," said A. Shankar, an RTI activist. "The idea of the trust came because the value of the properties was so huge that the family members themselves could not ascertain it. Most of it is now being controlled by Dr K.S. Shivakumar, who is married to Sasikala's niece Prabha, and Karthikeyan Kaliaperumal, who is Elavarasi's son-in-law."
In her affidavit, Jayalalithaa did not name anyone in the dependants column. And, she did not draw up a will. Said Deepak Jayakumar, Jayalalithaa's nephew: "I will claim the properties which belong to us and make sure they are safe and secure. There is no question that we [my sister Deepa and I] are the only legal heirs. We will follow the legal process." He has already made his first move, taking legal advice from senior lawyers. There is also talk of him moving into the Poes Garden residence.
His sister, Deepa, who was to contest the cancelled byelection in R.K. Nagar, told THE WEEK: "I am not interested in the properties. I want to save the party, which is now at an impasse." But, she said she would get involved if there is a dispute regarding the assets. "I know how my aunt used to cherish everything she had. In fact, she was so attached to our T. Nagar house. She would not allow even a window to be altered."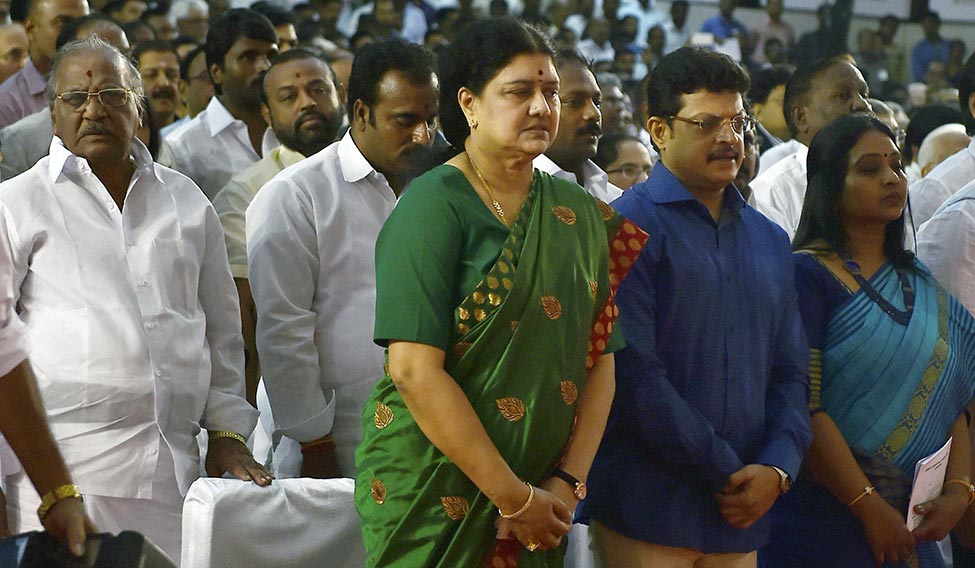 The Hindu Succession Act
As per sections 15 and 16 of The Hindu Succession Act, properties of a deceased Hindu female shall equally go to the husband, sons and daughters, if any. If there are no legal heirs, it will go to the husband's legal heirs. In the case of a spinster like Jayalalithaa, it will go to her parents. If the parents are dead, it will go to her father's legal heirs. So, as grandchildren of Jayalalithaa's father, Deepa and Deepak can inherit the properties. "This is applicable if there is no will," said N. Ramesh, a senior advocate in the Madras High Court.
Regardless of who gets the assets, the fight for Jayalalithaa's empire has started on a bloody note. And, given the start, the road ahead could well be bloodier.