The neatly aligned rows of fat, round, deep green cabbages make for an arresting sight at Delhi's newest five-star hotel, Pullman. The plush, glass and metal facade of the building overlooks an organic garden blooming with fresh winter greens. Delicate mustard flowers on slender stems sway over ripe tomato vines. Lush, leafy patches of mint, lemongrass, parsley, oregano and celery share a happy space with beetroots and radishes of the plumpest variety.
"We plant the lettuce every 14 days. It has to be really nice and crunchy to make it to the table," says chef Ajay Anand, who has been nurturing this green oasis in the centre of the hotel for the past three months. "It was my dream to have an organic garden within the restaurant, where I could pick up the ingredients just before dishing out a meal, and here it is! The satisfaction of cooking with what you have grown yourself is totally unmatched."
In tune with the 'farm to fork' trend dictating menus at fancy restaurants across the globe, Anand has been enticing guests with his modern European delicacies with a local twist at Pullman's widely popular restaurant, Pluck. Be it the deconstructed mulligatawny, a rasam-inspired lentil broth served with puffed rice and coconut gel, or the olive chicken tikka with basil pesto yoghurt, Anand's top sellers at Pluck thrive on homegrown ingredients. Depending on the season, the menu here gets a makeover every few months. While the winter was all about baby spinach, cauliflowers and spring onions filling the kitchen, the summer would bring in varieties of gourd on the table.
"This place was reserved for a banquet hall but I insisted on having my little patch of green. Thank God, it worked! I now plan to steal some more space for a mini fruit orchard right here," says Anand, who is thrilled to see the chiku trees already taking shape along the wall of the adjacent hotel. "I am going to plant mango seeds all along the hotel periphery. When I am gone, these trees would live my dream."
Anand is not the only one besotted with the idea of farm fresh, handpicked ingredients making it to the plate at swish eateries. The 'slow food movement' in India is at its peak, with celebrity chefs adopting it for various reasons—from eco-chic innovations to the 'grow local, eat local' fever catching up with a young, discerning clientele.
Cutting down their dependence on suppliers and middlemen, India's top chefs are scouting villages for farmers who could ensure a steady supply of fresh ingredients and groceries for their restaurants. At Delhi's Olive Bar & Kitchen, for instance, chef Sujan Sarkar has been enthralling guests with a specially curated 'slow food menu' called the Tasting Lab. A world-class gourmet experience of sorts, this nine-course meal paired with the best wines is prepared with just locally grown ingredients. So, there is fermented gooseberry with a faux-Oreo, Kashmiri kalari cheese with morels, mitti-aloo cornetto, millet and ragi risotto and more. "I travelled across India for three years to figure out from where I could source my vegetables, as exporting was not really a sustainable idea. It would not be fresh and unbelievably expensive. We imported parsnip at Rs 2,500 for a kilo. I know a local supplier who sells the same quality for 500 bucks," says Sarkar, who would click pics of his exotic fare and share it with farmers from whom he sourced the ingredients. "It inspired them to do better and we now have a formidable network with farms that supply everything—from four different types of kale to tomatoes to artichoke."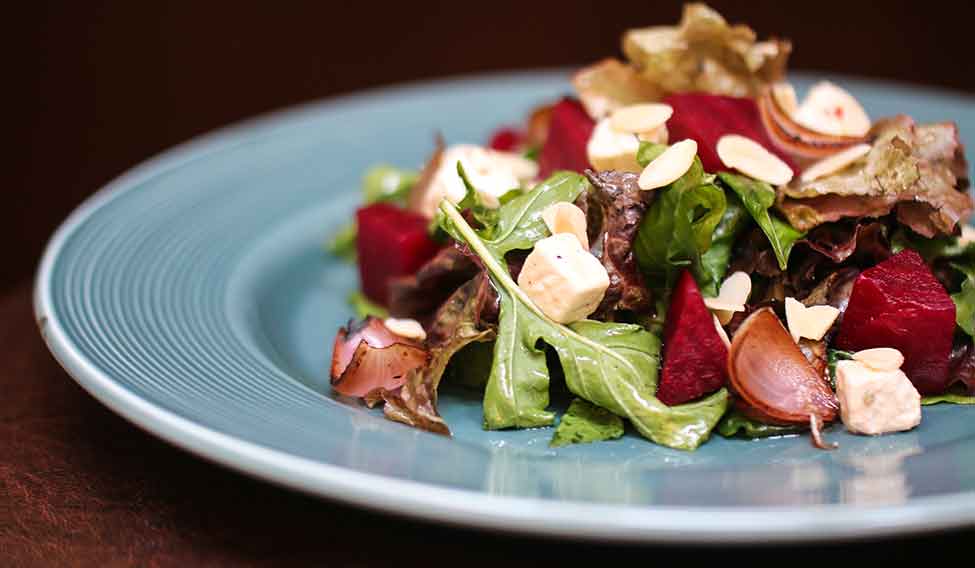 Not so long ago, ajwain, amaranth and ponk were ingredients restricted to traditional kitchens in small towns. Then came a wave of smart, young and adventurous chefs who wanted to marry the old, forgotten flavours from India with European sensibilities. Manu Chandra, the ruling heartthrob in the Indian dining scene, got youngsters spending on cross-cultural menus and delectable surprises with a desi twist. The butter chicken khichri, Coorg pandi curry and Bombay vada pav at the Monkey Bar presented a curtain raiser of sorts for Toast & Tonic, Chandra's new restaurant in Bengaluru that thrives on locally grown and sourced ingredients. Right from the chocolate brought in from Annamalai to the cherry radishes from Mysuru and smoked bandel cheese from Kolkata, Toast & Tonic presents Chandra's savoir faire with an Indian flair. "Before we launched Toast & Tonic, I sent out two of my chefs to the mandi to get things they didn't recognise. They came back with cholai, zimikand and other stuff that I decided to incorporate in the menu. We also reached out to farmers who would throw away the leaves of sweet potatoes and bought the 'waste' from them. They were shocked to realise that we would use the same at our restaurant," recalls Chandra, who has been using everything from bathua to ragi for pastas and breads at his restaurants.
Chandra says he has always supported sustainable food. "The idea is to use indigenous ingredients in unimaginable forms. Chefs have a tendency of being lazy. They don't want to dig deeper into our history or chase farmers to create endearingly familiar flavours in newer avatars," says Chandra, who was once rejected for a job by the psychologist at the Marriott who considered him to be an 'overachiever'.
The ITC group of hotels has been gently pushing for conscientious food choices in association with the World Wide Fund for Nature. Aimed at promoting informed choices for fish consumption, the hotel's 'Choose Wisely' programme has a menu with colour-coded indications of the endangered, freely available and over-fished varieties. "We are in the business of luxury where one can't afford to be preachy. So the idea is to have a collaborative, inclusive awareness programme with an organisation like WWF. Our guests have appreciated our intent and we hope they take forward our idea to their circles and become ambassadors for the same," says Madhu Krishnan, executive chef (research and development) at ITC hotels.
According to food expert and blogger Maneesh Srivastava, the newfound interest in forgotten recipes and indigenous ingredients is not limited to chefs alone. "A lot of diners today want to dig deeper into the history of food. They are not going to restaurants for just a good meal; they want to know the story behind the dishes, their origin and more," says Srivastava, who is predicting a great comeback for regional cuisine this year. "We will see a lot of restaurants bringing back traditional recipes with newer flavours. Punjabi food with a Persian influence is already a hit with delicacies like kotakpura atta chicken and kunna meat, intensively researched and passionately promoted by restaurants like the Punjab Grill."