When Tamil Nadu went to the polls on May 16, DMK chief M. Karunanidhi and his son M.K. Stalin exuded confidence, saying they would sweep this assembly election. A few kilometres away at a polling booth in Stella Maris College, AIADMK supremo J. Jayalalithaa was not her usual flamboyant self, remarking insipidly: "We will know the people's verdict if we wait for two more days."
On May 19, when the postal votes were being counted, glum-faced women gathered in front of Jayalalithaa's Poes Garden residence. "Amma has not betrayed people," said S. Vasuki, an AIADMK supporter. "She has always done good for the people. She will come back." Vasuki's words rang true as the AIADMK started leading in several constituencies. Soon, glumness gave way to cheer, with music blaring, supporters dancing and sweets being distributed. A few metres away, a pall of gloom greeted DMK workers at Karunanidhi's swanky residence in Gopalapuram, and at the DMK headquarters on the busy Anna Salai road.
History was rewritten on May 19 in Tamil Nadu when the AIADMK returned to power, winning 134 of 232 seats. In a state where the two major Dravidian parties have ruled alternately every five years, a party was reelected for a consecutive second term for the first time in the last three decades. Anti-incumbency did not play a role this time; nor did the corruption charges or the prohibition rhetoric of the DMK work against Jayalalithaa.
A few hours after the trends pointed towards an AIADMK win, Prime Minister Narendra Modi and Finance Minister Arun Jaitley congratulated Jayalalithaa. Outside her residence, a long queue of bureaucrats, celebrities, police officers and party workers, lined up with bouquets. And, Jayalalithaa, who had been "inaccessible" for the past several months, stepped out on the portico and sat on a well-cushioned chair to meet her well-wishers. "I am overwhelmed by the resounding victory the people of Tamil Nadu have given us," said a beaming Jayalalithaa. "My party and I are indebted to the people for giving this historic victory. The win is truly historic in the sense that after 1984 this was the first time the ruling party was reelected."
Among the factors that worked in her favour were her welfare schemes and poll promises for women. Another factor was the pent-up resentment against the Karunanidhi family. Also, the third front, though routed, played spoiler.
Jayalalithaa's law and order management skills and efforts at putting an end to long power cuts earned her many supporters. Women voters were particularly impressed with her freebie packages—from mixer, grinder and fan scheme, to a cattle package of three goats and a cow, to three sets of uniforms, books and notebooks and shoes for schoolchildren, to bicycles for girl students and laptops for class 11 and 12 students. The 20 kilo free rice per month scheme, free sanitary napkin scheme, marriage assistance scheme, extension of maternity leave for working women, setting up breastfeeding rooms and Amma baby care kits, too, were a big hit. "At least 80 per cent of women would have voted for Amma," said a party worker, Anju Lakshmi. "Our Amma crafted this victory quietly and confidently. It was her positive campaign and the people's wish that she is back to rule the state."
Also, it seems the total prohibition rhetoric by the opposition parties did not go down well with the people. While Jayalalithaa promised prohibition in a phased manner, others, including the DMK, spoke about total prohibition. "This is where our Amma has scored," said Vasuki. "She told the people how she will bring in prohibition. She had a clear idea of what can be done and what cannot be done. And people always believe her because she has always delivered."
The DMK, on the other hand, is still battling its corrupt image. This, despite Stalin touring the state for nine months, apologising to people for earlier mistakes. What further spoiled the DMK's chances was the possibility of return of former tainted ministers like Dayanidhi Maran, who is named in the Aircel-Maxis deal scam, and A. Raja, accused in the 2G scam.
But the DMK managed to increase its seat share from 23 to 89. This will help the DMK increase its strength in the Rajya Sabha, too—six Rajya Sabha seats from Tamil Nadu are falling vacant in June. And though having the Congress and other fringe groups by its side didn't help win votes, it could help in forming a strong opposition. "We respect the people's verdict and will work as a responsible opposition party," said Stalin. "We hope the AIADMK will act with restraint and allow the assembly to function in a manner benefiting the people of Tamil Nadu." The DMK, however, needs to do some serious rethinking before the local body polls in September. With an ailing and ageing Karunanidhi still heading the party, it also has to resolve the leadership issue.
Though the third front, headed by Vijayakanth's DMDK, failed to win a single seat, it spoiled the chances of Karunanidhi's comeback to power.
The rainbow alliance, comprising six parties that includes Vaiko's MDMK and two Left parties, finished third or fourth in more than 100 constituencies, splitting a few thousand votes. Vijayakanth, who was touted to be the kingmaker this election, lost his Ulundurpettai seat, as did his alliance partner Thol Thirumaavalavan of the Viduthalai Chiruthaigal Katchi.
The Pattali Makkal Katchi, which contested alone, also split the votes in the northern belt, but failed to win a seat. Dr Anbumani Ramadoss, the party's chief ministerial candidate, lost in Pennagaram, which falls in his Dharmapuri parliamentary constituency.
These political dynamics notwithstanding, the people of Tamil Nadu seem to be clear about their choice. "Let her [Jayalalithaa] continue to rule us," said R. Rajarathinam, a small-time film artiste with the AIADMK. "We live a peaceful life. There is no one to disturb us."
Poll diary
This is the first time since 1984 that a ruling party has returned to power
DMK chief M. Karunanidhi won his Thiruvarur seat by a record margin of 68,366 votes
Vijayakanth, the face of the third front, lost his seat, Ulundurpettai, by a huge margin. His party's vote share dropped to an abysmal 2.3 per cent
The BJP once again failed to win a seat. The saffron combine lost deposits in 230 constituencies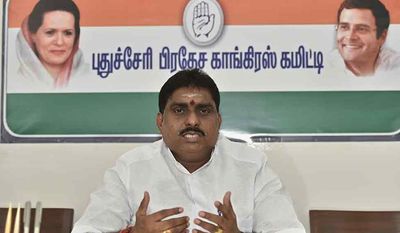 Congress's chinna cheer
The victory in Puducherry was like balm to a battered Congress, having lost two of its strongholds—Kerala and Assam—and failing to capitalise on the anti-incumbency wave in West Bengal and Tamil Nadu. The party won 15 of 30 seats whereas its ally, the DMK, won two, pushing N. Rangaswamy's All India N.R. Congress out of power. The N.R. Congress, which broke away from the Congress in 2011, won only eight seats. Congress state president A. Namasivayam is all set to take over as the chief minister. The AIADMK, which expected a big win in Puducherry, contested alone but won only four seats. The third front and the PMK drew a blank here as well, like they did in Tamil Nadu.