More than two centuries after it was captured as war booty in Seringapatnam, Tipu Sultan's enormous tent occupied the centre stage at London's Victoria and Albert Museum in January. Erected like a canopy, the gorgeous 58 square metres of printed chintz made headlines for its stunning red and green floral motifs, created through an intensive technique of printing, painting and resist-dyeing. "Chintz or kalamkari, as we call it in India, was a highly coveted craft in the 18th century," says Simran Lal, CEO, Good Earth, India's most popular luxury home décor brand. "The floral patterns, freshness and brilliance of colour and permanency of natural dyes were hugely popular with the English. We have been working in collaboration with kalamkari artisans since 2010. Last year, we helped them in extending their design vocabulary with new motifs and also revived the Madder Rose dye."
Over the last two decades, Good Earth has been creating beautiful design stories, reviving the dying art and craft techniques across India through their incredible products. From popularising kansa, a 5th century metal known for its medicinal properties, to bringing ajrak prints back in vogue, Lal's contemporary twist to ancient techniques has found patrons world over. "Our brand reminds most customers of their childhood memories, their grandparents' home; nostalgia draws them to our products and we always find ways to make tradition work with modern-day lives," says Lal.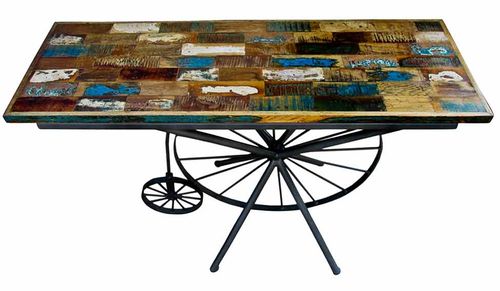 One of the most successful projects at Good Earth has been the Kansa tableware line. Lal travelled to the interiors in Orissa, looking for the original few people who knew the craft. In the last ten years, she has started six workshops employing more than 100 people who work with this metal. "We have brought a lot of artisans back to this craft. They needed to be convinced about their skills. We also work very hard with our master craftsmen to create a value perception among our clients," says Lal, who has also been working with local artisans in Machilipatnam to refine the kalamkari printing technique with newer, natural dyes.
"The biggest reward for us is to see these craftsmen grow. We recently sponsored 'The Fabric of India' exhibition at the Victoria and Albert Museum, and I was blown away with the response to our brand. Indians abroad take great pride in what we are doing and we plan to build up on that visibility and goodwill," says Lal, who also designed the Prime Minister's pavilion at the Make in India week.
Running a niche online portal that supports hand-spun cotton, organic dyes and biodegradable office wares, Rekha Datla and Shivangini Parihar have been promoting 'slow' fashion and sustainable homeware through The Summer House in Bengaluru. "For us, the sustainability aspect is not a marketing strategy; we did not get into it consciously. We are constantly trying to make our homes and workspace environment-friendly. So, from using sustained plantations for our homeware collection to putting scraps to good use, we have inculcated sustainability into our day-to-day routine," says Parihar, who feels that Indians would go for ethical, quality products over big brands any day. "The design factor matters a lot to our buyers. We work with craftsmen directly and do small orders using minimal chemicals and water-based dyes," says Parihar, who also supplies to Fab India and UK-based clothing and accessory brand Toast.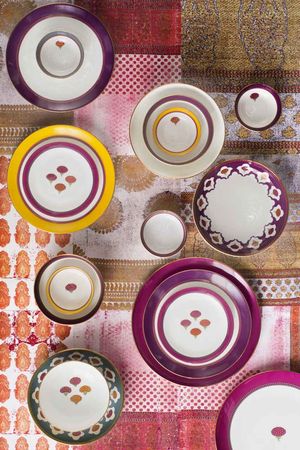 In 1992, when British silverware décor brand Frazer & Haws opened its workshop in India, the idea was not just to make the most of the readily available hand craftsmanship but also to cut down the use of machines to make products. "We were not running after volumes. Installing machines would have worked in our favour but we wanted an eco-friendly setup. The emissions from these machines are not good for health and we did not want to put our craftsmen at risk," says Archana Kumari Singh, president, Frazer & Haws. Though Indians don't really come inquiring about the responsible luxury factor behind their products, she says, there is a niche clientele that appreciates the drive.
An avid art and antique collector, Singh has been supporting the dying crafts of India in various ways. Her plush home in Greater Kailash in New Delhi is a repository of miniature paintings from Marwar, Satsuma antiques from Japan and ancestral furniture from Rajasthan. "I have very high regard for everything that is handmade. I inherited a beautiful shawl from my grandmother, which was in tatters. I got an old, trusted Kashmiri craftsman to transfer the embroidery to a new pashmina and here I have it, beautifully restored," says Singh.
Long before sustainability became the buzzword among social activists and celebrities, architect Ashok B. Lall introduced the concept of green homes and workspaces in metros dotted with all-glass, high-energy consumption buildings. "We are doing a block of high-end flats in Delhi's Defence Colony where there is a solar PV system on the roof and insulating roof garden. We have minimised the use of resource-guzzling materials like glass, aluminium and steel. The building would be equipped with LED lighting and water conserving fixtures. There would be a provision to recycle bathing water, which could be filtered and used for other purposes," says Lall, who has also designed the Institute of Rural Research and Development's path-breaking green building in Gurgaon. Apart from the extensive use of solar panels for lights, fans and electrical appliances, the building also uses radiant cooling—where water from a fountain outside is pumped into the building through pipes that run all along the floor and help in keeping the building refreshingly cool.