Guria is pursuing 175 criminal cases against 541 human traffickers and brothel-keepers in various district courts and High Courts
A small white boat bobs on the undulating Ganga by the Varanasi ghats. It is around six in the evening and a motley crowd of children clamber into the boat, their 'floating school'. Soon a man with an unkempt beard and in crumpled clothes appears on the ghat steps. The children greet him, "sir aagaye, ir aagaye." Their sparkling eyes convey their love for Ajeet Singh, whom they also call Masterji.
In another part of the town, 15-year-old Sheela Prasad is making pins for earrings, with her mother. She earns her family around ₹4,000 a month selling these pins in the nearby wholesale market. The teenager, though, dreams of becoming a lawyer. "A lawyer is a very powerful person. He helps poor people like us. He can enter a police station and a judge's room, while we cannot. Moreover, a policeman cannot beat him," she says.
Sheela's knowledge of police stations, lawyers and courts comes from experience. On a winter evening in January 2007, she was kidnapped and taken to Mumbai. She would have joined hundreds of other girls forced into prostitution, if not for Singh.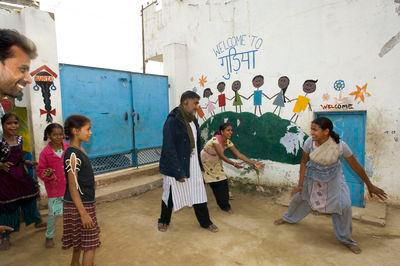 "It is because of Masterji that Sheela is going to school and leading a normal life. I thought I had lost my daughter forever and she would land in some brothel," says Bachau Prasad, her father. Today, Sheela, an avid cricket fan, is a class 8 student at Purv Madhyamik School in Varanasi.
"To me, Masterji is a friend, philosopher and guide, who has put me in school. Had he not helped me, I would have slipped into hell," says Gulmohar, a class 9 student. She wishes to become a journalist as she feels the media wields power against the mighty. For Sheela, Gulmohar, the children from the ghats, and for many others, Singh, 41, is nothing less than a hero.
Singh's journey into these little hearts began at his cousin's wedding many years ago. Then only 17 years old, Singh was distraught on seeing a sex worker dance all night to lewd comments at the wedding. He convinced the woman that he would take care of her children. He brought them home against his parents' wishes and put them in school. He was disheartened, however, when their mother took them away. But the fire in his belly had been lit. With no degree or experience in social work, he set out to give a new life to sex workers and their children.
He had become a subject of mockery among his relatives, who counselled him against what he was doing. "Initially I was quite upset when he brought home the children of a sex worker. However, when I heard him out, I felt assured, and have since never interfered with his work," says his mother, Shanti Singh. "I wanted my son to become an IAS or IPS officer, but when I discovered that his inclination was somewhere else, I did not stop him," says his father, P.N. Singh, a retired police officer. "Today, I have no regrets. He is much better than many IAS and IPS officers." Says Singh's school friend Anil Gupta: "Despite all the derision he faced, he stuck to his work. It requires a lot of guts."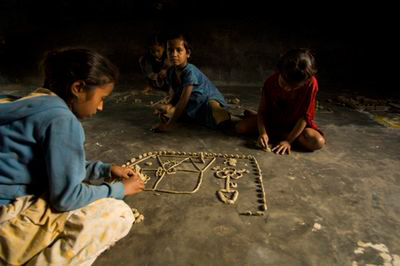 Interview: Everyone wants a Bhagat Singh to be born, but not in their house
Singh started an NGO, Guria, at Shivdaspur, a suburb of Varanasi, in 1993, with the objective of eliminating second generation prostitution, preventing child prostitution and trafficking of women and children. A group of volunteers assists him. His core team comprises Uma Shanker, Tanveer Siddiqui, Gopal Krishna, Amit Gupta, Sunil Singh and his wife, Manju.
When he first visited Shivdaspur, the sex workers thought he was a customer. "I started communicating with their children and began teaching them," he says. "Initially, no one took me seriously. Mine was an open school under the sun, moon and stars, with very meagre support. Gradually, we developed a rapport and they started listening to me." One day, a sex worker's daughter fell into a well. Singh, who did not know how to swim, jumped in and saved the child. This redeemed him in the eyes of the residents, and proved to be the turning point in his mission.
Guria means doll. Singh sees the image of a doll in these children. Over the years, Guria has rescued and rehabilitated more than 100 sex workers hailing from Nepal, West Bengal, Orissa, Uttar Pradesh, Madhya Pradesh and Maharashtra and their children from various brothels, mostly in Uttar Pradesh.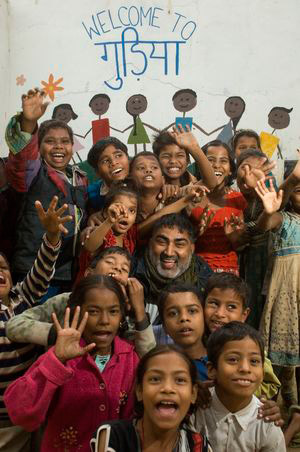 Guria has also intervened in cases of kidnapping and forced prostitution. In Sheela's case, Singh and members of Guria helped rescue the girl from Mumbai and got the accused arrested. He also assisted Sheela financially in setting up the earrings business. Work has been far from easy for Singh. "1 have received many threat calls. Initially they used to upset me, now they have become part of my life," he says. "Some hooligans attacked my centre in Shivdaspur. Working in the red-light area has its own hazards, especially when you are trying to snatch someone's bread and butter. Pimps, brothel keepers, policemen and goons... I was their enemy number one, as my efforts were directly aimed at their livelihood." Singh believes a holistic approach is required to deal with this malady. "For the mothers, their daughters are earning units," says Singh, who is a member of the Central advisory committee for combating child prostitution and trafficking of women and children.
Singh fights not just prejudices, but court cases as well. Eight criminal cases including charges of rape, loot, making threats and physical assault have been slapped on him. Fortunately, most of these cases have been closed, and a magisterial inquiry revealed that the charges were fake. Interestingly, these were filed by the very people in Allahabad whose houses had been raided by Singh and his team to rescue trafficked girls. Guria is also pursuing 175 criminal cases against 541 human traffickers and brothel-keepers in various district courts and High Courts—the highest number of cases by any private organisation against those involved in sex trade in India.
Singh and his team have broken the police-pimp-trafficker nexus in his area of intervention. For a rescue operation in Allahabad in 2009, he and his team had worked for about nine months, gathering evidence as the police were in denial mode. He had received a tip-off that more than 100 minor girls had been brought from various places. His team went in the guise of vendors and videographed these girls, and then met the authorities and sought their help. After a delay of seven hours, the police agreed to accompany them. "To my surprise, when we went to the place where the girls were hiding, the police did not support us. Rather, they allowed the girls to flee with the pimps. In the melee, our own volunteers were beaten up by the police and the pimps. Somehow, we rescued 20 girls. The rest fled. Only 17 were shown in the FIR. And I was locked up in Badshahi Mandi police post in Meerganj," says Singh.
"Ajeet's has been a unique initiative. Rescuing and rehabilitating people of this community requires a lot of grit, determination and energy, which he has," says Tanveer Siddiqui, a senior advocate, who fights cases for Guria.
Guria has put more than 100 children of sex workers in mainstream schools and conducted the marriage of 37 girls. Singh has expanded his work to the neighbouring Mau district, where his team has been holding regular meetings with rural women to inculcate in them the habit of making small savings. Singh hopes the initiatives help sex workers quit the profession. In its fight against trafficking, Guria is supported by ActionAid, Geneva Global, Find Your Feet, IIMPACT and CRY.
The NGO organises an annual cultural programme, Pearls of Love, in different cities, in which sex workers take part. Guria has also held a worldwide concert series against trafficking—Freedom Now—with eminent artistes. Singh undertook an 800km march against trafficking from Varanasi to Nithari, near Delhi, in 2007 when a large number of skeletons were unearthed in Nithari. About 30 families who had lost their children took part in the march, the longest of its kind.
If Singh's work is unconventional, so too was his wedding. He met his wife, Santwana Manju, at a fast-unto-death in Varanasi. The guests at their wedding were mostly sex workers and their children. There were no priests or chanting of sacred hymns; only music and dancing by the children. There was no formal wedding party or a honeymoon. Manju, an orphan, has no regrets. "Ajeet is not a stereotypical social worker. His passion for work moved me," she says.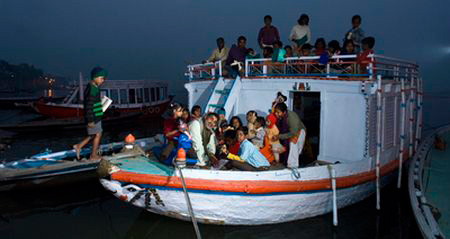 Singh's school teacher Chandradhar is all praise for him. "Even as a child he was very focused and had a never-say-die attitude. I had felt then that this boy would do something for society," he says. Says Neenu, daughter of a sex worker, who has seen the world of brothels up-close: "If I had not come under the aegis of Masterji, I would have been a sex worker today. Life in a brothel is worse than hell. I have seen girls being beaten up with barbed wire if they refused to entertain clients." She now teaches the children of sex workers at Guria's rehabilitation centre.
Singh battles on, giving hope to many more gurias.
Floating dreams
Guria's floating school on the Mansarovar Ghat in Varanasi is popular among children at the ghats. The school—a 250-square-foot- boat—has been rented for ₹6,000 a month. It has 70 students on the rolls, mostly children from the boatmen community. Singh hopes the school is successful in minimising the vulnerability of these hapless children to abuses. The school runs for two hours from 5 p.m. It has a computer, a television, a DVD player and a small library. A solar panel ensures smooth supply of electricity. "Earlier these children would not study and loiter with firangis(foreign tourists). Some of them begged, shaming our city. Thanks to this school, they utilise their time in studying now," says Shanker Manjhi, the owner of the boat.
The students are given snacks after school—an incentive to ensure the children are regular. "Every day I wait for evening to come here. Unlike other schools, the teacher does not beat you nor do they get angry if I ask questions many times. Once the classes are over, I wait for my candy, " says young Vaishali.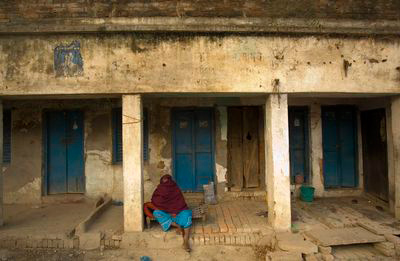 Pawan Kumar Yadav, who teaches at the school, says, "We give them non-formal primary schooling here, so they can read and write. But our long-term aim is to make them on par with students in mainstream schools."
Fading red
Shivdaspur, the red-light area of the holy city, is about three kilometres from Varanasi railway station. Narrow alleys, dingy buildings and shops dot the small locality. According to a rough estimate, Shivdaspur is inhabited by 10,000 people, of whom 46 per cent are female. When the flesh trade was at its zenith, before the intervention of Guria, there were about 1,000 active sex workers in the area. The presence of the police station at Maduadeeh, just a few kilometres away, was not a deterrent. Frequent raids and closing of brothels have led to sex trade being on the wane here. It is because of Singh's efforts that Shivdaspur has become the country's first child prostitution-free area.
Many shop owners used to be pimps. The run-down buildings, with aged women who were once 'madams' (a euphemism for a brothel runner) sitting outside, remain as reminders of the past. The single- and double-storey brothels now seem neglected. The rooms are small and coarsely decorated, and have beds and couches and even TV sets.
Guria has made a difference here. Unlike in other red-light areas, heavily painted girls,waiting for their customers, do not make an appearance at sundown.
(Some names have been changed to protect privacy)

Photos by Sanjay Ahlawat