Every day, thousands of boats crisscross the meandering Ganga in Varanasi, most of them ferrying pilgrims from one ghat to another. One rickety boat stands apart in the swarm, thanks to its owner―Usha Devi, 35, the only boatwoman among 10,000-odd boatmen in the temple town. "Fate pushed me into this [profession]," she says. "I have many mouths to feed, apart from my ailing husband, who is totally bedridden. Earlier, I used to find the job difficult and exasperating. But, with time, I have adjusted to the circumstances."
Usha belongs to a group of women who have quietly stormed traditional male bastions in Varanasi, a city known for holding on to its customs. From learning Vedas and performing pujas to cremating bodies and weaving works of art, these women have broken age-old norms. Some of them have done so by choice, while others, like Usha, were compelled to do so.
Usha started rowing 20 years ago. Initially, she used to ferry pilgrims across the Ganga. But now, to avoid the tough competition from boatmen, she has switched to selling flowers to pilgrims on the ghats. "There are about 2,500 boats and 10,000 boatmen. The competition was so cut-throat that it was difficult to get business. Selling flowers had virtually no competition, so I decided to switch over," she says.
Usha got her boat from her father. "My father taught me rowing. Since I was the daughter of a boatman, I did not have much difficulty in picking up the skill. But, in my initial days, people on the ghats, especially male mallahas [boatmen], used to look at me strangely. Rowing a boat is largely regarded as a male profession," she says.
Like Usha, Jamuna Devi, 65, works in a traditional male domain. Belonging to the clan of 'Dom Raja', the traditional owner of the ghats where bodies are burnt, she is the only woman cremator in Varanasi. She has the right to cremate dead bodies on Manikarnika and Harishchandra ghats.
"I was the first woman to conduct cremations. But I do not do it myself. I get it done through my workers," she says. She assumed the role of Dom Raja after her husband's death. The first hurdle she had to overcome was the opposition of her brother-in-law, who denied her claim in the family business of cremation. "Since I was a lonely, vulnerable woman who had no means of livelihood, I had to take the legal route to have my rights," says Jamuna.
Clad in a simple sari, Jamuna is often seen supervising cremations on the ghats. "She contributes towards the repair of ghats. She does not charge poor people who come for the cremation of their loved ones," says Bhadur Chaudhary, a member of her team.
Unlike Jamuna, Walia Khatoon, 30, lives an obscure life. She is one among a handful of women weavers in Varanasi. A dingy 8x10ft room, hot as a furnace during summer, serves as her home and workplace. She has woven many a Banarasi sari, but has not had the fortune to wear one yet. "With my meagre income, it is difficult to provide for a family of five. Sometimes, even two square meals is a distant dream," she says.
Walia, who learnt the art of weaving from her father, earns around Rs4,500 a month. She had high hopes when Narendra Modi, who contested the Lok Sabha elections from Varanasi last year, promised weavers cheap raw material and better marketing of their products. Today, however, she is disillusioned. "We want subsidies for power connection and for setting up handlooms. While the government gives subsidy for powerlooms, there is no subsidy for handlooms. In fact, the traditional art of hand-weaving saris is dying a natural death," says Walia.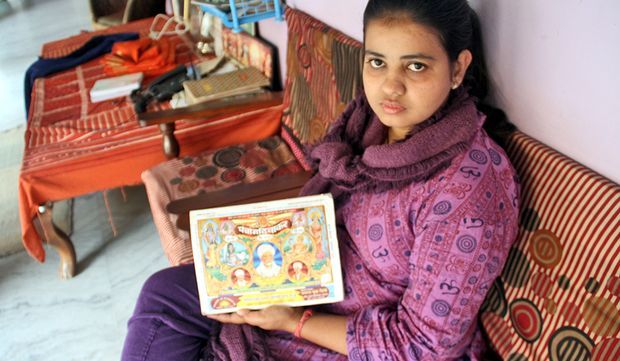 Despite the odds against her, Walia has built a reputation as a good weaver. She wants to expand her business, but she says low wages kill the initiative and imagination of weavers like her. She has been a weaver for more than a decade, but does not want her children to take up her profession. "There are several problems: low wages, poor living conditions and fierce competition," she says.
It may be a difficult time for women weavers, but women astrologers and priests are on a roll. Take Anjali Soni, a 24-year-old from Bhiwani in Haryana who came to Varanasi to study astrology. She did a jewellery designing course in Gurgaon, but her dream to become an astrologer led her to the Panini Kanya Mahavidyalaya. Anjali says she had to overcome opposition of her parents to study astrology. "A female astrologer is difficult to conceptualise in my society. In a way, you can say I am an aberration," she says.
Anjali has been learning Vedas, performing pujas and making astrological predictions on request. "Our scriptures do not forbid women from learning Vedas and becoming priests. There were women rishis [hermits] in ancient period," says Acharya Nandani Shastri Chaturvedi, principal of the Panini Kanya Mahavidyalaya.
Uma Bharti Arya, 24, an alumna of the Panini Kanya Mahavidyalaya, has been a priest for the past five years. A resident of Jahanabad in Bihar, she came to Varanasi eleven years ago to learn Vedas and study for priesthood. "I had a tough time coming to Varanasi. No one in my family was ready to send me here―that, too, to become a priest. My father said a big no. My grandfather came to my rescue. Since he was the eldest in the family, he made others agree," she says.
Her relatives initially greeted her decision to become a priest with derision. But she turned the tables on them by performing a puja at her home. "Those attending the puja were surprised by my way of chanting shlokas and reciting mantras. My parents, who were not initially happy, started loving my work since then," says Uma. She now wants to spread vedic knowledge and make the profession of priesthood popular among women.