"The scam is not confined to one or two districts. It seems to be a pan-UP scam. Only further inquiry will give its exact quantum" - An official associated with the investigation
Can a 60-year-old woman become pregnant five times in ten months? Can a woman give birth without her own knowledge? And, can a child be born thrice?
The answer to all these questions is yes, if records of the Uttar Pradesh health department are to be believed. Such 'miracle deliveries' have happened at primary health care centres across the state in the past few years. The culprits: corrupt doctors and officials who are out to make a fast buck by exploiting provisions of the Janani Suraksha Yojana, a welfare scheme for pregnant women from families below poverty line.
Launched in 2005 as part of the Union government's National Rural Health Mission, JSY aims at encouraging safe deliveries at health centres to bring down maternal and infant mortality rates. Under the scheme, women are eligible for Rs.1,400 after each delivery at a health care centre. In UP, though, it allegedly gave birth to a mega scam. Whistleblowers say corrupt doctors and health department officials recorded fake pregnancies and deliveries to swindle at least Rs.1,000 crore from the JSY fund.
A variety of ways were conceived to siphon the money off the scheme. The identities of many women were faked, many times a year, to show them as beneficiaries of the scheme. Many of these women were poor, illiterate and oblivious to the fraud.
Take the case of Nankai, 60, of Baundi village of Bahraich district. Government records say she was pregnant five times in ten months, and was granted Rs.1,400 for each delivery. The money, however, has not reached her. And Nankai, who is illiterate, had no idea what was happening. "I was absolutely in the dark about what was going on, until journalists started coming and asking about all these [deliveries]," she told THE WEEK. "I am past the age of pregnancy. My husband died 20 years ago. The things that are happening now are defaming me."
Asha Devi of Badaun district was admitted to the primary health care centre at Samrer last year for delivery. But the baby died at birth. According to government records, however, three cheques were issued in her name. But Devi got none. "I do not know how many cheques were issued and who took the money," she said.
Health department officials allegedly fudged documents and ignored norms to cheat beneficiaries. As per rules, beneficiaries are to be paid directly by the primary health care centre they are admitted to. For deliveries at accredited private institutions, beneficiaries are paid by means of a referral slip from designated officials. But, in many cases, the rules were not followed.
For instance, Faizana of Barahi village in Badaun district gave birth at a private hospital in Bareilly. But a cheque for Rs.1,400 in her name was disbursed from the primary health care centre at Samrer. "The baby could not survive. I have no knowledge of the cheque or where the money has gone," she said.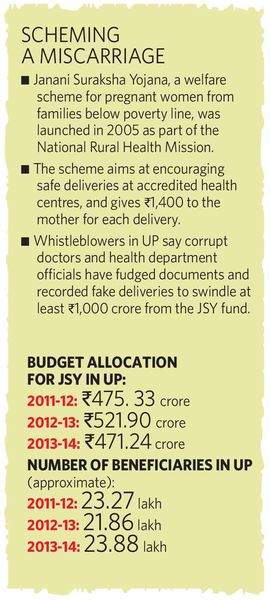 In many cases, bearer cheques were given, and money was claimed even for deliveries that did not happen. Official records say Rajeshwari, wife of Guddu of Barahi village, had a child in 2011. But, according to her family, the last of her children was born 16 years ago.
Dr Arun Gautam, who blew the lid off the scam in Badaun while he was posted at the primary health care centre at Samrer, told THE WEEK: "I have personally investigated the cases. It is a huge scam. Doctors, middlemen, health workers and health department officials are involved in it. The chain is very long and the scam is known to the higher-ups in the department."
Gautam said 80 per cent of the cases in Barahi village were fake, and that documents were fudged. He said the scam was so huge that health department officials did not dare to lodge a complaint with the police. According to him, they feared that a proper investigation would find many officials guilty.
Gautam has made enemies by exposing the scam. Health workers recently assaulted him, and there have been threat calls asking him to stop talking about the loot. And, he has not received his salary for several months.
The current head of the primary health care centre in Samrer, Dr Pradeep Kumar, however, maintains that Gautam's allegations are false. "I, too, have been personally investigating the cases," he told THE WEEK. "But nothing has been found. These scam allegations are absolutely false."
Kumar, however, appears wilfully blind. Preliminary investigations have revealed that there have been gross misappropriation of JSY funds in many districts. Health department officials in Bahraich district, for instance, allegedly gave away more than 50,000 cheques, to the tune of about Rs.7 crore, without verifying identities of beneficiaries.
Umakant Verma, additional director, health and family welfare, of Devipatan division, found gross anomalies as he investigated the alleged scam. He wrote to Dr Amit Ghosh, director of National Health Mission in UP, recommending strict action against those involved in the scam. Ghosh, in turn, asked the health department to investigate the matter.
"The scam is not confined to one or two districts," said an official associated with the investigation. "It seems to be a pan-UP scam. Only further inquiry will give its exact quantum."
The health department has suspended five officials in Bahraich, but the authorities remain tight-lipped about the scam. Perhaps, the memory of the NRHM scam still haunts it. At least six health department officials were allegedly murdered after the NRHM scam came to light in 2011, during the time of the Mayawati government. Two of the officials were chief medical officers, the top health department official in a district. The case is still being investigated by the CBI.