First came the rape charges and now the suspension. The fight between Amitabh Thakur, inspector general of police (civil defence), and the Uttar Pradesh government is no longer covert, unlike the alleged threat by Samajwadi Party chief Mulayam Singh Yadav in an audio tape released by Thakur. The senior IPS officer has been suspended for indiscipline and violation of service rules. The suspension has raised eyebrows, with many in political circles seeing it as a vendetta.
Thakur has, time and again, criticised the Samajwadi Party government, earning its wrath and getting a notice from the chief secretary once. He has been suspended twice before. This time, however, it was because of a case filed by his wife, Nutan, against Mining and Minerals Minister Gayatri Prasad Prajapati about disproportionate assets and irregularities in the department. A social activist, Nutan also filed a petition before the lokayukta. The minister is said to be close to Mulayam Singh, who then allegedly made the threat call. Thakur recorded the call, which is also available on YouTube.
In his complaint to the Hazratganj police station, Thakur said he received a call on his cellphone from a landline number on July 10 when he was in his Jawahar Bhawan office. In the two-minute-long audio tape, the caller tells Thakur 'Netaji', as Mulayam Singh is popularly known, wants to speak to him. When Thakur asks, "Which Netaji?", the caller says Mulayam Singh. Then, a man, claiming to be Mulayam Singh, tells Thakur that there will be a repeat of the Jasrana incident if he does not mend his ways. In 2006, Thakur was badly beaten up by goons at a party organised by Samajwadi Party MLA Ramvir Singh Yadav in Jasrana, and was saved thanks to Mulayam Singh's intervention—a fact also mentioned in the audio tape.
Though the police station accepted Thakur's complaint, no FIR was registered. But the same day, a woman from Ambedkar Colony of Ghaziabad filed a case of rape against Thakur. This time the police acted swiftly and registered the case. The woman alleged that Thakur raped her in his room on December 31, 2014, after Nutan had lured her to Lucknow on the pretext of getting her a job.
Thakur said the case against him was fake and smacked of vendetta. "I am ready to go to jail and won't seek a bail in this matter," he said. "Though the allegations of rape against me are fake, the police have registered a case against me. I will move the court in this connection. There is a threat to my life."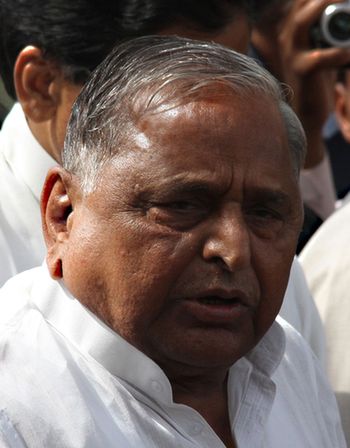 Initially, the Samajwadi Party kept mum on the matter, but later went on the offensive. Party spokesperson Rajendra Chaudhary said, "Some officials are fond of playing politics. If they want to do that, they should quit [their] job and enter politics. They should not be allowed to do politics while being part of the administration."
Chief Minister Akhilesh Yadav broke his silence three days after the incident. "Netaji [Mulayam Singh] is an elder, he even scolds me. He might have scolded him [Thakur] also. There is nothing to feel bad about it," he said.
Many people have expressed doubts about the rape charges and questioned the timing as well as the police sending the complainant for medical examination six months after the alleged rape. Hours before his suspension, on the night of July 13, Thakur met home ministry officials in Delhi and sought a CBI inquiry into the rape case. "I have nothing to do with the rape incident. I have apprised the home ministry that I am being implicated," he said later. He has also asked for security, fearing a threat to his life.
Thakur has found support among some bureaucrats like senior IAS officer Surya Pratap Singh, who has expressed solidarity on Facebook. Bureaucrats said political leaders threatening senior officials was not a good sign for the functioning of the government.
But Thakur is not the only one to take on the powers that be in Uttar Pradesh. There have been other outspoken bureaucrats, too. IAS officer Prashant Mishra, who took voluntary retirement from the service in 2008, had raised questions over the functioning of the Mayawati government. Raju Sharma, another IAS officer, was frequently transferred, sometimes within ten days, by the Mayawati government. He, too, took voluntary retirement in 2010. D.D. Mishra, an IPS officer, had openly accused Mayawati of corruption.