An RSS faction said that before the Gujarat elections, Shah could be removed as president and sent there as chief ministerial candidate.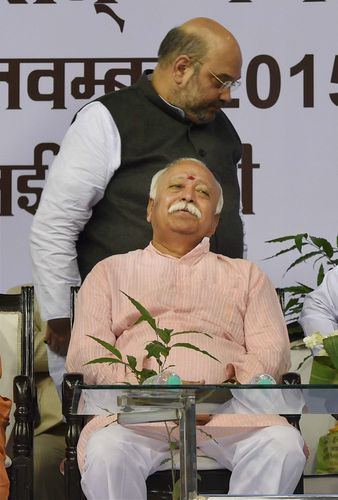 During the final phase of last year's Bihar elections, Amitabh Bhushan, a young BJP worker, shared this post on Facebook: "Bihar elections, [Amit] Shah's arrogance defeated." Apparently, the pithy post encapsulated the feelings of a large section of the party cadre. "[BJP president] Shah's tenure has been the most myopic, arrogant and undemocratic in BJP's history," Bhushan told THE WEEK. In the current regime, he says, committed workers are not only sidelined, but also ignored. There is no proper system to redress grievances and the party president is highly inaccessible, even to senior leaders.
Bhushan says the BJP lost in Bihar because of the AAA syndrome. The three As, he said, stand for arrogance, alienation and alliance. An arrogant Shah brought in outside leaders to manage Bihar, alienated local party workers and forged a wrong alliance for the elections.
A story often cited in party circles is of septuagenarian Jagdish Shah, a party worker from Darbhanga in Bihar. A dedicated BJP member, Jagdish was too involved in party work to properly care for his ailing wife. Soon, he lost her to cancer. His son, exasperated with his political dedication, asked him to leave the house. Jagdish, however, continued his work as he was expecting a ticket in the Bihar elections. But, he was denied. Frustrated, he then fought as an independent candidate. "Jagdish has ruined his life for the sake of the party, but the organisation turned a blind eye to his woes," a BJP worker in Delhi told THE WEEK.
The discontent, it seems, isn't contained to the lower rungs of the party. Senior leaders, too, are miffed. Apparently, among them is Union Science and Technology Minister Harsh Vardhan. The BJP's chief ministerial candidate in the 2013 Delhi assembly elections, he had to make way for Kiran Bedi, parachuted in by top leaders, during last year's Delhi elections. The BJP was decimated in the polls, winning just three of 70 seats.
Other senior leaders such as Arun Shourie, Balbir Punj, Kesari Nath Tripathi, L.K. Advani and Murli Manohar Joshi have also been sidelined.
After an initial streak of success in states like Maharashtra, Haryana and Jammu and Kashmir, the two major debacles in Delhi and Bihar have raised many questions about the functioning of the party high command, which is allegedly controlled by three men.
THE TREND HAS worried the Rashtriya Swayamsevak Sangh, especially with elections drawing near in West Bengal, Kerala, Tamil Nadu, Puducherry, Assam and Uttar Pradesh. The BJP is not strong in most of these states and the RSS seems to be thinking about whether or not to continue with Shah as president.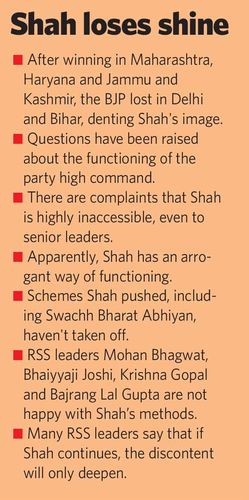 "News of sidelining committed grassroots workers and seniors, and Shah's arrogant style of functioning have compelled senior leaders of the Sangh to think about replacing him," RSS sources told THE WEEK. "Merit is debatable but seniority is a fact. Seniors should be given due respect, which is not happening under the current leadership."
Sources say RSS leaders Mohan Bhagwat, Bhaiyyaji Joshi, Krishna Gopal and Bajrang Lal Gupta are not happy with Shah's methods. Said a senior RSS leader: "Because of the results in Delhi and Bihar, and with the breakdown of some high-profile schemes, Amit Shah's invincible image has taken a beating in the minds of party workers and the media. This is a major question that the Sangh and Modi have to deal with." Some of the schemes that Shah pushed aggressively, including the mega-membership drive, Namami Gange and Swachh Bharat Abhiyan, have failed to take off.
Apparently, many RSS leaders say that if Shah continues, the discontent will only deepen. And, if he is removed, the RSS has some replacements in mind, including Home Minister Rajnath Singh, Transport Minister Nitin Gadkari, Health Minister J.P. Nadda and former general secretary Sanjay Joshi.
Rajnath is an unlikely choice because he is heading a vital ministry. Gadkari, it seems, is not willing to lead the party again, and Nadda does not have enough national exposure. This leaves Sanjay Joshi, an unmarried mechanical engineer and known rival of Prime Minister Narendra Modi.
Joshi, a Maharashtrian, is known for his simple lifestyle and accessibility to the cadre. However, in 2005, Joshi was expelled from the party because he was linked with a sex tape. He was brought back after it was found that the CD had been doctored.
THE MODI-JOSHI RIVALRY is an open secret. In 1988, Joshi was sent to Gujarat to build the party, and there he worked closely with Modi for many years. But, in 1995, Shankersinh Vaghela, then part of the BJP, revolted against then chief minister Keshubhai Patel. This led to, among other things, Modi being moved out of Gujarat. Apparently, Modi believes Joshi was behind that decision.
"Modi loyalists will try to stall every effort to make Joshi the president," said a BJP leader on the condition of anonymity. "If he becomes the president, many Modi loyalists will be cut down to size."
On November 7, just before the Bihar election results were announced, top RSS leaders met in Delhi. Most of them wanted Shah to go, regardless of the results. A faction in the RSS, however, said that the issue should be put off for now. Instead, before the Gujarat assembly elections in 2017, Shah could be removed as president and sent there as the party's chief ministerial candidate.
Undoubtedly, the Modi-Shah duo is losing its sheen. And though the RSS does not want to harm Modi's image, said a senior RSS leader, it certainly wants a change in the current situation.