Raghavendra Singh remembers June 1 in vivid detail: "Six cops and around 20 people rushed into our house, while others waited outside. The cops abused and thrashed my father and asked about the [Facebook] post. Peeved by the resistance, they poured kerosene on him and set him on fire." Journalist Jagendra Singh died of the burns on June 8. But, in his dying declaration, he said that Rammurti Verma, minister for dairy development, Uttar Pradesh, was behind the attack.Verma and Jagendra have a long history. The journalist used his Facebook page, Shahjahanpur Samachar, to hit out against corruption, and Verma has been at the receiving end repeatedly. The cases Jagendra highlighted were mostly land grabs and illegal mining. He maintained multiple profiles on Facebook, perhaps to get around the site's ceiling for friends. Every profile had more than 4,900 friends; the Facebook ceiling is 5,000. A fortnight after his death, the profiles had a combined following of 19,761.
Recently, in April, Jagendra had taken on the district supply officer over anomalies in the allotment of ration cards for above poverty line families in Shahjahanpur district. The DSO is regarded to be close to Verma. Soon after he posted this on Facebook, goons broke Jagendra's leg.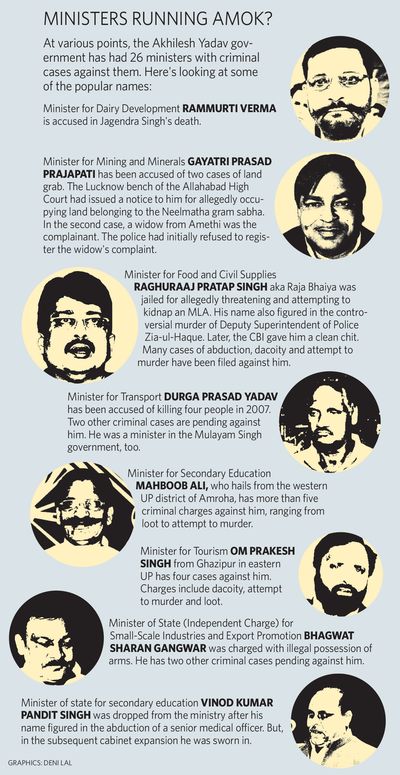 Undeterred, Jagendra posted details of an incident where Verma and district officials had allegedly grabbed land from a farmer. Then he highlighted the gang rape of an anganwadi worker in a state guest house on May 5. The victim had moved district court seeking that an FIR be filed against Verma, Police Inspector Sri Prakash Rai, Amit Pratap Bhadauria, Brahm Kumar Dixit and Gufran. Jagendra's ailing father, Sumer Singh, said he had no faith in the state police and asked for a CBI probe. "Honest journalism took my son's life," he said. "He paid the price for raising his voice against the minister's corruption. Everyone knows the culprits, but no action has been taken."
Civil rights activists said the state government and the police were muddying the waters instead of taking action. The official spin is that Jagendra was blackmailing Verma at the behest of his political opponents. Verma has not issued a statement or attended public functions after the death. A volte-face by a key witness has armed the police. A lady journalist friend of Jagendra's had first claimed that the cops had set him on fire. She then went missing for a couple of days and resurfaced with a totally different story. She now claims that Jagendra set himself on fire.
A senior police officer who wished to stay anonymous said, "This complete change of the statement is a ploy to weaken the case. The lady must be under tremendous pressure. This statement was extracted to save the minister." While Chief Minister Akhilesh Yadav announced a compensation of 030 lakh and and distanced himself from the case, his uncles came to Verma's defence. Samajwadi Party national general secretary Ramgopal Yadav said there was no ground for removing Verma. "Just lodging an FIR does not make anyone guilty," he said. "Action will be taken after the inquiry is completed." The party's chief spokesperson Shivpal Yadav said, "On many occasions accusations were made against ministers, but they could not be proved."
Political observers say that Verma's hold over the Kurmi vote bank is why the party is defending him. "The government is hesitating to take action against the minister because of vote bank politics," said Laxmikant Bajpai, the state BJP president. "It does not want to spoil its electoral prospects in the region."
However, there are dissenting voices in the Samajwadi Party. Ravidas Mehrotra, MLA from Lucknow Central, wrote to Akhilesh demanding that Verma be removed from the ministry till he gets a clean chit. The government has been quite soft on the accused cops, too. They have only been suspended; no one has been arrested or dismissed.
Akhilesh's critics say that on earlier occasions, too, the party has been slow in taking disciplinary action against tainted ministers.