"Sheroes is like family to me. It has supported me when everyone else left me" - Roopa Saa, 22

"Often, my husband would say he would ruin my life so badly that no one else would marry me. But I never thought he would really do this to me" - Geeta Mahor, 42
The grandeur of Taj Mahal, the epitome of eternal love, overshadows the underlying sense of loss. But then, the Taj is not just about coming to terms with loss; it is also about transmuting it into something magnificent.
Close to the white marble mausoleum in Agra stands a brick-and-mortar structure, which, though not an architectural wonder, is awe-inspiring nonetheless. Sheroes Hangout looks like any other café, buzzing with visitors—foreigners and locals alike. But appearances can be deceptive. Sheroes Hangout is the first and only café in India to be staffed by acid attack victims. It has become a lifeline, an identity and, perhaps, home for those who lived veiled lives for years because of their scarred faces and the social stigma.
Sheroes Hangout was founded by four friends—Aseem Trivedi, the cartoonist who was jailed on sedition charges, Alok Dixit, Ashish Shukla and Abhilash Shukla—as part of their Stop Acid Attacks campaign in 2014. "Initially, we never knew that we would reach this stage. We were just making the database of victims, studying their problems and finding ways to help them out," said Trivedi. At present, they are in touch with more than 100 acid attack survivors all over the country. As their work grew, they formed an NGO Chaanv Foundation, which has its office in Delhi. Approaching the victims was not enough, they realised; their rehabilitation was more important. That's how Sheroes Hangout was born.
So, walk into the 400sq ft-café, and you find four women with a smile and a lot of warmth greeting you. There is no rate card here; you pay as you wish. Long before Sheroes Hangout brought them together, these women, who have now adopted Saa—short for Stop Acid Attacks—as their last name, were bound by their bruised pasts. Each of them has a heartrending story to tell.
Also read: Life after acid attack
Twenty-year-old Ritu's life changed on May 26, 2012. A state-level volleyball player, she was on her way to a practice match at the playground near her house in Rohtak, Haryana, when she noticed two youths on a motorcycle following her. She also spotted her cousin Ram Newas in a jeep across the road. Before she could comprehend the situation, she felt her face burn and fell down. Writhing in pain, she screamed for help. But, no one came. After half an hour, someone informed her brother, and he rushed her to a nearby government hospital. She underwent two surgeries and was in the intensive care unit for a week.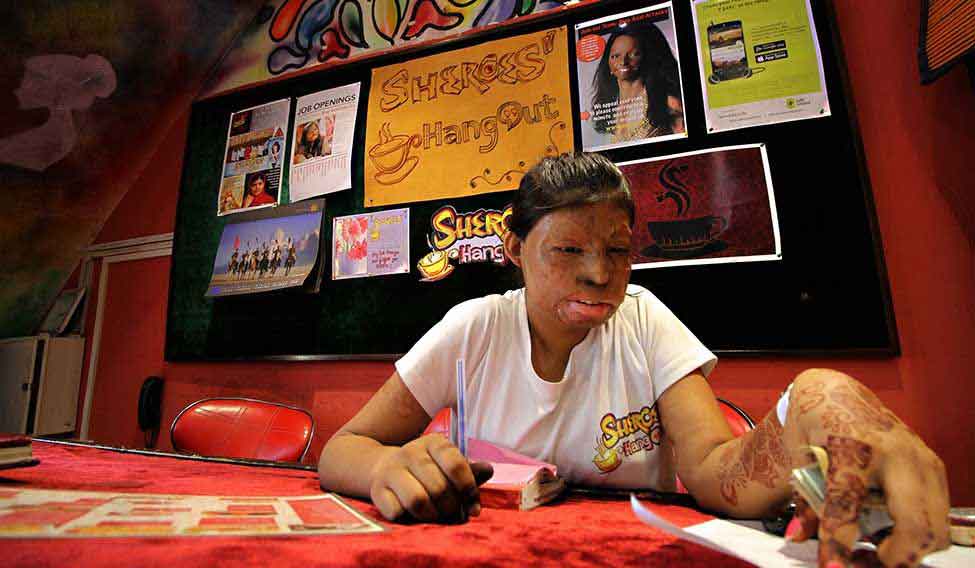 Ram, said Ritu, was in love with her, though he never proposed or told her clearly. "This is what I feel," said Ritu. "He would often call on the landline. Instead of talking to other members in the family, he would always ask for me. I often ignored him and the outcome was this attack." Ram had taken help from 18 people and spent Rs.1.25 lakh to carry out the attack. Of these 18 people, five, including Ram, were imprisoned and the rest were acquitted.
Initially, Ritu's family spent around 02lakh for the treatment. But after the media focused on the attack, the Haryana government paid for her further treatment at Indraprastha Apollo Hospitals in Delhi. She had six more surgeries, but her face was lost forever and her eyesight has suffered. Ritu, who comes from a lower middle class family, couldn't come to terms with the reality, and she started covering her face. Not that her family didn't support her. Her father, an automobile mechanic, would try to motivate her but to no avail. It was her brother who got her in touch with the Stop Acid Attacks campaign; he would constantly scour the net for information on acid attacks. The day Ritu joined the campaign, she was welcomed by other victims, all dressed in red. She, too, had a new dress, designed by Roopa, an acid attack survivor. That day, she put away the veil.
"I stayed in Delhi for six months, then came to Agra. Sheroes has changed the meaning of life for me," said Ritu. "It has given me food, clothing and shelter, and taught me that survivors like us can lead a meaningful life. Now the sun looks brighter and the grass greener."
Though she wanted to play volleyball for the country, her reflexes have become slow, so has her hand-eye coordination. But she said she would give it one more try. If not volleyball, she would become an activist. But, for now, there is the café, where she keeps the accounts from 10am to 8pm.
Also read: It burnt her face, but not her spirit
There is no jilted lover in 22-year-old Roopa's story; hers is a Cinderella story with an evil stepmother but no fairy tale ending, yet. Roopa, too, comes from a lower middle class family and her father, Deshpal Singh, runs a small saloon in Islampur Ghisauli in Muzaffarnagar, Uttar Pradesh. Her stepmother, Sheela Devi, would treat her like a slave, waking her up by upturning her cot and making her work in the fields for hours without food. Regular thrashing was the order of the day. Sheela did not let Roopa finish her schooling, either.
The acid attack took place when Roopa was 15. On a humid night in August 2008, Roopa was sleeping in the courtyard when she felt her face burn. She woke up screaming, but no one rushed to her help. Her father was away and her stepmother was deaf to her screams. Soon, she fainted. The next thing she remembered was waking up in the government hospital. Though her stepmother was with her in the hospital, she refused to take care of her, saying the burnt face scared her. Roopa's condition kept getting worse. Her father and a few villagers then took her to Safdarjung Hospital in Delhi.
Though the village panchayat had decided to punish Sheela by blackening her face and parading her in the village, the punishment was never executed on Deshpal's insistence. But Roopa had the support of the villagers, and filed a police complaint against Sheela, who was put behind bars for one and a half years.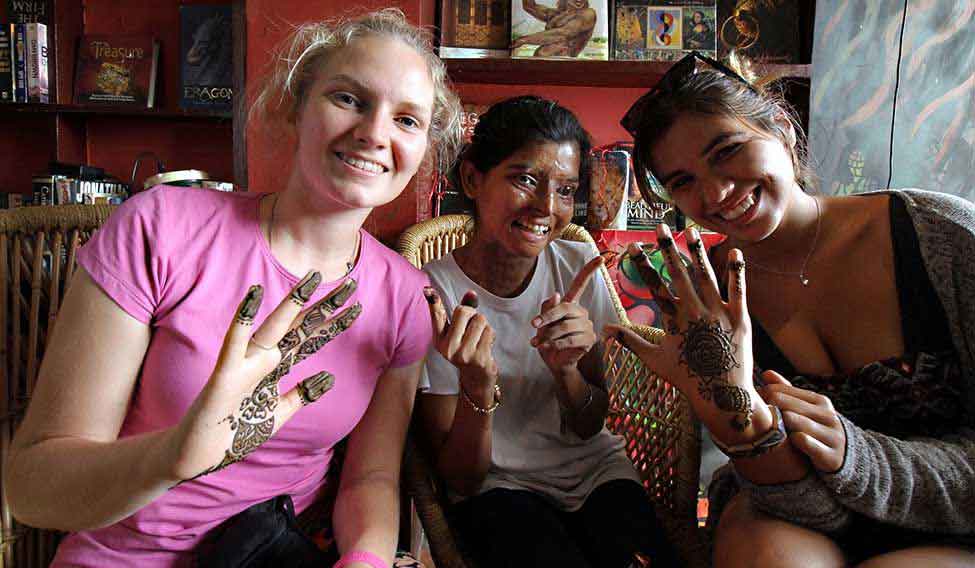 "The attack had badly broken me; I did not have any support," said Roopa. "I used to feel extremely low and lonely. Moreover, there was pressure from my father to withdraw the case. I was young and could not understand things. I ultimately gave in. The case was withdrawn and my stepmother was released from jail."
Roopa later left her home, and stayed with her uncle in Faridabad for a while. She came to know about Trivedi's campaign from an acquaintance and landed in Delhi. She learnt to stitch and design clothes, and some of her works have been displayed at Sheroes Hangout. "Sheroes is like family to me," she said. "It has supported me when everyone else left me. I was broken, shattered and disillusioned. It instilled in me a sense of life and pride."
Geeta Mahor, 42, is the senior-most acid attack survivor working in the café. Geeta's 26-year-old daughter, Neetu, too, works here. Both of them survived an acid attack in 1992; Geeta's months-old daughter did not. Neetu was just three then and does not remember the incident. Her mother, however, does, with every detail etched in her memory. Married to a band player, Geeta never had a peaceful married life. It got worse after she became a mother of two. Her husband, Inder, was a heavy drinker, gambler and wife-beater. "Often, he would say he would ruin my life so badly that no one else would marry me. But I never thought that he would really do this to me," she said.
On a July evening, the Mahor family paid a visit to Geeta's maiden home. Before boarding the bus, Geeta saw Inder buying a bottle containing some liquid. When she asked him about it, he didn't reply. When they retired for the night, Inder slept away from his family. Soon, Geeta woke up to the screams of her daughters. There was acid on her face, too. Hearing their screams, Geeta's family turned up. They first took her to the police station and later the hospital.
Inder surrendered at the police station the next day, but he was not jailed as he had bribed the cops. But Geeta kept pursuing the case and Inder was jailed for two months.
For more images: In frames: Sheroes Hangout
While Inder was in jail, an unlettered Geeta worked as a rag-picker and a daily wage labourer. Meanwhile, Inder kept writing her letters from the jail asking her to forgive him. Once when Geeta visited him in jail, he fell at her feet and begged forgiveness. Even the cops asked her to withdraw the case. Eventually, Geeta caved in and withdrew the case. Though she let him come back home, Inder continued to harass her. Once he piled up cow dung cakes, made by Geeta to be sold later, and built a pyre. He said he would burn both Geeta and Neetu alive. "Such has been my life," said Geeta. "He still beats me up and frequent disputes occur. Whenever I find things going out of control, I threaten him with a police case. For the past six months, things have been slightly better, but my husband can never reform."
The mother-daughter duo came to know about the Stop Acid Attacks campaign from a woman they met while travelling in a tempo in Agra. At the café, Neetu mans the counter, tells customers about Sheroes, helps in cleaning and also takes and serves orders. She is fond of singing and wants to be a singer. But more importantly, she and her mother want to help other acid attack victims.
Sheroes hangout is going places; there are plans to open outlets in Kanpur, Lucknow and Udaipur. Thanks to the internet, more foreigners are visiting the café. Arianna, an Australian tourist, came across Sheroes on the web, and decided it would be a must-see on her India visit. "It is a great idea. But the conditions of the victims are heartbreaking," she said. "I told my fellows that once in India we surely need to visit the café."
The four survivors, meanwhile, have only one message for acid attack victims: "Do not hide yourself in home. You are not a social stigma. Come out and face the world. Unless you support yourself, no one else will support you." Well said!