When Ravindra Sannareddy chose the Tamil Nadu-Andhra Pradesh border to build a modern city, a sense of the past was his biggest inspiration. "We are in the middle of four ancient Sri cities―Sriharikota, Srikalahasti, Sripathi [Tirupati] and Sriperumbudur," said the NRI industrialist. And, quite fittingly, the gleaming city he has built has 14 old villages in it. Jurang Consultants, the Singapore-based designers of Sri City, was asked to keep these villages undisturbed.
Sri City, however, has disrupted many an order in south India. The traditional industrial hubs of Chennai and Hyderabad are feeling the heat. And, the main reason is its strategic position. "We are in Andhra Pradesh, but not in Hyderabad. We are in Tamil Nadu, but not in Chennai," said Sannareddy. Three big ports (Chennai, Ennore and Krishnapatnam) and two airports (Chennai and Tirupati) are in the vicinity. And it is connected to the Golden Quadrilateral and the Indian Railways network.

The latest addition to the steadily growing companies in Sri City is food and beverages major PepsiCo. It has set up a plant on 86 acres, its biggest in India, investing Rs1,200 crore. "With the plant and the company sourcing strategy, local farmers would benefit as we would make it a hub for sourcing mango pulp," said Indra Nooyi, PepsiCo's chairperson and CEO. About 32,000 mango farmers in the area will benefit from this.
A turning point for Sri City was French transportation company Alstom's decision to build the coach factory for Chennai metro rail in Sri City. Then came Japanese automaker Isuzu, which had initially considered Chennai for an investment of Rs1,500 crore. The tax sops offered by Andhra Pradesh Chief Minister N. Chandrababu Naidu made things easier. "It is easy if you are a special economic zone because exports are easier with no duty obligations," said Jeetinder Chopra, managing director of Bergen Pipes Supports. "The domestic market is taken care by paying some taxes," he said.
Sri City is divided into three zones―the domestic tariff zone (for producing and selling in India), the special economic zone (for exporting) and the free trade and warehousing zone (for importing and selling in India). "In fact, we have industries which make everything that you use daily," said Sannareddy, who built the city with Chintalapati Holdings and Singapore-based Credit Asia Capital. The Andhra Pradesh government is a functional partner in the project.
Sannareddy calls himself a son of the soil. His parents live nearby. But it was not the only reason he built Sri City here. "This is the farthest point in this state, a border town. IT jobs are for urbanites and in the process rural people are left out. I made it my mission to create more jobs with less pollution. Now 20,000 jobs have been created," he said.
He started acquiring land in 2005. Sri City was incorporated in 2006 and construction started in 2008, on 5,000 acres. It helped the land was cheap. The Andhra Pradesh government has assured 480MW of grid power, apart from the in-house 7MW solar power. An agreement with the government assures eight crore litres of water a day from the Kandaleru project. The integrated storm drainage system collects and stores excess water. Sri City treats the sewage in two plants of 750-kilolitre and 1,000-kilolitre capacity a day.
"We wanted a city which was different, running on renewable energy," said Chintalapati Srinivasa Raju, who is Sannareddy's business partner. "We will get our power and energy from solar energy in the daytime and night time from the grid. The 7MW from the solar power unit is enough for city operation. Our intention is to give good, clean power to the industries, too."
Raju seems obsessed with the project. Every half an hour he checks it on Google map. "I want to see it emerge as the most liveable city in India, using sustainable energy, 100 per cent recycled water and with most residents travelling by public transport to work," he said.
There are plans beyond industry as well. Gifted with scenic surroundings, Sri City has the Ramagiri hills on the one side and Pulicat Lake on the other. "I am preparing for a community based eco-tourism template," said Raju. "The tourism and forest department are ready to help. In fact, we hope to find a vantage point and allow people to watch the satellite launches from Sriharikota [Satish Dhawan Space Centre]."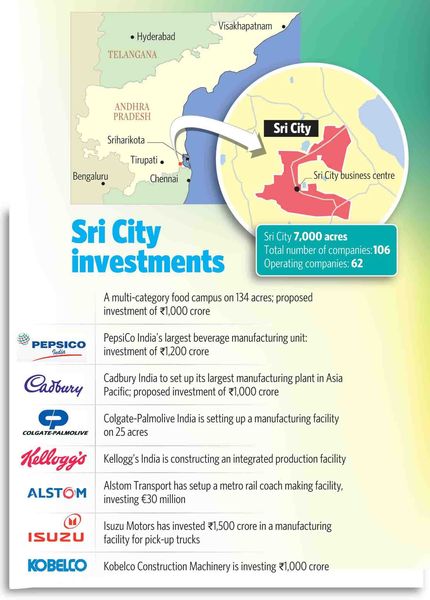 When Ramesh Kumar, managing director of Amar Housewares, came back to India from the US in 2011 to start a factory, top on his criteria was proximity to a port. His company makes and exports folding ironing boards. "Initially, I looked for a place in Chennai," he said. But he could not find one. Then he checked out Sri City, and was thoroughly impressed. "Once the lack of development between Madhavaram and the border of Tamil Nadu is taken care of, it will be perfect," he said. His factory can produce 10 lakh ironing boards a year, and he will export his first consignment to the US this month.
"I am the enabler," said Raju. Sri City does well to do justice to that claim. There are excellent facilities for education, residence and health care within the city. "While we are not competing with Chennai, the facilities here are good for the region," said Raju. Frontier Lifeline and Sankara Nethralaya run the hospitals. The school is run by Chinmaya Vidyalaya and has 450 students. The Institute for Financial Management and Research has a 40-acre campus in the city, and the Chennai Business School is on three acres. Great Lakes Institute of Management will soon join the league.
Raju is well aware of how multinational companies do business and what they want from a facilitator like Sri City. It shows on the list of companies in Sri City. About half of them are multinationals, the likes of Colgate, Alstom, Kellogg's and Cadbury. When Thai furniture maker Rockworth Office Systems Furniture decided to start its first facility outside Thailand, it chose Sri City. "We set up the factory here in 2012," said Joseph Joseph, general manager of operations and production, Rockworth Office Systems. "We plan to go global and India is the first step. In 2010, China was strong but the logistics were a nightmare. Deadlines were never met and the cost was prohibitive. In India, it is half the cost. Our volume is bigger because it is still a virgin market and the IT sector is booming."
Proud of its green quotient, Sri City prefers industries that are automated. That is why it is banking on the electronics sector to generate jobs. The Department of Electronics and IT has given an in-principle approval for creating an electronic manufacturing cluster in the city. Raju, however, is of the opinion that automation takes only a few jobs away. "Automation is largely inside the factory," he said. "But there are jobs galore in logistics, ancillary units and the market continues to flourish."
The co-founders have clearly divided their roles in the functioning of Sri City. While Raju takes care of infrastructure and development, Sannareddy interacts with the government and customers. The arrangement seems to be working well―Sri City was recently adjudged one of the 100 most valuable Asian brands by World Consulting & Research Corporation.