In October 2011, a day after the AIADMK's landslide victory in the Trichy West byelection, Tamil Nadu chief minister J. Jayalalithaa unveiled an 11-year roadmap for the state. It pitched Tamil Nadu as a global investment destination, with plans to attract projects worth Rs15 lakh crore. "Attaining one among the top three positions in Asia would be tantamount to benchmarking Tamil Nadu with countries such as South Korea, Thailand and Malaysia, which are ranked 8, 17 and 18 in the world by the International Finance Corporation in its study on ease of doing business," she said, unveiling the Vision 2023 document in a meeting attended by top industrialists.
Three and a half years later, however, doing business is anything but easy in Tamil Nadu. The government seems to have lost its vision after Jayalalithaa stepped down last October, after being convicted by a special court in Karnataka in a disproportionate assets case. Let alone matching up to South Korea or Thailand, the state is struggling to keep pace with its neighbouring states, Andhra Pradesh and Karnataka. In fact, at 4.41 per cent, its gross state domestic product (GSDP) grew slower in 2012-13 than the national GDP (4.49 per cent).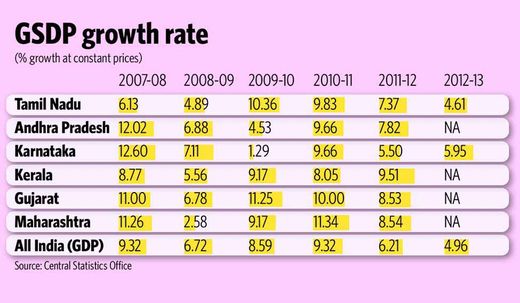 "Industry in Tamil Nadu is in a pathetic state," said trade unionist A. Soundararajan, who is a CPI(M) legislator. "Many companies have moved out. When Nokia left last year, 25,000 people lost jobs. Now I hear that many other big companies are planning to move to other states. After enjoying all the concessions and incentives in Tamil Nadu, Ford went to Gujarat."
After mobile handset manufacturer Nokia's exit last year, the 45-km-long Sriperumbudur-Thiruvallur industrial corridor came to a standstill. Ancillary manufacturers Jabil Circuits, Foxconn and BYD Electronics offered voluntary retirement to all its young employees. Some 40,000 people lost jobs. According to the department of industries, Nokia had signed a memorandum of understanding with the government for expansion worth Rs250 crore. But the company decided to shut down the facility when it was slapped with a Rs21,000 crore tax notice by the income tax department and a Rs2,400 crore sales tax notice by the state government.
Nokia was not the first electronics major to leave Tamil Nadu. In February 2013, Motorola Mobility suspended its operations in the state. It had invested $150 crore in the plant and employed 76 people. Dell and Samsung, however, continue to operate from the state, employing around 3,000 people.

The government attributes the situation to factors beyond its control. "It is not a question of bringing in another when one company goes out," said C.V. Shankar, additional chief secretary. "There are several other factors involved in it. The Nokia land is in dispute, and there are several duty structures laid by Government of India for an electronics company to invest here."
A more alarming issue is the stagnation of the automobile industry in the state. Chennai is on the verge of losing its reputation as an automobile hub. Ford Motors, which set up a factory in the city a decade ago, has chosen Gujarat for its second facility. Hyundai, the second largest carmaker in India, has not yet announced any further investment even though its plant in Chennai has been running on 98 per cent of capacity. Industry sources say it might move out owing to the congestion in the Chennai Port and lack of infrastructure to transport goods from the plant. Piolax Inc, an auto parts maker which had a factory at Oragadam near Chennai, has decided to move to Sri City, a private special economic zone in Andhra Pradesh. It is only 55km from Chennai and attracts many industries because of the sops offered by the Andhra Pradesh government.
Tamil Nadu, which used to be an automatic choice in south India for automakers, has not been able to lure new investors in a while. Japanese truck maker Isuzu, which had initially considered Chennai for a factory, recently invested $3,000 crore in Sri City. Mahindra and Mahindra, which plans to invest $4,000 crore and offer jobs to 3,500 people, is yet to sign the MoU. French carmaker Peugeot, which had considered Chennai for a plant, has now chosen Gujarat.
Thanks to these, Tamil Nadu's automobile manufacturing capacity is a stagnant 3.35 million units a year, and the target of 6 million units a year now looks like a long shot. "The situation is not the same anymore. The Andhra Pradesh government is pushing and Chandrababu Naidu is a good salesman," said Rafeeque Ahmed, chairman, Federation of Indian Chambers of Commerce and Industry, Tamil Nadu. "In Tamil Nadu, there are several hiccups like the lack of single-window system, sustainability issues and power."
A major jolt to the state's investment dreams was the French transportation giant Alstom's decision to build the coach factory for Chennai metro rail in Sri City. The 7,000-acre Sri City, along the Tamil Nadu-Andhra Pradesh border, has attracted investments worth Rs6,000 crore in the past few years, mostly at the expense of Chennai. Ravindra Sanna Reddy, founder and managing director of Sri City, however, said his SEZ was not in a competition with Tamil Nadu. "In fact, we are indirectly complementing the growth of Chennai," he said. The Andhra Pradesh government has granted single-window startup approvals for setting up plants in Sri City.
A Global Investors Meet in Chennai was planned as a quick fix for all the problems of Tamil Nadu. It was expected to attract a total investment of Rs1 lakh crore. But the meet has already been postponed twice. It was to be held in September 2014, but was pushed to May 23 and 24 after Jayalalithaa was convicted in the disproportionate assets case. Now that the appeal in the Karnataka High Court is delayed, the meet has been postponed to September.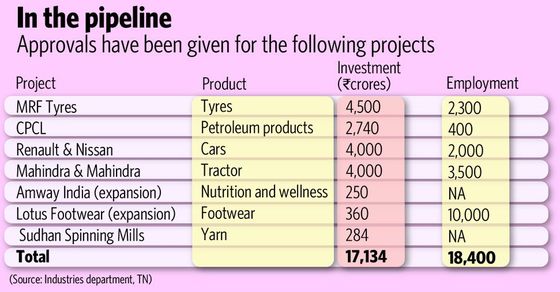 That pretty much explains the situation. While Andhra Pradesh, Karnataka and Gujarat are cashing in on the strong political leadership, Tamil Nadu suffers from a proxy regime. "When Chandrababu Naidu could sign 29 MoUs with China in a day, why not Tamil Nadu? The problem is, there are too many power centres in the state and everyone cannot be satisfied by the investors. We end up paying bribe to every person who is involved in granting approvals," said an industrialist.
Chennai's creaking infrastructure is another problem. The 19km Chennai Port-Maduravoyal elevated expressway, which was planned during the DMK regime, has been abandoned. The pillars raised for the project are still on the Poonamallee High Road. Road projects worth Rs25,000 crore by the National Highway Authority of India are waiting for the state government to clear the land acquisition problems. Of 12 NHAI projects in the state, only two are anywhere near completion. Projects worth Rs5,000 crore have not progressed beyond the proposal stage despite several requests from the Centre.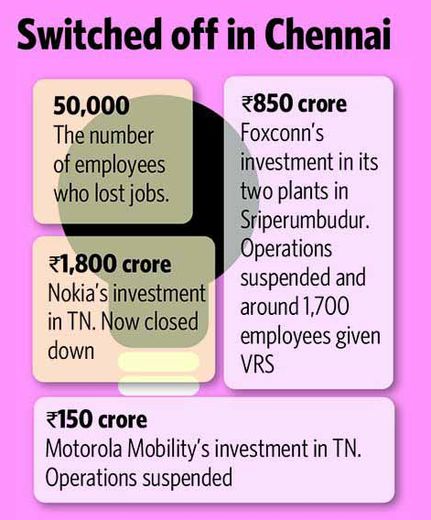 Though the acute shortage of electricity has been dragging down the state's industrial growth, the government has done nothing to plug the gap. Thermal power projects worth Rs39,000 crore, which would generate 6,640 MW, are pending. Earlier this year, the government called off the Rs8,016-crore supercritical thermal power plant proposed at Udangudi. A week ago, however, it invited tenders for the same plant. SEPDI-Trishe and BHEL, who had won the first bid, have gone to court against the cancellation.
On the other hand, the government has been a complete failure in managing the limited resources it has. "Tamil Nadu is yet to achieve availability of power to all its existing industries," said investment adviser Shyam Sekar. "But, the state is offering assured power to new investors. This is not a good signal in terms of sentiment."
Tamil Nadu had a reputation of being friendly to small industries. Not any longer. "It lacks investment in infrastructure," said economist V.B. Athreya. "About 45 per cent of the small and medium industries have credit problems. There are many problems. But the crux of the issue is that the government is not paying attention to agriculture, rural development and health care. Sustained demand is not possible unless the government helps people's income to grow."
The small and medium industries in Tirupur, Coimabtore and Erode have not grown in years. "Where is the business? For expansion, we need credit. Also, the disturbances caused by the local politicians have gone overboard. Every day I end up paying bribe," said N. Rathinakumar, a textile unit owner in Tirupur. The wet grinder industry in Coimbatore has lost its sheen with the government offering wet grinders as freebies. "There are several conditions laid by the government which were above my capacity to participate in the tenders floated by the government to purchase wet grinders," said S. Rajan, who runs a wet grinder manufacturing unit in Coimbatore.
The numbness in Tamil Nadu's industry is just a reflection of the political paralysis in the state. The only way out seems to be a solution for Jayalalithaa's legal troubles. Without her, the AIADMK government's popularity is at an all-time low.