When Deccan Chargers, the Hyderabad franchise of the Indian Premier League, was terminated and a new bid for the slot was floated in 2012, it took Kalanithi Maran only a few hours to prepare the papers and the money to buy it. When the United Progressive Alliance government revised the cap on television advertisements to 10 minutes from 20 minutes, Maran's Sun TV did not even take a day to increase the ad rates from Rs30,000 for 10 seconds to a whopping Rs2 lakh. In January this year, he did not think twice to offload his crisis-ridden airline SpiceJet.
Quick and bold decisions made Maran what he is. Political patronage, of course, helped, but that does not take anything away from his business acumen. His TV channels dominated south India for almost two decades. He diversified Sun from a publishing house to business behemoth. And, his companies survived many a political storm during that period.
Maran's empire, however, is facing the biggest crisis in its history. Sun Network's shares fell to Rs256 on July 22, a 52-week low. Its market capitalisation eroded by 37 per cent in the past one year to Rs10,181 crore. And investors do not see anything positive. "There is no reason to buy a troubled company," said Chennai-based stock market investor Kishore Kumar.
This is a reflection of Sun's troubles elsewhere. Both the AIADMK government in Tamil Nadu and the NDA government at the Centre are hostile to Maran. The home ministry's denial of security clearance to Sun to take part in the third phase of FM bidding clearly indicated an attempt to muffle the group. The ministry cited the ongoing CBI investigation against Maran and his brother, former Union minister Dayanidhi, and the two cases against them—one regarding charges of money laundering in a deal between the telecom companies Aircel and Maxis, and the other about installing an illegal telephone exchange for personal use.
As whispered in the power corridors in Delhi, the denial of security clearance had something to do with the differences between Home Minister Rajnath Singh and Finance Minister Arun Jaitley, who has a soft corner for the Marans. "There are several TV and FM radio companies, including some controlled by large business conglomerates which among them have pending cases involving 2G spectrum, corporate espionage at the ministry of petroleum, corruption involving disproportionate assets and extortions. The security clearances for these companies have not been revoked," said Maran in a letter to Rajnath on June 20. "More importantly the matter involving Sun Direct [Sun's DTH service] is at a very preliminary stage with charges yet to be framed."
Sun Network CEO K. Shanmugam wrote to Rajnath the same day to elaborate on Maran's reference to Anil Ambani's Reliance Broadcast Network, which runs Big TV and Big FM. He is said to have pointed out details of cases where ADAG officials have been booked.
On the legal front, Sun has filed six writ petitions—three each by the company and its shareholders—in the Madras High Court, seeking immediate stay on the I&B ministry's July 15 order and permission to resubmit its application to participate in the third phase of FM auction. Sun Network runs 48 radio stations, managed by five group companies.
There are bigger problems round the corner for Maran. The licences of 33 television channels run by the group will be up for renewal in December. These are the group's cash cows and any delay in renewing the licences will hit its revenues.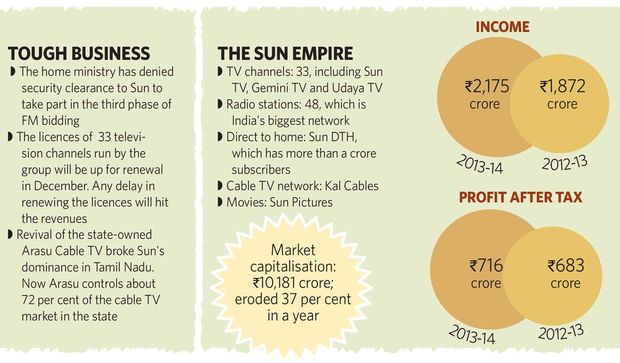 Also, Sun Network no longer enjoys the formidable market share it once had in south India. Though the flagship Tamil channel Sun TV still commands a market share close to 60 per cent, Gemini TV (Telugu), Udaya TV (Kannada) and Surya TV (Malayalam) have ceded ground to competitors.
The legal troubles seem to be draining Sun. Last year, the Madras High Court, while setting aside an order against security clearance to Sun-owned Kal Cables, asked why the same yardstick was not applied to Sun's TV channels. Kalanithi Maran has been named in the CBI charge sheet in a money-laundering case, which accuses that the Malaysia-based businessman Ananda Krishnan's 0600 crore investment in Sun DTH was quid pro quo for the Marans' clinching the Aircel-Maxis deal for him. Maran has also been summoned by a Delhi court for alleged tax evasion and failure to deposit TDS. The CBI has sought cancellation of the anticipatory bail given to Dayanidhi Maran in the illegal telephone exchange case.
Dealing another big blow, the Enforcement Directorate attached properties and shares of Sun TV worth Rs742.58 crore, which included the eleven-storey Murasoli Maran Towers in Chennai, its headquarters. The entire top floor of the building was Maran's office, where he used to monitor what was broadcast on his 33 channels.
Sun's troubles started in 2011, when the AIADMK came to power in Tamil Nadu and Chief Minister J. Jayalalithaa revived the state-owned Arasu Cable TV. It now controls more than 72 per cent of the cable TV market in Tamil Nadu. Then came the arrest of Maran's right-hand man W. Hansraj Saxena, former deputy managing director of Sun Pictures. There are allegations that the cases against the group and the Marans are expedited by the Centre to keep Jayalalithaa in good humour.
Maran is not willing to go down without a fight. Though handicapped by the DMK's waning clout, he is quickly manoeuvring things in Tamil Nadu. Many political parties, fringe groups and journalist associations in the state have now started talking in his favour. They are, however, unlikely to fix his problems.