Colour and intricate detail are the most prominent aspects of Maya Burman's paintings. The French-born artist says that the taste for intricate detailing was something she acquired from architecture, a field that she was trained in after graduation.
"Studying architecture has helped me in a lot of ways. It gave me the freedom to explore and discover the beauty of a place, or an architectural marvel, and just sketch. This has helped me to learn to compose things in a balanced way," she says.
Her artworks depict scenes that are dominated by trees, nature and figures of children. She prefers water colours, ink, and pencil colours as the medium. "I make simple paintings with a simple medium. For me, artworks should have a meaning. The subjects are very simple and I am happy with them."
She composes on paper before developing the idea into a final piece of art. "I build my composition on paper, the way I build a house. It is very poetic, geometrical and balanced. I focus on small details and that's why I also give the titles based on the minute details present in the paintings. Since I spend a lot of time on the paintings, sometimes I add more characters to it to give them a deeper meaning."
Despite being an artist for several decades, as a child, Maya never wanted to study art and follow in the footsteps of her parents, Sakti Burman and Maite Delteil. In fact, she recalls how rebellious she would turn when her friends told her that she would end up following her parents' footsteps.
"As a child, my friends used to tell me that I would end up becoming artists like my parents, but I used to get rebellious about this. That was because I had always seen my parents paint from home and I used to feel that it was not a real job. I never understood what being a professional painter meant, and that's why never wanted to be one. I think my parents had a tough time with me," she says.
After graduation, when she was asked to choose a subject, she rested her faith on architecture. "For me, architecture was like a real job."
After studying architecture for two years in France, she decided to take a break from studies. At the age of 21, she, along with a friend, came to India. At that time, she thought visiting India would give her an exposure to architecture and ample opportunity to sketch.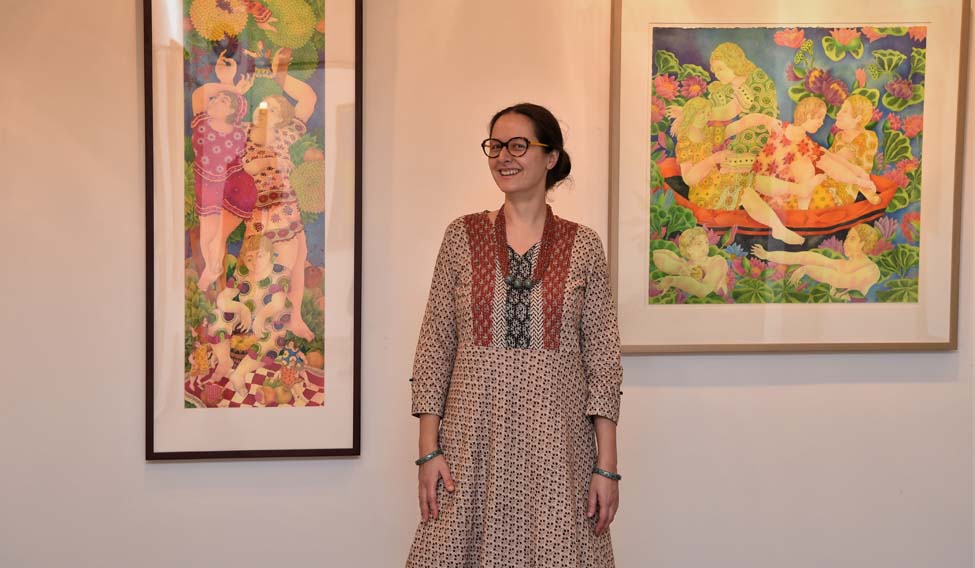 "I thought India has several architecturally beautiful places so sketching them will improve my skills. At that time, I used to travel with sketch books and pen. I made sketches of cities, their architecture, temples, ghats, people working in fields, museums, etc. At that time, I did not have a camera, but a sketchbook. I feel that my drawings helped me remember the things I saw. Till date, I make sketches and reaped benefits. I look at the pictures and use their composition in my works," she says.
However, after two years, she went back to France to complete her studies. By 1997, she moved to illustrations.
"I started doing illustrations for a magazine which used to feature tales of Satyajit Ray and Shashi Tharoor. I was asked to make illustrations that could be carried along with the story. So this opened my possibilities with the subject and eventually helped me innovate, develop, and express my own personality," she says.
Though her introduction to illustrations helped her innovate and explore the medium that she would not have explored otherwise, the 46-year-old artist clarifies that, now, she cannot draw according to the subject. "I have my own personality and I like painting according to my imagination. I like doing my own work and am committed to myself. I cannot work according to a specific story," she clarifies.
However, she is now planning to start experimenting with oil. "Many have advised me to create something on canvas. But I wonder how I could paint something that I haven't experienced or have a story to share. You really can't fake it for too long, just to grab headlines and be popular. I am not after making it big and doing something just because others are doing it."
On being asked what makes her Indian at heart, Maya says she can speak Bengali. Her introduction to the language happened during her stay in Kolkata at her uncle's house. "When I was 21, I stayed with my uncle's family for six months. I learnt Bengali from our cook. But, I have not taken any formal grammar class in Bengali," she says excitedly.