Also making a comeback this year is children-based fiction show, Shaka Laka Boom Boom, which will be a web series.
He didn't fly; he whirled. He wore no cape (didn't flaunt his underwear, either), but had superpowers nonetheless. Shaktimaan was our desi version of a superhero. So when actor Mukesh Khanna, who played the title role in the television series Shaktimaan, announced its return, nostalgia got a reel spin for every 90s kid out there.
Take, for instance, Delhi resident Shekhar Srivastava, for whom "Shaktimaan was an icon". "It was with this show that India got its own superhero," said the 30-year-old media professional. "When the show came to an end in 1997, there was nothing much left for youngsters like me to watch. I am really happy that the show will be back soon."
Not just Shaktimaan, several iconic television shows are making a comeback. Though he has not set a 'return date' yet, Khanna said he decided to reintroduce the show because of the fan following it still has. The 59-year-old actor has been in talks with various channels for a year now. "Yes, Shaktimaan will be returning soon and he won't get a makeover. I will be retaining his original powers, instead of giving him bullet and guns," he said. "The problem is that if I give a new face to Shaktimaan, the viewers will not accept it."
And, like in the previous series, Khanna will be giving 'healthy' tips to his viewers at the end of the sequel. "Since new problems have emerged, the teachings will be tweaked," he said. "The focus will be on educating the masses on the hazards of overindulgence of social media and computer games. The idea is not only to entertain but also to overcome health issues that technology brings."
There will be other changes, too. "We will be introducing six to seven children, who will be trained by Shaktimaan," said Khanna. "Their training will give the viewers a sneak peek into the training Shaktimaan received."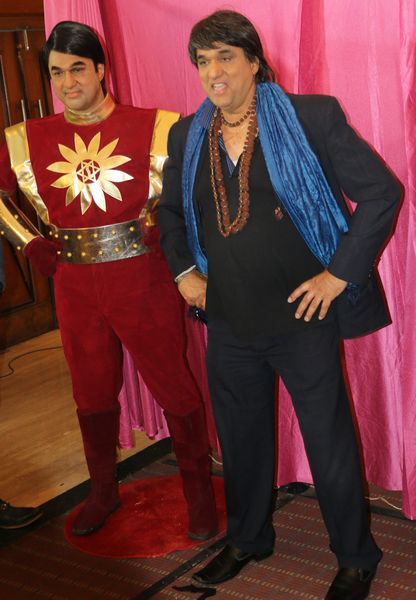 Apart from introducing new characters, some television shows are also playing with new stories and fresh twists. Like, Sarabhai vs Sarabhai- Take 2, which made a comeback this May as a web series. Sarabhai vs Sarabhai was a prime-time show about an upper middle class Gujarati family that aired on Star One in 2004, and was hugely popular among the young and the old alike.
"Introducing new faces was necessary as Sarabhai had achieved the level where repetition was not possible," said the show's producer J.D. Majethia of Hats Off Productions. "However, had we removed old characters, people would not have liked it as Sarabhai is known for its characters, who are funny in their own way. So together with old and new characters, Take Two happened. But the most important challenge for us was the script because we were coming back after so many years and people were counting on us."
Now that the series has been wrapped up, Majethia plans to bring back another popular sitcom. "We are working hard to bring back Khichdi [which first aired on Star Plus in 2002, followed by its sequel, Instant Khichdi, on Star One in 2005]," he said. "After the movie [Khichdi: The Movie], there is a potential for us to bring back the show. We will introduce new characters. However, it won't change drastically as people love it for its characters."
Also making a comeback this year is children-based fiction show, Shaka Laka Boom Boom. While the original TV show was written and directed by Vijay Krishna Acharya, Shaka Laka Boom Boom: The Magic Pencil Returns 2017 will be a web series directed by Dushyant Kapoor. These days, said Kapoor, not many people want to experiment with the science fiction genre. "So we thought why not introduce a content-oriented science fiction show and give the audiences what they want to see," he said. "We have been working on a lot of science fiction shows and wanted to bring back the era of superhero shows."
The web series will have a new cast, story and powerful visual effects. "The television series was based on a teenage boy, but our series will talk about a 20-year-old youth who discovers a wooden stick [similar to a pencil] that leads him to experience magical encounters and reveals the secret of his lost father," said Anand Badoniya, cinematographer. "The show will see actor Charchit Kaushik in the lead. VFX has been added to enhance the impact that is usually seen in superhero-themed shows or movies."
Another popular show that made a comeback on television is Chandrakanta, which first aired on Doordarshan in 1994 and has been brought back by Ekta Kapoor on Colors. Though the storyline of the the fantasy drama remains the same, colossal sets and VFX have been added to grab eyeballs. "As a channel, we are committed to bringing viewers a variety of entertainment—be it Naagin, Chandrakanta or Mahakaali—that makes for edgy yet pacy storytelling as compared to the daily fiction dramas," said Manisha Sharma, programming head, Colors. "The success of Naagin and now Chandrakanta tells us that viewers still have a huge appetite for this genre. With Chandrakanta, we have scaled up every aspect of the show and are making it as spectacular and thrilling as ever."