"Hand washing before and after caring for a patient at every patient encounter is the single biggest determinant for hospital-acquired infections." - Dr Hemalata Arora, consultant, internal medicine and infectious diseases at SevenHills Hospital, Mumbai
The seemingly spotless bed linen in a hospital could have millions of bacterial, viral and fungal pathogens. So could the door handles, light switches and toilet seats.
The incidence of hospital-acquired or healthcare-acquired infections (HAI) are particularly high in developing and undeveloped countries. They often go unreported as there is no surveillance mechanism in place. An 18-month study done between November 2011 and April 2013 at Jawaharlal Institute of Postgraduate Medical Education and Research, Puducherry, showed that 50 per cent of patients admitted in a medical intensive care unit developed one or more of healthcare-associated infections.
ICU patients are at a grave risk of acquiring sepsis and abdominal infections from the hospital. "Although ICUs account for fewer than 10 per cent of total beds in most hospitals, more than 20 per cent of all nosocomial [originating in a hospital] infections are acquired in ICUs," stated a 2012-2013 study conducted among 130 ICU patients in a tertiary health centre in Tumkur, Karnataka.
A leading cause of infections among ICU patients is ventilator-associated pneumonia, wherein germs get into one's lungs through the tubes of the ventilator used to supply oxygen. It results in high rates of mortality. Catheter-associated infection is considered to be one of the most common types of HAIs—pathogens like E. coli could enter the urinary tract through the catheter.
Life has never been the same for Jovita Laxman from Bengaluru after she lost her firstborn (she later had twins after undergoing a tubal reversal surgery). Three-year-old Hari had urinary infection and was admitted to a private hospital. He was discharged after three days. Four days later, he started vomiting and had fever. He was taken to a nearby hospital, where he was diagnosed with meningitis and was admitted in the ICU. He, however, did not survive.
Newborns are particularly vulnerable to HAIs. According to the World Health Organization, the infection rates among newborns in developing countries are three to 20 times higher than in developed countries. Several studies indicate that elderly men are more susceptible to these infections than elderly women.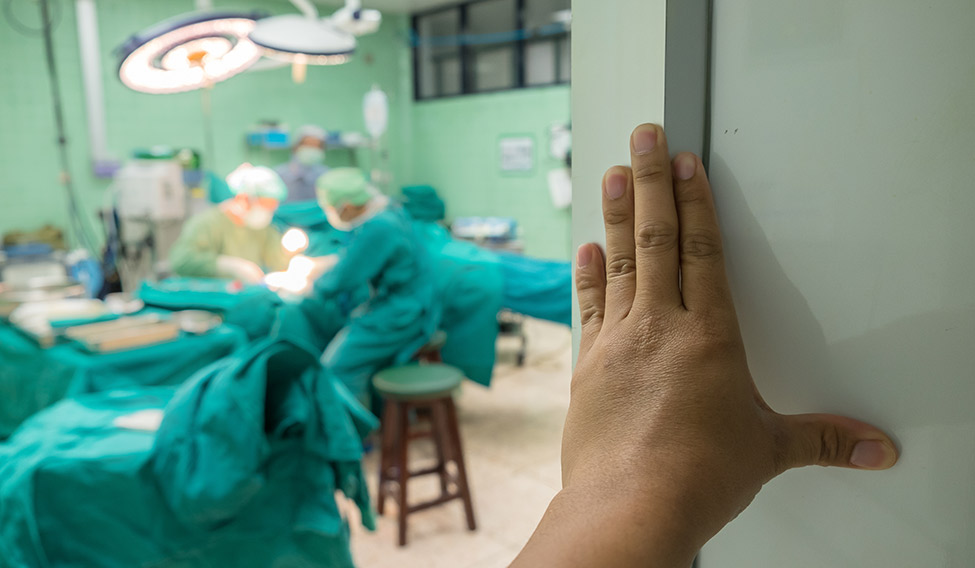 Surgical site infections (SSI) are also one of the most commonly reported hospital-acquired infections. "They account for approximately a quarter of all nosocomial infections," says Dr Sanket Mankad, infectious diseases and HIV consultant, Shalby Hospitals, Ahmedabad. According to a study published in International Health in 2015, 8.3 per cent of breast surgery patients and 6.5 per cent of cardiac surgery patients develop SSI. Those undergoing exploratory abdominal surgery are also found to be at increased risk for such infections.
Why do surgical patients get infected despite being in a supposedly sterile environment? "Host-, wound- and surgery-related factors are implicated in the causation of SSI," explains Mankad. SSI is most often caused by Gram-positive bacteria like Staphylococcus aureus. Of late, the prevalence of Gram-negative organisms like E. coli, Klebsiella and Pseudomonas are increasing in India, leading to a rise in the incidence of SSI.
SSI is difficult to treat. Multi-drug resistance is a major challenge in the treatment of this infection. The infection often leads to prolonged hospital stay, causing the patient economic and social loss.
Some of the organisms that may be present on critical contact points in hospitals like door handles could also be resistant to multiple antibiotics, says Dr Swati Rajagopal, consultant, infectious diseases and travel medicine at Aster CMI Hospital, Bengaluru. "They may include Methicillin-resistant Staphylococcus aureus (MRSA), Klebsiella pneumoniae, E. coli and Clostridium difficle," she says. The prevalence of drug resistance is comparatively higher in India, and hence, HAIs are all the more challenging to treat.
Lack of proper hygiene practices in health care facilities often cause gastrointestinal and urinary tract infections. Experts emphasise the importance of hand hygiene in reducing nosocomial infections. It is one of the simplest and most inexpensive ways to keep germs at bay. "Hand washing before and after caring for a patient at every patient encounter is the single biggest determinant for hospital-acquired infections," says Dr Hemalata Arora, consultant, internal medicine and infectious diseases at SevenHills Hospital, Mumbai. "The hospital must have a hand washing policy, ample facilities for hand cleansing, surveillance using observation teams, CCTV, feedback and inducements based on adherence to infection control policy. All of these measures will require allocation of funds, and most hospitals realise quickly that in the long term lowered infection rates have a better effect on the reputation and financial health of the hospital."
Dr Subramanian Swaminathan, senior consultant, infectious diseases, Gleneagles Global Hospitals, Bengaluru, says adherence to protocols can bring about a change. "Our effectiveness is the result of coordination between doctors, the lab, the administration and infectious diseases specialists. This involves risk assessment based on the patient population and the procedures performed." Special category of patients may also need advanced steps like air safety, he says. "We personalise it to each patient's needs, with respect to air, water, food and surfaces. The holistic approach is reflected in the outcome, like there has been no infections in implant surgery," he says.
Also, new research offers hope. Leo Mavely of Axio Biosolutions Pvt Ltd in Bengaluru, who revolutionised wound care management with a polymer from shellfish that can stop bleeding in less than three minutes, is now working on another product. "It can speed up wound healing and ward off infections," says the 32-year-old. "Wound site has a high chance of getting infected, especially in a hospital environment. We work with a polymer called chitosan, which has inherent antimicrobial property. Conventional cotton gauze can only protect the wound physically. They don't offer any protection against the microbes. Advanced wound dressings such as the ones we are developing can be a real game-changer." Mavely says his new wound care product will replace the conventional cotton gauze and reduce the odds of HAIs to a great extent. "Our intention," he says, "is to move away from antibiotics to localised delivery of treatment."
Some names have been changed.