In India, dogs rule the streets in the morning. While some use the roads as yoga mats, stretching their limbs or soaking up the sun, others chase two-wheelers and scare people away.
Near the Bangalore Cantonment railway station, dogcatchers of the Sarvodaya Sevabhai Samstha are trying to trap stray dogs with a butterfly net. The dogs are street smart enough to dodge them. "We catch them in a humane way. We corner them and then lock the net," says a dogcatcher, while struggling to catch his breath. The NGO works for animal welfare and sterilises street dogs to curb their population. Despite its best efforts, Bengaluru still remains a city of street dogs, with one stray dog for every 37 individuals.
India has 25 million stray dogs. The number of pet dogs in the country is around 28 million. Dog bites occur here every two seconds. In Nainital town alone, 4,000 cases of dog bites were recorded in the last three years. The Uttarakhand High Court had ordered a compensation of Rs2 lakh to victims of dog bite; the order was later stayed by the Supreme Court.
The situation is alarming, says Dr A.K. Gupta, joint secretary, Association for Prevention and Control of Rabies in India and author of books on rabies like Rabies-The Worst Death. "Dog is the most common source of human rabies in the country," says Gupta. A report by the Global Alliance for Rabies Control says that 160 people die every day in the world because of rabies. India has the highest number of fatalities; it accounts for 36 per cent of global rabies deaths.
"Rabies incidence in India has been constant for a decade, without any obvious declining trend, and the reported incidence is probably an underestimation of true incidence because in India rabies is still not a notifiable disease," says a bulletin of the WHO.
Under the Twelfth Five Year Plan, rabies was made a priority disease for control. But our rabies control programme has not been very successful. Vaccinating the huge population of dogs in India has been a major challenge. Pre-exposure vaccination (PrEV), meant for people, helps simplify post exposure vaccination, but there is very little awareness on PrEV. "Those who have received full pre-exposure vaccination need only two doses of post-exposure vaccine on days 0 and 3. They don't require rabies immunoglobulins [an injection of antibodies]," says Gupta, who runs a clinic for rabies in Delhi.
The poor access to post-exposure prophylaxis and rabies immunoglobulin at the primary health care facilities also often becomes an impediment in the battle against rabies. In Patna, where around 2,000 dog bite cases are reported every month in government hospitals, the anti rabies vaccine recently went out of stock. Rabies, if left unvaccinated, almost always results in death. The supply of vaccines could be better in private hospitals, but the rates are exorbitant—up to Rs12,000.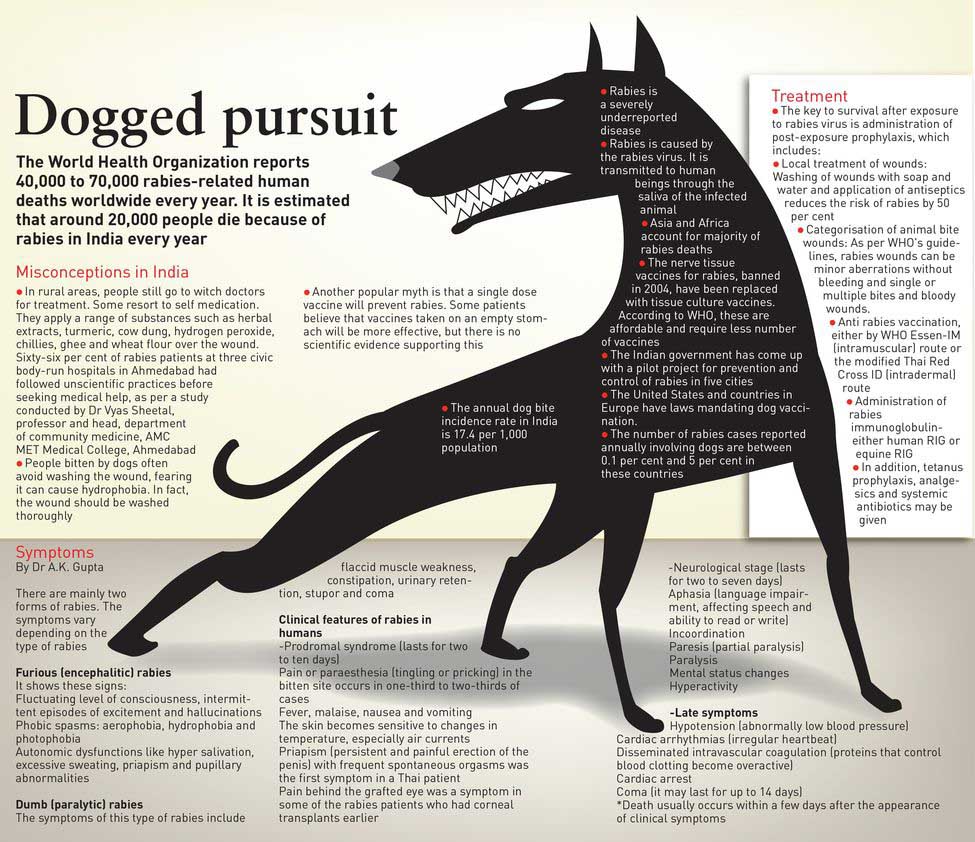 Rabies is considered to be a vaccine-preventable disease, and the vaccine hardly fails. Sadia, 5, of Manimajra, Chandigarh, was bitten by a dog on March 25. She had some lacerated bites on her face, lips and scalp and was treated for a week at Postgraduate Institute of Medical Education and Research, Chandigarh. She was given wound care, rabies vaccine and anti rabies immunoglobulin within 24 hours of the bite. Around three weeks later, she started frothing at the mouth. She was taken back to the hospital, but she died. As the child's relatives accused the institute of negligence, it issued a statement saying, "Despite the best post-exposure prophylaxis [consistent with international recommendations], the child succumbed to rabies." It was the bites on her face that led to her death. "Bites on the face are considered the most dangerous, owing to their close proximity to the brain. Also, these bites have a high risk of treatment failure and progression to rabies encephalitis," the statement read.
Rabies is one of the most feared zoonotic diseases. People sometimes go on a dog-killing spree when someone dies because of rabies. "This will only aggravate the problem. Killing dogs is not the most effective way of curbing dog population," says N.G. Jayasimha, managing director, Humane Society International, India. "Dogs are very territorial. When you kill or remove dogs from a particular area, you create a vacuum and, as a matter of fact, the incidents of dog bites increase there as dogs from the neighbouring area will start fighting for that particular territory. But if there is an alpha dog and the territory is well guarded, no other dog will come there."
Animal birth control programme is considered to be a more viable tool to eradicate rabies. "But animal birth control is not happening," says Vinay Moray of Sarvodaya Sevabhai Samstha. "Even in Delhi, most municipalities are not adopting the programme. If somebody raises this issue, they will do it on a few hundred dogs for the sake of it. It has to be done continuously, and at least 70 per cent of the population needs to be covered within six months to bring rabies under control."
As the elected bodies fail to implement the animal birth control programme, NGOs and individuals have stepped in. Moray took the initiative in implementing the programme successfully in Sarnath in Uttar Pradesh, with funds from Help Animals India. "When we visited the place first in 2014, there was a huge population of dogs. People used to play football with dogs then," recalls Moray. The Visakha Society for the Protection and Care of Animals of Andhra Pradesh has performed sterilisation on 78,000 dogs. VSPCA went to court in 1998 to stop the killing of dogs by the municipality. The court ruled in its favour. VSPCA claims to have achieved zero rabies incidence in its area by 2013.
For some people like Marie Valensot, of France, street dogs are family. The 60-year-old spinster has ten street dogs at her home in Bengaluru, and they come in all sizes and breeds. "I take care of another 20 street dogs outside," she says. Valensot spends a lot of money on sterilising these dogs; sterilisation costs Rs850 per dog. "Sometimes we pool money and get it done," she says. "The corporation people don't come here." It is, however, high time they did.