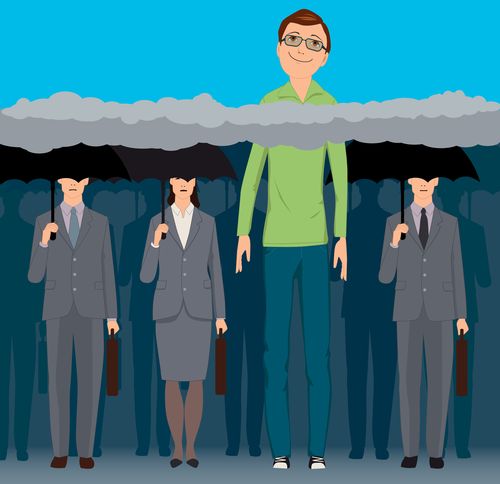 The world looks different from above, jokes Uday Sreekumar, who towers over his friends at 6' 4''.  
An assistant manager at Thomson Reuters at Yemlur, Bengaluru, Sreekumar earns instant stardom wherever he goes. Girls flock to take selfies with him. "For getting that perfect picture, sometimes I have to hunch my back and crane my neck,'' says the 33-year-old. 
Sreekumar believes he has inherited his height from his mother's side. "My maternal uncles are also six footers,'' he says. 
New research says that even those who are not genetically blessed like Sreekumar can grow tall. According to scientists, there is a clear association between nutrition and hygiene and a child's height. In fact, these factors are far more important than heredity in determining an adult's height, with regard to Indians.  
The increase in height in the present generation of Indians doesn't seem to have a strong genetic component, says Prof H.P.S. Sachdev, who is a co-principal investigator of the New Delhi Birth Cohort study that looks at the height patterns of children and teenagers in Delhi in comparison to their parents. "Over 200 genes have been associated with height. Collectively, these account for only 5 to 8 per cent of the variations in height at the population level," he says.  
The ongoing study followed a group of people born between 1969 and 1972 at successive ages and then matched their height with their children's at the same age. The key findings of the study were presented at the 9th World Congress on Developmental Origins of Health and Disease in Cape Town.
The cohort study shows that the present generation of Indians are taller than their parents. "Indian children are about 5-7.5cm taller than their parents over one recent generation," says Sachdev. According to him, this could be due to overall improvement in socio-economic conditions and preventive and curative health care services. "Availability of food, access to clean water, immunisation, literacy and socio economic status have played a more significant role than heredity in making Indian children taller," he says. Among the nutrients that contribute to height are minerals, especially calcium, proteins and vitamins A and D. "Improved sanitation reduces a child's chances of getting infections. Recurrent infections impede its growth," says Sachdev, who is also a senior consultant in paediatrics and clinical epidemiology at Sitaram Bhartia Institute of Science and Research in Delhi. 
The influence of environment in height has been acknowledged in the west as well. Many researchers believe that the main reasons for Europeans becoming taller by 11cm in the 20th century is improved disease environment. 
But not everyone believes the increase in height reflects just positive changes in the environment. Dr Yash Gulati, senior consultant-orthopaedics, Indraprastha Apollo Hospitals, Delhi, says that a look at why Indians are getting taller raises some concerns, too. "It is not just socio-economic factors but modified food with all the hormones injected in animals to increase their protein mass rapidly for commercial reasons and also genetically modified crops," says Gulati. "These modify hormone levels in infants and children and hence the difference in height," he adds. 
Meanwhile, stunting continues to be a major problem in India. It is largely considered to be a rural problem. Nonetheless, it is prevalent even among urban children of affluent families, says Job Zachariah, chief field officer for Kerala and Tamil Nadu, UNICEF. According to the Rapid Survey on Children, 2013-2014, commissioned by the Union ministry of women and child development, 38.7 per cent of children below 5 years in India are stunted.  A whopping 32 per cent of urban children and 41.6 per cent of rural children in the country are stunted. 
One of the key factors that leads to stunting is nutritional deficiency in early childhood. Several studies have demonstrated that kids who are well nourished tend to be 0-1.7cm taller by 1-2 years, compared to those in the control group. "Parents keep checking the child's weight. However, they hardly realise that it is important to keep track of their child's height as well.  A stunted two-year-old may never catch up with his peers in height," says Zachariah. Stunting can have a negative impact on one's earnings in adult life. A Harvard University study says that India will be richer by $38 billion if stunting is removed. 
Can all children grow tall if provided with right nutrition and environment? Suppose children belonging to different ethnic groups are brought up in the same environment, will they grow to the same height, irrespective of the typical growth patterns of their ethnic group? James Bentham of Imperial College London has a thought-provoking answer to this question. He says that the mean height of different ethnic groups raised in the same environment could show some difference. However, there won't be a huge gap of 20-23cm between the tallest and the shortest, as is seen now, if they were made to live in the same environment.
According to the 100-year global height study by the Imperial College London, Dutch men with an average height of 182.5cm, are the tallest in the world. Among women, Latvians, with an average height of 170cm, are the tallest.  
As per this study, Indian men and women are about 17cm shorter than their Dutch and Latvian counterparts.