Rahul is the most popular north Indian first name—more popular than Thomas, Richard or Henry in the Anglo-Saxon world. There they call the boys Tom, Dick and Harry.
No offence meant. All three—Tom, Dick and Harry have made it to president of the United States. Ask the Americans, what their mothers would have called Thomas Jefferson, Richard Nixon and Harry S. Truman. Come to think of it, after Donald Trump, they should rephrase the idiom as Don, Dick and Harry.
Almost every second boy in our mundane television commercials is a Rahul, either petted as "Rahul beta" or pulled up as "Raahull!!". Shah Rukh Khan is named Rahul in half a dozen movies, as was Amitabh Bachchan, named Vijay in more than a dozen. "Rahul, naam toh suna hi hoga," says King Khan, in one of his forgettable movies, in a poor imitation of Ian Fleming's "The name is Bond, James Bond."
Our Rahul seems to be coming of age. No, we are not talking of any of those forgettable Shah Rukh characters, nor the forgotten son of the Buddha who missed his father's enlightenment. We are talking of the real and living Rahul, the one who carries the most illustrious surname in India.
This Rahul had his enlightenment in Berkeley, and then the princeling went on to preach at Princeton. The free air blowing across those liberal campuses, the kind of which are endangered biospheres in Narendra Modi's India, did more good to the Congress kid than had all his earlier vanishing acts for Vipassana sessions, Venezuelan vacations or Roman holidays.
Look at what the campus air did to him. The once-reluctant prince has since been asking for power. Farmers' distress and lack of jobs are the two main issues that are of concern today, he said. "If Modiji cannot address these, he should say so, and the Congress will come and do it in six months," he sounded the war cry from poll-primed Gujarat.
Easier demanded than granted. No one gets to power that easily. Rahul will have to work his way up with his party, if he wants to become prime minister instead of the Prime Minister—as Iznogoud daydreamed and schemed. That's a long way up from the pits in which his party is today.
Indeed, Rahul has been on an overdrive through the poll-primed states, launching welfare schemes in the Congress-ruled Karnataka, addressing rallies in Gujarat's BJP bastions, eating in peasant huts, and taking selfies with village belles.
In the overdrive he has fallen in a few verbal potholes, such as confusing Karnataka's Indira canteen with Tamil Nadu's Amma canteen, and bhrashtachar with balatkaar; talking about 'many cities of Bangalore' and '546 seats in the Lok Sabha'; offering potato factory instead of potato chips factory, placing Steve Jobs in Microsoft, and several more.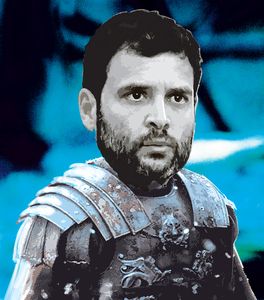 These things happen in unguarded moments in every leader's life. Some of Modi's gaffes have been worse. Modi had referred to Mohandas Gandhi as Mohanlal Gandhi, confused Alexander's attack on Taxila as one on Nalanda, and given a whole speech on Jan Sangh leader Syama Prasad Mukherjee at an event to honour freedom fighter Shyamji Krishna Varma's memory.
The Congress should strike at the fault lines of the regime. There are signs that the Modi regime has peaked, and is on a downward curve. The RBI has called the note-ban bluff, the GST is floundering, growth rate has slowed, Make in India is flopping, workers are getting fired, crony capitalists are getting exposed, Kashmir is burning, friendly neighbours like Nepal, Bhutan and Bangladesh are turning cold, and the Chinese are still in Doklam.
The Congress is yet to capitalise on these. For that, Rahul has to charge up the party. He is forging ahead like a lone ranger, but a lone ranger can be easily cut down. He has to give a battle plan to his field commanders, rally his troops and sally with them.
prasannan@theweek.in