There is a stalemate at Doklam. In chess and warfare, a stalemate is reached when neither side is able to march forward, backward or sideward.
But the Chinese have stolen a march over us. They have rejigged their People's Liberation Army, whereas we have given a decent funeral to the last man who told us to reshape our military.
Literally! Naresh Chandra, the last expert who suggested security reform, got a decent funeral two weeks ago, with even the PM tweeting a homage that he "was an outstanding public servant..." RIP!
Chandra's report, submitted in 2012, had asked the government to appoint a permanent chairman to the chiefs of staff committee, and to set up three tri-service commands—for special ops, aerospace, and for cyber warfare.
A few earlier committees—not Chandra's—had recommended dismantling the present separate commands of each service and setting up joint theatre commands. Thus, the western theatre against Pakistan would be headed by a general who would have not only several army divisions, but also fighter squadrons at his disposal. The China front would be looked after by an air marshal who would have troops and tanks at his beck and call, apart from his own fighter planes. The seas would be guarded by an admiral who would have troops, tanks and fighter jets under him.
Would it work? Well, it appears we are waiting for the Chinese to tell us—after testing it against us! Yes, they recently reorganised the PLA into theatre commands.
Xi Jinping came to power in 2013, and Narendra Modi in 2014, both promising military reforms. It seems Modi's idea of reform is to buy a few brand-new gizmos for the boys, so that they can keep up with the Joneses, the Jamals and the Jiangs in the neighbourhood. He has shied away from restructuring the military, which remains in the same shape as how Lord Ismay left it. The only difference is that if the boys carried Ishapore rifles in Ismay's time, they have INSAS rifles now.
Technological superiority of weapons or numerical superiority of troops need not always win battles. Remember how the older and inferior English longbow beat the superior French crossbow at Agincourt? Battles are not won by armies which have adopted new technologies, but by armies that have adapted to new technologies.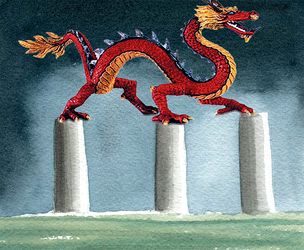 Look at the Chinese. They have overhauled their military several times since Mao took them on a Long March. Yet, Xi called his 400-odd generals to a conference in Gutian in 2014, and got them to agree to a huge troop cut. Since then, he has divided the old four general departments—the general staff, the general political, the general logistics and the general armament—into 15 organs under six new departments—joint staff, political work, logistical support, equipment development, training and national defence mobilisation. The old seven military regions (roughly equivalent to our commands) have been restructured into five theatre commands in which all services and arms come under one commander. It is the new southern theatre commander who is testing his new organisational doctrine by threatening us at Doklam.
How would it unfold if the balloon goes up? In our case, the army commander would have one assessment of the situation, and the air commander would have another. If the army commander thinks that he needs to bomb a few targets in Tibet from the air before he sends in his army, he would have to get it cleared through the staff route at military level, and the cabinet route at the political level. In the case of the Chinese, one commander will decide whether to send fighter planes to strike at targets in India or whether artillery guns will do the job.
Which would work better? The simpler longbow, or the complex crossbow?
prasannan@theweek.in