The proverb that actions speak louder than words, often drilled into us by teachers, preachers and family members, is a truth worth remembering. It wouldn't be correct to say that our foreign policy has remained stagnant since the time of P.V. Narasimha Rao's 'Look East' policy but it is true that the current government has achieved more in its six months in office than what previous governments have achieved in their full terms. India is now perceived as a fast developing Asian superpower by our foreign counterparts.
The enthusiasm with which the prime minister was received in various countries, the bonhomie shared between him and his eastern counterparts and the manner in which he was welcomed by the Indian diaspora abroad have helped in improving India's profile as an emerging market internationally.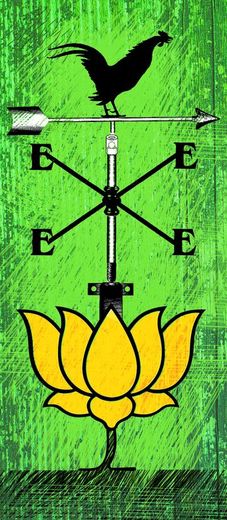 The prime minister's focus on the east tells us that he understands the importance of establishing strong bilateral ties with our neighbours in order to stabilise ourselves regionally. Modi reasons that cooperation among ASEAN countries who share common cultures, security challenges and problems will lead to the collective development of the region. At the same time, he is also promoting the 'Make in India' programme to attract foreign investments to India. These economic reforms might make China twitch but the Thai prime minister has offered support and expressed interest in adopting the 'Make in India' concept in Thailand. This indicates the success of the 'Act East' policy.
To show that we mean business, Modi announced setting up of a desk in the PMO solely to promote Japanese investments in India. The message sent was that of a business-friendly nation conducive to foreign investment. After all, which investor would be attracted to a market plagued by stories of investment losses, bureaucratic bottlenecks and large-scale corruption and scams?
On the home front, he is not merely initiating reforms but also making several bureaucratic and administrative decisions that are instilling confidence in foreign players. For many big investors in Asia and elsewhere, India has so far remained a promising market with many 'ifs and buts'. Streamlining of governmental organs and setting up of single-window clearances have gone a long way in allaying fears and building confidence.
Going further east, the prime minister made a valid point when he said that it takes everybody an overnight flight from India to Australia but it took 28 years for an Indian prime minister to reach Australian shores. Eventually, all it took was for the prime minister to board a flight to a country which is a favoured destination for many Indian students and start the process of building better relations, perhaps by letting Australia realise our nuclear energy ambitions.
If only the previous government had acted instead of merely passing 'acts', our partnership with the east would have yielded results in the areas of infrastructure, power, urban development, trade and skill training.
And as actions always do speak louder, a certain opposition party should prioritise on creating a rank of doers instead of accusing the prime minister of ferrying cheerleaders to foreign countries to receive him.