Visibility, they say, can make or break political careers. I agree. I have seen plenty of people going from absolute anonymity to 'super leader-dom', thanks to the evening debates on news channels every day.
Some discussions make sense, while others, quite frankly, do not. Sometimes you are heard, and you emerge as the hero of your party's cause; but often, your voice is simply drowned out by severe criticism of your viewpoints. If I were to go further, I would say that sometimes there is absolute bunkum in the name of reporting, with factually incorrect stories incessantly attempting to paint a perception against an individual, entity or, more frequently, a political party and its ideology. You curse the messengers, call them names, question their credibility and intentions, demand clarifications in print over fake stories published by them, or sue them, if need be. But you don't threaten them with the idea of introducing a lynch mob-like system to try journalists.
You cannot miss the irony of the situation, especially when such an idea is propagated by none other than a creation of the media, someone who exists because of the media and was propelled to power by it: our self-proclaimed anarchist and Delhi Chief Minister Arvind Kejriwal. Close on the heels of Kejriwal's fatwa to hold mohalla meetings to try the media, came journalist-turned-politician Ashutosh's sycophantic article supporting his leader and castigating the media.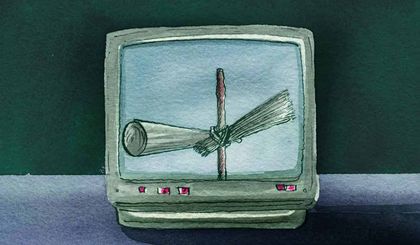 A point to ponder: Would Ashutosh be so effusive in praise of Kejriwal had he remained the anchor of the television channel that made him what he is today? Ashutosh allegedly used his senior position in a national channel not only to promote the Aam Aadmi Party, but also to curry favour with the man destined to become the chief minister. While he has learnt from his leader to use derogatory and colourful terms to describe the media and journalists, has he forgotten the quiet burial of several anti-AAP stories, such as the controversial gift received by AAP legislator Rakhi Bidlan on her birthday, the domestic violence allegations by her sister-in-law, the Turkman Gate road-rage deaths, the FIRs against various party leaders, allegations of non-cooperation in the investigation of farmer Gajendra Singh's suicide, the 02-crore 'midnight fund' scam, seizure of 8,000 bottles of liquor from a warehouse belonging to an AAP candidate, and (the icing on the cake!) the Kumar Vishwas episode? Has he also forgotten how the media gave the AAP leeway when it unceremoniously removed some of its founding members?
Even as they rant about stories of favouritism and quid pro quo, AAP leaders, including Ashutosh, seem to have conveniently forgotten Kejriwal's private jet trip sponsored by a media house in the run-up to the Lok Sabha elections last year, as well as the fixing of a televised interview to amplify Kejriwal's image as a nationalist revolutionary.
Last, but not least, is the ganging-up of the AAP top brass in the face of recent revelations of their shenanigans, such as their efforts to 'politically realign' Congress MLAs and reap communal votes, their use of abusive language against rivals, and their attempts to falsely implicate a senior BJP leader, as revealed by Rajesh Garg, a former AAP leader. All this was reported by the media.
So, the question remains: Is it supari journalism or supari politics?