When Prime Minister Narendra Modi left for Brazil to attend the BRICS summit days after the railway and Union budgets were presented, little could anyone following the proceedings in Parliament imagine that the priority issue for a Congress MP to raise would be about who chairs the BJP parliamentary party meeting.
According to reports, while raising this 'concern' in Parliament, the same day as the BJP parliamentary party meeting was held, the member went on to say that "there are certain signals that are alarming". At a time when the BJP-led NDA government is taking corrective measures, and sending out rather 'good' and 'positive' signals while doing so, to not only put the economy back on track, but also make governance effective right down to the grassroots level, a statement as unnecessary and unfounded as this does make one sit up and wonder where the priorities of the decimated Congress truly lie.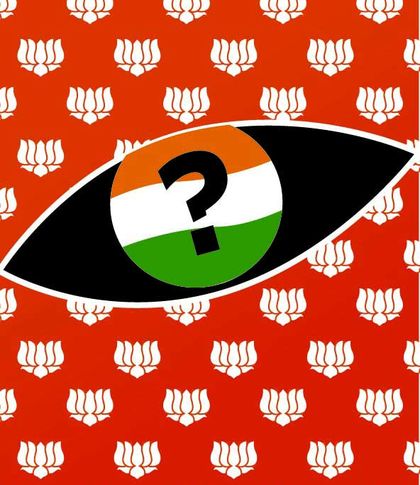 It is only a couple of days before this that the BJP named its parliamentary party leadership and its deputy leaders in both houses of Parliament. Then, to raise an almost 'non-issue' in the house, when the Congress should be making its presence felt in terms of (at least) sounding as a concerned and constructive opposition party, knowing full well that its own stand was unclear on who was the number two during the Congress-led UPA government's tenure, seems like a desperate attempt at rumour mongering.
By further questioning if there was "collective leadership" at the helm in the new government, the MP has only helped the skeletons in the Congress closet to tumble out. Apart from the inherent fallacy in the argument, of seeking collective leadership while asking for a hierarchical order, his statement has also drawn attention towards the lack of leadership in his own party.
The decision to vest poll campaign and strategising responsibility in the hands of (but, obviously) the scion of its famous family spelt doom in the general elections for the Congress. One wonders if the results would have been any different if the party had decided on its leadership role 'collectively' and 'democratically', given it went to elections at a time when the Congress scored the lowest on popularity ratings.
And, if at all the Congress is thinking of deviating from its version of "collective leadership", I think the time is ripe for the party to introspect and perform a system-overhauling exercise and, perhaps, create and harness leadership outside of the house.
As for the NDA government, the whole system seems acutely aware of the federal and cabinet structure of the administration and precisely who the prime minister of the country is, leaving no room for doubts, shadow rule or misrule.
While the BJP cadre works collectively towards the upcoming assembly elections and the Congress leadership catches on its 40 winks, a party colleague, quite aptly, had this to say on a social networking site, "Jao jake UPA ke number one ka naam puch ke aao, phir hum batayenge ki number two kaun hai. (First find out who is the number one in UPA, then we will tell you who is [our] number two.)"