They were not Polish concentration camps. They were German camps, situated in Poland, as transporting people to kill them was expensive. And we were a country they had taken over. They killed all intellectual Poles too, besides the Jews," Ada, our new friend, says emphatically. We are driving from Warsaw to Gardzienice to attend and perform at the India Festival to celebrate 60 years of relations between the two countries. Ada is explaining to us how young Poles are taken at 14 or 16 to the awful concentration camps, so that they may not forget the horrors that were inflicted on people during World War II. That she went at 16 to Auschwitz, and saw soaps made of human fat, and mattresses made of human hair. That she still feels the sorrow. That she thinks that her son, at 14, is a little too young to face this.
This is my first visit to Warsaw though not to Poland. I have danced here several years ago, and remember visiting the Lech Walesa memorial in Gdansk. But never to this capital, bombed out during the war by the Russians and Germans, and rebuilt meticulously, building after building, palace after palace, recreated exactly as it was, in an attempt not to lose the culture that was truly Polish.
Warsaw is Frederic Chopin. The airport is named after him. Statues and plaques commemorate his birth, his first concert―this with an amazing musical bench opposite one of the many palaces turned cultural centres. (A young girl and I take equal delight in pressing the button that goes into one of his Nocturnes). In the ancient park, Sundays during the good weather mean concerts, twice a day with hundreds of people listening to musicians at the piano playing, what else, Chopin! There is, of course, a Chopin museum, three floors of memorabilia including portraits of him, his own drawings, musical scores, and a lower floor where all his music is available for one to listen to. In his youth and middle age he seems to resemble Hrithik Roshan as he is today. Maybe someone should make a movie?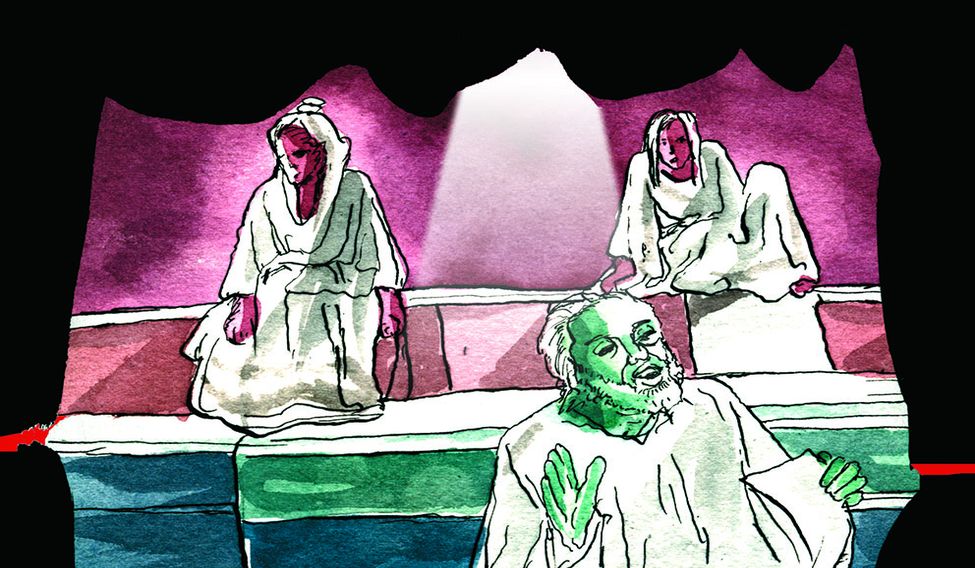 During my Mahabharata days, I worked closely with Richard Cieslak, one of the main collaborators of the legendary Jerzy Grotowski. Richard, who played Dhritarashtra in both the English and the French versions of the play and film, was by then frail and an alcoholic and it was often my job to see that he got into the right costume and on to the stage, where he could fumble and fall and still be in the role. I remember that the most difficult task was to help him pull off his chudidars, which must have had at least a foot of chudis.
The festival that I am headed to is run by another legendary actor: Wlodzimierz Staniewski. A theatre and film director, he is the founder of European Centre for Theatre Practices in Gardzienice. A tiny village in the 70s, it has now become the mecca for actors from all over. With funding from the European Union, and what seems to be a very arts-friendly national government, Gardzienice's group of ruined palaces, barns and out-houses have become a beautiful and tastefully rebuilt centre, with workshop spaces, performance spaces and, on the top floors of each building, guest rooms.
And over all this rules the Boss, the legend, the larger than life, volatile artist. I wait with bated breath to meet him, as I write this. More on this at a later date.
editor@the-week.com